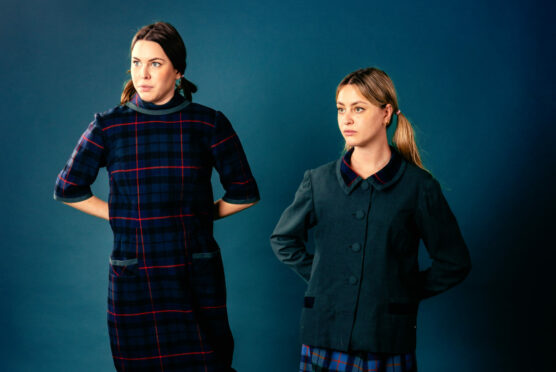 Siblings (a.k.a. Maddy and Marina Bye) promise a raucous hour of absurdist sketch comedy as they make their return to the Edinburgh Fringe.
The duo, who are daughters of legendary comedian Ruby Wax and TV director Ed Bye, are specialists in character, clown and physical comedy.
Here, they answer our questions about the festival…
How are you feeling as the Fringe kicks off?
It's so, so surreal being back at the Fringe. It sort of feels like walking around in a dream because it's something we have been thinking about nonstop for the last 2 years. Walking past all of the big posters and sweaty, sweaty bars… Sweet nostalgia.
It's nerve wracking as well. Our show has begun and we definitely got over excited in our tech run and put way too many lighting cues in, so if you want to see somewhat of a cool light show.. You know where to go.
What is your new show all about, and what inspired it?
We started writing our new show back in 2020 when we thought we would be taking it to the Fringe, before Covid canceled live comedy. Naturally, over time it has changed quite a bit but in a way, it's been great because we've had the time to hone in on what 'Siblings' really is and what we want from our shows. We have ended up making something incredibly silly but a bit different to our old shows which we are very excited to show everyone.
We realised a lot of the characters we were making could all be set inside a weird, magical, timeless (bit haunted) school so we started building off of that and created Siblage High.. The School for Talented Siblings. It's completely ridiculous but really feels quite perfect for the comeback. Lots of the characters are inspired by our childhoods and what we experienced when we were younger. We also took inspiration from people we thought everyone could relate to or remember in some way. They also extend to characters you may not realise you see all the time, like the iconic American coach in every American film who always does inspirational speeches, to big breasted headmistresses who scare the living daylights out of you, the list goes on.
It's the first time we've made a show that is set in a sort of real / sort of fake world so we hope everyone will recognise the characters and wheeze and cry with joy.
What impact has touring and performing as a comedy duo had on your IRL sister dynamic?
We don't look at each other in the eye anymore… (they laugh)
Actually, really interesting question because I (Maddy) don't remember what we were like before all of this! I think… friends? Honestly, we were still playing characters all our lives but just not professionally.
We also live together IRL so we are very much together…..all of the time. It's lucky we like each other! Truthfully, we cannot imagine doing this job with anyone else. We know intuitively how to bounce off each other and finish each other's sentences on stage, also sharing the exact same sense of humour means we are laughing all the time at some of the weirdest and abnormal things…. When we aren't screaming in each others faces about borrowing a jumper and not giving it back.
You're the daughters of Ruby Wax, did growing up around comedy always inspire you to follow that path or did you ever want to avoid it?
Our parents used to put us to bed and whisper "don't go into show business" into our ears before turning off the light. As you can imagine with any parent, they really were pushing for doctor, lawyer, something in finance, perhaps winner of Wimbledon… Alas here we are. SORRY PARENTS!
We did grow up seeing a lot of comedy happening around us. We would watch Ab Fab and Bottom at the age of 3. We don't think we fully understood what that meant as children, but we knew these people were funny.
We still didn't really think we were going to work together later in life. Maddy went to Uni and then to work in PR companies for years whilst Marina became a thesp and went to Drama School. Maddy then left her office jobs to run away to Clown School for 2 years and following that, Siblings was born. We understood we were doing something close to what our mum does but we really wanted to carve our own names into the comedy world and see if we could do it OR if we were even funny! Our style is very different as well. We are character comedians, and our mum was more interviewer/stand up. She's often completely confused and doesn't understand what we are doing at all. When we started Siblings, we began gigging all over London for ages to test ourselves out, underneath all the pubs, cellars, peoples living rooms, a dungeon once, once we performed in a corner of a restaurant whilst people were eating their dinners and they were very confused, before giving the Edinburgh Fringe a go.
We are so happy and grateful for the support from our parents. They've been there for us every step of the way but have really let us be free to do this ourselves which is the way we always wanted to approach comedy. We thank them for setting us kids free and also being Siblings supporters….. And sorry we aren't doctors.
What made you both decide to do character comedy?
We have been playing characters together since we were fetuses. It was our funnest pastime, in the back seats of cars, underneath tables in restaurants, in waiting rooms. We would see a 'character' and then play / imitate them right next to them.. Nobody was safe. This genuinely carried on until we were older (we still do it).
When we realised we wanted to do comedy together, we started just playing all the characters we used to play as children. I think when we were 10 and 12 we drove past a little, wooden, abandoned fishing shack in the middle of nowhere in America and for hours we decided two men called 'Gunt' and 'Front' sold tackle in it but didn't know how to fish… They appeared in our 2018 Edinburgh show.
What are your favourite memories of the Fringe?
Mainly doing a show every single day in a row for a month. It's a real feat. Sometimes the shows will feel amazing, sometimes not, it's a really strange chaotic ride. It's almost like a comedy workout for your brain. The more you strengthen it, the more it improves.
Also just meeting so many other performers from all over the world. We now have lifelong friends from the Fringe who live in Australia, New Zealand, Canada, Malaysia, everywhere! It's amazing to all be in one hub performing together and supporting each other.
A great memory from last Fringe was when there was a lightning storm and our show had to be evacuated (because it was made of tin) so we continued performing on the street in torrential rain. Really loved that day.
If you had to pick one item that's essential for surviving a month at the Fringe, what would that be?
A therapist.
What do you think it is about the Edinburgh Fringe that attracts people from all around the world to come to watch and also to perform?
It's so historically funny. The best of the best of the best names have been here so it feels a bit iconic in that way. It's also amazing to see an entire city transform into a performing hub. The Pleasance Courtyard is just a carpark in September! For people who really like comedy and theatre, it's like going to a magical land where every shop is some sort of venue that you can slide into and be entertained, and every street corner has something to watch. There really isn't anywhere like it.
If you were in charge of the Fringe, what changes would you make?
We would make it less expensive, which we bet is the answer everyone gives. With accommodation being out of this world pricey this year as well as all the other billions of costs, it seems impossible to make any money. Even with the Free Fringe, acts still have to pay to live as well as promo, photos, flyers etc etc etc etc etc etc. It makes it impossible for a lot of performers to come to the Fringe. which is a huge shame.
Also maybe not have flyers anymore. Also, everyone gets free food and a pat on the head every day.
What is your favourite one-liner?
In our show it's definitely Marina playing an actor asking the audience if they want to "see her Gollum"..
Our favourite one-liner from another Fringe show is from Séayoncé, we saw the show the other day and are still laughing at:
"Don't have regrets, it's like what my friend Edith Piaf used to say, Je vais à la discothèque avec mes amis le week-end"
---
Siblings: Siblage is at the Edinburgh Fringe Festival for the whole of August. Tickets are available from www.tickets.edfringe.com/whats-on/siblings-siblage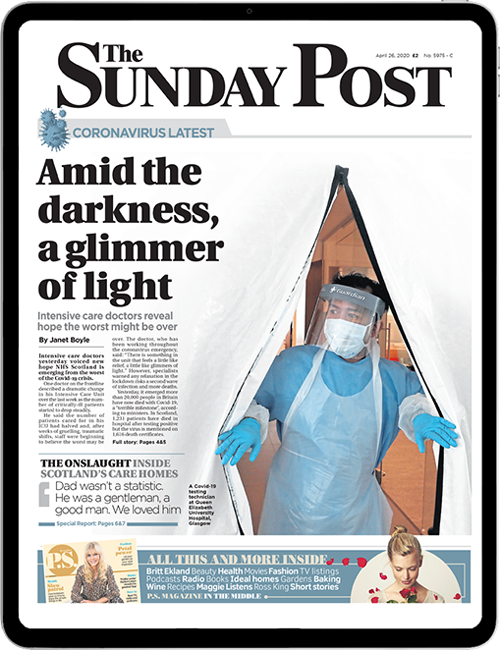 Enjoy the convenience of having The Sunday Post delivered as a digital ePaper straight to your smartphone, tablet or computer.
Subscribe for only £5.49 a month and enjoy all the benefits of the printed paper as a digital replica.
Subscribe