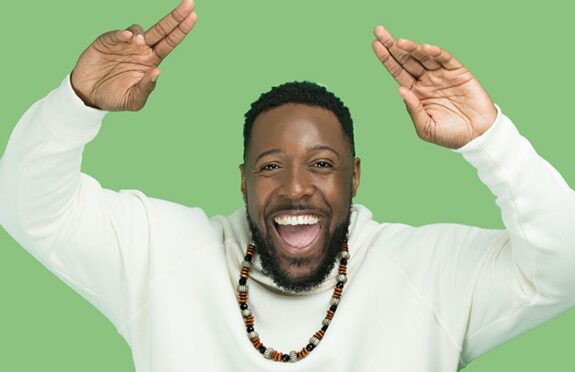 Aurie Styla has been in comedy for over a decade but has always resisted taking a show to the Edinburgh Fringe.
But having finally had a taste of it during last year's condensed version, he decided to take the plunge and will be taking up residence in the Scottish capital with his show Green.
Here, he answers our questions as the festival kicks off….
How are you feeling ahead of your debut Fringe show?
I'm looking forward to it. Not only for my show, but to be up in Edinburgh. Doing comedy regularly, club hopping, and getting to watch a few great shows, without having to do a lot of driving in-between. Shows galore all in one vicinity… perfect for comedy lovers, and entertainment in general.
You started out in 2010 but this is your first time taking a show to the festival, what made you decide to finally do it?
I had been anti-Ed Fringe for a while. Not the city, the festival or the amazing talent that bring their shows up, but the indoctrination that you HAVE to go through it to be accepted as a talent, or become successful in what you do. This isn't gospel. The festival does give a handful the opportunity to see elevation in their comedy career, but it's also a heavy investment that may not pay off, and not because you aren't talented in what you do, but because you might not be what 'the industry' wants to see right now. That is not to say that there aren't benefits to bringing your show up there, as there are, but it's important to know YOUR raison d'etre before being told what you should do. Experience from 2010 til now has taught me that.
Then, I was offered the the opportunity to come up during 2021, the year the Fringe didn't completely run, and to do three of my own shows, whilst also perform at a few around Edinburgh in a week's span… and I had such an amazing time. The audience and the city made me fall in love with the idea of performing here for the extended period. Especially after the two years we had, the want for laughter, receiving and providing, made me see the festival for what comedy should always be about at the core – entertaining the punters. And I hope that's what they get when they watch my show.
What is your show all about, and what inspired it?
GREEN has a running theme through it, that relates to that word. I don't want to give away too much, however there are themes relative to all of us, whether we wish to admit that or not. Struggling over the past few years, our mental health, overcoming obstacles, and relatable characters in our lives that we ALL have either experienced, or been. Again, all connecting to that one word – GREEN!
What can audiences expect when coming along to see your show?
Energy, non-stop laughs, and the message of normalising, acceptance and finding peace. This show was toured around the UK in March and April, and my team and I were bombarded with messages from people who started to do therapy, which as I am saying sounds like we traumatised them LOL. But quite the opposite… the show made some deep and sensitive topics so light-hearted and normal, that therapy became less of a taboo trigger word, but more of a tool to find happiness. I really don't want to say anything more! Come and see for yourself and let me know what you think after. 🙂
You also have a show alongside others, Aurie Styla and Friends, how much are you looking forward to that too?
Just as much as my debut show. I've been putting on comedy shows around the world as long as I have been a comedian, and watching comedy is still a love of mine. So to bring some of my peers on stage to share that love and laugh with the crowd is a pleasure. Some great new acts, and some amazing big names will pass through, and I am privileged to have them on the bill.
What put you on the path to a career in comedy?
At school, you had to be one of two things to be popular – attractive or funny… and I had absolutely no option for the first one. I chose the second. Couple that with the misdirected want for attention growing up (which is addressed in my show), I found myself being the smart-ass of any room, with family and friends. Growing up, that wasn't good, because I had no direction… I was just a 'leary' kid with a big mouth. Having comedy to channel that gave me direction and I made use of those tools, and understanding the humour has helped me understand myself.
If you were in charge of the Fringe, what changes would you make?
Absolutely nothing – the Fringe is what it is. It's me who needs to check my approach and perspective. Growth comes from navigating the maze, not turning into a straight path. I enjoy struggle, which might be a little sadistic… however overcoming an obstacle is so much more fulfilling than wishing it wasn't there. I have no right to think of ways to change the Fringe for the better, but only on how to develop myself to be better for those who attend the Fringe.
How important is it that the festival reflects the diversity of talent in the comedy world?
Talent comes in all forms, and it's in any festival's interest that wants to show a true range of talent to ensure diversity is considered, not just to tick a diversity box, but to allow all talents, traditional and contemporary, from all backgrounds, ideologies and orientations the chance to showcase what they can do, and do well. I think Ed Fringe has definitely achieved this, the list of shows this year is amazing, a diverse list at that.
What is your favourite one-liner?
I have two. One is by Milton Jones, where he says "Hard to tell if people are interested in joining my sarcastic club or not…"
The other is by John Fothergill, which I can't say the lead up… but it ends with "Things got really bad when I tried to up the ante…"
---
Aurie Styla: GREEN, Pleasance Courtyard – The Attic, Aug 3-28, 21:45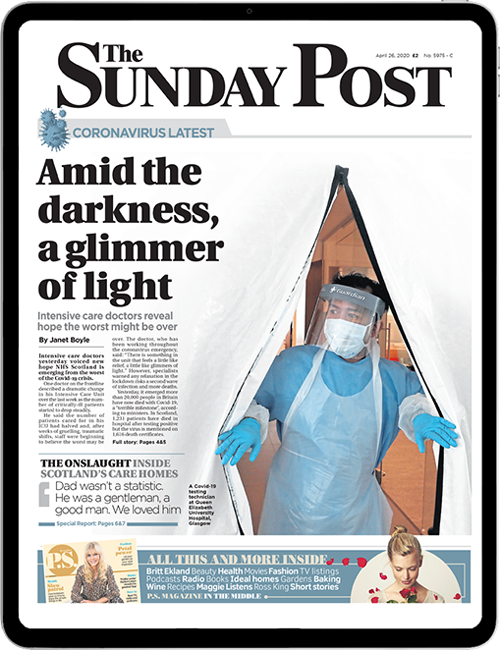 Enjoy the convenience of having The Sunday Post delivered as a digital ePaper straight to your smartphone, tablet or computer.
Subscribe for only £5.49 a month and enjoy all the benefits of the printed paper as a digital replica.
Subscribe