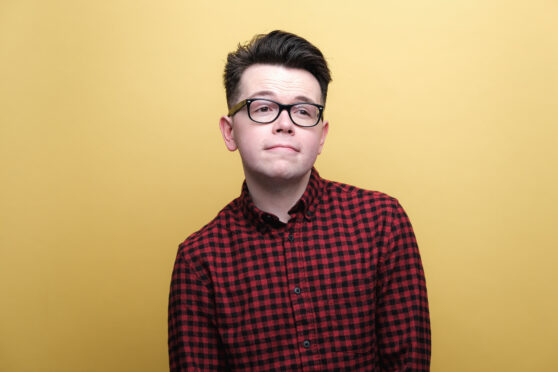 A rising star on the Scottish comedy scene, Christopher-Macarthur Boyd brings his latest show to the Fringe this summer.
In Oh No, he explores the end of the world and Italian food, asking 'what happens when you're out of work, out of money and out of ideas?'
Here, he answers our questions as the festival kicks off…
How are you feeling ahead of your Fringe show?
I'm excited! Slightly dreading the daily commute from Glasgow every day, but that's the price you pay to wake up in your own bed instead of sharing a five-bedroom student flat with middle-aged street performers who wash their underwear in the kitchen sink.
What is your show all about, and what inspired it?
Well, I felt like I had a pretty good handle on my life as 2020 appeared on the horizon, personally and professionally. Then, suddenly, the world ended and caught fire and I was unemployed and locked indoors and I got sick, and I was like, "Oh no. This is terrible." And now I'm fine again! But the show documents a serious dip. Don't come if you're one of these freaks that has never had anything wrong, mental health-wise.
What can audiences expect when coming along to see your show?
An hour of stand-up. And hell mend them, that's what they'll get.
EDINBURGH FRINGE 2022
— "OH NO" —
CHRISTOPHER MACARTHUR-BOYD

🎟️ >> https://t.co/k8FAtKOWc8

6.20pm
august 1-28 (not 17th)
monkey barrel pic.twitter.com/ZQGV334hU7

— christopher macarthur-boyd (@macarthurboyd) June 22, 2022
You're currently going through the 500 greatest albums of all time for a podcast alongside Liam Withnail – how much are you enjoying that, and what's been the biggest hidden gem so far?
I'm loving doing Enjoy An Album with Liam. I found myself listening to the same things over and over again, so I thought, I'll do this and it'll force me to listen to stuff I'm dead unfamiliar with. Biggest hidden gem for me so far is "Ram" by Paul McCartney. That guy knows how to play the bass guitar!
As a fan of wrestling, which comedian would you be in a tag team with, and which wrestler would you do a comedy double bill with?
I feel like Up For It, the BBC Scotland show I did with Rosco McClelland and Ashley Storrie, was a pretty good trios team for wrestling. Rosco is a wiley crooked heel, and Ashley's a powerhouse, which would compliment my graceful athleticism. Definitely a threesome to rival the likes of The nWo, or The Freebirds, or The New Day.
With regards to what wrestler I would do a comedy double bill with, I think the funniest professional wrestler is probably Kikutaro or John Silver. But really, the answer has to be Rey Mysterio. I don't think it would be funny or good, but I need to meet him before either of us dies.
What are your favourite memories of the Fringe?
The first time I ever had a tattie dog from Piemaker. Wonderful potato rosti encircling a high-quality brat. Very powerful filling dish that doesn't break the bank. Also, the first time I laid eyes on my wonderful girlfriend of six years, when we worked together in 2016 at the Counting House.
If you had to pick one item that's essential for surviving a month at the Fringe, what would that be?
A prop gun. It's a lot quicker to cut through the crowds on the Royal Mile when you're brandishing a polystyrene glock.
What put you on the path to a career in comedy?
It's all I wanted to do since I was a wee boy. I did a thing in primary school where you had to do a presentation on what you wanted to be when you grew up. I said 'stand-up comedian' because I'd seen Billy Connolly and Jack Dee on TV, and it seemed like an easy enough job to be professionally grumpy and silly. I think my teachers were amused by this because I was one of the least fun children they had ever met.
If you were in charge of the Fringe, what changes would you make?
I wouldn't want to change anything, because I would absolutely love to be incredibly wealthy for what seems like almost no work at all. The Fringe is an absolutely unfeasible nightmare, but as with most things in life, the people at the top of the pile are having an absolute whale of a time, while the bones and brains of the people on the bottom crumble from the creme de la creme's sickening avarice. Please come and see my stand-up show! It's very funny!
What is your favourite one-liner?
There was a really great American comedian called Harris Wittels who tragically died a few years ago, and he did really good/bad one-liners. "I've decided I'm not going to get married until gay people get married. Because I'm gay." I mean it barely even functions as a joke, but it makes me buckle.
---
Christopher Macarthur-Boyd: Oh No, Monkey Barrel Comedy, August 1-16, 18-28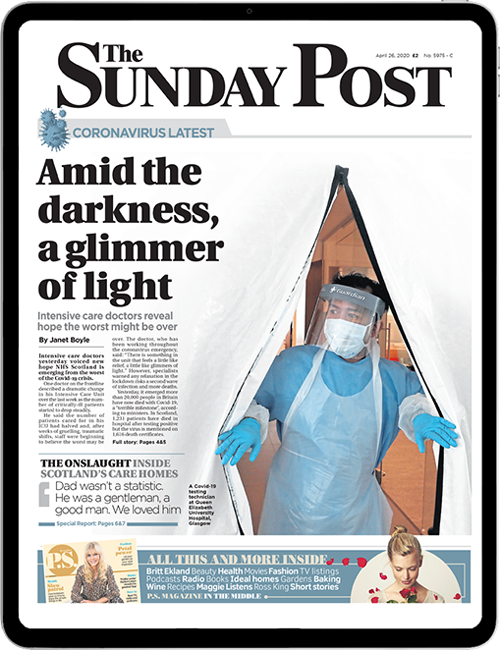 Enjoy the convenience of having The Sunday Post delivered as a digital ePaper straight to your smartphone, tablet or computer.
Subscribe for only £5.49 a month and enjoy all the benefits of the printed paper as a digital replica.
Subscribe