The Sunday Post's political editor, Mark Aitken, looks back on the first week of the crucial climate conference in Glasgow, and what's to come this week.
Sunday
The opening ceremony begins with a moment's silence for the lives lost to Covid. Cop26 president Alok Sharma calls on delegates to to ensure "what Paris promised, Glasgow delivers".
The World Meteorological Organisation says the last seven years have been the hottest on record.
Monday
India, the world's third-biggest greenhouse gas polluter, promises to cut emissions to net zero by 2070, two decades after the Cop26 target. Boris Johnson compares the crisis to a Bond movie.
Tuesday
More than 100 countries, home to 85% of the world's forests, promise to reverse deforestation by 2030. More than 80 countries also pledge to cut methane emissions by at least 30% by 2030.
Wednesday
Research predicts pledges made at Cop26 will limit temperature rises to below 2°C if promises are kept.
More than 20 countries and financial institutions agree to halt cash for fossil fuel development overseas and divert $8 billion a year to green energy.
Thursday
At least 20 countries make commitments to phase out coal power but the pledge by 77 nations to drop coal does not include Australia, India, the US and China.
The scale of the challenge is highlighted by a study showing carbon dioxide emissions have returned to near pre-pandemic levels.
Friday
Around 10,000 young climate activists march through the streets of Glasgow. At a rally in George Square, Greta Thunberg describes the Cop26 summit talks as a "greenwashing campaign" for politicians.
Saturday
Despite driving rain and winds of 30mph, tens of thousands of protesters turn out in Glasgow to demand action on climate crisis, one of 300 events held in over 100 countries as part of the Global Day of Action for Climate Justice.
Johnson urges countries to "drive to the line" to secure ambitious emission targets in the final week of Cop26.
Week two
Today
Rest day
Tomorrow
Talks on finding practical solutions to adapt to the impact of climate change.
Tuesday
Gender is the focus, looking at full participation of women and girls in climate action. Also, looking at how science and innovation can help achieve climate goals.
Wednesday
Transport and moving globally towards zero carbon emissions transport.
Thursday
Taking climate change action in the places we live, from communities, through to cities and whole regions.
Friday
Closure of negotiations, with agreements expected to be revealed in what's known as joint announcements either on Friday or in the following days.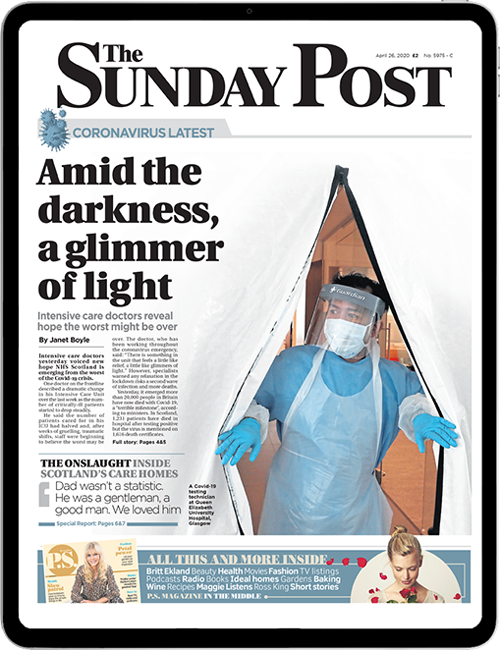 Enjoy the convenience of having The Sunday Post delivered as a digital ePaper straight to your smartphone, tablet or computer.
Subscribe for only £5.49 a month and enjoy all the benefits of the printed paper as a digital replica.
Subscribe