Scotland led a global wave of demonstrations yesterday as thousands of demonstrators demanded urgent on the climate crisis.
Organisers said an estimated 100,000 gathered in Glasgow – where the Cop26 summit continues this week – as marchers from across Scotland and around the world defied the rain to call for change.
The huge protest set off under grey skies on a three-mile route from Kelvingrove Park, in the city's West End, for Glasgow Green, where speakers addressed a rally.
Despite the rain, marchers at the Global Day of Action for Climate Justice protest in Glasgow are out in full force, now walking from Kelvingrove Park to George Square. #COP26 #ExtinctionRebellion #ClimateStrike #Glasgow

Video via: Trina McDonald pic.twitter.com/XGI0PlSJQh

— The Sunday Post (@Sunday_Post) November 6, 2021
The march, part of the Global Day of Action for Climate Justice, was held as 100 other events were staged around the world timed to coincide with Cop.
Marchers – including teenage activist Greta Thunberg, who organisers said attended the rally but did not speak – were split into around a dozen separate blocs, each containing thousands of activists from particular interest groups, including indigenous peoples, youth campaigners, trades unions and Scots groups.
The procession took three hours to pass over the M8 motorway.
The multi-national march was led by a united group of indigenous peoples from countries including Brazil, Colombia and the United States.
One member, Hector Fabio Yucana, youth leader of the Columbian Amazon, said: "The indigenous people have come to Scotland for the fight, for resistance and for their way of living. We came to Scotland to tell the world that indigenous people are the ones taking care of mother earth and the environment."
Cerizi Francelino and Taily Terena, both 28, travelled from Brazil, with Terena stating: "The South Mato Grosso wetland is being decimated but I am here today not only to protest about the Amazon area, but to say that we must stop damaging the planet as a whole."
Justin Solet, 37, from Louisiana, and a member of the United Houma Nation, said: "Our people are being moved off our land because our land is dying. We need action."
Patricah Roy Akullo, a member of Act Alliance, in Uganda, said: "My country is largely agricultural and right now the economy and livelihoods of people have been effected because of a dry spell.
"As a result, indigenous communities cannot grow food for consumption and to sell. We are also facing flooding which means homes are washed away and schools are flooded.
"It's our hope that Cop26 makes big decisions on providing the finance we need to be able to adapt to climate change back in our country."
Mikyung Ryu, part of a six-strong group who travelled from South Korea, said: "We believe that the climate crisis can be resolved by international solidarity between workers. It is very important to raise up all the voices and empower the people."
Dario Arredondo, 22, from Mexico City, added: "I came here because I think it's important to join a protest like this. We're a single world and as such we have a responsibility to take care of our home, regardless of what race you are, what ideology you come from, where your home is."
Casper Boulez, 21, from Ghent, Belgium, said: "I got here two days ago and am leaving after the march for a 20-hour coach journey back home. I felt I had to join in the protest as the crisis is unsustainable. It cannot be tackled by the system that created it in the first place."
Sarah Gorton, 64, and niece Maya, 31, from Brighton, held large eye-shaped placards and wore a slogan stating: "Eyes on You", with Gorton saying: "We want our leaders to know they are accountable and that their decisions this week will be the most important ones they ever make.
"We need action which changes the whole system and we want to try to hold them accountable as we elected them."
There was a confrontation between demonstrators and police around 2.30pm when one group, many of whom wore coverings and waved red flags, were stopped from proceeding into the city centre.
Scuffles broke out and some protesters were led away by officers.
Some within the group identified themselves as members of the Young Communist League while one officer told The Sunday Post the group were "Antifa", or anti-facist, and were Scottish.
The group were kettled, a containing move used by riot police, and moved up a side street to allow the rest of the march to proceed.
Video by Megan McEachern.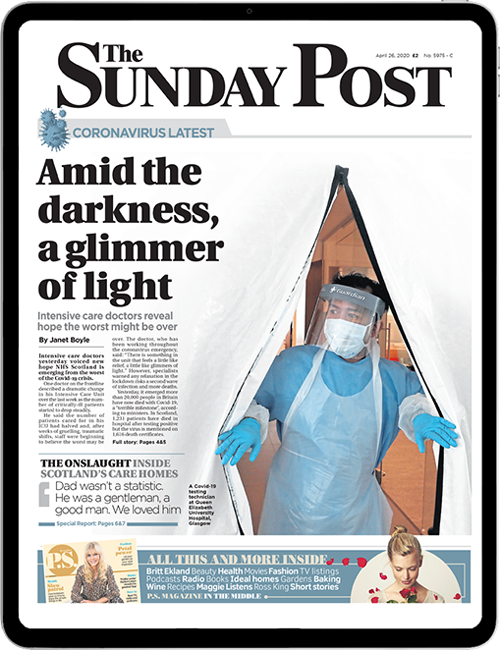 Enjoy the convenience of having The Sunday Post delivered as a digital ePaper straight to your smartphone, tablet or computer.
Subscribe for only £5.49 a month and enjoy all the benefits of the printed paper as a digital replica.
Subscribe