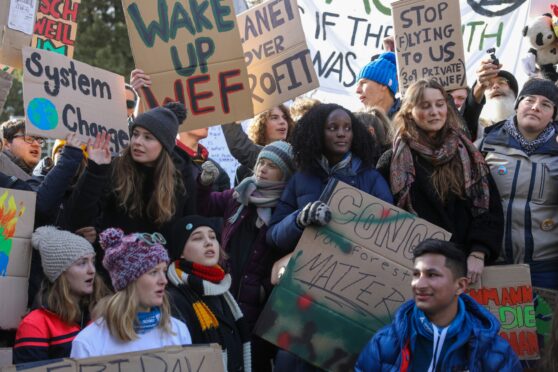 Vanessa Nakate was in Scotland last year when world leaders insisted nothing was more important than protecting the planet.
Today, five months later, Nakate, one of the world's most influential climate change activists, says they still have to prove it.
History was supposedly made at Cop26, the United Nations climate change summit, when almost 200 countries signed the Glasgow Climate Pact to limit global warming to below 1.5°C.
But Nakate, who has been hailed as Africa's Greta Thunberg, said some countries are already breaking the promises made on the banks of the Clyde.
Nakate, who has been named one of the most influential women in the world, played an vital role in Scotland, addressing the delegates and speaking at the most important rallies, but, speaking to The Sunday Post, she admitted the subsequent months have failed to deliver the action promised in Glasgow.
Climate activist Vanessa Nakate from Uganda takes to the stage at #FridaysForFuture rally. @COP26 pic.twitter.com/kAM1MkFxmH

— The Sunday Post (@Sunday_Post) November 5, 2021
She said: "We've seen how leaders for a long time have made promises and then haven't fulfilled those promises.
"After Cop26, I hoped the leaders would prove us wrong by making the right decisions for the people and the planet. But so far they haven't proved us wrong.
"So far the leaders have not lived up to their promises."
But Nakate, who, like Thunberg, began her climate activism with lone demonstrations, hers taking place outside the parliament in Uganda, urged the millions of people inspired by Cop26 to continue fighting the save the planet.
She said: "We need to keep speaking truth to power and we need to keep communicating the science, the climate crisis and the loss and damage that is already happening in so many countries in the global south.
"The other thing we can do is keep encouraging people to vote for the leaders who really care for the people and the planet."
Among the countries which have broken their promises is Britain, which gave permission for a huge expansion to a colliery in Wales despite Prime Minister Boris Johnson's Cop26 pledge to "consign coal power to history".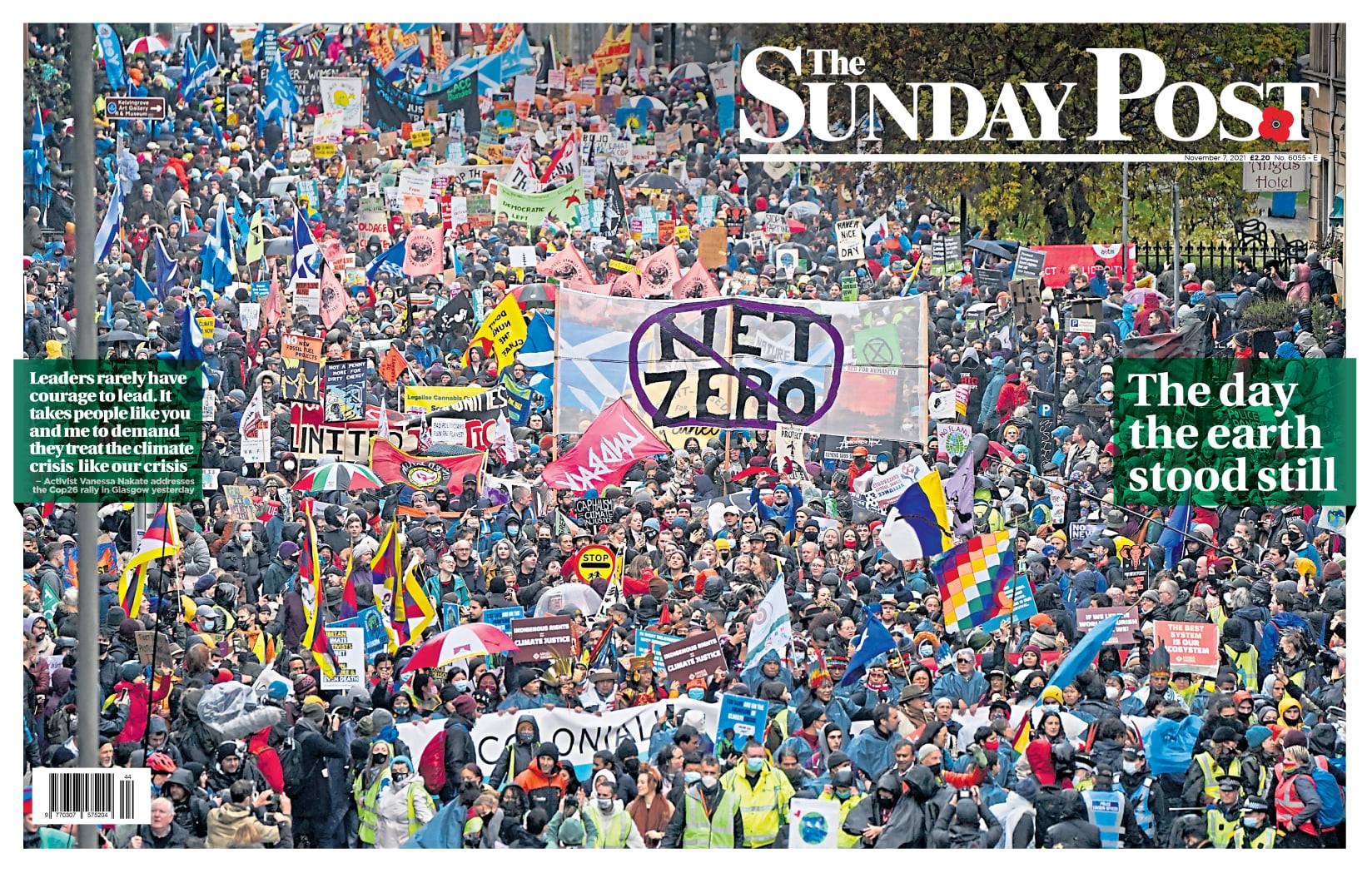 Meanwhile, plans for the Cambo oilfield off Shetland that seemed to be in doubt are back on the table as the Ukraine crisis threatens energy markets. After insisting it was a matter for the UK Government, Nicola Sturgeon finally signalled she would be opposed to the development. If approved, it is expected to produce oil and gas until 2050, the year by which Britain has pledged to be carbon neutral.
Nakate said: "My thoughts about Cambo are the same as they are for all new fossil fuel projects. There is no room for the fossil fuel industry if we want to have a sustainable world. We cannot eat coal, we cannot drink oil and we cannot breathe gas.
"We've seen how much harm the extraction of fossil fuels has done to the planet. The International Energy Agency (IEA) has made it very clear that if we want to limit the global temperature rise to 1.5°C we cannot have any new fossil fuel developments."
Nakate urged the First Minister, whom she met on the opening day of the Cop26 summit, to renew her opposition to the Cambo oil field.
She said: "My message to Nicola Sturgeon would be to continue standing with us, especially when it comes to the Cambo oil field. She has said that Cambo should not be given the green light, and she should continue doing that. We need her to keep saying that there is no need to have more fossil fuel development."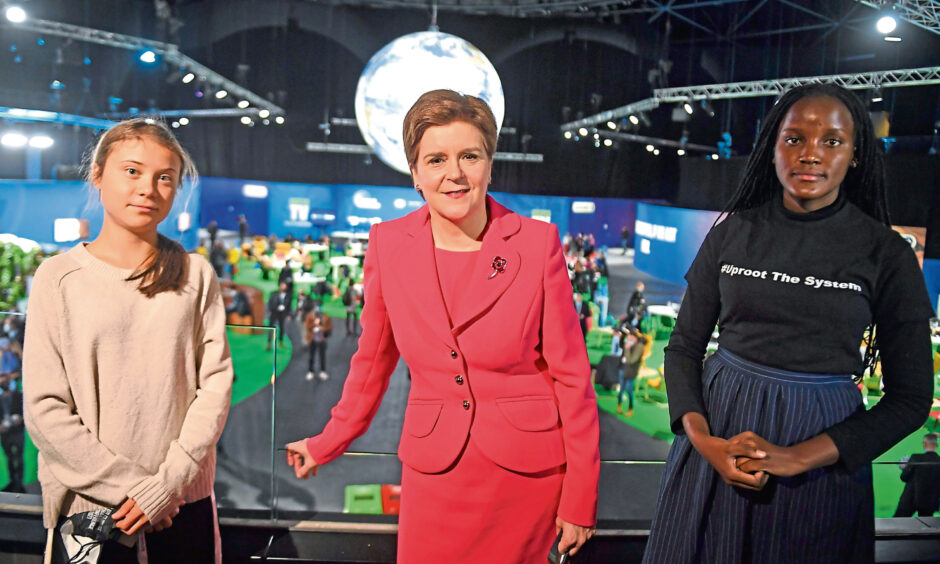 Earlier this month Boris Johnson announced plans to build more nuclear power stations and maximise oil and gas reserves to help the UK reduce its dependence on Russian energy in the wake of the war in Ukraine.
But Nakate said: "We must make leaders understand that our solutions are in renewable energy, in clean energy. Nuclear power stations are not a solution if we want to limit global temperatures and protect people from catastrophe."
Energy bills are already doubling for many households in the UK in an escalating cost of living crisis, but they could rise even further if the war in Ukraine continues to disrupt gas supplies.
Nakate said: "The increasing profits that fossil fuel companies are making at the expense of people having to pay extremely high bills should show us that this is an industry that only cares for the benefit of a small group of people who are accumulating massive wealth."
Nakate spoke at the UN Environment Assembly in Nairobi last month, attended by ministers including the UK's Zac Goldsmith. She said: "I asked them whether they thought it was necessary to support the people who are most vulnerable to the climate crisis.
"I asked them to give me a thumbs up if they agreed and many of them did. But when I asked as a follow up question whether their countries would commit to providing money and funding loss and damage for those countries there was hesitancy.
"It is clear there is a still a gap between the promises made and the action taken. It is the actions that follow that let us down."
Cop26 ended with countries signing a watered-down agreement to accelerate action on climate this decade.
The deal's supporters said that it kept alive the 2015 Paris Agreement goal of limiting temperature rises above pre-industrial levels to 1.5°C.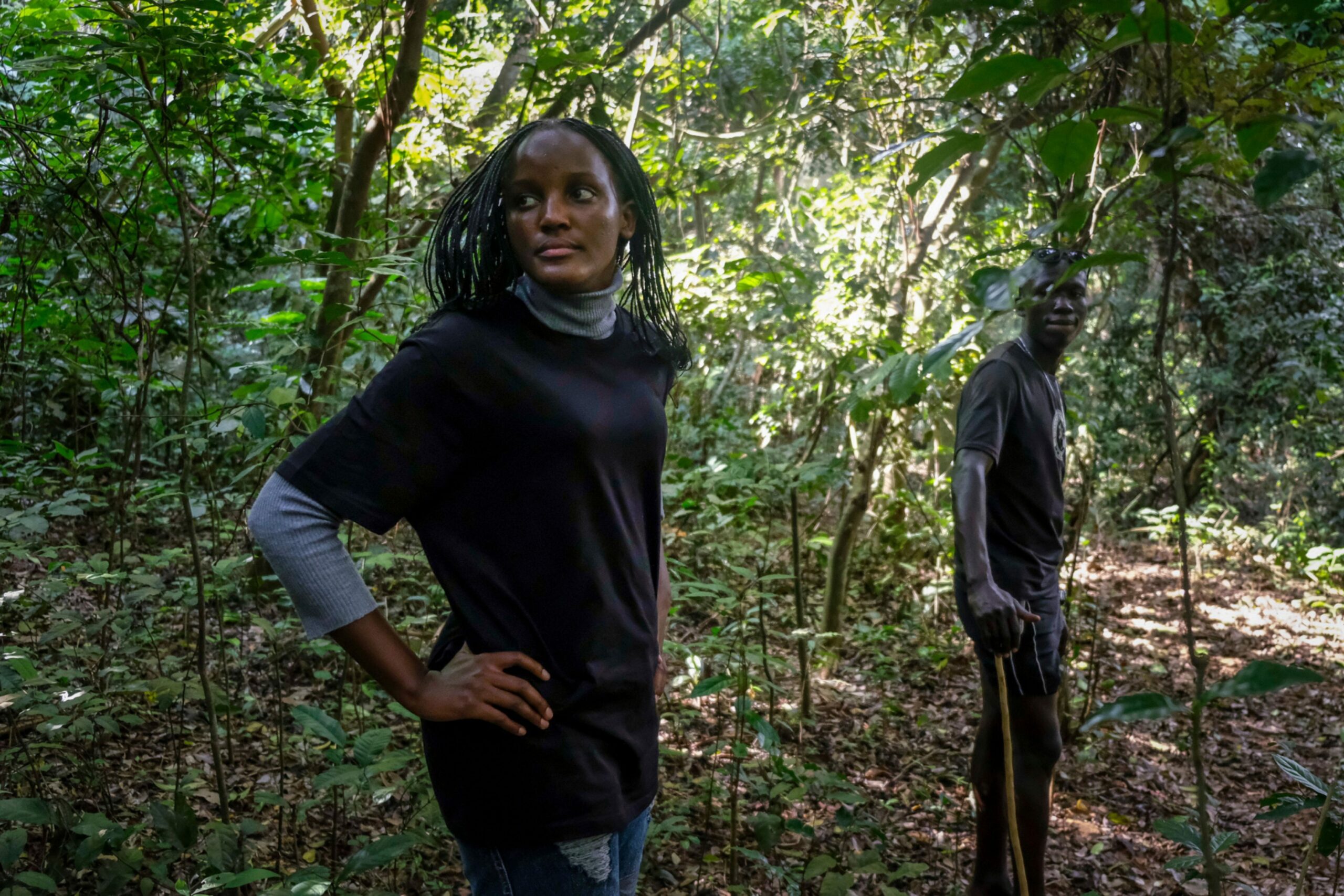 But Nakate said: "One of the things I really remember about Cop26 was that while on the inside there was this kind of celebration the world was finally heading in the right direction, there was frustration from the young about what was happening and the decisions being made.
"The excitement in the halls was not reflecting what was happening on the outside.
"As we were coming to the end of Cop26, the Climate Action Tracker showed that the world was on track for 2.4°C of warming regardless of the pledges that had been made.
"That is a death sentence for so many communities, especially in the global south. The recent Intergovernmental Panel on Climate Change report projects that 700 million Africans will be displaced because of drought.
"But of course there were beautiful moments at Cop26, meeting activists from different parts of the world. It's always good to know that you're not doing this work alone and that this is a global movement. This is a global fight."
She added: "I don't want to call Cop26 a failure because even amidst all those disappointments there was this people power that continued to organise and mobilise.
"To me, it was more of a missed moment, a missed opportunity to make things right. But we continue to fight again. Even when there seems to be no hope, we remain hopeful. We continue to build momentum as we head towards Cop27 in Egypt later this year."
Nakate was inspired as a teenager by Greta Thunberg to start her own climate movement in Uganda, after becoming concerned about rising temperatures in her country caused by global warming.
She held her first climate strikes in 2019 outside the gates of the Ugandan parliament, often on her own, to draw attention to climate change and urge her government to take action.
The same year she was invited to her first invitation to a climate conference, the UN's Climate Action Summit in New York.
But she was left devastated when news agency AP cropped her out of a photo of her and four other climate activists, including Greta Thunberg, at the World Economic Forum in Davos, Switzerland, in 2020.
Nakate was the only black person in the image, and in an emotional video posted on social media she said that for the first time in her life she "understood the definition of the word racism".
The event inspired the title for her new book, A Bigger Picture while her campaigning saw her named as one of the world's 100 most inspiring and influential women by the BBC and appear on the cover of Time magazine.
She is now inspiring a new generation of climate activists in Uganda with a project to install solar panels and eco-friendly cook stoves in schools.
She said: "It gives us opportunities to carry out climate education with the students so they also know how much power they have to transform this world."
---
Leaders rarely have courage to lead. It takes people like you and me to demand they treat the climate crisis like our crisis
One of the highlights of Cop26 was the impassioned speech Vanessa Nakate delivered to 100,000 marchers at the climax of the summit's biggest rally.
In a clarion call to the crowds gathered in Glasgow Green, the climate change activist said: "Leaders rarely have courage to lead. It takes people like you and me to demand they treat the climate crisis like our crisis."
Her words, reproduced on a special Sunday Post front page, echoed around the world to millions of other environmental campaigners. Today, Nakate admits some nerves before appearing before such a large crowd.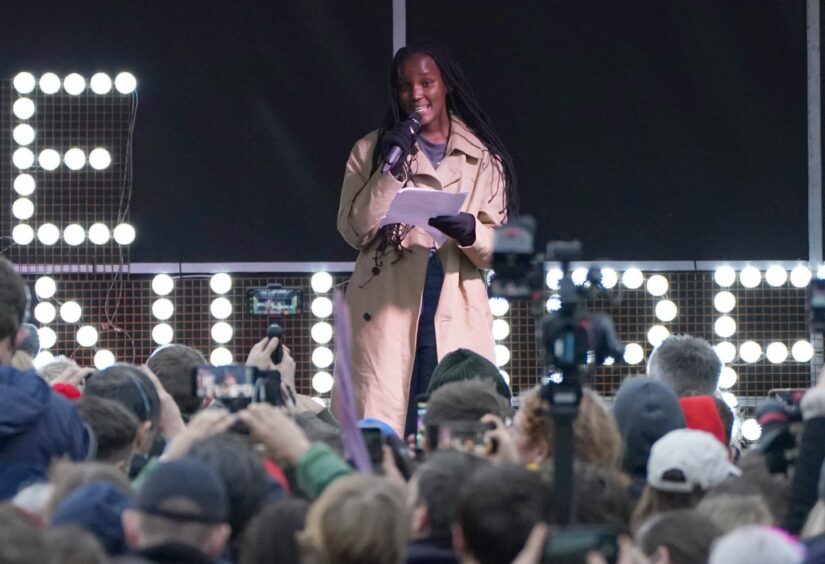 She said: "It was a good moment for me to talk about what was happening in my country and the African continent, and to really highlight the need for leaders to take climate action.
"I was of course a bit nervous before speaking, but then it became easier for me as I continued to speak to the people.
"My message was very clear about what was already happening when it comes to the climate crisis and about what is happening in Africa. I feel there is a need to keep telling people that the African continent is responsible for less than 4% of global emissions and yet we are seeing the worst impacts of the climate crisis.
"So I'm always very joyful to get the opportunities to speak to thousands of people about what I've seen happening in my community and beyond my community when it comes to the climate crisis."
Despite heavy rain and strong winds on the day, November 6, more than 100,000 climate protesters gathered in Glasgow Green, many of them marching three miles from Kelvingrove Park in the city's West End.
Climate campaign figurehead Greta Thunberg, who joined the march, had been due to speak at the rally but withdrew insisting she wanted to let other voices be heard. Other rallies were held in London, Manchester and cities around the world.
---
What Cop26 promised 
Even if the countries signing up to the Glasgow Climate Pact keep every one of their promises it is unlikely to keep the rise in global temperatures beneath 1.5°C, the target agreed in Paris in 2015.
Analysis published last week suggests the carbon-cutting promises made at COP26 would see the world warm by just under 2°C this century if implemented "in full and on time".
The focus of the summit was to agree action to ensure global temperatures do not rise more than 1.5°C above the levels recorded in the middle of the 19th Century, any higher and experts fear catastrophic repercussions for the planet, with small island nations and developing countries hardest hit.
Professor Malte Meinshausen, of the University of Melbourne, the lead author of the latest research, says the actions agreed in Glasgow, if delivered, will help but still fail to hit the biggest target.
"This is the first paper that says there's actually a better than 50% chance of keeping temperatures below 2°C if these targets are implemented. But it is not a good news story as our study shows increased action this decade is necessary for us to have a chance of not shooting past 1.5°C by a wide margin."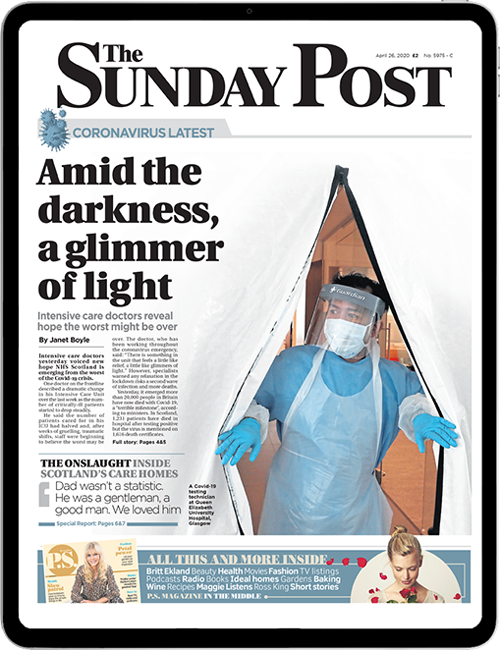 Enjoy the convenience of having The Sunday Post delivered as a digital ePaper straight to your smartphone, tablet or computer.
Subscribe for only £5.49 a month and enjoy all the benefits of the printed paper as a digital replica.
Subscribe