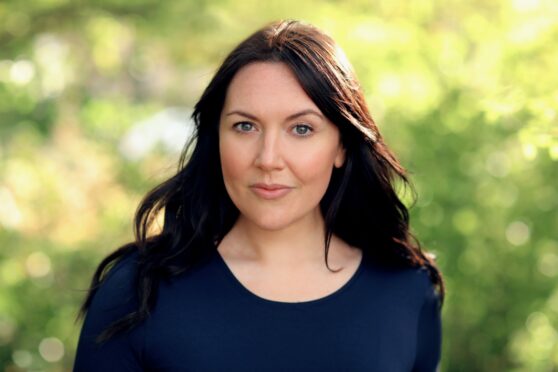 For the past 15 years, Katy Wix has been delivering laughs to audiences in both prime-time sitcoms and cult comedies.
As Daisy in Not Going Out, Mary in Ghosts, Carole in Stath Lets Flats and in her own sketch show, Anna & Katy, not to mention eye-catching guest roles in everything from Absolutely Fabulous, Miranda and Extras to This Time With Alan Partridge, the Welsh star has consistently proved herself to be a gifted comic actress.
Now, with her latest project, a revealing autobiography called Delicacy, Wix is showing a different side to herself, not only demonstrating her talents as a gifted writer but laying bare traumatic parts of her life with an honesty and openness that might surprise fans of her TV work.
Twenty-one snapshots of her life, covering topics such as eating disorders, a car crash that nearly killed her, breakdowns, and the deaths of loved ones – with each chapter beginning with a memory of cake – might sound like it has all the ingredients of a misery memoir, but Wix's use of well-observed humour and turn of phrase ensures it never wallows.
Critical acclaim has been universal, and now the 40-year-old is adapting the book into a television series in which she will likely star as herself.
Wix said: "It took me more than two years to write, because the first six months I just read and read. I wanted to find my literary voice. I felt really under-read. I also did some writing courses. I wanted to make sure it was written as artfully as it could be – I wanted it to be a good piece of writing, and that took a long time. I didn't just want it to be someone off the telly writing a book."
Another reason the process took Wix several years was because she suffered unimaginable loss, beginning with the passing of her best friend, known simply as D in the book, and then her parents – firstly her father, who had dementia, and then her mum, who was diagnosed with a cancerous brain tumour.
This all happened within a two-year period and led to Wix going through a long time of immobilising grief. Reliving the events by writing about them in detail could have caused Wix more trauma, but she feels it ultimately helped her deal with the succession of losses.
"In some ways it prolonged everything I was going through because I had to stay in it for much longer," said Wix, who was also her mum's carer.
"But on the other hand, when you are trying to articulate something that's happened to you, you do end up with a better understanding of it all and come out the other side of it with more perspective and wisdom.
"A pal said to me that people who asked during lockdown how your lockdown was going, it was like asking someone to describe falling as you're falling.
"I thought that was smart. When you're in it, you are overwhelmed and surviving, and sometimes it's years later before you realise you have a more balanced view on what happened, so in that sense it was definitely helpful to me to work it all out.
The process of writing a book is hard, but I wanted to create a piece of work, and I felt in some ways I finally had something to write about with enough complexity that it could make a book.
"As I read other women's writing and they were being truthful and vulnerable, I felt braver and inspired to do the same, to be that honest.
"But it does really change you when you lose both parents and it's hard to convey what that is like unless you've been through it. I didn't have a compulsion to write about it until I went through it – why would you?
"You wouldn't dwell on it, you put it to the back of your mind and deal with it later, so when you are eventually forced to deal with it, it becomes very real. The whole thing of being a carer for a long time is difficult too, and you have all that anticipation of the grief as well."
Wix has been receiving messages from readers saying the book has helped them cope with their own issues. She's happy it's having that effect, even if she didn't write it with helping other people – or even herself – in mind.
"As much as I enjoy TV, I wanted to create something with more complexity and depth, and it was the joy of making and the creativity that drove it on," she explained.
"I wanted to move people, to make them laugh, to just tell these stories that I cared about. It's really touching when I receive messages and I think it's great if it helps people in any way.
"The book is deliberately poetic and reliant on metaphors. I didn't want to trigger people or just put details in for the sake of it and make it upsetting, I tried to make it subtle.
"I always knew I wanted to make it more experimental in the way I told the stories, which weren't connected, so I had to find a theme and it just so happened that in a lot of these stories, cake would appear in poignant moments.
"I worried that people would find it twee or think it was a cookery book and be surprised when they started reading!"
Born in Cardiff, Wix never had aspirations to become an actor, despite her parents both being drama graduates.
"My mum and dad went to drama school but never really acted, they had kids and had to get normal jobs," she said. "In some ways, they had a lot of unfulfilled creative dreams and it's sad they didn't get to fulfil any of them, but everyone in my family was creative and artistic, and I was interested in anything that was to do with the arts.
"When I was little I wanted to be a fashion designer, then a librarian, then a poet, but I always enjoyed performing and writing and there came a point where it fell into place and I was doing it, but it wasn't a plan. It was a strange path to get here, but I would have been satisfied in any creative job – as long as I'm making something, I'm happy."
With aspirations to continue writing books, and with a number of ideas in mind, Wix is going through a purple patch as a writer.
She is working with a co-writer on an adaptation of Delicacy, with other TV writing projects also in the planning. She has also just completed filming on another series for Channel 4, and a fourth series of Ghosts is also expected.
"I've been working on a TV script for Delicacy for the past three months and it's exciting that the book has a potential second life," added Wix.
"I'm trying to write a few different TV scripts at the moment – it feels like a nice contrast from the solitude of writing the book. They are a bit more collaborative and it takes the pressure off.
"It also feels busier in your head, rather than just you and your thoughts going over and over.
"One script I'm working on just now, I feel I would be quite central in it as an actor, but I also like the idea of writing something for teenagers or people in their early 20s as the protagonists, so it's lovely to just be the writer and not worry about performing it. It's lovely to do both."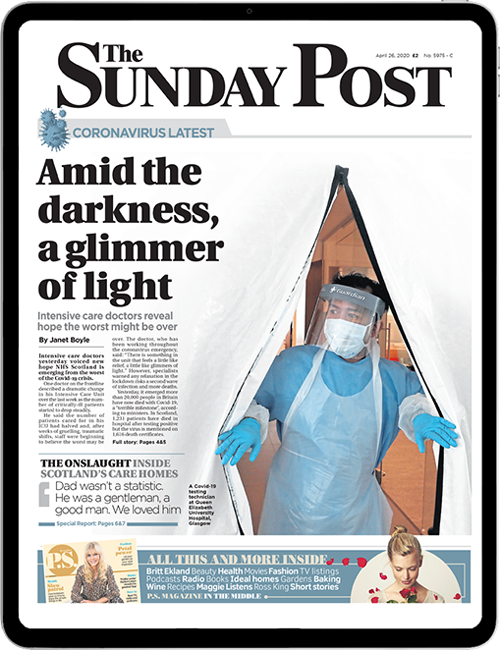 Enjoy the convenience of having The Sunday Post delivered as a digital ePaper straight to your smartphone, tablet or computer.
Subscribe for only £5.49 a month and enjoy all the benefits of the printed paper as a digital replica.
Subscribe