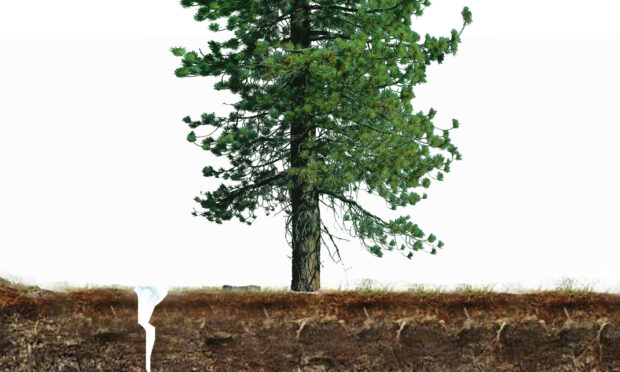 Trees planted with taxpayers' money to help Scotland achieve net zero are actually adding to the nation's carbon emissions, research reveals.
Millions of pounds are being spent carpeting thousands of acres of land with conifers on the basis they will lock up CO2 from the atmosphere.
But a new report shows that many of the forests springing up around the country likely add to the risk of climate change.
Vast tracts of peaty soil are being dug up and drained in order to plant trees, unleashing a torrent of stored carbon into the environment.
The paper – published in the ­journal Land Use Policy – states: "We have been planting the wrong type of forests, in the wrong place, and using the wrong techniques. The industry promotes conifer forests as carbon positive; yet many plantations are emitting carbon."
The author, Castle Douglas-based silviculture ­consultant Mary-Ann Smyt, warns: "Most of Scotland's forestry has been (and is still being) planted on organic, peaty soils. The problem is acute in south-west Scotland, where afforested headwaters contain high levels of organic carbon and lethal spikes of acidity.
"If we want woodlands to lock up carbon for centuries, we need to move away from draining and disturbing peaty soils to suit plantations."
The John Muir Trust conservation charity backed the research's findings. Senior policy officer Rosie Simpson said: "We're not confident about the long-term carbon savings of commercial plantations on peatlands.
"In the 1980s, we saw ­plantations in the Flow Country (in Caithness and Sutherland) driven by tax incentives. They are now widely acknowledged as having been ­environmentally destructive and are being converted back to peatland habitats.
"Our concern now is that we might be repeating past mistakes – except this time the driver is carbon-offsetting rather than tax-saving."
The Flow Country: Campaign to protect the peat bog wilderness that could help save planet
A century ago, only 5% of Scotland was covered in woodland but that figure has risen to 19%.
SNP and Green ministers have set a target of 21% by 2032 as part of the drive to reach net zero carbon emissions by 2045.
This would require about 15,000 ­hectares of new planting each year, and the strategy has been backed by Scottish Government subsidies.
Last year, there were about 50,000 hectares of land across 700 Scottish schemes that had been, or were soon to be, planted up in order to capture 14.4 million tons of CO2.
The financial incentives have resulted in investment funds buying up expanses of land, eager to cash in on the potential profits of selling carbon credits.
A hectare of conifers can attract government grants of between £2,960 and £4,320 (£1,198-£1,749 per acre) over a five-year period. Sitka spruce is particularly popular as it is fast-growing so, in theory, soaks up CO2 from the atmosphere more quickly.
Conifers accounted for 75% of all new trees in 2020. However, Scotland's damp climate means land must be drained to prepare for the planting of saplings, and excess water flushed away using ditches.
Peatland is a more effective ­carbon sink than woodland but when it is disturbed to plant trees the CO2 is emptied into the environment, also turning rivers acidic and virtually lifeless.
Recent estimates show badly sited plantations could be responsible for up to 5.46 tons of emissions per hectare each year.
Guidelines published in 2021 prevent new Scottish forests being planted on deep peat but not on shallow peat.
However, the guidelines still allow opportunities to create damaging conifer woodlands that spew out carbon, either in restocking existing plantations or starting fresh ones.
The latest report highlights research from last year that showed trees grown in 30cm of peat would be unlikely to recoup the emissions created. Meanwhile, trees grown in 20cm of peat might take 15 years to break even.
And the report says the rules neither prevent further damage to existing sites caused by restocking nor properly account for emissions from ditches.
It concludes: "The net effect of plantations on peaty soils is that many forests are emitting more greenhouse gases than they sequester; they are not carbon-beneficial.
"This paper asks that investors and policy-makers recognise the damage being done…and suggests that the incentives driving these changes are corrected in order to favour a better kind of forest."
The Scottish Conservatives called for a review of subsidies.
Shadow Net Zero Secretary Liam Kerr said: "The Scottish Government routinely attempts to force through so-called environmental measures without listening to the experts, from the shambolic Deposit Return Scheme to controversial fishing bans. We cannot afford tree-planting to become another failed green objective."
Last year, an Aberdeen University study found that building wind turbines on peatland had released 4.9 million tons of greenhouse gases into the atmosphere. It will take some windfarms more than a decade of producing electricity to make good on the damage they have caused.
Government agency Scottish Forestry promised to "carefully consider" the latest report.
It said: "Scotland's forests and woodlands are vital in the fight against climate change. They are a carbon sink and will remain so, currently sequestering 7.6 million tonnes of C02 each year, around 14% of Scotland's gross emissions.
"Guidance issued in 2021 will help protect peatlands from intensive forestry operations.
"We will not accept any ­woodland creation applications which include disruptive ground preparation works on deep peat.
"The guidance takes into account peat disturbance and carbon emissions from digging ditches."
Forestry & Land Scotland – which operates state-owned plantations – said: "Planting on deep peat has not been acceptable or permitted for at least 20 years.
"We avoid planting new ­woodland on peat that is deeper than 50cm – the depth at which research tells us the carbon sequestered by the trees can be outweighed by the losses from the soil.
"Peatland management is a central consideration in our planning of woodland creation projects. As custodians of Scotland's national forests and land, we also manage and restore a significant area of peatland: 8,978 hectares since 2014 and, from 2027, at least 3,000 hectares annually."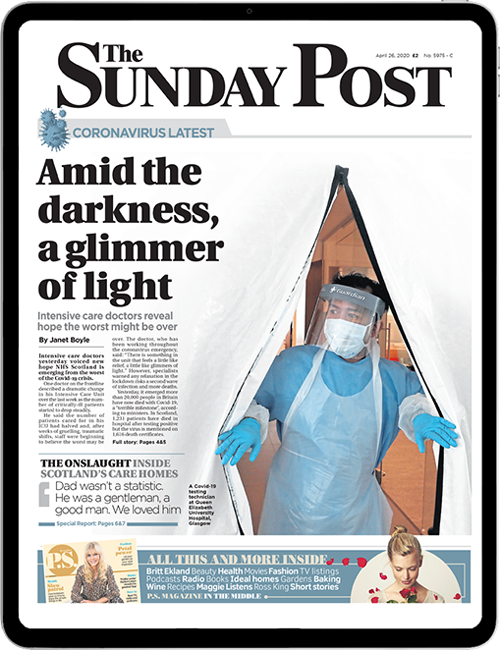 Enjoy the convenience of having The Sunday Post delivered as a digital ePaper straight to your smartphone, tablet or computer.
Subscribe for only £5.49 a month and enjoy all the benefits of the printed paper as a digital replica.
Subscribe