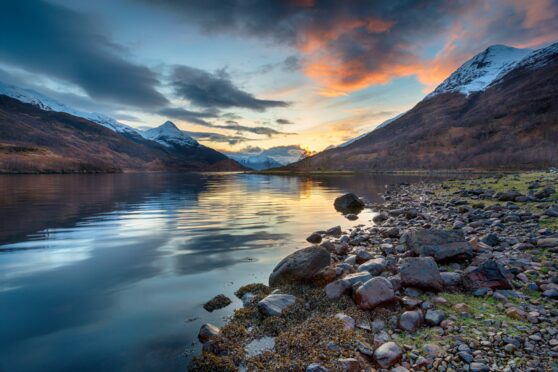 After writing a book every year – sometimes more than one – for more than two decades, author Peter May had decided it was time to hang up his pen, for a while at least.
The best-selling author turned down a triple book deal offer last year, keen to enjoy some downtime but then came Cop26 and May became so frustrated at the outcome that it led to a new novel.
A Winter Grave, out next month, is a crime thriller set in Scotland in 30 years' time when the country, having ignored warnings of a climate catastrophe, finds itself in crisis.
"I watched Cop26, watched the progress of it and I got madder and madder during the proceedings," he said. "In the three months prior to that, I'd read a digest of the report that had been issued by the IPCC which is the United Nations Intergovernmental Panel on Climate Change.
"It said, on current carbon emissions, we were set to reach a 1.5 degrees Celsius increase in global temperatures within the next two decades, some of the most extraordinary warnings yet about the way the climate was going to go if we didn't radically reduce emissions now. But Cop26 didn't make that change happen."
In the final hours, as negotiations reached a Saturday night climax at the summit centre on the banks of the Clyde, the Cop26 president Alok Sharma was reduced to tears after a last-minute intervention from India and China weakened the effort to end the use of coal power.
May remembers: "At the last moment, things got watered down. It was supposed to be 'phasing out' of the production of coal and China and India at the last minute insisted that the wording got changed to 'phasing down', which means nothing.
"I watched it with a real sense of disbelief. I mean here's the planet heading towards extraordinary crisis and these people are doing nothing. Commercial interests and political interests are winning out."
May had been due to kick back and relax for a while, but started to do more research into the fossil fuel industry, the big energy companies and climate change. He spent three months trawling through hundreds of reports and watching countless hours of video footage.
"I felt I needed to know more about climate change, what was causing it, why some people doubt it. I conducted interviews and got a very, very clear picture in my mind of just how desperate the situation was and I thought I wanted to do something about it," he said.
"The more I learned, the more alarmed I became and I realised this was something I had to write about.
"I spent a long time thinking about it because, at the end of the day, I'm a crime writer, but I decided it could be the perfect backdrop for a book. So I started writing!"
However, that didn't spell the end of May's research. Setting the book – his 27th – in the future meant looking at how things such as technology and communication might look 30 years from now.
"I had to look at the research now to work out what the latest mobile phone would be like. I used the idea of the iCom, which is worn like spectacles and transport being driven by electricity and green hydrogen, things like eVTOL planes which are basically like big, grown-up drones that carry passengers. I also set it in an independent Scotland so had to think what that would look like, too."
May, who has sold over 12 million copies of his books, says it was a challenge but one, as a former journalist, he enjoyed.
Setting himself a task seems to be a trait when writing a new book. After all, May predicted a global pandemic in one of his books – 15 years before it happened – and, over the last few years as Covid has played out, the realisation has come that May got almost every detail of it right.
"I've dealt with some pretty complex scenarios before but I suppose climate change is the most concentrated period of research that I've put in for any book," he said. "It was a huge research topic."
And setting the book in his home country of Scotland involved some research, too.
May, who lives in France, chose Kinlochleven, an area he knew, for the book. But appreciating the landscape will have changed since he last saw it, he got a photographer friend, Mo Thomson, to send a drone up and make videos so he could explore the site where the fictional body is found in A Winter Grave.
"Mo set up this virtual flight in an electric helicopter from Glasgow via Mull and then through Glencoe and Kinlochleven. It's like a simulator and looks 100% real, so I was actually able to make this flight that the character makes in the book and fly all round the mountain where the body is discovered at the start of the book. It was just spectacular – and so much fun."
May, a keen musician, has also produced a song about climate change.
"At the same time as the book, I kind of fell back on my musical history and wrote a song, a kind of anthem pleading for something to be done now about climate change," he said. "It's called Don't Burn The World and its currently being mixed and I hope to release it soon, along with a video."
May added: "At the end of the day, if we want any kind of future for our children and grandchildren, it's up to us to signal change.
"I don't claim that my prediction for 2051 will come to pass, only that it might. Many scientists believe we have already passed the tipping point, beyond which there will be no going back. But I take the view that if we take drastic action now, it might not yet be too late."
With the book – and song – both due for release and a Scottish book tour to embark on, May is looking forward to a chilled 2023, when he can hopefully fit in the relaxation he never got last year.
"I had completed my contract and my publisher offered me another three-book deal and I turned it down. I've been writing for the last 20 years or more, a book a year and more some years and, you know, travelling the world for the promotion everywhere from Australia to Canada and every spot in between. And I was tired. I wanted to have a break so I said no.
"I was going to spend time indulging myself and enjoy my other passion, which is music. And reading for pleasure because most of my reading has been for research, so I haven't had much chance to read for pleasure.
"But then Cop26 happened and I found myself back at the writing desk again, penning book number 27! There have been so many I lose track.
"I'm fully intending to fit in that relaxation now. I have no contract to write another book and, at this moment I have no intention of writing another one, but there's probably a good chance that I will.
"They say old writers never retire, they just die so that's probably when I'll stop!"
A Winter Grave, published by Riverrun, is out on January 19 when Peter May will be touring UK. Dates at maypeter.com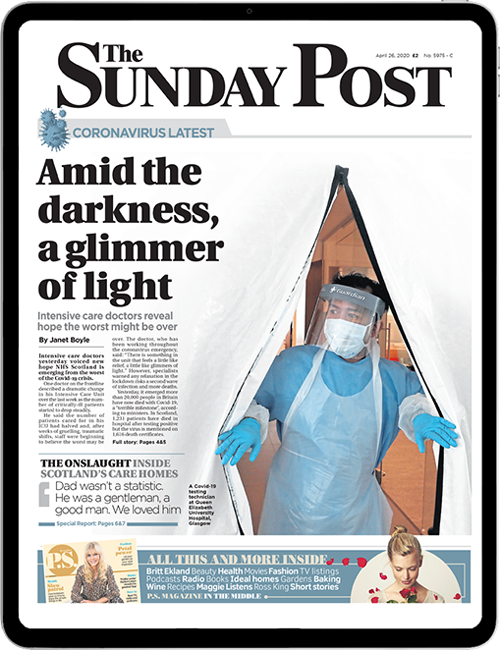 Enjoy the convenience of having The Sunday Post delivered as a digital ePaper straight to your smartphone, tablet or computer.
Subscribe for only £5.49 a month and enjoy all the benefits of the printed paper as a digital replica.
Subscribe