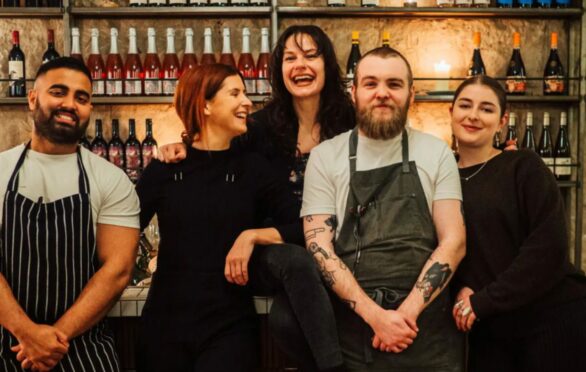 A new enthusiasm for eating out in repurposed buildings will help protect the planet, according to experts, as diners rush to order everywhere from old churches and factories to former train stations and toilets.
The trend for repurposed restaurants is only part of a wider move to upgrade and convert traditional buildings which will, experts say, play an increasing role in tackling climate change.
It is estimated that 80% of the UK's 2050 building stock has already been constructed and so-called retrofitting – when an existing building is modernised and modified for energy efficiency – is fast becoming a more desirable option than building from scratch.
According to infrastructure consulting firm AECOM, building and construction are responsible for 39% of worldwide carbon emissions and while new builds are designed to be more energy efficient once complete, a quarter of a building's energy-related emissions comes from its materials, manufacturing and construction, or "embodied carbon".
"There's an increasing shift towards the idea of retaining and reusing what's already there," explained Robin Livingstone, director of Edinburgh-based Fraser/Livingstone Architects. "The word 'retrofit' is used a lot more now than it ever was, particularly in the last couple of years.
"It's all about really conserving the embodied carbon of existing buildings, reusing as much as you can, so that you're not effectively skipping it all or putting it in landfill.
"Retrofitting or creative adaptive reuse is becoming increasingly important in the industry."
Structural elements including concrete, steel and aluminium account for around a third of buildings' embodied carbon, so it is estimated that retrofitting can halve the amount of carbon emissions released during construction.
Livingstone continued: "Generally, there is a much greater awareness of the sustainability requirements and the carbon emergency.
"Certainly in the construction sector, there's an increasing awareness and it's starting to come through in the more general population that if we're putting buildings with so much carbon locked into them straight into landfill, and then building everything new, it's just not a sustainable approach.
"We don't really need to be building anything new any more. We need to be reusing and redeveloping the buildings that exist already. That's a major way we can combat the carbon emergency."
Having worked on a number of retrofit projects within the Scottish capital, including The Tollhouse restaurant which was recently shortlisted for a UK-wide Retrofit Award, Livingstone says that creatively transforming old buildings isn't just good for the environment but also provides interesting architecture, too.
"If you just put a little bit more creative thought into a project, there's opportunities to actually bring something to the area beyond what would be there with a new build," he explained. "For instance, directly across the road junction from The Tollhouse, a row of traditional buildings was recently replaced by a new office block that is now laying empty. It just doesn't have the same character.
"In Edinburgh, there's less of that opportunity than there is in places like Glasgow or Dundee, primarily because the bulk of the built fabric of the city centre is still pretty intact.
"Retention and reuse and adaptively thinking about how you might add new things to existing buildings brings with it a different character, something that entirely new builds just don't quite have, particularly in a city."
Some people will never forgive us for not being a toilet any more
It's often said we eat with our eyes as much as our stomach but a growing number of restaurateurs are taking things one step further, creating a feast for the senses by setting up shop in unexpected places.
From former churches and banks to derelict factories and tenement flats, some of the country's most popular, trendiest eateries are housed within retrofitted spaces.
At the busy intersection linking Edinburgh's Canonmills and New Town, for example, residents have seen a once-derelict public toilet transformed into The Tollhouse after an impressive renovation project. Sitting above the Water of Leith, the traditional stone building was first a tollhouse where levies would be collected from merchants before becoming public toilets in the '80s.
After years boarded up and covered in graffiti, the council sold the building to developers and after a refit that cost upwards of £200,000 it was taken over by restaurant owner Paul Brennan who also runs the city's multi-award-winning Dine eateries.
"When we had our first viewing of the site, even though there was no flooring in some places and very little lighting, there was an energy and intrigue about the building," said Brennan, who opened The Tollhouse in October. "On one side, you can sit and relax overlooking the Water of Leith and on the other side the Canonmills clock reminds you that you are half a mile from the city centre.
"The site is so unique – where else in the city can you sit and watch kingfishers, grey wagtails and herons at any time of day? In the evening, too, if you sit out on the terrace you can see hundreds of bats over the course of an hour."
Transforming the space was no mean feat but bringing a once unloved building back to life meant saving an important part of Edinburgh's heritage.
"Some people will never forgive us for it not being a public toilet any more," said Brennan, "but we have tidied up what was a forgotten corner. There was graffiti on the building for five or six years and now we've brought something new to the area. Everyone who comes inside is just blown away so I do feel we've done the building justice. We're really proud of what we've achieved."
Restoration has become increasingly popular across the construction industry as developers look for more eco-friendly ways to provide additional housing or office space but architect Robin Livingstone, who worked on The Tollhouse project, believes it has become particularly attractive to restaurateurs looking to stand out in a competitive market.
"Ultimately it's still very much about the location," he said. "There was huge demand for that particular space because it's so quirky and you're right on the city corner. Restaurateurs are looking for a unique offering because it's competitive out there and The Tollhouse does show what you can do if you take a more creative approach and your first idea isn't to just knock things down."
In Glasgow, another innovative dining space has seen foodies opt to dine at home. Housed within a traditional tenement flat in the West End, Hooligan Wine is one of the city's hottest new eateries, where diners enjoy a vegetarian-led menu and natural wine selection while sitting in a former living room.
Once a private function space for the bar downstairs, owner Craig Maclennan, who also runs Eighty Eight in Partick, decided to convert the room into a wine bar when the pandemic meant bookings for private parties all but dried up.
Although there are pitfalls to the location – including a lack of foot traffic and the fact a lot of customers try to enter the restaurant through the adjoining residents' close – Maclennan believes the restaurant industry as a whole benefits from being a bit more creative.
"It's good for the scene in general if every restaurant looks a little bit different," he said. "If you go to eat somewhere and it used to be a church or somebody's living room, there's a bit more appeal than a ground-level, high-street unit, which all look the same. Places like Hooligan definitely give more identity to the restaurant scene."
Plus, with so many beautiful features already in place, the team didn't need to do much to make the space look impressive. He added: "We have the high ceilings and cornicing so we didn't really do much to the room. We just stripped everything back and kept the original features, which are very 'Glasgow'."
Other restaurants with intriguing histories include the family-run Timberyard in Edinburgh, which was converted from a 19th Century props and costume warehouse, and The Esslemont Bar & Restaurant on Union Street, Aberdeen, housed within the former iconic Esslemont & Macintosh department store.
While retrofitting may be a trend for some businesses, Chris Reade, owner of Sgriob-Ruadh farm on the Isle of Mull, is something of a trailblazer. Housed within a recycled village hall built on the Clyde in the 1920s before being brought to the island by puffer ship, The Glass Barn farm shop and café started life as a family party space and now attracts visitors from far and wide.
"We saw the building with its beautiful trusses riveted with shipyard technology and we thought it would make a lovely space for doing projects in the wintertime," said Reade of the decision to relocate the building 30 years ago. "We put it up next to our workspace where the cheese is stored and added glass so we could grow herbs and so on. Over the years we held many wonderful family parties in there – both my sons had their weddings there – but later thought it would make a nice café."
Operating as a cafe retail space on and off for many years now, The Glass Barn is a prime example of Reade's keen focus on sustainability, which is evident throughout the family-run business. "We used every single bit of the old building including all the sarking," said Reade. "The floor that was all knotted and worn from dancing was turned over and re-used and the windows went into the cow barn too. We don't like to throw anything away. We get satisfaction and a thrill from other people enjoying the space."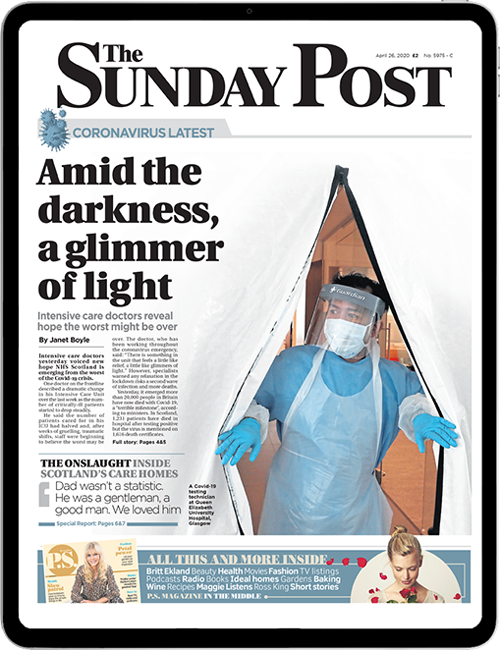 Enjoy the convenience of having The Sunday Post delivered as a digital ePaper straight to your smartphone, tablet or computer.
Subscribe for only £5.49 a month and enjoy all the benefits of the printed paper as a digital replica.
Subscribe