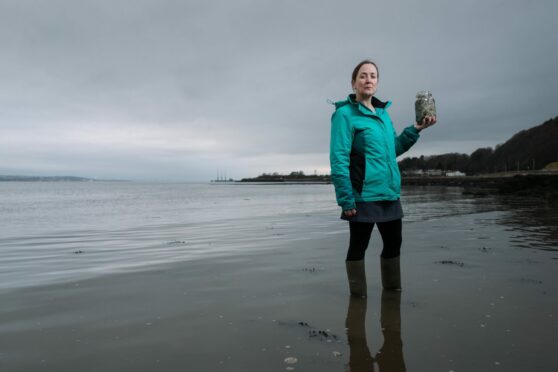 At first glance, the sandy beach beside the picturesque village of Limekilns on the Firth of Forth is like many across Scotland, strewn with seashells and seaweed, frequented by dog walkers and popular with families, children and tourists in the summer.
Discarded plastic bags and bottles also litter the sand here; a depressing yet familiar sight that jars with the postcard view of colourful beachfront houses overlooking the estuary towards Blackness Castle and the Forth Road Bridge.
Yet this busy Fife beach is a hotbed for a far more invasive, endemic and concerning pollution problem. Scattered across its surface and embedded in the sandbank are thousands of tiny plastic pellets called nurdles.
"Once you notice them, you see them everywhere," says Joanna McFarlane, pointing out a multitude of lentil-sized blue, yellow and translucent pellets protruding from the sand.
Nurdles are the building blocks of most plastic products on earth; shipped worldwide, usually in plastic bags or bulk trucks, to processing plants and factories where they are melted down to create a myriad of objects.
While so small that beachgoers usually mistake them for stones or shards of seashell, these microplastics pose a big problem for the environment, marine life and, potentially, human health. According to Dani Whitlock, project officer at Fidra, an environmental charity, an estimated 230,000 tonnes of pellets are lost into the environment every year.
"To put that in context, that's larger than the surface area of Loch Lomond," she says. "Nearly every plastic item in the world is made using nurdles. "They are transported globally on cargo ships and lorries, so there's an everyday risk of them getting lost or spilled at every stage of the supply chain."
Thousands of pellets find their way into the sea via factory drains, or via cargo spills, or fall from ships or lorries.
For the past decade, Fidra has been working to stem the tide against rising nurdle pollution. It liaises with community and international groups and non-government organisations to highlight the issue of nurdle spillages and campaign for tighter industry regulations and legislation.
The charity's annual Great Global Nurdle Hunt has mapped how the scale of the problem has grown over the past decade. Last year's hunt identified nurdles in 90% of the 317 beaches surveyed across 23 countries – an increase from previous years.
"The amount of nurdles is increasing year on year and points to long-term accumulation of these plastic pellets on our beaches, oceans, rivers and estuaries," adds Whitlock. "It's frustrating that we are in the same position 10 years on. No one has been held to account and there's no legislation in place."
Limekilns' beach, along with others that line this stretch of the Forth, has one of the highest concentration of nurdles pollution in the world, much of it embedded in the coastlines, built up over decades.
McFarlane, chair of Charlestown, Limekilns and Pattiesmuir Nature Conservation Volunteer Group which campaigns on the issue, produces a jar containing an estimated 45,000 pellets collected by volunteers in just one hour.
The smaller and curved appearance of some pellets suggests they had been in the ocean for many years, perhaps decades, their rough edges smoothed like pebbles.
An estimated half a million nurdles have been removed from this beach alone.
"If you dug back through this sandbank, I bet half of it is made up of nurdles. People have grown up with nurdle pollution here for generations," says McFarlane, from neighbouring Charlestown.
"Apart from it looking horrendous and that children growing up playing in plastic pollution has become normal, it's also a disaster for the abundant wildlife. Multiple plastic producers have operated in these waters for decades but no one will accept accountability and, as there's no laws in place, we can't hold anyone accountable.
"People here are frustrated and disappointed. Children are angry when we talk to them about it in school. They ask us why it's there and why is no one doing anything about it?"
Also nicknamed "mermaid tears", nurdles swirling in the ocean pose a lethal risk to marine animals. Dead fish, turtles, dolphins and sea birds have been found with nurdles in their stomachs.
"They resemble fish eggs when in water so can be mistaken for food and regularly ingested by marine animals," says Tanya Cox, senior technical specialist for marine plastics at the biodiversity conservation group, Fauna & Flora International.
"This causes a risk of choking or a false feeling of fullness that can ultimately lead to death by starvation. The chemicals they carry can also transfer to the animals that eat them, while a build-up of pellets in the environment can also impact and impede the growth of important marine habitats like sea grass."
Nurdles also pose a hazard to human health as bacteria and viruses can bind to their surface and survive for long periods in water, according to Stirling University researchers.
Richard Quilliam's studies of how pathogens cling to marine plastics, including nurdles collected from beaches along the Firth of Forth, has revealed how bacteria, viruses and fungi can colonise and survive on plastic, travelling potentially large distances on the tides.
"While organic materials like seaweed, leaves or feathers eventually break down, plastic can survive in our oceans for hundreds of years," says Quilliam, a professor in biological and environmental sciences.
"Being on the surface of plastic protects these pathogens and allows them to survive longer than if they were in the water on their own.
"We found that pathogens can persist on the surface of plastics as they move from freshwater to seawater and survive when left on a beach for several weeks.
"Theoretically, nurdles could transport these pathogens over long distances and can keep getting recolonised as they come into contact with polluted water.
"Microplastics also concentrate pathogens to a small area. One nurdle could have many pathogens compared to one or two found in a larger volume of water."
The potential for pathogens to transfer to fish and so enter the human food chain is slim, says Quilliam.
"If fish ingested microplastics that had pathogens on them, it would just go into the gut and either be excreted by the fish itself or the gut would be removed if the fish is harvested."
However, their presence on beaches increases the potential for human exposure to bacteria such as E coli that causes diarrhoea and cramps, while research also suggests that certain viruses like rotavirus can also bind to and survive on plastics.
Quilliam adds: "We use E coli as a model organism and found the virus on around 45% of the nurdles taken from sandy beaches at Gullane and Longniddry.
"These are sandy beaches popular with tourists and families so the chance of potential exposure is very high."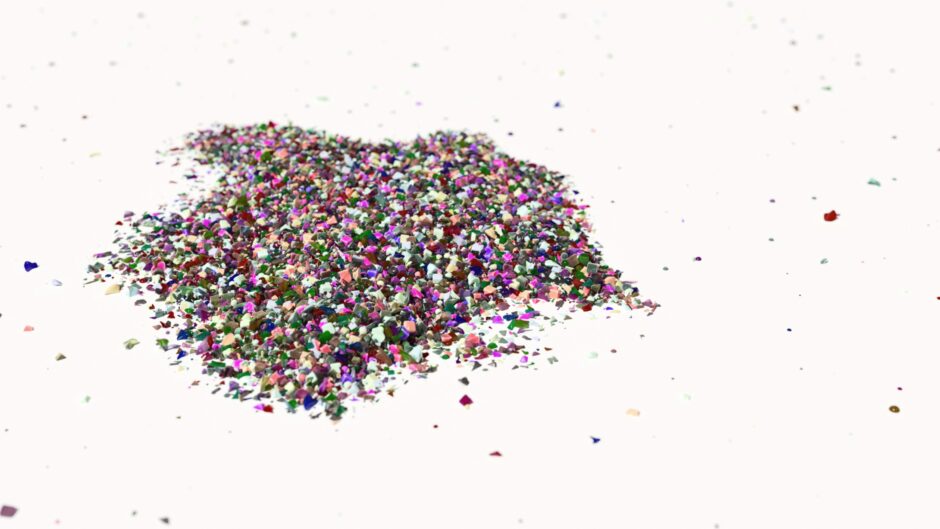 Yet he stresses the health risk to humans is not severe. "It increases public health risks to things like diarrhoea but that can be avoided by washing your hands after touching plastic debris on a beach."
Chronic nurdle pollution is worse on Firth of Forth beaches because of their position on the estuary, where competing tidal currents have historically deposited more marine debris on the shore. Higher concentrations of nurdle pollution tend to occur near industrial areas.
Grangemouth, Scotland's main container port and petrochemical complex and home to two plastic processing sites, is visible across the river from the nurdle-ridden beach on Limekilns.
"The Firth of Forth is a particularly industrial area with major plastic producing and converting facilities, which is why the area is so badly affected," says Cox. "Any company that handles plastic pellets is at risk of losing them to the environment unless they have the proper prevention measures in place."
Since 2019, Ineos, which owns the petrochemical plant, has adopted best practices outlined by Operation Clean Sweep, an industry-led initiative to prevent pellet loss in the environment and has said it is committed to eliminating pellet loss.
The overarching industry issue, say Cox and Whitlock, is that the scheme is voluntary. Not every company is signed up and adherence to its best practice is not enforced.
Nurdles are the second-largest direct source of micro plastic pollution to the marine environment (the first being tire particles) with trillions estimated to have spilled into the oceans due to major cargo spills caused by maritime disasters.
Clearing the colossal amount of nurdles polluting our oceans and beaches is impossible. Instead, campaigners say addressing the issue of regulation across the supply chain is critical.
WATCH: Scotland's wild beaches 'knee deep' in plastic and rubbish
"Should plastic pellets be labelled hazardous, they would be stowed securely below deck on container ships, less likely to spill into the sea," says Whitlock.
This year could herald a major step change on the issue, says Cox, whose group works with industry bodies, scientists, policy-makers and regulatory bodies to address the impact of global plastic pellet loss.
The International Maritime Organization (IMO), which is responsible for regulating maritime industries, and the European Commission are considering separate policy proposals to regulate the labelling, handling and distribution of nurdles. "Pellet loss has been happening for over 30 years but it is preventable with effective legislation," says Cox.
"If the International Maritime Organization chose to label pellets as marine pollutants that would automatically trigger global changes in the way that pellets are packaged, labelled and stowed for transport, which would reduce the risk of chronic losses and acute disaster spills.
"If the European Commission opts for a supply chain approach, legislation will change not only the way European companies operate, it will also increase the stringency of requirements for companies importing plastic pellets into the European market.
"The IMO will decide in April if it will move forward with this policy option and the European Commission is also going to release its policy proposals this year for tackling plastic pellet loss. Hopefully we will see some movement on this issue."
Cox adds: "The Scottish Government has been hugely supportive in moving this work forward by convening a plastic pellet loss steering committee to examine the supply chain approach and championing the use of industry-wide standards and certification schemes."
Back on Limekilns beach, Joanna McFarlane reveals how members of her conservation group, villagers, rotary club members, school pupils including her eight-year-old daughter Maggie, and college students work hard to rid their beloved beaches of plastic debris.
Yet painstaking hours of clearing with buckets and even tweezers will shift only a minuscule fraction of nurdles. Even more will be swept ashore or uncovered from the sand with the next tide.
McFarlane sighs as she kicks over a pile of sand to reveal more nurdles, then bends down to pick up a long piece of plastic packaging intermingled with the seaweed.
Frustrated, but also defiant and determined, she says: "Nurdles is an impossible task to clean up but I'd rather do something about it than be completely oblivious. At least we've stopped around half a million nurdles from going back out into the ocean."
Looking along the beach and across the water towards the Forth Valley's industrial hub, she adds: "The companies responsible should compensate communities like ours that have been living with nurdles and apologize for what they've done in the past. That might sound naïve but someone has to pose that question.
"I don't want my daughter and her friends to grow up thinking that it's OK for beaches to be covered in nurdles and that no one will do anything about it."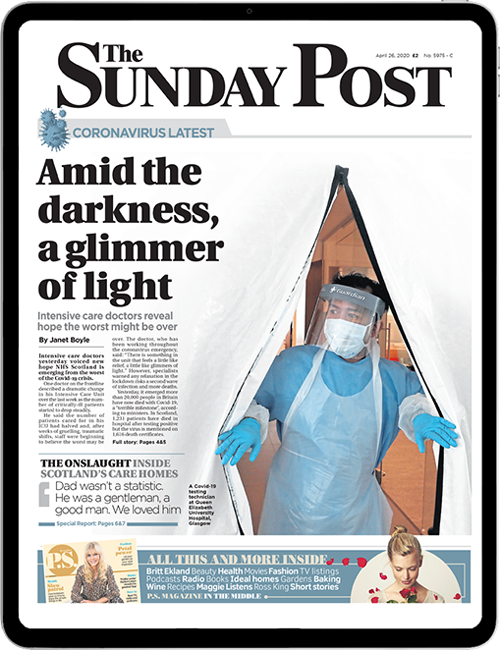 Enjoy the convenience of having The Sunday Post delivered as a digital ePaper straight to your smartphone, tablet or computer.
Subscribe for only £5.49 a month and enjoy all the benefits of the printed paper as a digital replica.
Subscribe