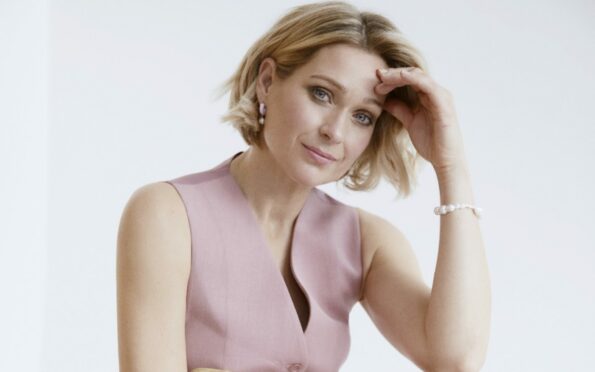 Life could have turned out very differently for Sian Brooke had she decided to follow in her father's footsteps and become a police officer.
It was a career she considered over the years, but she chose to continue with acting and it's a decision which has paid off, with acclaimed roles in Sherlock, Trying, The Moorside, Doctor Foster and, currently, Blue Lights.
Her portrayal of rookie cop Grace Ellis in the Belfast-set drama has drawn acclaim and given her the opportunity to pull on the police uniform she had considered switching to in real life. She soon realised, though, that being an officer in Belfast is a different proposition to the beat her dad had in Staffordshire while she was growing up.
"We were lucky enough to go out with the police in Belfast, and there was one station in particular where we chatted extensively to the officers about what it was like," she said. "It would be ignorant not to acknowledge that the policing there has different levels of intensity. My dad was a police officer, and with that comes its own stresses and concerns, but over there they carry guns.
"We went round various areas in a patrol car and it was fascinating. Nothing happened, which was probably for the best, but the officers said we should come back on a Friday night when it's much busier!
"It was a big learning experience and I asked what it was like to read someone their rights for the first time and to arrest them. They admitted how nervous they were."
The final episode of the six-part drama airs tomorrow but it has already been renewed for a second series. Brooke will return to Belfast in August to resume filming. Written by former BBC Northern Ireland journalist and fellow ex-Beeb colleague Adam Patterson, the series has been commended for its authenticity and Brooke is delighted to see how well it has been received.
"I'm so proud of everyone involved and it was such a fantastic experience," she said. "The world seemed fully formed when I read the script and that's due to the brilliant writing. We knew when we were making it that we were happy with it and excited to share it, but it's been a welcome surprise to see it being as positively received as it has.
"It was researched to the hilt for years prior to writing the scripts, and it felt very real in terms of dialogue and banter and relationships."
'There's a human behind the uniform'
Her dad's police career let Brooke see there is a human being behind the uniform, an important element she was able to bring to the role of Grace, a 41-year-old former social worker who has lived in Belfast for 20 years and has a teenage son.
"It's why I felt such an affinity with the role and that world," she said of her father's influence. "It was nice to portray the human aspect of a job which has such high levels of responsibility. It's a real person – a mum or a dad or a husband or a wife – trying to do their best. I was able to speak to my dad about it – I'd spoken to him about his career anyway, but this provided another level of understanding and opened new conversations. After watching it, he's remembered other things which have led to lots more conversations."
On considering joining the police for real, she said: "There were times, because I've been doing this job a long time now, where I'd be lying if there were occasions when I hadn't thought of doing something else.
"I've always been intrigued by that world and naively thought it was exciting but I'm sure there are times when it's not, which is something we portray in the show, where you sit in a car for hours at a time. There have been times when I thought about it and realised I wouldn't be very good at it, so I'll leave it to the proper people to do the proper stuff, and I'll enjoy pretending."
Born in Lichfield in 1980, Brooke was the youngest of three siblings to her Welsh policeman and teacher parents. She joined the Lichfield Youth Theatre at 11, and later the National Youth Theatre, before joining RADA at 18. She graduated in 2002 and her first role was in the short-lived TV series Dinotopia.
She has worked consistently on screen and stage since, but it was her scene-stealing performances in the fourth series of Sherlock, when, after playing a variety of guises, she was revealed to be Holmes' sister Eurus, that lifted her career to new heights. Critics described it as a star-making performance.
"I would say it was a breakthrough," she continued. "At the time, the show was so huge and to be able to have the opportunity to play so many characters was massive. That show changed the path for me.
"I remember going to the audition and having no idea it would end up being the part that it was. I thought I was going for a bit part; I didn't realise it was all these different characters I would be playing.
"I don't think I was particularly well-known, and they wanted someone who could go under the radar so that the big reveal at the end would be that the characters were all the one person. It was a good showcase; you don't usually get to do that after leaving drama school.
"Because of the whole experience and how it changed things for me, I'll always have a special fondness for that time in my life, and also because I'm a big softie and Eurus was so devoid of any empathy, so it was a big challenge to play someone who was, for all intents and purposes, psychotic."
Trying and Guilt
Her character in Blue Lights is another highlight, as is her role of Karen in the AppleTV comedy, Trying, about a couple struggling to become parents. She plays the main character's sister and goes on her own journey with motherhood in the series, now filming its fourth season.
"I love the show and I love playing the character, because she's so annoying," laughed Brooke, who has two boys – Ben and Archie – with her husband, actor and director Bill Buckhurst. "I had no idea what a Karen was beforehand. I can behave outrageously through her in ways I never would in real life – I think there's therapy in that!
"I laugh out loud every time I read the scripts thanks to the observational comedy. In each episode, something a character says or does is something I recognise in myself or people I know."
So, too, was it the funny and sparkling dialogue in Guilt which led her north to film the BBC Scotland comedy drama. She played Claire, the increasingly irritated wife of Mark Bonnar's scheming character Max, in the first series of the hit show, which returned for a third and final season last week.
"Guilt was really special, because again it started out with a group of great people with good intentions and lots of talent, but again we didn't know how it would land and the response took us all by surprise," she said. "The writing from Neil Forsyth was so funny, especially the relationship between the two brothers, and Mark Bonnar was a joy to work with. I'd done a play with him a couple of years earlier, a Marlowe play that was very depressing where basically everyone killed themselves, so it was nice to do comedy with him."
For the first decade of her career, Brooke was a prolific stage performer, and while screen work has taken her away from the boards in recent years, she has no doubt it made her the actress she is today.
"It's where I started out and it's where I earned my stripes and found out what sort of actor I am," she said. "I started at the Royal Court, working closely with a lot of new writers on their scripts, so I feel lucky to have got that insight into a writer's process. I do miss being in a rehearsal room in the company of actors and pulling material apart and playing.
"You never know, we shall see. I've realised over the years, especially in a job like this one, that there is no point in saying it's got to be this way or that way. You'll only be disappointed, because you can't predict it and things will never go the way you think, so it's best just to roll with it and see where the road takes you."
Keeping it real
From playing former Met police commissioner Cressida Dick to Natalie Brown, the neighbour who suspected Shannon Matthews' mum Karen was involved in the child's disappearance, Brooke has played several real-life characters.
Doing so, she says, adds extra responsibility to her job.
Brooke portrayed Cressida Dick in mini-series Stephen, about the fight for justice for murdered teenager Stephen Lawrence, and Natalie Brown in The Moorside. She also played NHS whistleblower Julie Bailey in TV movie The Cure.
"If they exist already then there is a blueprint there and it can't just be imagination; there is a responsibility," said Brooke, who has also starred in Doctor Foster and Good Omens.
"I immerse myself in whatever I can find of the person. It's not an impersonation; it's about trying to find the essence of that person and, for me, one of the big things is the voice.
"There is so much in people's voices, and once I have a voice it can sometimes be the key. So, too, can meeting them. When we did The Cure, I met with Julie and hung out with her a lot.
"It takes over after a while. I don't think I take my work home, but my husband says when I play those characters he loses me a little and the other person creeps in, be it in the walk or the voice."
---
Blue Lights, Monday, BBC1, 9pm and iPlayer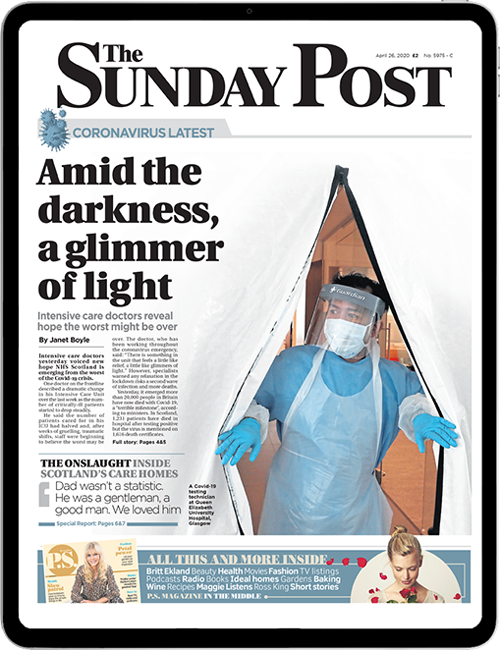 Enjoy the convenience of having The Sunday Post delivered as a digital ePaper straight to your smartphone, tablet or computer.
Subscribe for only £5.49 a month and enjoy all the benefits of the printed paper as a digital replica.
Subscribe