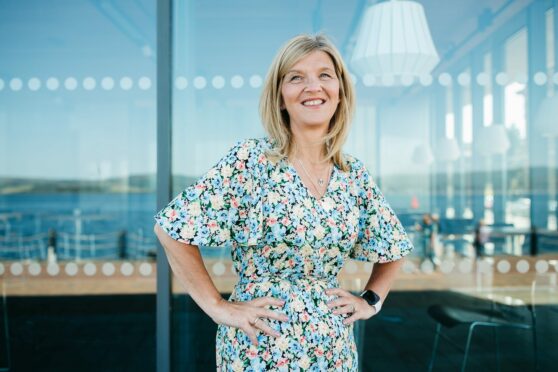 Sitting in her car, distraught and despairing, Claire Daisley tried to find the words for her suicide note.
Crippled, only able to walk with sticks, her body and health ravaged by a mesh implant, facing the removal of her bowel and bladder, and in constant pain, she sat sobbing by the shoreline near her home. She was 48 and could not go on.
Unable to walk into the waves not far from her home in Greenock, she had decided to drive her car into the sea when, finally, she became conscious of her mobile which had been ringing insistently.
The next words she heard would transform her life and, she insists, saved it: "Pack a bag, you're going to America".
Two years later, she says travelling to the clinic of world-renowned mesh removal expert Dr Dionysios Veronikis, in Missouri, was pivotal in what has become an astonishing journey of recovery.
Claire tells her story in 2019
It was The Post, with the support of generous readers, moved by her story, who raised the £20,000 to pay for her trip, but last week, after a long but determined and successful campaign by mesh injured women backed by The Sunday Post, the Scottish Government announced NHS Scotland would fund mesh removal surgery at the St Louis clinic.
Yesterday, Daisley said: "Hurtling through the sky towards America on that plane, I had no idea what I was facing or what Dr Veronikis would find but I knew he was the only surgeon who could help me.
"I closed my eyes, silently thanking God for the kind benefactors who had given me a second chance at life and the wonderful team at The Post who made it happen."
It's almost two years to the day since she was helped up the steps of that plane. As Scotland's mesh injured women celebrate being given the right to go to America for mesh removal, Claire said: "Dr Veronikis's skills gave me a reason to live again.
"I've still got a lot of pain from the irreversible internal damage that had been done before I got to see him, but today I'm a whole new person.
"I'm happier than I've been in years. I'm living proof, miracles do happen.
"My dearest wish now is to see the other mesh-injured women all get the chance I was given."
---
The campaign
30 months, 74 stories, one victory. From first to last, how The Sunday Post helped win life-transforming surgery for Scots mesh victims.
January 2019
We reveal US surgeon Dionysios Veronikis' offer to help Scots patients
June 2019
Claire Daisley appeals to ministers to help surgeon come to Scotland
September 2019
Generous Post readers fund Claire's trip to St Louis for life-changing surgery
October 2019
Frustrated, Veronikis ends talks with Scots officials, saying our surgeons do not want him here
June 2021
Health Secretary vows action before funding for patients going to St Louis is confirmed last week
---
The mesh scandal
Like many thousands of mesh-injured women, Daisley was never warned of the risks in 2011 when surgeons assured her a "gold standard" treatment would solve her leaking bladder. Instead, what had been described as a routine procedure, ruined her, but, after years spent seeking help, she was assured she'd had a full mesh removal in July 2015 in Glasgow.
She said: "I was told I was mesh free. But whatever they did to me, every movement felt like I was being torn apart inside. I went into hospital on sticks, but ended up virtually wheelchair bound.
"Afterwards, NHS specialists told me the only thing I could do was to have my bladder and bowel removed. If I'm a living example of the skills of Dr Veronikis, I'm also a living example of the horrific damage done when a surgeon who does not have those same skills attempts mesh removal."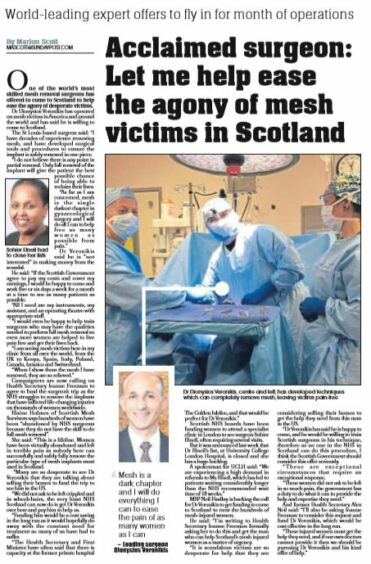 In the US, Dr Veronikis found Daisley still had a substantial piece of mesh inside her, and the removal surgery carried out in Scotland had inflicted internal problems.
The renowned expert operated for hours, removing every bit of mesh and repairing what he could.
Daisley said: "I'll be forever indebted to Dr Veronikis. He didn't just change my life. He saved it.
The Sunday Post View: It took 36 months and 74 stories but how many more lives will now be transformed ?
"Last year I came to terms with the realisation that despite the incredible skills of Dr Veronikis, the previous removal surgery in Scotland had made it impossible to save my bladder. I eventually had it removed and now use a stoma bag.
"Dr Veronikis had been very clear. The best results are always better when there have been no previous removal attempts but he saved my bowel. Without him, I'd still be in my wheelchair virtually all the time, crying, feeling I had nothing left.
"I'm still suffering the lifelong problems mesh brings, autoimmune illnesses that leave my legs swelling up with lymphedema, I still need my wheelchair sometimes, when I'm in a lot of pain. But not all the time.
"I've been able to lose almost six stone in weight, and mentally I'm happier, relieved that poisonous plastic is now out of my body forever."
The victims
Elaine Holmes of campaign group Scottish Mesh Survivors travelled to Missouri just before the first Covid-19 lockdown after she too had been told she was "mesh free".
The mum of two, from Newton Mearns, who had 22 cms of mesh removed by Dr Veronikis, said: "The news that women from Scotland can now choose the surgeon they trust for implant removal is a vindication of everything we've fought for over the last decade.
"We believed it was right and fair that after everything we've lost and been through, injured women should be able to choose a surgeon they trust to remove their mesh.
"The cost of providing out of country treatment is comparative to costs the NHS would have incurred. There is no burden on taxpayers.
"Before the health secretary's announcement, many women had already begun consultations to have their mesh privately removed, but lockdown prevented that happening. I hope consideration is given to them as well."
Scottish Mesh Survivors petitioned the Scottish parliament for a raft of changes and their campaign has inspired others around the world.
The women successfully fought for a mesh fund to help women whose lives have been affected; won an inquiry into mesh, the appointment of a Patient Safety commissioner; decision aids to provide better choice, and are continuing to fight for an implant register.
Fellow petitioner Olive McIlroy said: "Over the years there have been so many ups and downs, especially as we were all battling debilitating health problems. But the determination to ensure other women wouldn't have to suffer like us kept us fighting.
"The mesh scandal devastated so many lives which is heartbreaking because it was all avoidable, if only patients had been listened to and believed."
Political backing
The campaigning women also thanked a trio of cross-party politicians – Labour MSP Neil Findlay, SNP MSP Alex Neil and Conservative MSP Jackson Carlaw – who were affectionately nicknamed the Three Meshkateers.
Alex Neil, who, like Findlay, stood down at the last election, was health secretary when Scotland first suspended the use of mesh in 2014, and said: "I came under immense pressure not to do as the mesh injured women asked but I looked at the dreadful injuries they had all suffered and I followed my heart. I've never for a moment regretted that decision."
Scottish Health Secretary Humza Yousaf promised to give full details as quickly as possible to allow women to access the scheme.
Yousaf said: "I understand some women have already booked to see Dr Veronikis in America. I want to see a solution agreed which would avoid these women having to pay for this through their own funds and then subsequently be reimbursed. We will be working to discuss this with the private providers to try and deliver this if at all possible.
"When people can start to receive surgery will be dependent on a number of things, including the current restrictions of travelling due to Covid-19 and surgery waiting lists already in place with the private providers."
---
The surgeon
Acclaimed surgeon Dionysios Veronikis says he is "absolutely delighted" he will finally be able to operate on Scotland's mesh-injured women. He said: "Hope has been restored."
Three tortuous years after he first offered to come to Scotland to help women, NHS Scotland has, for the first time, agreed to pay for mesh-injured patients to travel out of the country for safe, full implant removal.
Veronikis said: "I am most happy hope has been restored, and at last, I will be able to help as many women as possible who have suffered. It's taken a bit longer than I anticipated for us to reach the point where that could happen.
"But I'm eagerly looking forward to seeing patients from Scotland and feel sure the government will be doing all they can to make that happen now, ensuring the process is easy to access for those who wish to see me.
"I firmly believe all patients should have a choice and options on their healthcare. All patients deserve the most skilled surgeons to perform any given surgical procedure.
"I'm extremely pleased I and my team at Mercy Hospital will be part of this world-first international mesh treatment centre."
Missouri-based expert Dr Veronikis is now calling for new scrutiny measures, warning no surgeon should use any implant unless they can prove they have the skills to safely remove them.
The announcement last week from Scottish Health Secretary Humza Yousaf to send women to the US as well as to a Bristol-based surgeon came after a campaign by women who had lost faith in the Scots surgeons who implanted them before wrongly assuring many they had undergone full removal.
Last year, Dr Veronikis reluctantly withdrew his offer to come to Scotland after surgeons here were accused in parliament of a "professional conspiracy" to block the expert, who has a proven track record of safely and fully removing thousands of mesh implants used to treat bladder issues and pelvic organ prolapse, from coming to Scotland.
But campaigners and politicians continued to demand Dr Veronikis's help for women who have suffered life-changing injuries, many left in wheelchairs and having to use walking sticks.
Dr Veronikis said: "I've been extremely impressed by the Scottish Parliament and the politicians who, despite being from different parties, understood the situation and the solution, uniting to work together to do the very best for Scotland's mesh-injured women."
---
OPINION: Courageous women insisted risks were bigger than benefits. And they were right
By Wael Agur, leading gynaecologist and obstetrician and an adviser to the Scottish Government on mesh
It was a proud moment last week when Scotland became the first country in the world to fund mesh-injured patients to undergo out-of-country removal surgery.
Many will prefer to be treated outside Scotland by world-renowned experts with a proven track record of safely and fully removing hundreds of the controversial mesh implants used to treat bladder problems and pelvic organ prolapse, so this announcement is of huge significance.
It represents the culmination of a campaign which has taken almost a decade to change thousands of lives for the better. I know because like other urogynaecologists, I once believed mesh implants were "gold standard". In 2013, that changed.
I met the determined campaigners behind Scottish Mesh Survivors who challenged the medical establishment on mesh-related risks and the multi-national corporations and manufacturers on the safety of their products (or the lack of).
Their life-changing and lifelong injuries moved them to protect other women. Their injuries were proof, they said, that mesh should no longer be implanted and for most, if not all patients, the benefits do not outweigh the risks, particularly as there are safer alternatives. In retrospect, they were right.
As I listened to their arguments and saw for myself tens of thousands of women around the world suffering avoidable injuries, I chose my patients' viewpoint over traditional medical hierarchy. I no longer use mesh.
Instead, I advocate retraining surgeons on the traditional surgical skills necessary to rebuild patients' own tissues to repair childbirth damage, without the use of synthetic foreign material. These were the highly technical surgical skills lost when manufacturers promoted the widespread use of mesh implants.
Mesh devices were cheaper for the NHS in the short term but were causing avoidable harm, with patients repeatedly returning to hospital for treatment and many were forced to give up jobs. The human cost outweighed any financial savings.
Since 2015, I've spoken worldwide on mesh risks and the comparative safety of alternatives. The benefits and risks of both options remain contested. There is consensus, however, for the skills to perform mesh-free surgeries to be revived and encouraged.
Learning from the experience of our patients requires listening, empathy and genuine desire to help and campaigners speaking truth to power has changed the lives of women in Scotland and around the world.
I am proud that we became the first country in the world to suspend the use of mesh in 2014, the first to have a Government Review, the first to refund the health expenses incurred by the injured women, the first to create the role of a Patient Safety Commissioner and the first to cover the cost of a private out-of-country mesh removal service that women trust.
I hope the rest of the UK follows Scotland. My only regret is there are still surgeons and professional organisations which insist on wanting to bring back mesh surgery, without appropriate consultation with stakeholders and before the safeguards suggested by Baroness Julia Cumberlege in her report on medical device safety are in place.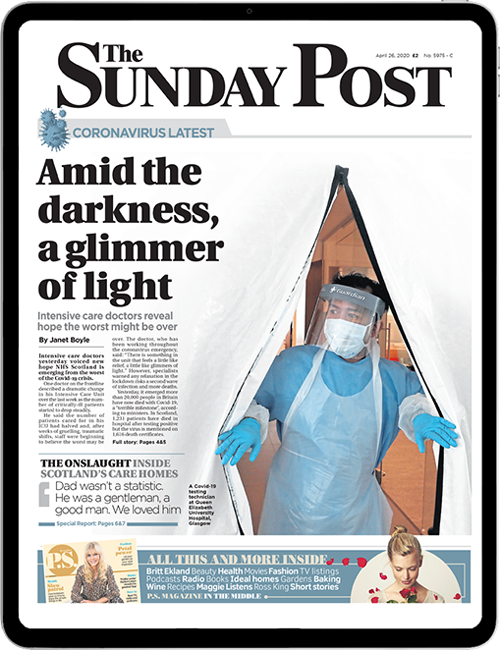 Enjoy the convenience of having The Sunday Post delivered as a digital ePaper straight to your smartphone, tablet or computer.
Subscribe for only £5.49 a month and enjoy all the benefits of the printed paper as a digital replica.
Subscribe