The group of experts ­apparently launched by the health secretary to help mesh victims was originally formed to reinstate the controversial implants, we can reveal.
Health Secretary Jeane Freeman has insisted the special committee was launched in March after opposition politicians in Holyrood demanded an acclaimed American surgeon should be invited to Scotland to remove mesh implants that have inflicted catastrophic injuries for hundreds of Scots victims.
Ms Freeman and Scotland's Chief Medical Officer, Catherine Calderwood, announced the creation of the committee after meeting crippled mesh victims at the Holyrood debate on March 5.
However, the group had already been working to reinstate mesh implants after their use was banned in Scotland.
In December, government papers revealed Ms Freeman knew "accountable officers" had been nominated to oversee "mesh procedures in the future", and "to progress the protocol".
Scotland was planning to ­follow English medical watchdog Nice, which announced in April the mesh ban should be lifted with implants offered at "specialist centres" and outcomes recorded on a national database.
But Baroness Cumberledge stepped in to block the ban being lifted while she continued a nationwide review of mesh safety.
In America, £10 billion in compensation has already been paid to victims crippled by mesh, used to treat prolapse and incontinence.
Last week, the health secretary issued a 635-word statement on the committee's work, revealing that, instead of accepting world-leading mesh removal specialist Dr Dionysios Veronikis's offer to travel to Scotland to treat patients and train surgeons, the government was going to send Scots medical staff on international fact-finding trips.
The trips have been dismissed as "a jolly" by campaigners and "a needless, pointless waste of time and resource" by specialist sources.
Mesh victim Claire Daisley, 49, of Greenock, is due to have her bladder and bowel removed in six weeks and had appealed to the health secretary to help bring Dr Veronikis to Scotland.
The surgeon has developed world-leading skills and techniques in mesh removal that, experts say, is far superior to what is available in Scotland.
Yesterday, Claire said she was disappointed by the refusal of Ms Freeman, apparently advised by Scottish surgeons, to accept Dr Veronikis' offer to travel to Scotland.
"I asked for her help but only got more words, a lot of talk promising more meetings, more reviews and more fancy trips for doctors.
"I don't have time for that. My life has already been ruined by mesh. On the July 25, I face an awful, terrible operation. Dr Veronikis says he might be able to help me, wants to help me, but is not being allowed to help me.
"I'm in despair."
In a jargon-laden statement issued last week, Ms Freeman said her Scottish group had already "begun an exercise to benchmark the care pathways in each of their health boards against Nice guidelines published earlier this year".
She added: "It has been agreed a group of clinicians based in Scotland, including surgeons, a specialist nurse and physiotherapist, should undertake a series of visits to overseas clinicians in order to review, compare and contrast their practices with those currently in place in Scotland."
She also said mesh patients could make individual applications to health boards for overseas treatment, adding the criteria must be if the treatment requested could not be "reasonably provided in Scotland".
The health secretary added: "Clinicians will initially discuss any such request with the patient and, if agreed, will then refer it to the health board for consideration.
"The health board will review the application, in doing so considering whether the treatment requested can reasonably be provided in Scotland, and in due course will inform the clinician and patient whether the request is accepted."
Claire said she would apply to see Dr Veronikis, adding: "Surgeons here clearly cannot do full removals safely. Too many have ended up like me, stuck in a wheelchair and on sticks, even worse off after the partial removal I was given."
Meanwhile, campaigners were dismayed after discovering the real reason for forming the group which they hoped would help victims get support and the best possible treatment.
Olive McIlroy of Scottish Mesh Survivors said: "Again and again, we have been promised our voice will be heard. Again and again, we have been patronised, dismissed and betrayed by ministers, civil servants and experts.
"We were ill and in pain, but we dragged ourselves to countless meetings to take part in what was supposed to be an independent mesh safety review that was anything but.
"We've shared deeply personal stories, shown our devastating injuries and wept as we lost wonderful women killed by mesh, and Scottish ministers seemed oblivious.
"Jeane Freeman came in, and we hoped, at last, to be treated with honesty and dignity, that she would see hundreds of thousands of women around the world had been injured and do something to stop it.
"To discover, yet again, that we have not been told the entire truth is devastating. For Scottish surgeons to now be given tax­payers' money to jaunt around the world on some kind of jolly is the final slap in the face to victims like Claire."
Ms McIlroy added: "We haven't the time or the energy for ministers' prevarications, reviews, meetings and discussions. Actions speak louder than warm words and empty promises."
We can reveal MSPs who took part in the heated debate to bring Dr Veronikis to Scotland also had "no idea" the group of experts "judging him" were already working on ways to reinstate mesh.
Neil Findlay MSP said: "If women dying, women left in wheelchairs, losing homes, marriages, careers and left suicidal isn't enough along with the independent scientific studies that prove the risks outweigh the benefits of mesh, just what needs to happen for Jeane Freeman to do the right thing?"
Mr Findlay said he was "disgusted" that, despite repeated calls for the health secretary to help Claire, the government was refusing to comment because of "patient confidentiality".
He said: "This is nothing more than a cop out. Claire Daisley waived her confidentiality to tell the world what she is going through.
"Is she really going to sit back and do nothing and let Claire lose two organs when there is an expert who has a chance of helping her?"
The Scottish Government refused to comment on Claire Daisley's situation, saying: "We must respect patient confidentiality."
It added that the expert group had met twice and that, despite the evidence in government papers showing it was formed last year, insisted the group was only launched after the March 5 parliament debate.
A spokesman said: "The group has been formed specifically to look at mesh complications services."
---
Mesh patients: Scots doctors do not have the skill to fully remove mesh
The difference between the mesh removal carried out by Dr Dionysios Veronikis and surgeons in Scotland could not be clearer, according to a patient who spent £15,000 travelling to America for her operation.
Maggie Brotherston used her life savings to pay for the surgery in the US. The American doctor, who has pioneered world-leading surgical techniques to remove mesh, took out 15cms of tape in one piece and within hours Maggie was walking. The operation has transformed her life.
Meanwhile, another patient underwent what she had been assured would be a "full removal" of the same type of obturator tape in Scotland.
After the operation at NHS Lothian's mesh centre of excellence, she was shown photographs of her "full implant removal" – tiny fragments, a fraction of the size of Dr Veronikis's mesh removal. The biggest was less than 4cms long.
She said: "I was assured it was a full mesh removal of the same device Maggie had.
"I could see for myself the tiny fragments were nothing like what Dr Veronikis had removed.
"He is acknowledged as a world leader in mesh removal and has pioneered techniques and gained skills that could help ease the agony of women in Scotland and around the world. I cannot understand why surgeons would not be eager to get him over here to learn from him."
Last year, Dr Veronikis was awarded the Distinguished Surgeon Award from the Society of Gynecologic Surgeons.
He is director of pelvic surgery at Mercy Hospital in St Louis, Missouri and has removed more than 2,000 mesh implants.
Maggie Brotherston said: "I feel blessed I was able to see Dr Veronikis. Without his expertise, I don't think I'd be here today. Our NHS surgeons should be seeking his help."
---
Video by Megan McEachern.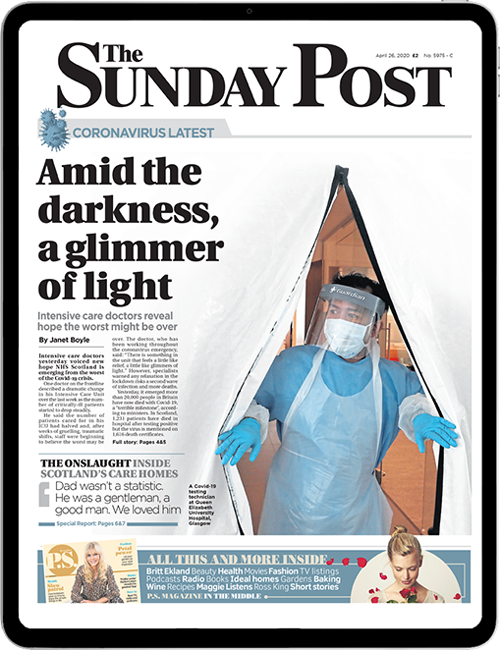 Enjoy the convenience of having The Sunday Post delivered as a digital ePaper straight to your smartphone, tablet or computer.
Subscribe for only £5.49 a month and enjoy all the benefits of the printed paper as a digital replica.
Subscribe