Scotland's new health minister believes Scotland must again lead the world in the support and treatment for women ruined by mesh.
Humza Yousaf is determined to lead the way in dealing with the ­legacy of injury and ruined lives left by the global medical scandal.
Last week, he agreed to reimburse injured women who had travelled abroad to seek treatment to remove the crippling vaginal mesh after NHS surgeons failed to ease their agony.
And, he revealed, further private surgery options will be announced within days for the thousands of women who have suffered devastating lifelong injuries caused by the plastic vaginal implants used to treat bladder and prolapse after childbirth.
Yousaf said: "Many women ­suffered because of mesh. They hoped one operation would improve their daily life. Rather than improving their situation their mesh implant caused many devastating complications and, in some cases, left people unable to walk any ­distance or to walk at all unaided.
"The physical symptoms and mental distress they suffered were often made worse because they felt they were not believed when they sought help. Some felt their only option was to use their own money to pay for surgery privately to have mesh removed.
"I can only imagine the distress that led women to do that. It is a wrong we cannot allow to stand."
Grotesque: Victims react as government advisor warns surgeons will soon lobby for return of mesh
The new Health Secretary has already shown his determination to ease the legacy of the mesh scandal with his immediate reaction to surgeons accused of preparing to lobby to seek reintroduction of the devices that have injured hundreds of thousands around the world. Scotland was the first country in the world to ban its use in so-called routine procedures. However, many surgeons continued to use the implants insisting the potential ­ benefits outweighed the risks.
Yousaf's response to any future attempt to reintroduce mesh – a move branded "grotesque" by victims – was swift and unequivocal, insisting there were "no plans to reintroduce mesh" and he could "envisage no circumstances whatsoever in which this position would change".
The Reimbursement Bill allows women who travelled outwith Scotland for private treatment to receive up to £23,000 to cover costs.
Women insisted they had "lost all confidence" undergoing removals with surgeons who implanted them. Up to a third suffered complications, losing organs, being left in wheelchairs and fighting off deadly sepsis from repeated infections.
Controversy surrounded the abilities of surgeons here to fully remove the devices, with patients told they had a "full removal" discovering only tiny pieces of mesh had, in fact, been removed. Many sought treatment with world-class surgeon Dr Dionysious Veronikis in the US, who has a proven track record of fully removing thousands of implants with his muscle-sparing technique. The patients travelling to his St Louis hospital included Claire Daisley, of Greenock, whose trip was paid by benefactors who had read of her ordeal in The Post. After arriving home, she said: "The surgery did not just change my life, it saved my life."
Elaine Holmes, of Scottish Mesh Survivors, saw Veronikis after being told repeatedly by surgeons here she was free of mesh – only for him to find an almost intact implant.
She said: "We're grateful the Health Secretary is acknowledging the implications for so many women and their families over this dreadful scandal. We earnestly hope he will now follow through by ensuring all injured women can access surgeons of their choice, including Dr Veronikis, without having to spend life savings to repair the damage done to them."
The Health Secretary said: "We must improve and ensure this does not happen again. We are working hard to restore women's confidence in our services and we are listening to them as we develop it. We have a specialist mesh removal centre in Scotland helping people now.
"But I know many of the women who have lost their trust in the NHS over their mesh implants would be more comfortable going elsewhere. That is why we are ensuring women will also have other options to have their mesh removed, either through the NHS in other parts of the UK, or by surgeons out-with the UK.
"I am determined to listen and to ensure women get the help they ask for and deserve."
Scotland is the first country in the world to take this step. It was also first, in 2014, to suspend use of mesh implants which "saved" the NHS about £200 per patient, but destroyed thousands of lives. Mesh manufacturers paid billions of dollars of compensation to victims and have been fined across the US.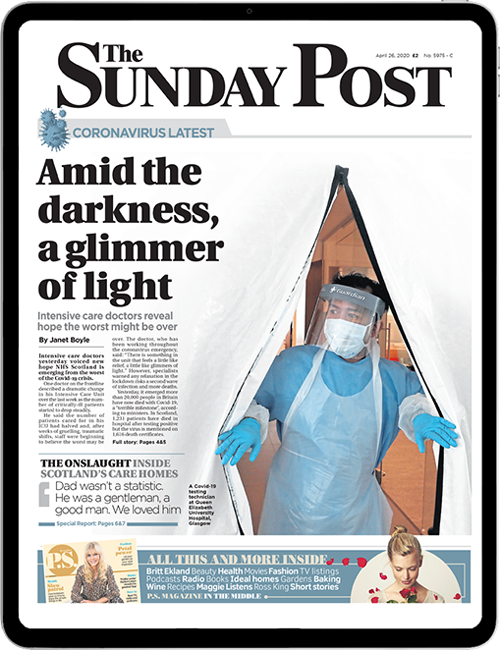 Enjoy the convenience of having The Sunday Post delivered as a digital ePaper straight to your smartphone, tablet or computer.
Subscribe for only £5.49 a month and enjoy all the benefits of the printed paper as a digital replica.
Subscribe