Claire Daisley could suffer no longer.
Repeatedly told by doctors that everything that could be done to ease her crippling agony had been done, she was resigned to an awful operation that would change her life forever.
Her mesh implant, that had inflicted such pain, had been completely removed, they said, but still her anguish continued, the terrible agony forcing her to use crutches and wheelchairs.
The only option left, they said, was to remove organs, her bladder, definitely, her bowel, almost certainly.
Fearful, Claire was due to have her bowel removed at the end of July, but a dramatic last-minute intervention meant the operation was cancelled and, she hopes, will now never be needed.
Supporters who had read her story in The Sunday Post had come forward and donated the thousands of pounds needed to send her to America, to be operated on by the world's leading mesh removal expert.
Back in Scotland after a month recuperating in Missouri, Claire, 49, struggles for the words to thank her benefactors and surgeon Dionysios Veronikis.
"They have not just changed my life, they have saved my life, and I cannot thank them enough," she said. It is hard to believe that only a few months ago, I was in agony and utter despair. I am transformed.
"The mesh has been removed and I can look forward with hope for the first time in nine years."
Claire flew to the US despite the Scottish Government's most senior medical officers attempting to discourage her, personally calling to say she was unfit to travel and should have her bladder removed on the NHS as planned.
In calls to her home, Scotland's deputy chief medical officer, Terry O'Kelly, advised Claire she wouldn't be fit enough to face the long, painful, journey to America.
But thanks to her benefactors and The Sunday Post who together raised almost £20,000 to fund the journey and hospital stay, Dr Veronikis, who worked free of charge, was able to save both Claire's bladder and her bowel.
During a gruelling four-hour operation at Mercy Hospital in St Louis last month, Dr Veronikis carried out extensive repairs to Claire's pelvic floor area, and removed the remaining two-thirds of the mesh implant left in her body by Scottish surgeons.
Claire said: "In a telephone conversation, Mr O'Kelly told me I was not fit to travel to the US for surgery, despite the fact surgeons here thought I was fit enough to undergo surgery to remove my bladder and were hours from admitting me to hospital.
"They had been making plans to remove my bowel too, but I was reluctant to have such radical, irreversible surgery when there was a world-class surgeon who believed he could help me.
"The thought of ending up with stoma bags to empty my bowel and bladder, and the strong suspicion that I still had mesh inside me and nobody here was able to remove it was the deciding factor.
"I saw what Dr Veronikis has done for other women, so I chose to put my trust in him.
"I'm overjoyed that I did, and thanks to his skills and the incredible kindness of the people who donated money to make it possible for me to go to the US, I feel like a new woman.
"At long last I am completely mesh-free and can now look forward to a future instead of a life of crippling pain, and it was Dr Veronikis's skill and expertise that made it possible."
Claire said just waking up after her operation to discover 12.5 centimetres of mesh had been removed was enough.
To learn Dr Veronikis had also managed to restore 80% of her bowel function and was confident that he would not require her bladder to be removed, was "a miracle".
She said: "I had been left in such despair. I was so ground down I began to believe the only way out of this mesh nightmare was to take my own life.
"I'm so glad I managed to fight on and I'm humbled people were so determined to help me, they donated the money to make it possible for my life to be changed.
"But it saddens me that the opportunity I have had is being denied to all the other mesh-injured women in Scotland who all deserve to have this same chance."
Mum of three Claire, from Greenock, says the life she once enjoyed was cruelly taken in 2010 when she was given a mesh implant to treat bladder weakness following childbirth.
Like hundreds of other Scottish women who have been maimed by mesh implants to treat bladder problems and pelvic organ prolapse, Claire lost everything.
She could no longer do the barmaid's job she loved. She became so disabled she could not move without sticks or the aid of a wheelchair.
Claire said: "The only thing that kept me going was the family I love.
"I was also determined to be here when the NHS and the surgeons who used plastic mesh on me and destroyed my life to save just £200, were proved wrong."
The NHS solution to Claire's pain and double incontinence was to propose the removal of both her bowel and her bladder.
But after flying to the US for a consultation with Dr Veronikis, Claire says she knew she had done the right thing.
World-leading mesh surgeon reveals months of talks have failed to fix his trip to Scotland despite minister's pledge
She said: "I'd seen more than a dozen NHS specialists who spent most of that time in denial that mesh was the blame for the constant pain I'd been left in.
"After five years of begging for help, in 2015 the NHS carried out what is described in my health notes as a 'full removal' which left me even more disabled and in worse pain.
"Within 10 minutes of seeing Dr Veronikis, he was able to tell me everything that was wrong, including all the things that could have been done to help, but hadn't been.
"He told me I wasn't mesh-free as I'd been told, only the middle section of the mesh implant had been removed.
"The remaining two thirds, was still inside me, causing excruciating pain and causing repeated infections.
"It was a revelation to suddenly be able to talk to a surgeon who not only treated me like a human being, but a surgeon who was taking responsibility for what he was about to do to me and what the outcome would be."
As she came round from surgery, Claire said she knew it had been a success.
She said: "It's still very early days. But, already I feel like I have a future to look forward to instead of years of unrelenting pain.
"Although I still have some bladder issues, Dr Veronikis is confident I won't have to lose any organs.
"I'm hoping once he has had a chance to see me again, it will be manageable. I'd lost all trust in doctors after all I've been through.
"Dr Veronikis has renewed that trust and given me a chance I don't believe I would ever have been given if I hadn't been lucky enough to see him."
---
THE OPERATION: US surgeon finally removes all the mesh, saving both bowel and bladder
World-renowned surgeon Dr Dionysios Veronikis has told how mesh victim Claire Daisley did not need to lose her bladder or her bowel, contradicting Scots doctors' prognosis.
After a gruelling four-hour surgery, which included the repair of her entire pelvic floor as well as complete mesh implant removal, Dr Veronikis said: "Both Claire's bladder and her bowel have been saved. I did not see any reason for either of her organs to be removed."
The surgeon, whose patients come from all over the world to his US-based clinic at Mercy Hospital in St Louis, Missouri, was "shocked and surprised" to learn surgeons in Scotland had planned to remove both Claire's organs.
Dr Veronikis said: "I was surprised removal of any of Claire's organs was being proposed. I've carried out surgeries on thousands of mesh-injured women. Not one of them lost either their bladder or their bowel. It would've been a tragedy if that had occurred in Claire's case."
The surgeon described Claire's surgery as a "major success". He said: "I'd describe it as life changing. Once her body has had a proper chance to heal, and that could take a whole year, I believe she'll begin to see a huge improvement in her quality of life."
Dr Veronikis, who refused payment for his surgical fees, says he found extensive internal damage caused by the mesh implant, as well as scarring left by a previous attempt to remove her implant.
Performed by one of the two NHS surgeons described as Scotland's top removal experts, Claire had been assured she had undergone full mesh removal in 2015.
But her medical notes reveal just 6.5cms were excised, just one third of the mesh implant.
Dr Veronikis removed 12.5cms, from Claire's left and right obturator muscle area, which can cause severe pain as well as mobility issues.
He said: "After assessing Claire's pain and mobility, I wasn't surprised to find only the vaginal section of her mesh implant had been removed. I've seen other patients, like Claire, who've been told they've had full mesh removal when that is not the case.
"A partial removal may release tension caused by the mesh implant, but it won't alleviate pain or improve mobility. Only full removal can do that.
"But what a partial removal does guarantee is that it makes it far more difficult to fully remove the implant because it increases the chance for trauma and damage to organs, as well as creating scar tissue."
He carried out repairs to Claire's bowel and bladder, pelvic organ prolapse repair, major repairs to her vagina, and mesh removal from both sides of her obturator muscle areas.
Dr Veronikis said: "I also removed mesh which had fused to her pubic bone. Her surgery was long and complex, but I'm entirely satisfied.
"I'd like to see Claire again to carry out more tests to her bladder function once she has had a chance to heal. There's no reason whatsoever that she needs to lose her bladder following the surgery she has had in the US."
---
THE PLEA: Please, minister, do what you promised and bring him here
Claire Daisley made a personal plea to Scottish Health Secretary Jeane Freeman: Now let Dr Veronikis save the other mesh-damaged women of Scotland.
She said: "I was facing losing two organs because NHS surgeons in Scotland do not have the skills to fully remove mesh.
"I'm living proof of the world-class surgery Dr Veronikis can perform.
"Despite being told I had undergone full mesh removal in Scotland, Dr Veronikis removed the two-thirds of the original implant which had been left inside me.
"The partial removal carried out in Scotland not only left me even more disabled and in worse pain, it also caused further internal trauma and tissue damage.
"Dr Veronikis managed to repair me because he has developed specialist techniques and has experience carrying out thousands of similar surgeries.
"He has offered to come to Scotland and treat mesh-injured women who are desperate and without hope of getting their lives back.
"I'm begging you, minister, stop playing games. Get Dr Veronikis here to help injured women before more of us are condemned to lives of crippling pain and anguish."
Claire has spent almost 10 years struggling with life-changing injuries caused by mesh implants which have led to over £10 billion compensation payments in the US, and hundreds of thousands of court cases pending around the world.
She believes hundreds of Scottish mesh-injured women deserve the chance to have the "miraculous" surgery she has had thanks to The Sunday Post and the supporters who funded her trip to the US.
Claire said: "The NHS must take responsibility for sorting out the damage inflicted because they wanted to 'save' £200 per operation by using mesh implants which have been shown repeatedly in court to be defective and cause harm."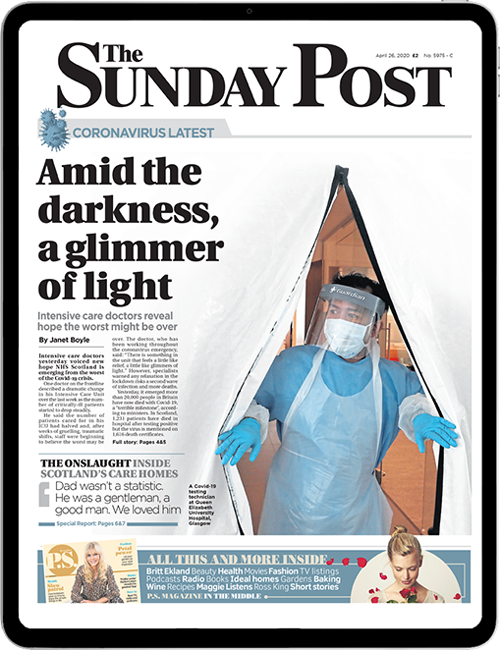 Enjoy the convenience of having The Sunday Post delivered as a digital ePaper straight to your smartphone, tablet or computer.
Subscribe for only £5.49 a month and enjoy all the benefits of the printed paper as a digital replica.
Subscribe