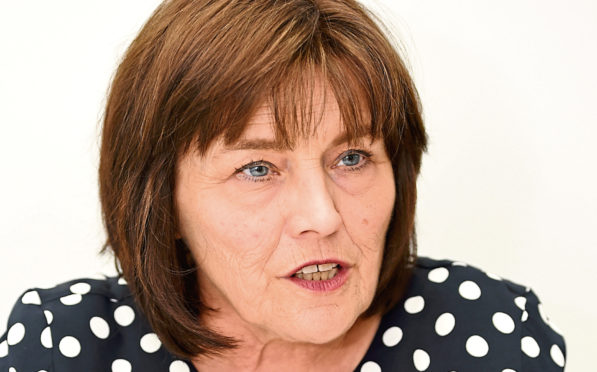 A world-renowned mesh removal surgeon has withdrawn his offer to come to Scotland after accusing health officials of needless delay and disrespect.
Health Secretary Jeane Freeman pledged Dionysios Veronikis would be brought to Scotland to help some of the 600 mesh-damaged women and train surgeons.
Instead, the US-based surgeon, who has developed techniques allowing the full removal of mesh implants, has written to her explaining that he can no longer come because of how he has been treated during four months of discussions with her senior health officials.
He does not believe officials or surgeons involved in mesh removal were ever serious about bringing him to Scotland, despite Ms Freeman's promise.
"I am not a politician, I'm not a civil servant, I'm a doctor and do not have the time to play games," said Dr Veronikis. "In good faith, I offered to come to Scotland for a month to operate on women and train surgeons.
"I made myself available at every stage but after months of discussions I no longer believe officials or surgeons in Scotland ever seriously tried to bring me to Scotland.
"I do not have time for interminable discussions and feel I must now withdraw my offer."
Ms Freeman in June promised to arrange for Dr Veronikis to be brought to Scotland after meeting with mesh-injured women, who told her Scots surgeons did not have the skills to carry out full implant removals.
Missouri-based Dr Veronikis said: "But for the delays, three Scottish patients I have seen in St Louis could have been operated on in Scotland.
"All three, who had been told they had complete mesh removals, had their residual and remaining mesh fully removed by myself.
"What has been recorded in their medical records as full removal was a partial removal.
"My trip to Scotland could have helped many women and could have trained surgeons in my tissue-sparing techniques of full mesh removal and help many more.
"It is then with great regret, and frustration, that I have decided my trip to Scotland will not now take place."
A mesh review group that Ms Freeman claimed to have set up to help victims had previously proposed Scots doctors and officials could lead a fact-finding trip to the US to study mesh removal techniques.
However, facing calls to apologise and resign after wrongly insisting the group had not previously planned the reintroduction of mesh, Ms Freeman pledged Dr Veronikis would come to Scotland. She charged her chief medical officer, Catherine Caldwerwood, and her deputy Terry O'Kelly with arranging the visit.
However, Dr Veronikis does not believe the original plan was ever changed.
"I have to conclude that despite what Ms Freeman promised, her officials had no real intention to bring me to Scotland and continued to plan for the fact-finding trip they had previously proposed."
Last week, Mr O'Kelly, an Aberdeen-based surgeon, told Dr Veronikis that, before any trip to Scotland could be arranged, Scots would visit him in St Louis before visiting another US doctor, Ohio-based surgeon Howard Goldman, who did not believe full mesh removable was necessary.
Dr Goldman, who, like many other surgeons in the field has previously received research funding from mesh manufacturers, defends partial removal of the mesh implant causing specific problems as a successful technique and says full mesh removal can cause other health issues.
He has said: "If there is pain in an area or the mesh has eroded, we take care of that and patients feel fine."
It is thought Dr Veronikis had agreed to welcome the Scots delegation as a formality to pave the way for his trip to Scotland and had not been told their visit was part of a wider research trip.
Campaigning MSP Neil Findlay said: "Officials in Scotland working with surgeons in Scotland were meant to arrange Dr Veronikis' arrival in Scotland. Instead, they have delayed and dragged their feet before coming up with a fact-finding trip when they would visit another surgeon who does not believe full mesh removal is necessary.
"That would certainly be convenient for Scottish surgeons who, it would appear from their record, have no idea how to fully remove mesh but it is not what Jeane Freeman asked them to do. We must ask why Scottish surgeons did not want Dr Veronikis to come here?
"This is a shameful way to treat a world-leading surgeon and a shameful way to treat the women he wanted to help.
"I have option but to call for a full public inquiry into the mesh scandal – the biggest scandal in the history of the NHS in Scotland – and for the Cabinet Secretary to take responsibility for this completely avoidable situation and resign. Jeane Freeman gave commitments to representatives of the Scottish Mesh Survivors group that the Government would do all it could to bring the doctor here and she has let them down and taken all of their hope away."
Campaigners for Scotland's 600 mesh-damaged women have now accused Ms Caldwerwood and Mr O'Kelly of failing to properly engage with Dr Veronikis, ignoring the public promise of Ms Freeman and shattering the hopes of dozens of women who hoped he might operate on them.
Mesh survivor Karen Neil, 54, called on Ms Freeman to resign, saying: "The question is whether she knew what her officials were doing in her name? If she didn't, she should have. If she did, she should resign. These are the same officials who planned for the reintroduction of mesh when Ms Freeman said no such plans were taking place.
"These are the same officials who planned a fact-finding trip around America before being told, by Ms Freeman, to bring Dr Veronikis to Scotland. In four months, they made no progress whatsoever but firmed up their plans for a fact-finding trip around America.
"Is Jeane Freeman all right with this? She says banning mesh was her proudest moment as health secretary. Well, she should ask those women living with the consequences of mesh what they think of her performance so far?"
---
The Victim 
Mesh survivor Claire Daisley yesterday voiced disgust at the way Dr Veronikis had been treated.
Claire, 49, had faced losing both her bladder and bowel and a life of agonising pain after mesh surgery in Scotland.
Well-wishers stepped in to fund Claire's travel and treatment costs, allowing her to visit Dr Veronikis in the US and undergo a successful mesh removal operation last month.
She said: "Dr Veronikis is the only surgeon we trust. He has given me back hope of a new life when I was left suicidal and hopeless.
"I'm devastated all the other women in Scotland will be denied the chance to get his help.
"The only thing we have ever asked for ourselves if for Dr Veronikis to be brought to Scotland.
"We are all living evidence to the fact that surgeons here have not been fully removing mesh.
"Dr Veronikis does, and he takes photographs to prove he has removed the whole implant. I just can't understand why our surgeons seem to be so reluctant to learn from him. What gives them the right?
"I'm broken-hearted knowing that other women who have pinned their last hopes of getting help from Dr Veronikis will be devastated to know he isn't coming
to Scotland.
"Yet again, we've campaigned and worked so hard to change things and other places will benefit from everything we have achieved while our women suffer in pain.
"The way mesh-damaged women have been ignored and patronised by the authorities has been full of low points but this is possibly the lowest of all."
Dr Veronikis will address MSPs on the Scottish Public Petitions Committee via video link to explain why he will no longer be coming to Scotland.
Campaigner Elaine Holmes, of Scottish Mesh Survivors, said: "I feel sick to my stomach for the hundreds who have pinned their hopes on Jeane Freeman's pledge to bring Dr Dionysios Veronikis here to help us.
"Instead she is sending surgeons around the world. To what possible purpose?
"It would be laughable if it wasn't so desperately sad."
---
---
The Officials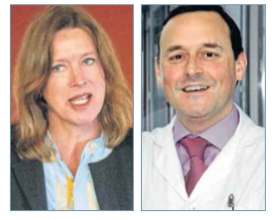 Chief medical officer Catherine Calderwood and her deputy Terry O'Kelly were instructed to bring Dr Veronikis to Scotland but four months of transatlantic discussions went nowhere.
---
The Surgeons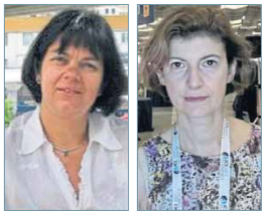 Greater Glasgow's Karen Guerrero and NHS Lothian's Voula Granitsiotis were the Scottish surgeons asked to meet Dr Veronikis but, he says, ignored him at a conference only last month.
---
The Response 
Jeane Freeman has written to Dr Dionysios Veronikis saying Scots mesh surgeons were still "eager to meet with him briefly" on a fact-finding trip to the US.
Despite the Health Secretary personally and publicly pledging to bring him to Scotland four months ago, Scottish clinicians decided they first had to visit him in Missouri.
Last week, Ms Freeman wrote to him saying: "I know the delay in confirming the details of that visit was frustrating. I fully understand that and, indeed, share that frustration."
A committee of mesh experts had already agreed a trip to the US and sources suggest there were raised eyebrows when the minister, under pressure over secret plans to reintroduce mesh, said Dr Veronikis would be brought to Scotland.
Ms Freeman does not discuss bringing him to Scotland in her letter but merely asks him to reconsider meeting the Scots party when they are in the States, adding they "remain eager to meet with you briefly during their visit."
Dr Veronikis said her letter lacked detail and conviction and "changed nothing".
The Scottish Government said: "The Health Secretary wrote to Dr Veronikis to express her hope that he would be able to reconsider his position. The chief medical officer spoke with him, to invite him to Scotland.
"We have been clear women should have access to the best possible care for mesh complications. The withdrawal does not change Scottish clinicians' plans to share learning and experience.
"As such, clinicians will still travel to the US in November."
Dr Tracey Gillies, medical director, said NHS Lothian "remained committed" to collaborating with clinical experts to improve care and treatment of mesh patients.
NHS Greater Glasgow & Clyde said it was "fully in support" of measures to improve treatment of patients with mesh complications.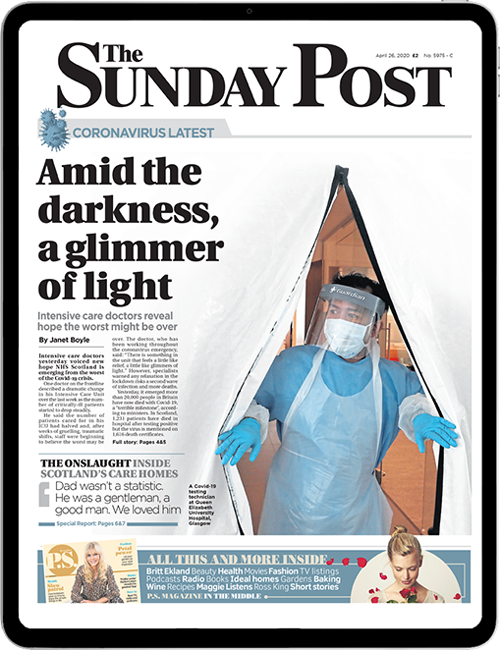 Enjoy the convenience of having The Sunday Post delivered as a digital ePaper straight to your smartphone, tablet or computer.
Subscribe for only £5.49 a month and enjoy all the benefits of the printed paper as a digital replica.
Subscribe