Scone Spy: Cake, rattle and roll! Falkirk's Acoustic Cafe is a rockin' good haunt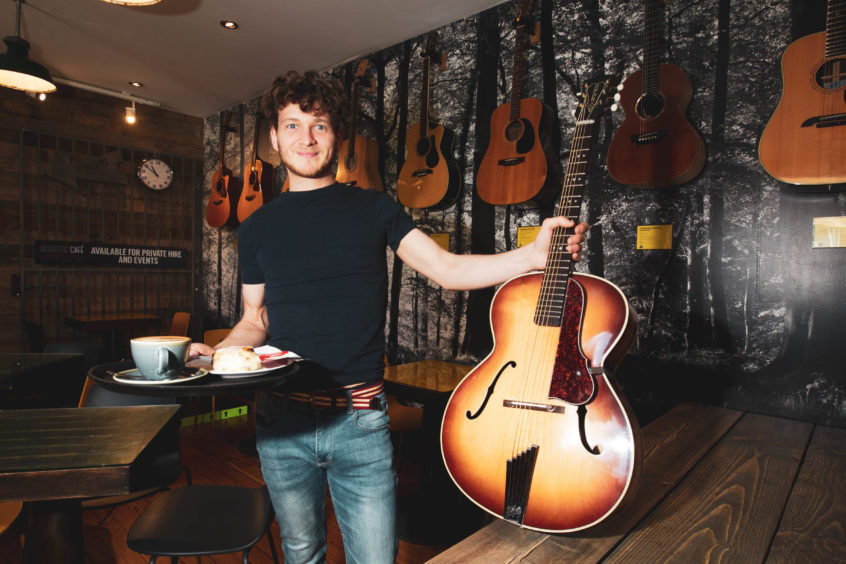 Food and music are a ­classic combination and, while Scone Spy's musical tastes can accurately be described as eclectic, my playlists will always include Mumford and Buns, Macaroon 5 and, my all-time favourite, Ian Brownie and The Scone Roses.
So, when I heard there was a café in Falkirk blending great tunes with excellent grub, I had to check it out.
The Acoustic Café has been open since 2015 and has been gaining a growing following in the town for its mix tape of excellent cuisine plus fantastic live music sessions.
The café, which is in a prime spot just across the road from Grahamston train station, stands out as a beacon of style.
Saved from dereliction by owner Alan Bye, the building is now an ultra-chic coffee shop and music venue.
Inside, the café is perfectly in tune with the music-loving clientele.
There is exposed brickwork on one wall of the long, galley-style venue.
On the other, a panoramic photo wall shows a tranquil black-and-white woodland.
Dozens of vintage guitars – which are all for sale to customers – adorn both sides of the café.
From Gibsons and Yamahas to vintage Martins and everything in between, it is clear the Acoustic Café takes its commitment to quality music seriously.
While I do love a melody, scones truly make my heart sing.
First, however, I must do my duty and choose from the selection of gourmet toasties and cheesecakes on offer.
George, the manager, can often be heard belting out a tune during one of the music sessions, but today he is on hand with warmest of greetings and to serve up some quality food.
He tells me to take a pew and brings me my food as I sacrifice my waistline on the altar of my obligation to you, dear readers.
My lunch consists of a delicious cheese and pastrami panini with an artisan coffee. The café sells freshly made cheesecake supplied by the renowned Caledonian Cheesecake Co.
The selection changes every day but I go for the decadent Ferrero and White Chocolate.
It is incredible and enough to guarantee my return in the near future.
The main attraction arrives, alongside another coffee and I smother it with butter and raspberry jam before taking the first bite.
The scone maintains the high standards of the rest of the café and is perfectly crumbly, with a nice crunch on the outside giving way to a fluffy middle.
All in all, Acoustic Café justifies its tagline, Sounds Like Great Coffee, and the only negative I have is that they didn't opt for a more puntastic name for their music and food mash-up.
Chai-kovsky's perhaps, or Guac'n'Roll, or maybe even Fleetwood Mac'n'Cheese.
Acoustic Cafe, Melville Lane, Falkirk
Welcome
Music-lovers dream. Great food mixed with the best local music – a heady mixture. 8/10
Location
Right in the middle of Falkirk, handy for the train. 8/10
Scones
Excellent. Crunchy on the outside and fluffy on the inside. 9/10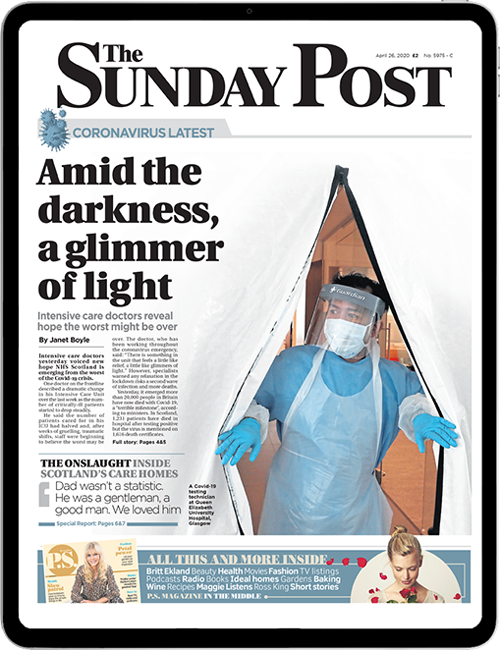 Enjoy the convenience of having The Sunday Post delivered as a digital ePaper straight to your smartphone, tablet or computer.
Subscribe for only £5.49 a month and enjoy all the benefits of the printed paper as a digital replica.
Subscribe