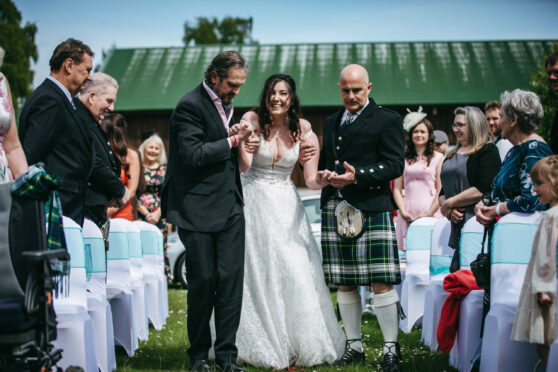 It was a day she had vowed not to miss and the bravest bride in Scotland, Lucy Lintott, Scotland's youngest MND sufferer, got married yesterday.
The 27-year-old married the love of her life Tommy Smith, 26, the father of her "miracle children," in front of delighted family and friends.
Lucy, thought to be the first woman in the world with motor neurone disease to twice become a mother after diagnosis, tied the knot at Inchberry Hall near Fochabers in Morayshire.
The beaming bride wore a full length, off-the-shoulder white dress, while her groom was in a dress Gordon tartan kilt in honour of his grandmother Jenny Smith nee Gordon, 88. Mrs Smith is the couple's only surviving grandparent.
Wheelchair-user Lucy managed to walk down the aisle supported by her father, Robert Lintott, while her mother Lydia and Tommy's parents, Lynne and Tony Smith, looked on.
Visibly moved, the gathering watched as Tommy took his bride's hand, their two-year-old son LJ – also in the clan tartan – at his side for the humanist ceremony conducted by Neil Lynch.
Lucy's sister and maid of honour Laura , 29, held the newest addition to their longed-for family, baby AR, who was born at Aberdeen Maternity hospital in December. Lucy's childhood pals Pippa Cortis, and Kim Goodchild, both 27, were also bridesmaids.
Lucy told the Sunday Post: "It is our dream day, a day I had never thought possible. When I was diagnosed with MND eight years ago, I was told I only had 14 months to live. I never thought I would be able to get married or have children. It wasn't even on my bucket list because it seemed impossible."
Lucy, who met Tommy at school but didn't start dating him until after her diagnosis aged 19, added: "I've wanted to be a bride ever since I knew what a wedding was and I always wanted to be a mum. I was told it was unlikely I could ever have children, so having two and getting married feels like a miracle. I'm the happiest woman on the planet right now."
Tommy, an apprentice plumbing and heating engineer from Fochabers, added: "It's surreal in a wonderful way. I never thought I'd get married.
"Until Lucy, I hadn't found the right person. And I never thought that we could have kids, so having not just one, but two with us for our big day was amazing."
Because of her condition Lucy has to live apart from Tommy in supported accommodation in Elgin where she stays with their children. The couple – who are planning a "family-moon" of days out in Moray and Aberdeen – are now saving for a disabled-adapted home of their own and have launched a GoFundMe page.
Lucy – who hasn't been able to find a suitably adapted rented house and says a private purchase is out of their reach – said: "I had loads of requests from people asking what they could give us for a wedding present. I have everything a girl could wish for apart from a forever family home.
"The greatest legacy I could leave my children is a home that has all the memories we can possibly make there. So I've asked for donations instead."
MND is an incurable condition that affects the brain and nerves. It causes nerve cells – neurones – controlling the muscles that enable us to move, speak, breathe and swallow to degenerate and die.
Lucy – dubbed the MND Warrior after she raised £200,000 towards finding a cure for the condition, despite knowing any breakthrough may not come in time to save her own life – last year said: "I always felt selfish because I wanted to be a mum. I felt like, am I being greedy because there are other people out there with terminal illnesses and it is not even an option for them.
"And I feel selfish, because at the moment this is a terminal illness and I may not be around as my babies get older. I'd be leaving Tommy as a widower.
"But then I remember our children are already getting a better start to life as they have parents who love them and love each other, and four amazing grandparents."
The couple thought hard about the slight risk of the disease affecting their children but believe it is worth taking. There are two types of MND, familial and one-off or sporadic.
About one in 15 people with the disease will know of another close family member who also has it. So far, the faulty genes that cause the illness have not triggered in any other member of the Lintott family.
Studies of people with sporadic MND suggest that the overall risk for their children is only very slightly increased. Since the absolute lifetime risk of any individual developing MND is roughly 0.3%, a small increase in that figure still means the chance of developing the disease for anyone with a relative with sporadic MND is very low.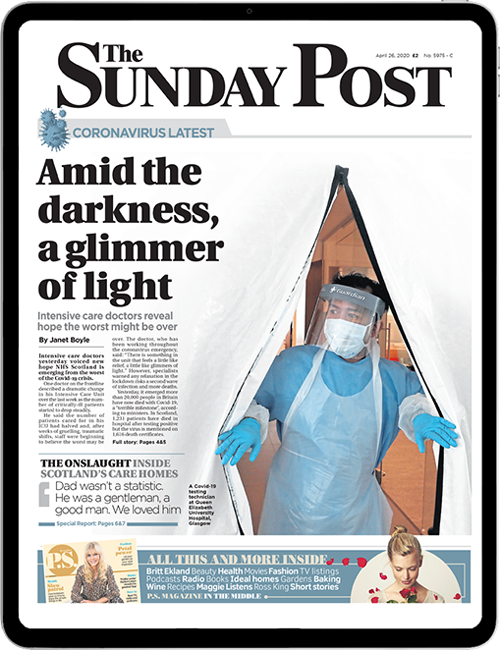 Enjoy the convenience of having The Sunday Post delivered as a digital ePaper straight to your smartphone, tablet or computer.
Subscribe for only £5.49 a month and enjoy all the benefits of the printed paper as a digital replica.
Subscribe