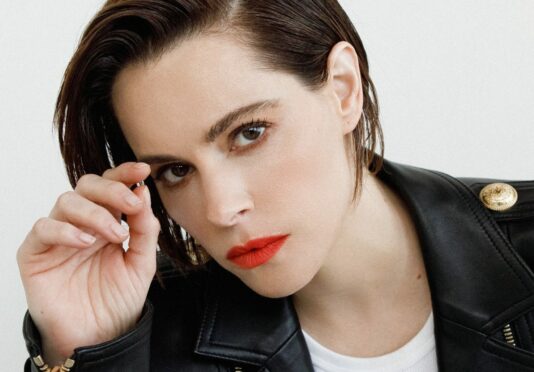 Moments before our interview, Emily Hampshire's phone pings with a message from her latest co-star, Martin Compston.
Perhaps sensing a mild apprehension, he gently reassures the Canadian star of Schitt's Creek that the Scottish press is, generally, a fairly amiable bunch.
Whether he's right or not, his thoughtful words are appreciated by Hampshire; she beams as she speaks about the friend she made in Compston on the Leith set of Amazon Prime Video's latest big-budget thriller series, The Rig.
The pair play lovers but that furtive romance is secondary to the small matter of a mysterious fog that engulfs the Kinloch Bravo drilling platform from the mainland.
Without spoiling what happens next, matters escalate into what seems like the supernatural. So much so that the love story between Hampshire's Rose Mason and Compston's Fulmer Hamilton seemed to her like it might be a little superfluous; that was until she encountered her co-star in person.
"And then I met Martin, and I was like, 'oh, I get it," she says. "In a story like this, a supernatural thriller, you don't feel like you want to get into a love story. When I first read the script I asked how much Rose really cared about Martin's character because she is so career oriented.
"But there's something so disarming about Martin that just makes you fall in love with him in a safe way. That feels so pure, and I just love that relationship for these two characters. It's maybe only surprising because Rose is so myopic and her focus is on her career."
#TheRig star @emilyhampshire was full of praise for writer David Macpherson's work at the Edinburgh premiere.

Read more: https://t.co/gYhAuXKmgc pic.twitter.com/6gNDMGbF1L

— The Sunday Post (@Sunday_Post) December 7, 2022
The 41-year-old Hampshire, from Montreal, is effervescent, warm and bursting with small talk about her hike up Arthur's Seat and how she adores Diet Irn-Bru; as we talk she fiddles with a small bottle of Scotland's other national drink.
She explains how her steely character in The Rig is further away from the role of hip, sarcastic Stevie in Schitt's Creek than the Forties oil field is from Aberdeen harbour. Neither character is very like the woman who plays them, although Rose's laser-focused ambition is something with which she can identify.
"I loved the challenge of playing this super-strong woman," she explains. "For me in my life, I was going through something similar where I was deciding I didn't want to juggle my social life and work. And I chose work and just kind of became very work-obsessed. Some might say a workaholic."
As a young actress, Hampshire would read books about the method of acting, highlighting each line until the majority of the paragraphs were covered in fluorescent pen, defeating the purpose. Only one hour a day was reserved for non-acting activities.
"When you do a lot of therapy you realise there's a reason why you do all that and for me it was definitely a sense of security," she says. "If I can be in charge of my own career, money and success, then I don't need anyone's support. Which I think is sometimes a very female thing to think.
"The world's totally changed now; the new generation is amazing. But, when I was growing up, my mom was a stay-at-home mom, and dad supported her. When you get divorced and don't have a career…you don't have your own life. I think I really put that into everything; that my life would be my career."
Maybe it was all worth it: after a slow start, Schitt's Creek, from hilarious father-son duo Eugene and Dan Levy, went on to become a massive hit. Hampshire then starred in the TV reboot of sci-fi thriller 12 Monkeys.
Yet it doesn't sound like she's comfortable relaxing; you have to wonder if she has any time for fun.
"No! Except I'm much more able to say that now. Whereas before I would be like, 'Oh, I'd love to come to that. I'd love to hang out. I'd love to do that with you'. I have a really hard time doing anything that's just purely fun. I don't have fun having fun. I have fun working. That's where I feel stimulated.
"I realise it's not a good balance but I've come to terms with it in a way. At least I'm not fighting it any more. The friends I have in my life, I usually work with them."
Like Compston, who she wants to work with again on a second series if the six-part The Rig series does well. She is also keen to work with the Levys again on another series of Schitt's Creek; the clamour for another instalment hasn't really died down since the fifth season concluded in 2020.
"I don't think we'll ever do another series of it," she adds. "But I think we will come back to do a special or a movie. Dan and Eugene ended it on purpose, that was the story they wanted to tell. And it's so funny because the popularity of it only happened once we were done.
"And then people wanted more. They got offered a lot of money to keep going.
"I asked Dan and he said, 'Would you want to get to storylines about Stevie suddenly running a bakery?'
"To do another series you'd have to come up with stuff like that which isn't true to the story. For a movie? We'd all do that in a heartbeat."
The stand-offish part of Stevie in Schitt's Creek, a comedy about a spoiled family who fall on hard times and are forced to move to a small-town motel, is a role she loved but people, often men she's dated, expect her to be urbane and reserved.
"I would say I'm much closer to Jennifer (her crazed prophet character from 12 Monkeys), although I've calmed down a bit," she explains.
"But I remember when Schitt's Creek was coming out I was dating at the time. I would go out with someone who I think expected Stevie. You could see their disappointment.
"Oh, I wish I was like Stevie," she adds with a giggle. "I go to Stevie to take a vacation from myself. She's so cool. And I'm…not…that way."
Hampshire was previously married to a Canadian football player and divorced in 2014. She was then engaged to a musician briefly before that ended and, in 2021, revealed on Demi Lovato's podcast that she considers herself pansexual.
An episode of Schitt's Creek penned by Dan actually helped her work that out. In it, his character explained his sexuality in terms of bottles of wine. It didn't matter what it said on the label, he just liked the contents. Pansexuality means you're attracted to people regardless of sex or gender.
Topics like this can be thorny: some believe it's important to be open about this sort of thing, others that it's not relevant.
"Completely honestly, it kind of drives me crazy that I am asked about that a lot!" she says, amiably.
"We are being asked to identify as something and I do believe and can see how visibility is important for things to change, and people to feel like, 'Oh, if I love a woman and I see somebody else loving them and that's OK'.
"But, at the same time, as the world changes, and I think it has gone really far in this direction, I think my ideal future is like I don't have to identify as anything. I just like this person this one week, and I like that person another week. The goal is to normalise all this so we never have to talk about it. Dan really helped me with this. People were asking me, 'Is Stevie lesbian? Is Emily lesbian? Is she bi?
"I asked Dan, 'What am I if I just love this person who I love?'
"And he replied, 'Didn't you watch the show? You're pan."
Hampshire's description of the cast of Schitt's Creek sounds, ironically given the dysfunctional relations in the show, like a loving, supportive family. Canadians are renowned for their friendliness but surely it can't have been as benevolent as it seems?
"What's funny about Schitt's Creek is, usually on shows like that where everybody's nice, the cast hate each other," says Hampshire. "We genuinely, genuinely loved each other. It was such a special time for me. And they were so kind.
"I had the best job on Schitt's. I didn't have to wear heels and I got to sit behind the desk and make fun of everybody."
Accents left Rig cast at sea
Montreal-born Emily Hampshire stars alongside what seems like most of Scotland's acting talent in The Rig.
Game Of Thrones star Iain Glen, Catastrophe's Mark Bonnar and Line Of Duty's Martin Compston are among the star-studded cast of the big-budget production which was filmed on a special soundstage in Leith.
Working with so many Scots was a challenge at first for Hampshire.
"I could not understand anyone, especially if you think it was the height of Covid," she said. "With masks it's hard to understand people.
"The accents were tough, especially Martin's. But it was very funny when Iain Glen then did my accent back at me. I sounded like a cowgirl."
Hampshire took the role of hard-nosed, corporate officer Rose as she was so different to Schitt's Creek's Stevie. "I felt like I wasn't as qualified as Rose, to go and have all this confidence. I talked to (director) John Strickland about it, about being insecure, especially being surrounded by all these amazing British actors that I put on this really big pedestal.
"I told him I didn't think I had the confidence I needed as Rose, and that I felt I was overcompensating.
"I'll never forget John telling me, 'that's Rose.' John is very straightforward and I adore him."
---
The Rig, Amazon Prime Video, from Friday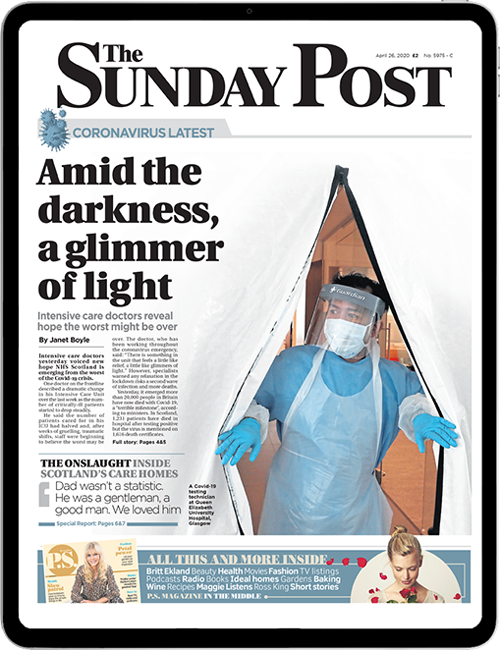 Enjoy the convenience of having The Sunday Post delivered as a digital ePaper straight to your smartphone, tablet or computer.
Subscribe for only £5.49 a month and enjoy all the benefits of the printed paper as a digital replica.
Subscribe