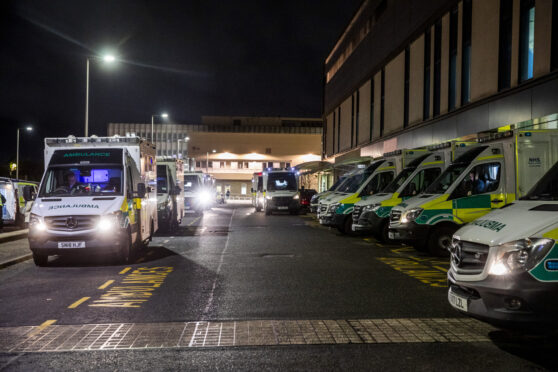 Emergency doctors at a flagship NHS hospital have accused executives of ignoring repeated warnings that A&E was being overwhelmed.
Letters written by consultants at Glasgow's Queen Elizabeth University Hospital (QEUH) reveal how grave concerns about over-stretched services and the safety of patients were raised with management almost 18 months ago.
Another letter, written to the board of NHS Greater Glasgow and Clyde (NHSGGC) three weeks ago, claimed a new emergency escalation policy to be triggered when care was so stretched that patients were in peril had been promised in April but "remains undelivered with no date for delivery".
On Thursday, emergency department consultants at the QEUH asked management to declare a major incident to trigger emergency measures to protect patients as services buckled. That request was refused two hours later, with NHSGCC insisting: "We have an escalation policy that would allow us to declare major incidents and we closely monitor the safety of departments and patients and keep this under close review."
Yesterday, one member of staff at the hospital said: "That comment came as a surprise to many of us. An effective escalation policy taking account of the worsening situation was asked for almost 18 months ago. We were promised one in April and have heard nothing since. What was said on Thursday might not have been a lie but it was on the bed next to a lie."
Last night, the board said its existing protocols for major incidents remained in place but a new escalation policy would be signed off in the new year. Meanwhile, staff claim the QEUH emergency department, like others around Scotland, edged towards collapse last week due to a combination of predictable factors.
One said: "There is a lot of really bad flu around, Covid is still around, staff are on holiday or sick themselves and the GPs were shut for four days.
"Everyone knew what was coming and it did. We have been overwhelmed, the worst it's ever been.
"Our waiting room and corridors aren't filled with minor cases, these are really, really sick people. Some of the sickest people I've ever seen and we can't give them the care they need. It is hard to work like that, hard to live with that."
By Thursday afternoon the A&E department had 124 patients being treated or waiting for treatment, twice the number it can safely cope with. The consultants on duty asked for a major incident to be declared at 4pm saying the department was overwhelmed, with every space occupied, no resuscitation beds, and ambulances being forced to wait outside for eight hours to offload patients.
Declaring a major incident would have triggered emergency measures to divert staff and resources to support the embattled department. The NHSGGC board rejected the request at 6pm, however, saying there was an escalation policy already in place, a claim questioned by staff.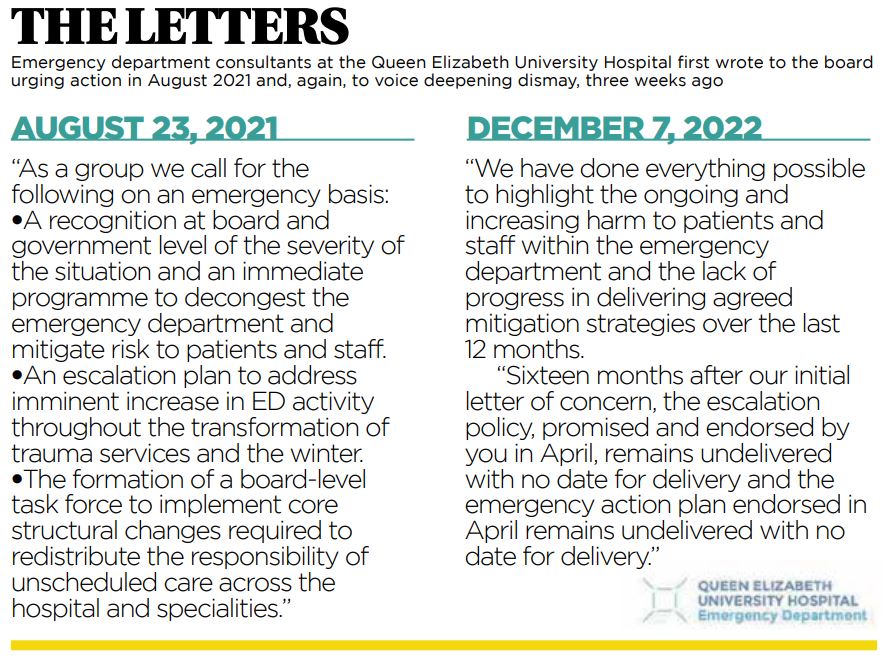 Letters from the hospital's emergency department consultant group to the board, and seen by The Post, reveal doctors had been calling for a new escalation plan for almost 18 months.
A letter dated August 23, 2021 details deepening concerns around the impact on patients and staff being asked to work under relentless and increasing pressure. It warns the workload in A&E had "reached a crescendo" and "despite the extraordinary efforts of the medical and nursing team we have exceeded our capacity as a consultant group and department to influence this situation. Without board intervention further patient harm and staff illness is inevitable."
The letter calls for senior managers – and government ministers – to recognise the severity of the crisis and ease the risk to patients; draft and implement an escalation plan; and launch a board-level task force to implement systemic reforms to ease the pressure on A&E. Concluding, the consultants formally request an urgent meeting with management.
The group wrote to board members again on December 7 to ask why policies promised in April to ease the crisis in staffing and care had still not been delivered, adding: "Sixteen months after our initial letter of concern to the board, the GGC escalation policy, promised and endorsed by you in April, remains undelivered with no date for delivery.
"The emergency action plan you endorsed in April remains undelivered with no date for delivery. Communications continue to be nebulous, often delivered verbally, with no clear accountability."
The letter concludes: "We have done everything possible to highlight the ongoing and increasing harm to patients and staff within the ED [emergency department]and the lack of progress in delivering agreed mitigation strategies over the last 12 months. We look forward to your response on these matters and hope that urgent intervention from the board will facilitate the recovery of emergency care in QEUH."
Insider describes crushing pressure inflicted by understaffing at NHS flagship hospital as union warns of risk to patients
NHS Greater Glasgow and Clyde last night said it has a well-established major incident policy covering all its hospitals, adding "each hospital also has long-standing local escalation protocols".
It said: "A new urgent care escalation policy, which is separate from our major incident policy and relates to support between hospital sites, is in the process of being agreed and has been circulated to senior A&E staff. Their views will be taken on board and a final draft will be put to the governance board for ratification early in the new year.
"Like the whole of NHS Scotland, our services are currently facing major pressures and NHSGGC is taking a number of actions to support our A&E departments at this time including recruiting staff as available, diverting staff from other activities to support patients arriving via our A&Es and creating additional inpatient capacity.
"Whilst all of our services are experiencing extreme demand, we would ask the public only to attend A&E if is urgent or life-threatening."
A&E departments across Scotland are under increasing strain as winter bites. Grampian health board last week asked off-duty staff if they could come into work, while NHS Lothian asked relatives and carers to reduce pressure on beds by caring for people at home.
Health Secretary Humza Yousaf said: "We know that this is one of the toughest winters in the NHS's 74-year history and the latest A&E figures clearly demonstrate the challenge our health service is facing.
"Covid has clearly still not gone away and these pressures, combined with pandemic backlogs are making it a very challenging time for the NHS. We have been dealing with one of the coldest periods for many years which puts an increasing strain on the NHS.
"On top of that flu has been classified at extraordinary levels, with cases admitted to hospital the highest in five years. We also had to deal with rising cases of Strep A and other respiratory viruses which has caused significant demand on services.
"Delayed discharge continues to have a major impact in driving up A&E waits and we are working with health boards to ensure people leave hospital without delay, freeing up vital beds for those who need them most."
First Minister: This government will do everything we can to get NHS on track
Nicola Sturgeon yesterday promised ministers would do everything possible to help NHS Scotland recover from the pandemic and get back on track.
In a Hogmanay message, the First Minister said tackling poverty, particularly child poverty, would be her priority, but added: "We will also do everything we can to support our precious public services, helping the NHS, in particular, recover from the pandemic and get services back on track."
Sturgeon also reflected on how the pandemic impacted people's lives, adding: "Thinking back to Hogmanay last year – and indeed the year before that – we're reminded of just how far we have come, from the very darkest days of the pandemic.
"That progress is thanks to the extraordinary efforts of health service workers, of everyone who worked so hard to deliver the vaccine programme, and, of course, to all those who came forward to be vaccinated and boosted. As a result of all of that, and so much more besides, many of us will be looking forward to our first full Hogmanay celebrations in three years."
Sturgeon said: "As we look ahead now to 2023, I can promise you that the Scottish Government will keep doing everything we can for those who need it most right now – while also looking to the longer term with optimism and resolve."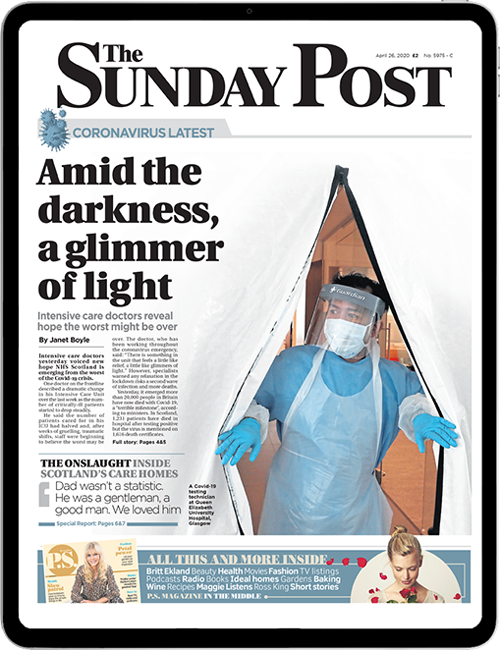 Enjoy the convenience of having The Sunday Post delivered as a digital ePaper straight to your smartphone, tablet or computer.
Subscribe for only £5.49 a month and enjoy all the benefits of the printed paper as a digital replica.
Subscribe