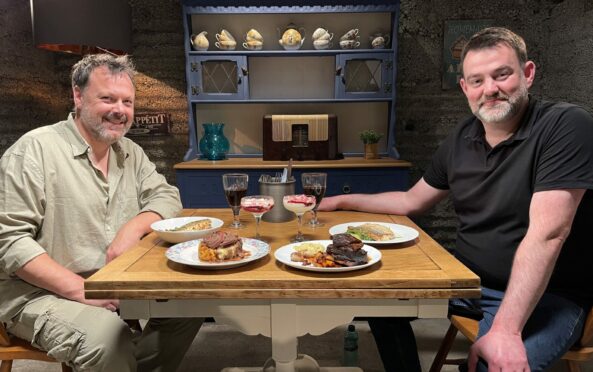 For the past seven years, friends Ruairidh Munro and Uisdean Macleod have been showing fellow homecooks how to make the most of Scotland's bountiful larder.
From freshly-caught scallops and venison loin to lamb and salmon fillets, the pair search the "highest peak to the lowest depths" to uncover the best produce for their BBC Alba cooking series, Seòid a' Chidsin or Kitchen Coves, but it wasn't a classic Scottish dish that led to their telly careers.
"It all started with a curry," laughed Munro, a journalist from Borve on the west of Harris. "We were at Uisdean's house, bickering as we were cooking, and our wives, who go back a long way further than we do, said we should film ourselves because it was hilarious.
"So, a couple of weeks later, we asked mutual friend Kenny Stewart, who has his own production company, to film us. He submitted the footage and the first series of Seòid a' Chidsin was commissioned. And here we are, seven years later, still bickering and still cooking."
Focusing on simple recipes filled with flavour, Munro and Macleod, who have been friends for more than 20 years, film each episode of the series in converted barn, and say the homegrown nature of the series – the setting, the ingredients and the methods, not to mention the presenters themselves – makes for 30 minutes of fun and laughter.
Macleod continued: "Everything we cook is very much what we do at home. We both have young kids so, unfortunately, they don't always appreciate our efforts. The show gives me a chance to make recipes I wouldn't have the time for at home."
Munro added: "We're all about having a couple of drams, cooking a dish, and having a laugh. It's not MasterChef stuff we're doing – it's something anybody can do with just a bit of time, a bit more effort and a wee bit more imagination.
"Everything is pretty much done in real time, though we always make a little bit extra so we have a backup in case something, well, explodes or gets burnt. It's handy for the crew as they all get fed – our cameraman basically doesn't go to the shop when he's filming because he knows he's getting his tea every night!"
In the new series, which started last week, sustainability and cooking on a budget take centre stage, while the pair also venture further afield to discover the influence of regional cooking in places like Patagonia, South America, adding a global twist to Scottish ingredients. "Loads of people from here, including my great uncle Lachlan, went over to Patagonia," explained Munro.
"So, in the new series, we've taken a look at the Patagonia food, which is just brilliant as it's all red meat and sweet stuff. Uisdean and I were completely in our element.
Macleod added with a smile: "Well, it was certainly interesting trying to find Patagonian food that wasn't beef or lamb or loaded with sugar. It's a cuisine that hasn't quite made it on the world market yet. There's far more to South American food than just Argentinian steak houses."
The presenters, who host the show in Gaelic with English subtitles, say fusion cooking has become a lot more popular in recent years ("You can take a leg of Hebridean lamb or mutton, put some North African spices in there, and have it with chickpeas and couscous rather than a minty, herby gravy," suggested Munro) but their favourites always centre around local ingredients.
Viewers will be treated to recipes for the likes of grilled mackerel with spicy tomato sauce (detailed right), scallops with lemon and capers, and even an entire episode dedicated to the humble herring. It's fair to say the cooks are big fans of seafood.
"My favourite things have to be any form of seafood, particularly shellfish," said Macleod. "It's a running joke that I started my working life as a fisherman, so I frequently refer back to that and bore people.
"A lot has changed since then. When I was a fisherman they were called the prawns and now it's langoustines, and scallops were clams. The price has doubled just by simply changing the name!
"Likewise, what they now call the Cornish sardine used to be a pilchard, and it's now a high-end food rather than something destined for the cannery."
Munro added: "The show is just about making the best of what you've got on your doorstep.
"We're very lucky that we just get to eat, chat, have a laugh, and occasionally have a wee drink – and get paid for it."
---
Seòid a' Chidsin (Kitchen Coves), BBC Alba, Thursday, 10pm, and on iPlayer for 30 days
---
Grilled mackerel with a spicy tomato sauce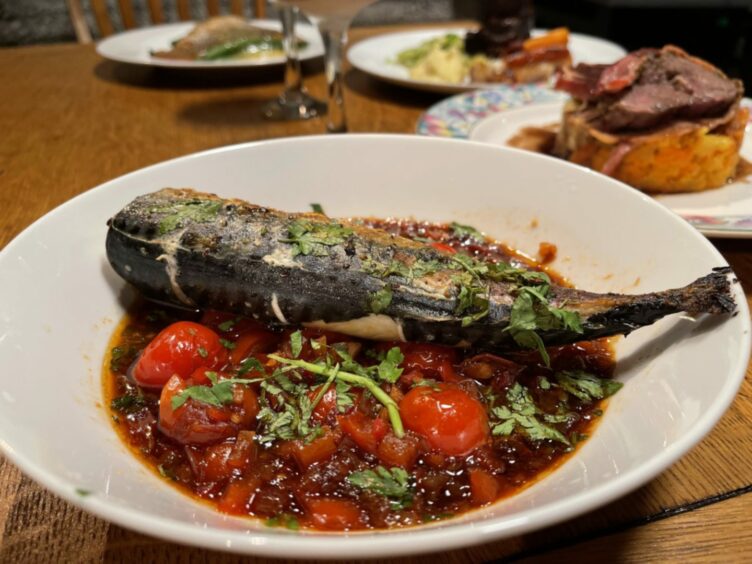 You'll need:
4 whole mackerel, gutted and heads removed
2 shallots, finely chopped
2 spring onions, finely chopped
12 cherry tomatoes, whole
1 red pepper, chopped
2 tbsp runny honey
2 tbsp dark soy sauce
1 red chilli, de-seeded and finely chopped
2 cloves of garlic, crushed
Fresh ginger, finely chopped – thumb size
Oil
Salt
Pepper
Method
Dry off the mackerel, score each side a few times and season with salt and pepper, salting the cavity liberally. Brush the skin with oil and grill.
Next, make the sauce. Heat oil in a frying pan. Saute shallots in oil, adding garlic. Add the chilli, ginger, spring onions. Add the tomatoes, red peppers and soy sauce, allow to cook for a few minutes. Add the honey and allow to break down.
Serve in a bowl with the whole grilled mackerel on top.
---
Which wine?
Our expert Diana Thompson chooses the best bottles for you

Houghton Heritage White, Western Australia, £11.99, Waitrose
Don't be fooled by the pale colour – it's followed by an explosion of lively citrus and pineapple fruit. A great contender for Ruairidh and Uisdean's mackerel.

Leftfield Malbec, Hawkes Bay, New Zealand, from £14.50, Juniper Wine Café, Ellies Cellar, New Zealand House of Wine
Violets on the nose make way for blueberries and brambles with a touch of smokey spice. Try with lamb or spicy roast veg.

GFV Chardonnay, Gabb Family Vineyards, Coastal Region, South Africa, from £10.99, Majestic 
Zesty lemon and a touch of elegant tropical fruit. Enjoy with herb-roasted chicken.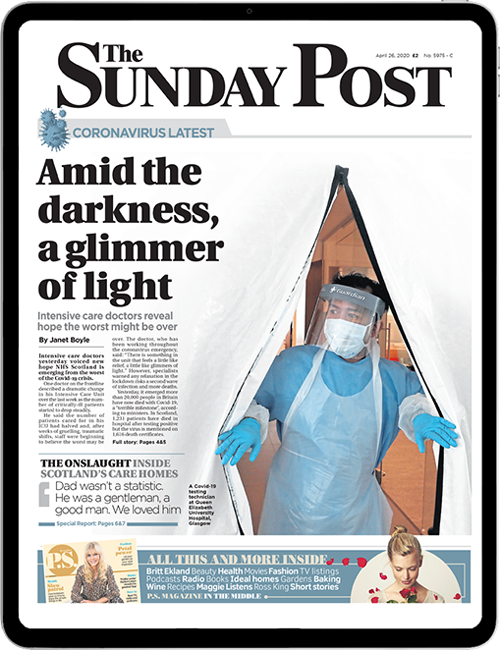 Enjoy the convenience of having The Sunday Post delivered as a digital ePaper straight to your smartphone, tablet or computer.
Subscribe for only £5.49 a month and enjoy all the benefits of the printed paper as a digital replica.
Subscribe