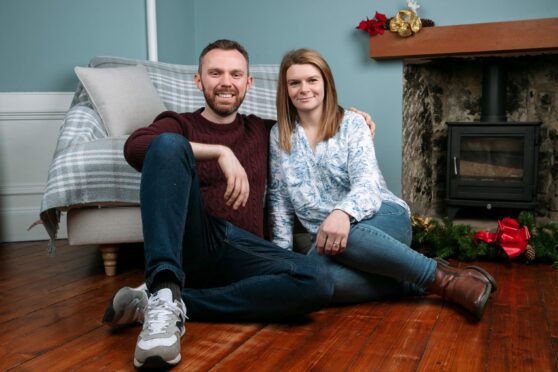 As Kevin Flynn rolls up his sleeves and prepares to make a festive trifle, the irony is not lost on him.
After charming viewers on The Great British Bake Off, he left the show during custard week when his showstopper ended in disaster and high drama, the other bakers rallying around to help as he ran out of time to assemble his set custard gateau.
"That's the thing about Bake Off," he said. "It's a competition in name only because you never want others to go out before you. I've made friends for life on the show."
He's in his kitchen in Hamilton baking up a storm to share some last-minute Christmas recipes with Post readers before spending the big day with his wife, Rachel, his mum and his siblings.
"I'm looking forward to it," said the 33-year-old. "It's been a whirlwind of a year. So, it'll be good to sit back, at least for a bit, and take stock.
"It's hard when you think back to what Christmas was like last year. We have to hope that we've seen off the worst of the pandemic."
His feet have hardly touched the ground since he won a coveted place on the show in March.
"I am the poster boy for second time lucky," he laughs. "I'd applied last year but didn't make it to the final 12. This year I got through the audition stages and was invited to bake in one of their kitchens.
"That's when I started to get excited. The other people around me were amazing. Their bakes were unreal.
"I was pinching myself and saying: 'You've made it this far, Kevin. You must be doing something right'."
Filming began in May for seven weeks and the musician and music teacher was able to take unpaid leave from his day job. For the 13th season the iconic tent was pitched in the grounds of Welford Park, a country house and estate in Newbury, Berkshire, with the show airing for 10 weeks from September.
"Bake Off was one of the hardest things I have ever done," he said. "But it was so enjoyable, I would do it all over again.
"It was hard work. When we were filming, we'd be on the go 12 hours a day then start all over again the next day. There was a lot of pressure – both practical and emotional – and I wanted to do well. Then there was the tent.
"People talk about 'the curse of the tent' where something you could normally bake with your eyes shut just falls apart. There was that moment in bread week when we were doing pain aux raisins. I remember saying to camera that I could make crème pat (patisserie cream) with my eyes shut. Then literally minutes later my crème pat was gloop and I had to eat my words.
"That's the curse of the tent. The same thing happened to Dawn with her lemon meringue pie in dessert week. She'd made more lemon meringue pies than we'd had hot dinners. But she buckled, something happened, and something she should have knocked out of the park didn't work for her."
He got on well with judges Prue Leith and Paul Hollywood but more so with presenters Matt Lucas and Noel Fielding. "There was a professional distance with the judges," he said.
"The only time we would see them was on set and on camera. There needed to be that distance. It wasn't like we were hanging out in the green room or anything.
"It would have been too intense to have to think about how you were being around them, when, ultimately, they were judging your bakes.
"I remember Prue being excited about my clootie dumplings as I was using the traditional method to make them but it was heartbreaking when they didn't turn out the way I wanted."
Lucas and Fielding also maintained a professional distance but were much more approachable.
"You would only really see them on set. They were quite pally and helpful," he said. "You could have a laugh with them, trash-talk the judges and stuff like that.
"Noel is a sweet guy, exactly as he appears on screen, and he clearly operates on a different wavelength from the rest of us.
"He didn't mind if you didn't get one of his jokes, it wasn't awkward. He took it in good humour.
"Matt's really lovely. He's very professional. He comes on set practising his lines, ready to deliver, and he's thoughtful as well."
Flynn, who studied at the Royal Conservatoire of Scotland and who plays saxophone, clarinet, flute and piano, made it to the final six in the competition, leaving in week seven with many fans complaining he should have stayed longer. But he doesn't feel like he was unfairly ousted.
"Prue said she loved my custard and would remember the recipe for the rest of her life. That's good enough for me," he said.
"By that stage there are always going to be people complaining that you were unjustly sent home. The public feel like they know you and want to fight your corner.
"But I knew myself that I was ready to go. I felt like I was struggling to keep up with the other bakers.
"I was watching them, challenge after challenge, bake amazing things. There's a sense of relief that you feel it's your time to go and you know someone else hasn't gone when you feel you should have. I surprised myself by how I stepped up. I baked better than I've ever baked. I tried new things and I met pressure in ways I didn't think I would.
"I was happy with what I achieved. But I was up against bakers that I knew from challenge one, week one, would be in the final."
Flynn has kept in touch with the other contestants, including winner Syabira but also Abdul, Carole and fellow Scot James.
"It turns out James and I were taught by the same music tutor at school, Andy Brodie. We had no idea until we got chatting," he said.
"But I'm lucky enough to have got on with all of the bakers. Syabira is like a sister to me.
"We message most days and I have been down to visit her in London. We asked each other for help with our bakes but also got up to a lot of mischief on the show.
"She has a silly sense of humour. I'm absolutely delighted she won.
"Abdul is so bubbly and positive and Carole was an absolute darling. I'm glad that from day one the public got to see that she is so warm and affectionate."
His family were able to share his Bake Off experience when they appeared in the final episode.
"It was nice for them to see it all in the flesh, especially my wife Rachel because all Rachel knew of Bake Off was that they were taking me away.
"It was lovely for her just to be part of it rather than a kind of victim of it. She'd been a Bake Off widow for months."
It's little surprise he's in charge of desserts as the Flynns descend for Christmas on his sister Louise's house in Cleland, near Motherwell.
"All my family like to cook, so everyone wants in on the action," he said. "It's not like one of us does the whole Christmas dinner. We all chip in.
"We usually go to my eldest sister, Joanna's, but Louise has a new house so we're heading there.
"She'll do the meat. Joanna, my brother Brian and my mum Julie will do sides, and we all bring plonk and have a good time.
"There's nothing quite like it. As Christmas Day is a Sunday we'll go to church in the morning so I'll have all the prep done in advance. And we'll head to Rachel's family in Norfolk on Boxing Day."
Flynn gets recognised in the street, more so down south, with people often asking for selfies.
"I really don't expect everyone to have watched the show," he said. "So when I'm recognised it's usually when I least expect it.
"At first I thought I wasn't being spotted up here, then I realised it's because people here don't make a big fuss. They just like to talk to you. They like a chat.
"The school I work in, Caldervale High in Airdrie, is pretty grounding, too. Some of my pupils are really tickled by the fact that Mr Flynn is on telly. Others couldn't care less."
He is busy as a musician over the festive season, as is Rachel, 33, who is a flautist – they met as students at The Royal Conservatoire of Scotland. They are animal lovers and have two cats, Alfie and Rupert, and an Airedale terrier, Judy.
Rachel also works as a groom and takes part in dressage competitions with her horse, Georgia. "It's panto season so there are gigs-a-plenty," he said.
"But we always take time out to record a festive tune – Rachel on flute and me on piano – and share it with everyone. It's like our own little Christmas card."
He is keen to do more food writing, maybe a book, and is working on some new recipes.
"I'm glad I did Bake Off but I've worked hard on my musical career and I don't want to give that up. I love my job. So I'll be combining the two from now on!"
---
Kevin's Christmas Recipe

Kevin's festive favourites – trifle, mulled wine and mince pies – can all be pulled together at the last minute.
"Start with the mulled wine," he laughed. "The smell flows out of the kitchen and through the house when you make it. It never gets old.
"It's an aroma that gives me butterflies in my stomach, it's so good.
"But don't use Châteauneuf-du-Pape. You're heating the wine up, so any cheap, fruity plonk will do.
"And whole spices are a must because you'll never be able to sieve out ground spices."
The mincemeat for Kevin's pies goes far beyond traditional dried fruit.
"I've used cranberries, apricots and figs along with cloves, star anise and pistachios," he said.
"The flavour is brought together with the enchanting warmth of saffron."
His signature trifle makes the most of the season's citrus fruits and is the perfect encore to Christmas dinner.
"It's inspired by my mum, who used to do a trifle with lime jelly and mandarins.
"I'm big on adaptable recipes, so feel free to use shop-bought Madeira cake, ready-made custard or, like my mum, lime jelly cubes.
"And get the gaudiest '70s trifle dish you can find."
Deep-filled mince pies
Ingredients
Mincemeat
150g cranberries
150g mix of raisins/sultanas (jumbo or golden)
100g dried apricots, finely chopped
100g dried figs, finely chopped
Zest and juice of two oranges
Zest and juice of one lemon
Bramley apple
Three tbsp whisky/brandy (or juice of another orange, to keep it alcohol-free)
100g unsalted butter
100g golden caster sugar
¼ tsp ground cloves
One tsp ground star anise
A good pinch of saffron
50g pistachios, roughly chopped pastry
375g plain flour
250g unsalted butter, chilled and cubed
100g caster sugar
Tsp salt
Two large eggs, lightly beaten
Two tbsp cold water
Additional egg, beaten, to glaze
50g demerara sugar, to sprinkle
Equipment
12-hole deep muffin tin
7cm and 9cm cookie cutters
Method
Place the mincemeat ingredients, except the pistachios, in a large pan. Heat gently until the fruit has absorbed the liquid and is sticky but not dry. It should look glossy. Stir in the pistachios and allow to cool.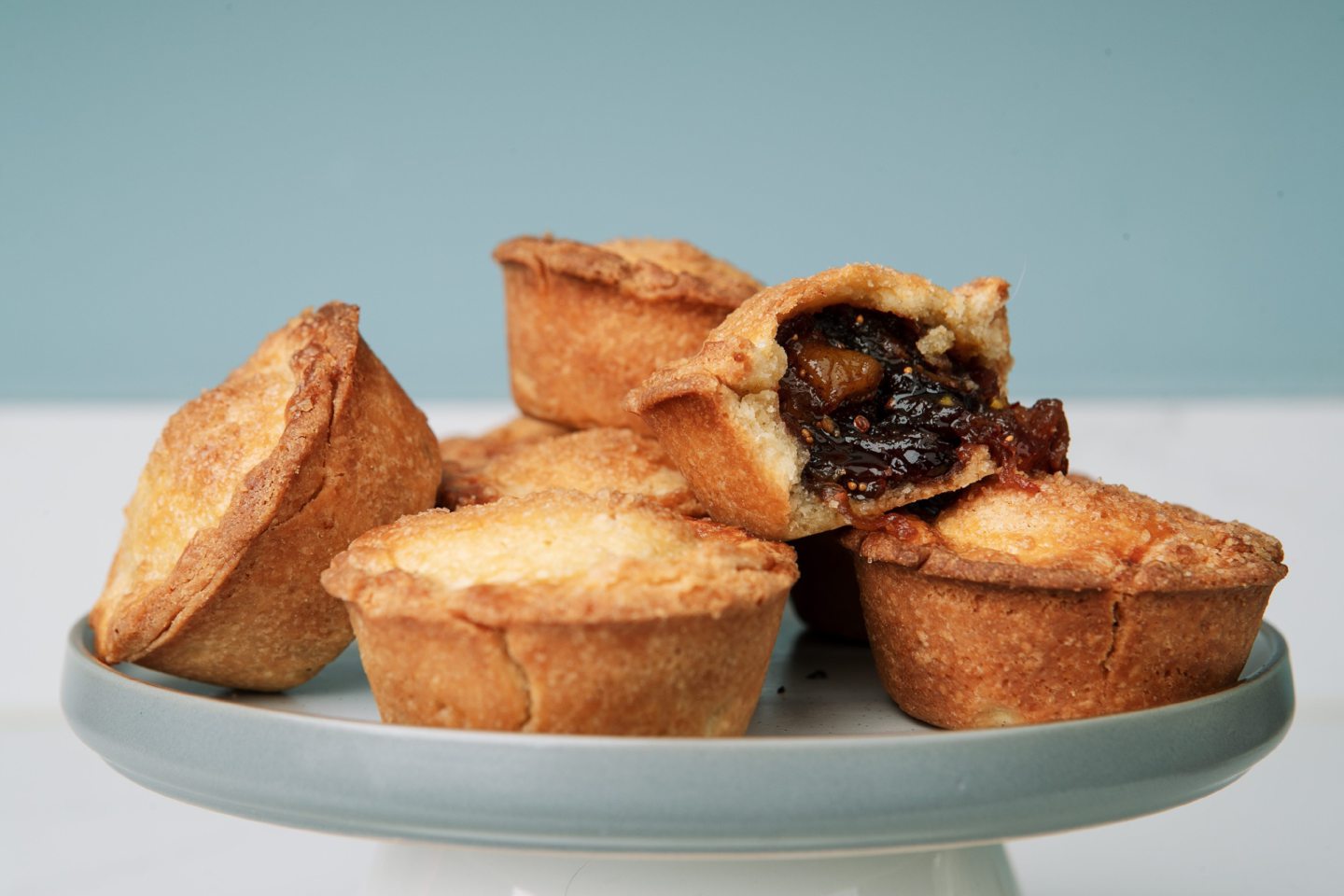 While the mincemeat is cooling, make the pastry. Put the flour, butter, sugar and salt in a food processor and pulse until it resembles breadcrumbs. Add the eggs and water and pulse until it comes together. If there's too much mixture, tip into a bowl and knead until it all comes together. Flatten into a disc, wrap in cling film, and chill in the fridge for 30 minutes, or the freezer for 15 minutes.
Preheat the oven to 200C/180C fan/gas 6. Roll out the dough on a lightly floured surface to the thickness of a pound coin. Cut out 12 rounds with the 7cm cutter, and 12 rounds with the 9cm cutter. You'll need to re-roll the off cuts to do this. Place a 9cm round in each of the holes of the tin, and spoon in a good dollop of the mince meat. If it's heaped slightly higher than the pastry case, don't worry – no one has ever complained of too generous a filling.
Place the smaller circles on top and crimp the edges. Glaze with lightly beaten egg, and sprinkle with demerara. Chill in the fridge for 20 mins, but only if time is on your side.
Bake for 25 mins until golden colour. Cool in the tray for 15 minutes.
Remove from tins and allow to cool completely.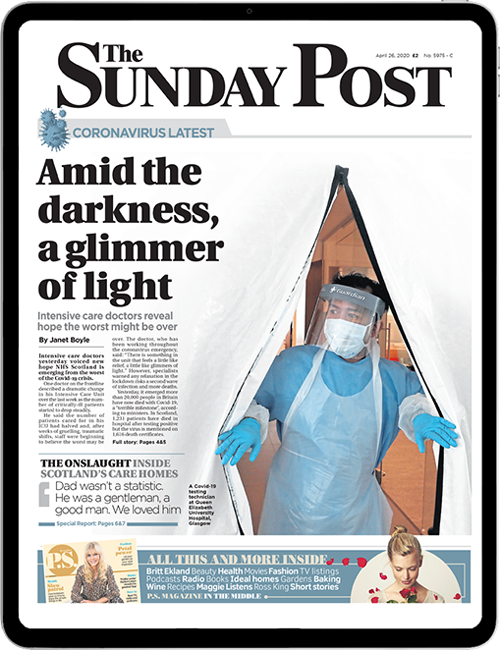 Enjoy the convenience of having The Sunday Post delivered as a digital ePaper straight to your smartphone, tablet or computer.
Subscribe for only £5.49 a month and enjoy all the benefits of the printed paper as a digital replica.
Subscribe