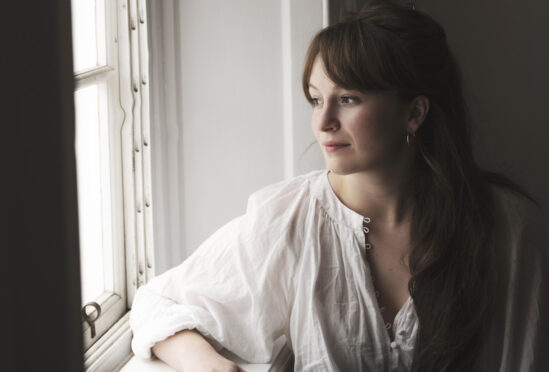 Dining can be split into two categories; the meals we cook quickly and without fuss during the week and, less often, formal occasions and celebrations that call for three courses, tablecloths and good crockery.
The former invariably ends with a plate balanced on our laps in front of the warm glow of the TV, while the latter are served at the dining table under the flicker of candlelight.
In Flora Shedden's home, however, there is a more blended approach. Until lockdown, she admits, it hadn't crossed her mind to put as much effort into midweek meals for just two people as would usually be reserved for entertaining – but making the time to sit and savour has now become a vital part of everyday life for her and partner, James.
After finishing a busy day in Aran, the bakery she opened in Dunkeld, Perthshire, in 2017, Shedden retreats to the kitchen in her flat upstairs and sets about turning odds and ends into a meal.
"When we first got into that routine of just the two of us in the house, cooking and eating at the table was the first thing that slipped," explained the 2015 Great British Bake Off semi-finalist.
"It really does affect your motivation to cook day-to-day when it is something that you're just sitting and enjoying in front of the telly. You're not really thinking about what you're eating or what you've done that day – there's not as much decompression from it.
"So in lockdown when I had more time as the business was shut, I found myself craving some form of 'marker' for the end of the day, a little bit of routine as well. Cooking meals that we would then sit down to together was a really lovely thing to concentrate on."
Although candles aren't lit every night, the couple continue to take the time for supper, as Shedden calls their relaxed evening meals, and it makes all the difference to their week.
"It was something I felt I had to make an effort to do but once we were in the rhythm, it was a massive mood-booster," said the 27-year-old, who will welcome her first baby in December. "It's a really lovely thing to be able to take that time. We all rush around and I'm guilty for thinking, 'Oh there's so much to do, I'm not going to manage' while prioritising things that can go on the back burner. You can take half an hour to cook something nice and wind down a bit. It was as much therapy for me as anything else."
Shedden has dedicated her latest cookbook to helping more people embrace the art of everyday entertaining. Supper: Recipes Worth Staying In For is all about setting the table, lighting some candles, and enjoying a meal with "those you may not normally be trying to impress".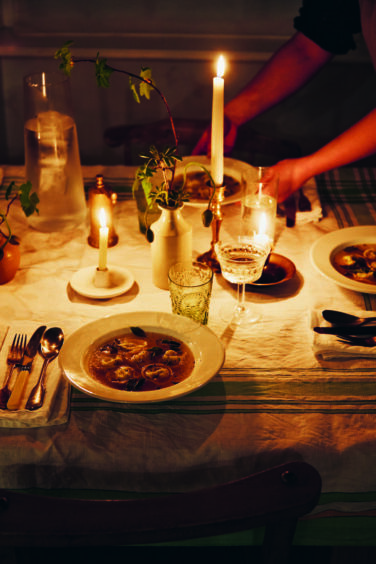 As well as suggestions for more time-consuming "feasts" and showstoppers to serve by candlelight – think pork shoulder with rhubarb ketchup and handmade tortellini – chapters also cover "In A Hurry" meals and "30-minute teas" to ensure every dish, no matter how quickly prepared, can be dinner party ready.
With each recipe written and tested in her small kitchen, Shedden is confident home cooks won't need professional skills or equipment to recreate her dishes. She said: "I have a funny work-life balance. I run the bakery downstairs and we've got a wee shop as well so when I'm testing and thinking about how they're going to operate, I'm in our big production kitchen. But when I'm writing recipes it's a different thought process so it's nice to be able to do that in my kitchen and make it a more domestic environment.
"I do find it difficult to go between the two so frequently but it's something that I really enjoy. It does take a bit of adjusting but, as a process, I love it."
Winter, Shedden says, is the perfect time to embrace the ethos behind Supper. Not only will the coming weeks provide opportunities to dine with friends and family but with the cost of living continuing to rise, she suspects people will seek comfort in the kitchen.
"It's not exactly the easiest time for a lot of people for so many reasons and there's a huge level of comfort in food, which is what we need right now," she explained. "In the book, there are treat recipes and special-occasion dishes but also a lot of basic, simple recipes that I hope are more achievable and more efficient, cooking-wise."
At the moment, she is cooking with seasonal ingredients like squash and quince ("I poach a massive portion and then put some on top of porridge, or make a sherry quince trifle," she explained enthusiastically) and the cooking process is given as much thought as the ingredients. When the oven is turned on, for example, Shedden cooks two meals at once or preps extra ingredients to make the most of the energy, and leftovers are transformed with her "Let's Do It All Again" recipes, which turn scraps into something sumptuous.
She explained: "I included a section on leftovers because if you are turning your oven on to cook a big roast or something, you want to get as many meals from that as possible. With just two of us, if I'm going to buy a bit of meat, I do want to spend money so that it's the highest quality it can be, but I really want it to give us three meals at least. That's a really important part of cooking in general, but winter cooking especially.
"I've included pies you can make out of leftovers and other things that you can do quite easily to reinvent a meal, using your freezer and making sure that it is as efficient as possible – but still going to be tasty. I love being able to reinvent food."
Whether your next supper is a portion of last night's lasagne or a feast prepared from scratch, Shedden hopes the side dishes will be candles, cutlery and a lot of care.
She added: "People don't associate laying a nice table and putting some candles on as something you would do when there's just to two or four in your household. You tend not to want to impress your household so much but, really, it's a lovely habit to embrace."
---
Supper: Recipes Worth Staying In For, Hardie Grant, £22, is available now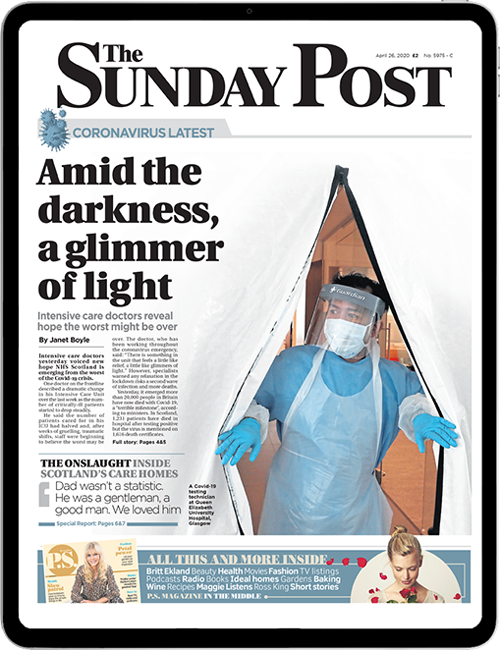 Enjoy the convenience of having The Sunday Post delivered as a digital ePaper straight to your smartphone, tablet or computer.
Subscribe for only £5.49 a month and enjoy all the benefits of the printed paper as a digital replica.
Subscribe