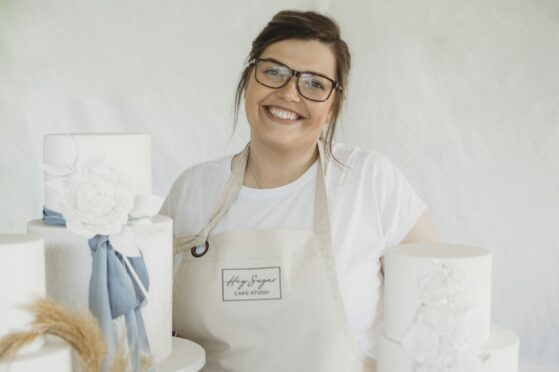 Eggs, butter, flour and sugar are at the core of most cake recipes but Georgenna Paton adds an extra special ingredient – a dash of love.
Crafting beautiful sponges in a range of flavours, from lemon drizzle to double chocolate, the mum of two started baking professionally just five years ago, starting her business, Hey Sugar Cake Studio, by continuing a tradition passed down from her own mum.
"My mum always made my birthday cakes when I was little," she explained with a smile. "We had this book of birthday cakes and every year I got to go into the book and choose whatever cake I wanted. I remember having a cow with a daisy in its mouth and some pigs in a bed with little slippers at the bottom. So when it was my son's birthday I thought I would do the same."
With that first cake, aptly made for her son's first birthday, Paton, from Aberdeenshire, discovered not just a passion for baking but a hidden skill, too, and demand soon grew for her homemade treats as orders starting flooding in from friends and family.
Now, having perfected her process with online tutorials, not to mention lots of trial and error and patience, Paton creates stunning centrepieces for hundreds of weddings every year, all lovingly made in her home kitchen.
For novice bakers, Paton's first piece of advice is to go low and slow. "Even with the most simple recipe, the No 1 tip – the game changer – is turning your oven down," she explained. "Don't listen to what it says in the recipe. It will tell you to cook the cake at 180 degrees for 20 minutes or something like that but low and slow is the way forward.
"Turn your oven down to about 150 and leave the cake in there for longer until it's nice and spongy. You'll have a lovely, soft cake that's not dry around the edges."
She added: "Baking has definitely taught me patience! Throughout the trial and error period, I realised that you do need to leave things to sit for a little while before you try to handle them, and cake does need to cool down before you tip it out of the tin or it will just fall apart. Once you get into the rhythm of baking, you just switch off from what's going on around you and focus on what you're doing. It's quite a cathartic process."
When it comes to ingredients, Paton says it's more important to focus on preparation than paying through the nose for speciality produce and fancy brands: "Make sure you really get a good amount of air into your butter and sugar, and really whip in your eggs so it's almost like a foamy mixture. The more air you can get in there the better, really.
"That's what's going to give you a good cake rather than spending an extra 40p on a bag of flour.
"I always buy supermarkets' flour and butter but when it comes to flavourings, like vanilla, that's where you really do need to spend the money.
"Although it is more expensive than Bollinger champagne so it does add up!"
Whether classic vanilla – made, of course, with luxury Madagascan pods – or her own personal favourite, orange and passionfruit, Paton adds a range of flavours to her traditional recipes. For Sunday Post readers, however, she recommends trying her most popular flavour.
"Oh it has to be raspberry and white chocolate. I can't remember a single order that didn't have at least one tier with that flavour," she said. "It's probably the most popular because it's kind of like a bouji birthday cake. It's buttercream and jam but done fancy."
Raspberry and white chocolate cake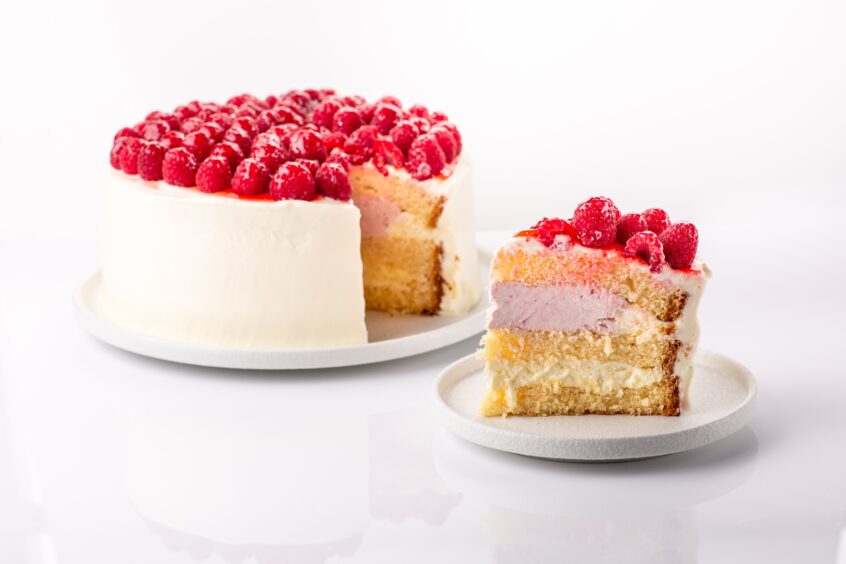 Serves: 12 to 16
You'll need
300g self-raising flour
300g baking spread
300g caster sugar
6 eggs
150g fresh or frozen raspberries
1 tsp quality vanilla essence
For the white chocolate buttercream:
125g softened butter
250g icing sugar
100g quality melted white chocolate
Method
Preheat oven to 150˚C. Grease three 6-inch or two 8-inch cake tins and line with greaseproof paper.
Beat together the baking spread and caster sugar until light and fluffy. Add whisked eggs slowly and continue mixing until combined. Sieve flour and fold into the mix. Be careful not to over-beat – mix until it just comes together and is smooth.
Split the mixture evenly between your cake tins. Scatter raspberries over each filled cake tin. As your cakes bake the raspberries will drop down into the sponge.
Bake for 30-40 minutes or until an inserted skewer comes out clean. Leave in the tins to cool for 5-10 minutes before turning out onto a wire rack to cool completely.
For the white chocolate buttercream, whip together the butter and sifted icing sugar until creamy and fluffy. Add melted white chocolate and whip again. A splash of hot water will loosen your buttercream and make it more spreadable.
Layer the cooled sponges with the white chocolate buttercream and stack. Use the remaining buttercream to top or dust with icing sugar and finish with fresh raspberries to serve.
---
Visit heysugarcakestudio.co.uk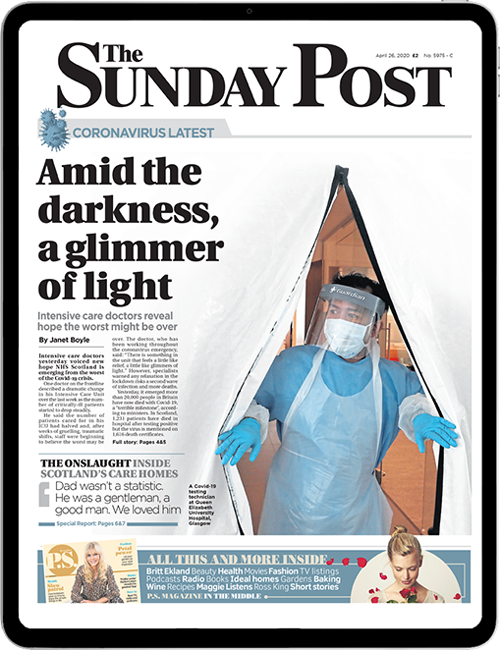 Enjoy the convenience of having The Sunday Post delivered as a digital ePaper straight to your smartphone, tablet or computer.
Subscribe for only £5.49 a month and enjoy all the benefits of the printed paper as a digital replica.
Subscribe