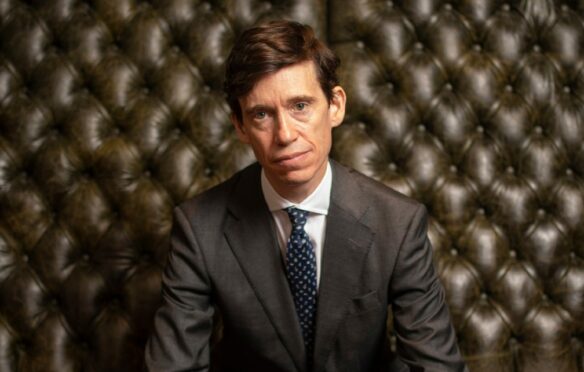 Any opportunity for Britain and the western allies to return to Afghanistan and halt the Taliban onslaught has been lost, according to former cabinet minister Rory Stewart.
He describes US President Joe Biden's withdrawal of troops from Afghanistan, which prompted Nato allies, including Britain, to pull out as a "shameful and unnecessary betrayal" and warns the decision will cast a long shadow over his presidency.
Stewart, former secretary of state for international development and an expert in the region, said coalition countries now have a moral duty to provide refuge for hundreds of thousands of Afghans at risk as the Taliban sweeps across the country.
The militants are now within miles of the capital Kabul and US military commanders fear the capital will fall within weeks as government forces flee or surrender. Meanwhile, more than 250,000 people have been forced to leave their homes in the face of the Taliban's lightning advance across the country.
Stewart, who was also chair of Westminster's defence select committee, condemned Biden's decision to withdraw US troops last month with little warning.
He said: "Biden has propagated the most shameful, unnecessary betrayal. He has done it recklessly, with no planning in place, with no transition in place, with just no thought.
"Essentially, it would be like taking a young person into your home, promising that you were going to look after them, care for them and turn their life around, and then suddenly at a moment's notice throwing them out and locking the door.
"You can imagine the sense of betrayal, disillusionment and despair amongst Afghans. Millions of them have worked with us, believing that together we were going to create this society we talked about. Yes, there are the Taliban and, yes, there are many problems, but there are also millions of incredibly good-hearted Afghans who put energy and courage into trying to turn their country around.
"And it wasn't costing us very much to keep that project going. By the end, all it took was 2,500 troops and a bit of air support to keep the country relatively stable, keep people going to school, keep all those opportunities alive. And we just cut the legs off the whole thing at a moment's notice."
Two former Tory defence ministers, Johnny Mercer and Tobias Ellwood, had called for UK troops to return to Afghanistan to stop the Taliban but, while forces are returning, it is only to ease evacuation of diplomatic staff and other western nationals.
Stewart said: "The honest truth is that we can't do it. The military, despite all their defence spending, can't operate without the Americans. They are spending money on things like aircraft carriers and frigates in a way that means they don't have the capacity to support themselves in somewhere like Afghanistan.
"The brutal truth is that the British military wouldn't be able to maintain even a relatively modest presence in Afghanistan."
A tipping point
Stewart, who served in the Black Watch and trekked across north-central Afghanistan in 2002, advised US Secretary of State Hillary Clinton on the country during Barack Obama's administration.
He said: "A week ago I would have said the solution is America needed to re-engage. They're now losing ground so fast that it's getting to a very difficult tipping point.
"At this stage, very sadly, we're going to have to lean into trying to close programmes down and help Afghans become refugees and resettle in other parts of the world.
"It's completely horrifying because often when we're talking about Afghanistan we're talking about it at the level of a state, we're not thinking about it at the level of individuals.
"We are not talking about it at the level of a young woman who would have taken huge risks to go to school, go to university and get a job working with a British charity, try to build a life for herself, educate her children, and now finds the Taliban have cut all the roads north of Kabul and are going to start working their way through lists and take the revenge on people like her."
Afghans who worked for as interpreters for coalition forces are being resettled in countries including the US and UK, but Stewart said hundreds of thousands Afghans need help.
He said: "If we can't protect people in Afghanistan and they are directly in danger, partly because they've worked with us and they believed our promises, we have a moral obligation collectively to look after them.
"That means we, the Americans and everybody else, the French, the Germans, need to start evacuating people and providing visas, not just to interpreters but to hundreds of thousands of Afghans."
After a decade in UK politics and an unsuccessful tilt at running for London Mayor, Stewart and his wife Shoshana and children are packing up for a move to Jordan, where they will spend the next two years.
Stewart is the founder and his wife the CEO of charity Turquoise Mountain, which works to protect heritage and communities at risk around the world. He said: "What I'm hoping to find in Jordan is an opportunity to repair some of the damage that I felt in politics and in Afghanistan by partnering with people at a local level, at a human level, patiently and slowly showing that we can make a difference together, instead of grand lurches away from big promises to inaction and betrayal which defined both politics and Afghanistan.
"I'm hoping by working at the grassroots I can find meaning and satisfaction in a way that I think is pretty difficult in either Afghanistan or British politics."
Independence
Stewart, who served as Conservative MP for Penrith and the Border for nine years and stood against Boris Johnson for the Conservative leadership in 2019, said he would be keen to campaign for Scotland remaining part of the UK if there is a second independence referendum.
He said: "I'm in a strange situation. I love Scotland but I'm against borders. I was against Brexit for the same reason. I don't like people cutting themselves off from their neighbours. I think as humans we often do better when we compromise and share things.
"So I would be strongly on the side of the Union. I feel a deep loyalty and sympathy to Scotland, but like some other British people I'm split. My father is Scottish, my mother is English and I don't like being forced to choose. I don't like being forced to split myself down the middle and say I'm one thing or another."
Stewart said he felt the Scots and English are drifting apart but rejects the notion that independence is inevitable.
"I think there is a really big risk," he said. "There have been decades of complacency and decades of underestimating the problems. We really must prove to Scotland that the United Kingdom makes sense and works for Scotland and works for England, and that it is a family of nations that benefits each other instead of dragging each other down, which is how some people think about it."
Stewart also urged the pro-Union parties to run a joint campaign as they did with Better Together for the 2014 referendum. Some Labour politicians have said they would not campaign alongside the Tories.
Stewart said: "I think it would be very dangerous, if a referendum happened, for these parties to try to run independent campaigns rather than working together.
"There are lessons from the Brexit campaign they need to learn, and one of them is they need to make emotional appeals. They can't just on rely economics again. They have to be more lively. They have to be more entertaining.
"One of the problems about the Better Together campaign was it was quite dry and economic. It didn't really address people's emotions or their sense of identity. We need to learn to do that if we're going to win next time, if there is a next time."
He also warned that Scottish independence could be as divisive as Brexit.
He said: "In referendums in countries like Kosovo and South Sudan, where you had more than 95% of people voting for independence, you had a fantastic mandate for your new nation. But if you have a situation like Brexit, where 52% of people voted one way and 48% the other, you sort of limp across the finishing line with no real legitimacy and end up with half the population fundamentally opposed to the project.
"That's one of the things I think that's most difficult about the situation in Scotland. Even if the numbers changed from the last referendum, you're still talking basically about a 50-50 split, and that's a terrible thing to do to a country, as we should have learned with Brexit."
---
He's not my kind of politician but I suppose that's something that many people in Scotland feel

– Rory Stewart on PM
In a crowded field, Rory Stewart delivered one of the most notable – and scathing – assessments on the character of the Prime Minister.
In a book review for the Times Literary Supplement last year, he suggested Boris Johnson was the "most accomplished liar in public life" and possibly "the best liar ever to serve as prime minister".
He went on: "Some of this may have been a natural talent – but a lifetime of practice and study has allowed him to uncover new possibilities."
Stewart, who ran against Johnson in the Tory leadership race, went on: "He knows what the right thing to do is but acts against his better judgment through lack of self-control. He is, in Aristotle's words, like 'a city that votes for all the right decrees and has good laws but does not apply them'.
He concluded: "Unless we begin to repair our political institutions and nurture a society that places more emphasis on personal and political virtue, we will have more to fear than Boris Johnson."
Asked by The Sunday Post what he thought of the prime minister's recent attempts to bolster the Union, Stewart said: "The fundamental problem with me answering that question is I'm not at all a fan of Boris Johnson.
"I ran against him to be leader, I left the Cabinet when he took over, I resigned from the Conservative Party. So obviously I don't like his style of leadership and the way he does things. So almost everything, I'm afraid, I say about him is negative. It's not going to be very interesting and is essentially that he's not my kind of politician.
"But I suppose that's something that many people in Scotland feel."
---
Return to dark days: Women despair over Taliban resurgence
The Taliban were fighting within miles of Kabul last night as military analysts warned the Afghan capital will fall within weeks – if not days.
The Islamic militants yesterday reached the Char Asyab district, just seven miles south of the city, after seizing control of swathes of the country in the few weeks since the US led allied troops out of the country.
The lightning advance has provoked fears for retribution against anyone who helped the Nato allies over the last 20 years and escalating concerns about the plight of women if the Taliban return to power.
"I feel we are like a bird who makes a nest for a living and spends all the time building it, but then suddenly and helplessly watches others destroy it," said Zarmina Kakar, a 26-year-old women's rights activist in Kabul.
Kakar was only a year old when the Taliban entered Kabul the first time in 1996, and she recalled an occasion when her mother took her out to buy her ice cream, back when the Taliban ruled. Her mother was whipped by a Taliban fighter for revealing her face for a couple of minutes. "Today again, I feel that if Taliban come to power, we will return back to the same dark days," she said.
Describing now living under Taliban rule, midwife Nooria Haya told the BBC: "Suddenly most freedoms have been taken away from us. It is so hard. But we have no other option. They are brutal. We have to do whatever they say. They are using Islam for their own purposes. We are Muslims ourselves, but their beliefs are different."
Yesterday, the Taliban took more provincial capitals, Sharan and Asadabad, which gives them control of more than half of Afghanistan's 34 provinces. In a televised address, Afghan President Ashraf Ghani refused to resign, saying he would not give up the "achievements" of the last 20 years and that "consultations" were under way.
In Kabul, foreign troops have started to arrive to help evacuate embassies, including around 600 British troops to help with the withdrawal of UK citizens. US troops are also now in Kabul to airlift thousands of people a day.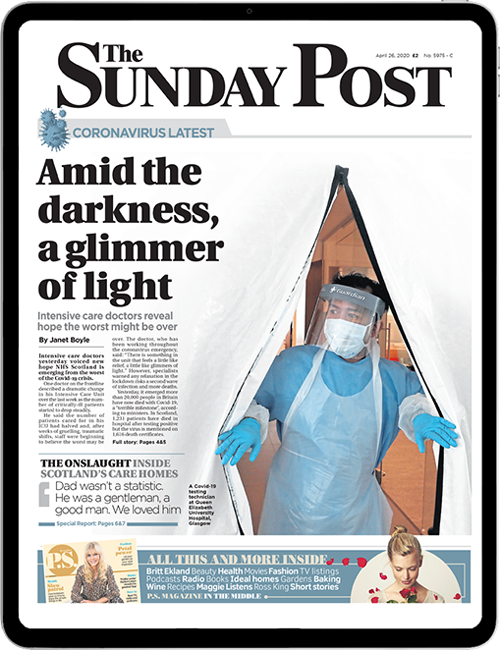 Enjoy the convenience of having The Sunday Post delivered as a digital ePaper straight to your smartphone, tablet or computer.
Subscribe for only £5.49 a month and enjoy all the benefits of the printed paper as a digital replica.
Subscribe