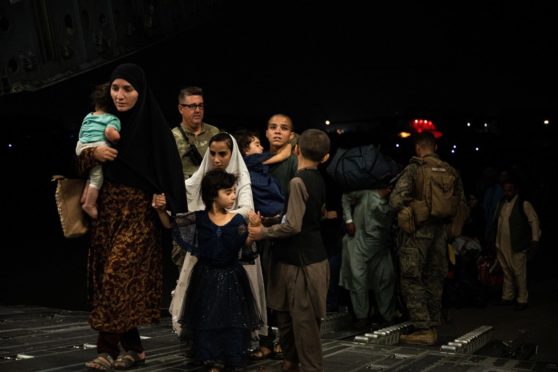 Tony Blair, the prime minister who sent British troops into Afghanistan, last night broke his silence on the unfolding disaster and urged the Nato allies to stay in the country until the evacuation of refugees from the Taliban was complete.
He said Britain had a moral obligation to them as chaos continued at Kabul airport yesterday with reports of Afghans being crushed to death as they desperately tried to get onto planes leaving the city.
Thousands of people are gathered at the gates around the airport trying to get on board a flight out after the Taliban's lightning takeover of the country following the US military's rapid exit. At least three people were reported to have died in the crush yesterday.
British troops at the airport who, having served in Afghanistan previously, said the queues, crushing and desperation of people to get out of the country were the worst scenes they had seen during their service.
According to the Twitter account Hear Afghan Women, at least 12 people have died in the crowds this week. US President Joe Biden said on Friday the US had so far rescued 13,000 people to date in "one of the largest, most difficult airlifts in history".
He said: "Any American who wants to come home, we will get you home." He added that the US military would make the same commitment to 50,000 to 65,000 Afghan allies hoping to leave the country. But he warned that the evacuation from Afghanistan was "not without risk of loss".
'Moral obligation'
Last night, Tony Blair, the prime minister who sent UK troops into Afghanistan 20 years ago, said Britain has a "moral obligation" to stay until "all those who need to be are evacuated".
In a 2,700 word article on the threat of "radical Islam", he  and said the decision had "every Jihadist group round the world cheering".
His intervention came as Biden signalled he wanted evacuations from Kabul airport completed by the end of the month as he prepares to withdraw all American troops, a move that would almost certainly see Britain leaving at the same time.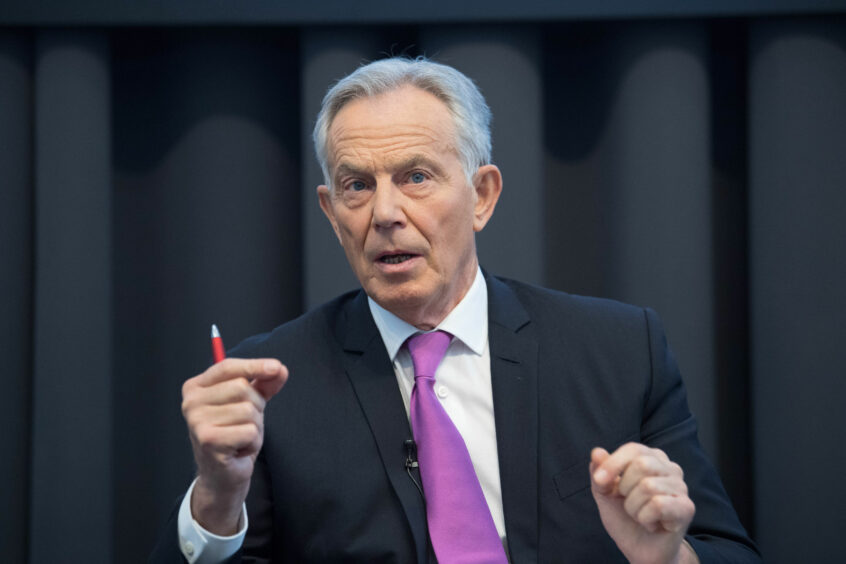 But Blair said there must be "no repetition of arbitrary deadlines" – a reference to Washington's Doha agreement with the Taliban, committing to vacate Afghanistan in time for the 9/11 anniversary – in the rescue mission.
"We must evacuate and give sanctuary to those to whom we have responsibility – those Afghans who helped us and stood by us and have a right to demand we stand by them.
"We have a moral obligation to keep at it until all those who need to be are evacuated. And we should do so not grudgingly but out of a deep sense of humanity and responsibility."
Blair defended his own decision making in 2001 when he worked with former US president George Bush and Nato allies to avenge the New York World Trade Centre attack.
After the Taliban refused to evict al Qaida, the terror group that masterminded the hijacking of the planes in 2001, Blair said Western allies, who feared worse attacks were to come, felt there was "no safer alternative" than to strike. He continued: "There is no doubt that in the years that followed we made mistakes, some serious. But the reaction to our mistakes have been unfortunately further mistakes.
"Today we are in a mood which seems to regard the bringing of democracy as a utopian delusion and intervention virtually of any sort as a fool's errand."
Chaos in Kabul
As chaotic scenes continued at Kabul airport yesterday, the US embassy in Afghanistan issued a security alert advising American citizens to avoid travelling to Kabul's airport due to security threats at the gates.
US military helicopters have been beyond the airport to rescue American citizens, but up to 15,000 American citizens are still in Afghanistan.
The US embassy wrote on its website: "Because of potential security threats outside the gates at the Kabul airport, we are advising US citizens to avoid travelling to the airport and to avoid airport gates at this time unless you receive individual instructions from a US government representative to do so."
Biden is sticking to an August 31 deadline – now just nine days away – to withdraw remaining US troops from Afghanistan. It is likely to mean British troops must return home at the same time, as the airport cannot be held without US enforcement.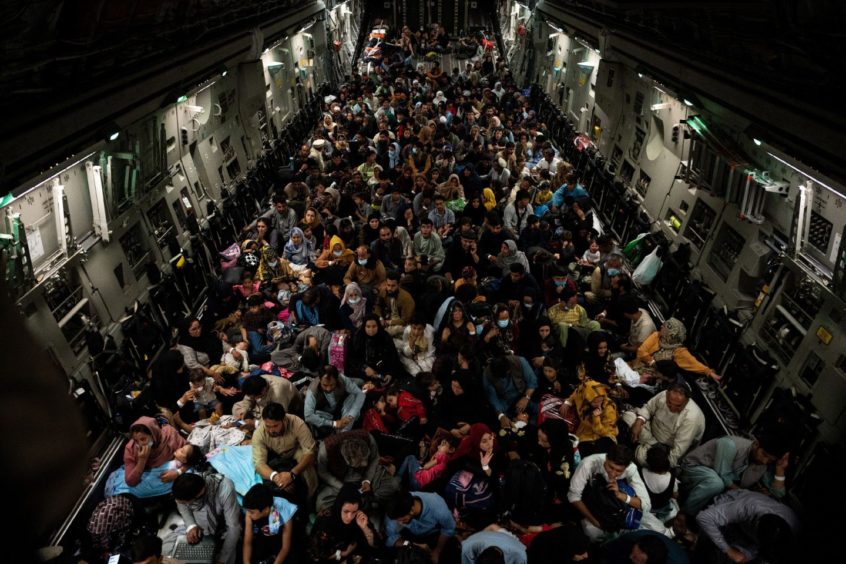 Former Nato chief and Labour defence secretary Lord Robertson said: "It is a desperate situation which reflects the lack of preparation that was made before the Taliban entered Kabul.
"It can only get worse because we don't have the people to deal with the documentation of the people who want to get out nor to give them the degree of protection when they get through the Taliban's checkpoints.
"The question is whether or not the troops who are there can in some way give protection to people who have the right paperwork to get into the airfield.
"I believe the French have put troops into Kabul in order to get people through the lines. The question is whether or not there are enough British troops to be able to do that safely.
"But obviously there is going to be a humanitarian crisis soon as the Americans are saying they are going to pull out in a few days' time and they are the ones protecting the airbase." He added: "We have some leverage. The Taliban are trying to say they are responsible and can be regarded as a sensible government. How long that lasts is a matter of speculation.
"But they also need a lot of money from the outside world to run Afghanistan as a government. We need to use that leverage on the Taliban to try to make sure the people who have an entitlement to get out actually get out."
Mullah Abdul Ghani Baradar, a co-founder of the Taliban, arrived in Kabul ahead of talks to establish a new government in Afghanistan.
He is one of the four men who founded the Taliban in 1994, and was a key figure in the negotiations that led to the peace deal struck by Donald Trump administration to end America's 20-year military campaign in Afghanistan. It followed his release from prison in Pakistan in 2018.
A Taliban official said Baradar would meet with "jihadi leaders and politicians" to set up an "inclusive government".
He said no foreigners were being kidnapped but the group was "questioning some of them before they exit the country".
Dismay
Rory Stewart, former secretary of state for international development and an expert in the region, echoed dismay at the scenes from Kabul: "It confirms how desperate people remain to get out – how they are prepared to sacrifice their children and risk their lives – and it encapsulates the horror and chaos we have left behind us.
"This is a deeply shameful moment – a great betrayal – and this cruel withdrawal from Afghanistan is a sickening act by the international community."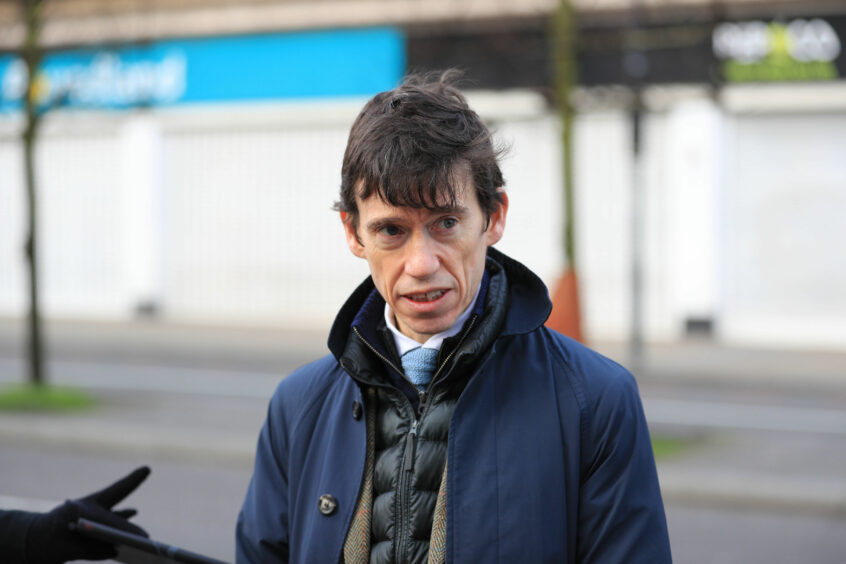 Meanwhile, a former chairman of Westminster's Intelligence and Security Committee has called for its current membership to investigate whether an "intelligence failure" led to the chaotic withdrawal of allied forces.
Dominic Grieve, a former Conservative MP and attorney general, said: "I think if they had known this was going to happen, would the US withdrawal have proceeded in the way it did? It must be an intelligence failure that one should end up with thousands of people crowding into an airport seeking to leave a country when it has been triggered by military decisions by the United States as to how it was going to conduct its withdrawal."
Professor Rick Fawn, of St Andrews University's school of international relations, said: "It's very likely it's going to get worse. There is going to be panic and the only way out is through the airport. Western embassies in neighbouring countries could ease the visa requirements but that's not going to help significant numbers. It is very, very difficult to get out of the country."
He fears the situation could easily become even more dangerous and warned the Taliban cannot be trusted.
"And the Taliban is absolutely barbaric. The only way that they have changed is to have a veneer of saying a few words that the west desperately wants to hear. This is an absolutely dire situation."
---
Report: Raab refused to return from holiday as Taliban took Kabul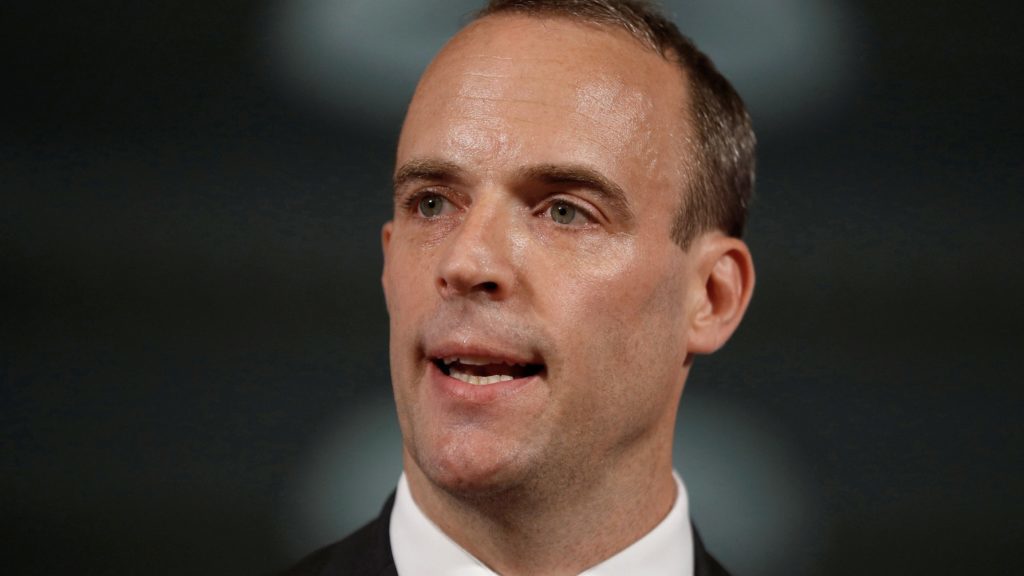 Dominic Raab was told he should return home from his holiday as the situation in Afghanistan deteriorated but stayed for two more days, according to reports.
Raab is under huge pressure to resign after it emerged he was on holiday while Afghanistan fell to the Taliban and reportedly delegated a call to a junior minister from his Afghan counterpart to discuss the plight of the interpreters and others who worked for the British in Afghanistan and now face retribution from the Taliban.
Last night, it was reported a senior No 10 official advised him to return to Whitehall on Friday, August 13, two days before the capital was seized and the same day as he was told by officials to make a call to Afghan Foreign Minister Hanif Amtar about repatriating interpreters who helped allied forces during the war, but the task was delegated to junior minister Lord Goldsmith. It has emerged the call was never made.
It was claimed that, after being urged to return, Raab then "nobbled" the Prime Minister, who agreed to him remaining in Crete until Sunday evening. Raab landed in Britain at 1.40am on Monday, after Kabul had fallen.
There has been mounting calls for Raab to consider his position but Boris Johnson has said he still has his confidence. Last week, the Prime Minister pledged to take in 20,000 refugees from Afghanistan, with up to 5,000 to be allowed into the UK in the first year.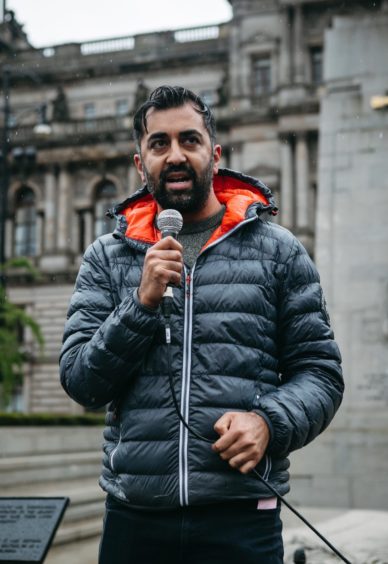 Health minister Humza Yousaf yesterday accused Raab of "having pina coladas by the pool" instead of making a call to help interpreters stranded in Afghanistan. Speaking in Glasgow at a rally calling for action to help Afghans fleeing the Taliban, Yousaf, the Scottish Health Secretary, said the UK Government had failed to act with compassion or contrition: "Not one single syllable of regret by any UK Government. Shame on each and every one of those political leaders who have abandoned the Afghan people.
"All the while we have a foreign secretary who is more occupied with having pina coladas by the pool as opposed to picking up the phone to help Afghan interpreters who helped our soldiers there in Afghanistan."
For all the misery of situation in Afghanistan (and there is plenty to be despondent about) I'm warmed by people of Glasgow who always come out, regardless of weather to show solidarity with those who need it.#RefugeesWelcomehttps://t.co/z7xR2i0NwX

Pic via @BBCScotlandNews pic.twitter.com/vw4YD9q4l0

— Humza Yousaf (@HumzaYousaf) August 21, 2021
Meanwhile, it yesterday emerged the minister for Afghanistan Lord Tariq Ahmad of Wimbledon was on a staycation when Kabul fell. He is said to have remained in contact with his staff and worked on cases of people stuck in the Middle East nation.
Asked about the latest allegations, the Foreign Office highlighted Raab's statement issued on Friday. It also said: "Lord Ahmad has been working closely with the foreign secretary and the FCDO team throughout the response to events in Afghanistan, including engaging with international partners."
---
Protests around the world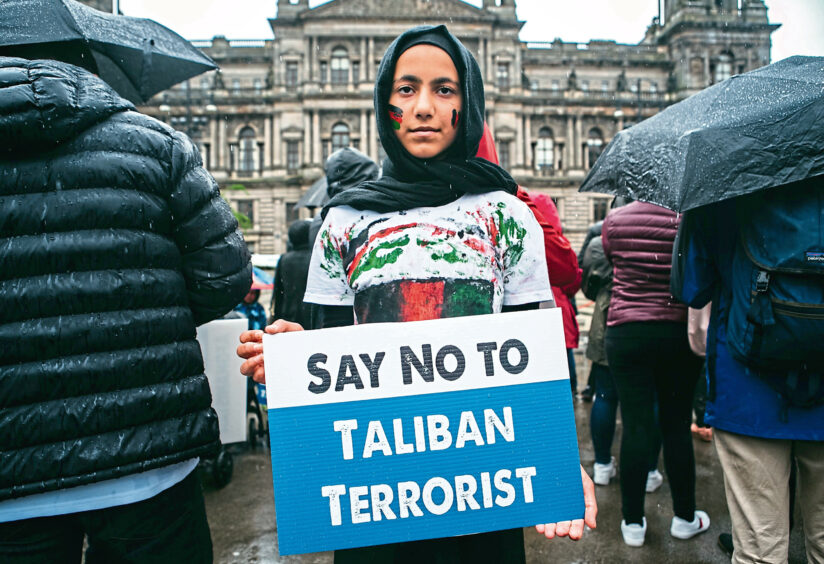 Protesters gathered around the world to support Afghanistan yesterday and urge international action to help the thousands fleeing the Taliban.
Marchers rallied outside Downing Street and took over Oxford Circus and Hyde Park as they criticised the UK Government's handling of the Taliban seizing the Middle East nation.
Meanwhile, protesters also gathered in Glasgow to express their solidarity with the people of Afghanistan.
In London, men and women let off green and red flares, waved the country's flag and held up huge banners during the protest. One banner read: "Stop oppression of Afghan women." Another said: "Talib has not changed." While one more added: "We want peace."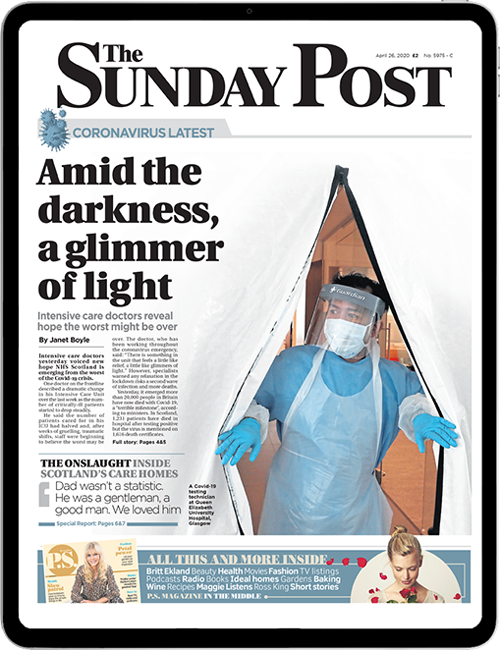 Enjoy the convenience of having The Sunday Post delivered as a digital ePaper straight to your smartphone, tablet or computer.
Subscribe for only £5.49 a month and enjoy all the benefits of the printed paper as a digital replica.
Subscribe