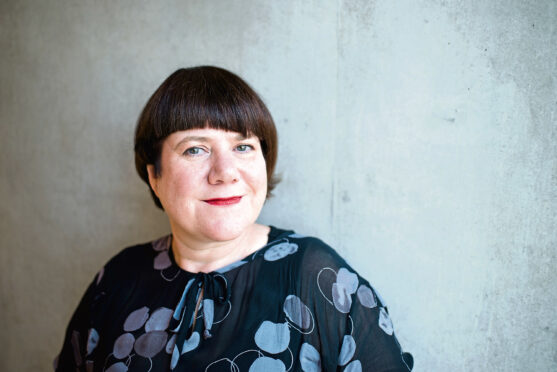 Louise Welsh gazes contentedly out to sea. She's on holiday on the South Ayrshire coast with the love of her life, fellow writer Zoë Strachan.
"We are going for a walk along the beach in a little while," she tells P.S. "People underestimate the west coast but it's a fantastic part of the world. The sunset is astounding."
The pair got together nearly 25 years ago. Back then, a cuddle at sunset shared by a same-sex couple on a public beach would likely have turned some heads. But the sands of time have seen attitudes change and the once seemingly unreachable rainbow is now increasingly part of Scotland's social landscape.
Welsh – who lives with Strachan in Glasgow, a short stroll from her beloved Mitchell Library and its Aye Write literary festival at which she appears next month – burst on to the literary scene with her award-winning debut The Cutting Room in 2002. A crime novel set in the home city she adores, it features Rilke, a gay auctioneer and accidental detective who comes across some frighteningly violent photographs during a house clearance, leading him to an underworld of crime, depravity and secret desire.
The author and writer of opera libretti admits she wrote her first novel in "white hot anger", a reaction to Section 28. In the two decades since its publication, she has been fielding the same question: when would she write a sequel? Finally, she has.
The Second Cut hit bookshops in January to similar rave reviews. Rilke is back, still in the antique trade, a gay man in his 50s, trying to come to terms with a confident young generation who didn't grow up in a world of prejudice and Clause 28.
"A lot has changed in the last 20 years from the LGBTQ+ perspective," says Welsh. "The Second Cut opens with an equal marriage, and that is a big and obvious change. That was totally unthinkable 20 years ago."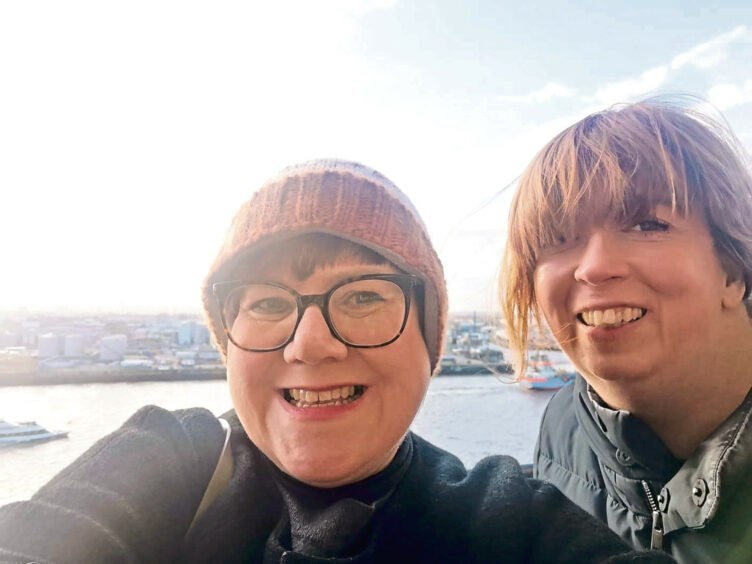 The author – who in 1985 embarked on a history degree at the University of Glasgow, where she is now professor of creative writing – remembers the "slurs" of the campaign against the repeal of the clause. The law that was in force between 1988 and 2000 in Scotland (2003 in the rest of the UK) banned councils from "promoting the teaching of acceptability of homosexuality as a pretended family relationship" and caused gay and transgender support groups to close or self-censor.
She says: "This was the kind of atmosphere the first book was written in. While things are never perfect, the atmosphere has completely changed within Britain.
"But we can't be too laid-back about things. It's important that we acknowledge that changed landscape, where people openly know someone who is LGBTQ+ whereas in the past they might have known them, but not known them in view."
That seismic shift was, she says, "a massive spur" for a sequel in which the death of Rilke's friend after a sex party becomes linked to the clearance of an old house, a crime boss and modern-day slavery.
Welsh was in the throes of writing the long-awaited sequel – hailed as "bleak, witty, unfailingly compassionate and beautifully written" – when Covid-19 hit. Reliving those days, she says: "There was a point where there was nothing you can do but sit tight, stick to the rules and focus.
"So that's what did. I live close to the Woodlands Community Garden, an amazing place. They were up to the minute on (Covid) protocols and welcoming at the same time. That outdoor space became the solace and community.
"Writing and reading helps me get through life with all of its many trials. Along with my colleagues at the university, I worked throughout the pandemic. We didn't stop and all worked harder online. We went (virtually) around the world and around the corner.
"We had events with authors from Africa, the Caribbean, the Americas, Europe and Asia and invited local writers. It was great. My students were from Chile, Canada, New Orleans, Falkland Islands, Poland, Sweden, India and Coatbridge, Glasgow and the Highlands.
"Normally they would be in the classroom together but I was so impressed the way it worked at a distance. They were all different ages, genders and backgrounds. We were so fortunate that they could come to graduation in person last year and I met them for the first time then. But my eyes leaked the whole time. It was like this silent weeping. I couldn't stop because I was so overcome to see them, this tight and really talented and supportive group.
"But it is important to remember and acknowledge all the people who died and those who didn't get to be with their loved ones at the last moment. I feel fortunate not to have experienced that.
"We had our own sadness like everyone; the funerals of friends and relations you attended online, some sad and hard moments. But I didn't lose anyone to the pandemic. I never want to attend another online funeral. You want to be there, to be able to give somebody that support."
Almost prophetically, Welsh's dystopian Plague Times Triology – launched in 2014 – tells of a pandemic called "The Sweats" that sweeps the globe plunging hospitals into crisis as they fill with the dead and dying. It was influenced by the 1970s BBC TV series Survivors created by Terry Nation that she watched growing up.
Born in London to Scottish parents in 1965, the eldest of two sisters, Welsh had a childhood on the move with dad John, who was in the RAF, and mum Ena. They eventually settled in Edinburgh. Despite Welsh's chosen career they were not "an arty" family. They were, however, book lovers.
Welsh recalls: "We were taken to the library and encouraged to go to the library. That's why I am so in love with Aye Write. I am still a library user. I go to the Mitchell Library and I take my novel up there and try to write in the peace and quiet. It was one of the things in lockdown I missed.
"I lived a lot of my life in books and got a lot of my information from books, the telly and from listening to people talk, like grandparents. I loved Survivors, all about the world being hit by a sudden pandemic and was allowed to stay up late to watch it.
"When I came to write the Plague Times Trilogy, I am sure part of that was inspired by the show that I loved. These kinds of programmes were made by socialists; by people who believed in education, in equality and egality. These educations, these early shows, speak to our understanding of the world and they influence.
"We can be snooty about the telly but it can teach us a lot. I was thinking about the sell-off of Channel 4. The first operas I saw were on Channel 4. We weren't a family who would go to the opera and theatre but we might access them on television. I never thought that years later I would have a 10-year practice writing opera with the composer Stuart MacRae. I've written several librettos with him, and that is where that began for me.
"I am devastated that they (the UK Government) want to get rid of Channel 4. Why would you get rid of something that is such a brilliant success and gives such great values that inspire? They are not thinking about egality or inequalities and the education of everyday people. It's not their priority. We have to fight against those attitudes. That's why festivals like Aye Write are important."
Last week Welsh hosted Douglas Stuart, Booker Prize-winning author of Shuggie Bain in a pre-festival event at the Mitchell Library. Glasgow-born Stuart flew in from his US home for the launch of his follow-up novel, Young Mungo, a powerful portrayal of sexuality and community in the city, as two young men on either side of a sectarian divide develop feelings for each other.
"This is him out in the world with it and his first stop was Glasgow," says Welsh. "He must have been nervous to be in his home town. But he walked on the stage and the whole place exploded; feet stamping, cheering, clapping. The room shook. It was amazing. I found it a moving experience."
And it's indicative of Scotland's flourishing literary scene. "It keeps on going, constantly renewing, and it's a warm scene," says Welsh. "People try to support each other and pull each other up. The literary scene in Scotland is not bitchy; it's not competitive in that way. It is about supporting and recognising emerging work comes from all places, and age groups and backgrounds. There is not this idea of exclusivity.
"And it is something we should support, cherish and celebrate; we should never be complacent though. Are we hearing from all backgrounds within Scotland? Do we have enough representation of the diversity of Scotland, are there enough black and minority ethnic voices being heard, and how can we support and make that happen?
"The Aye Write festival is hosting the launch of the Kavya Prize for black and minority ethnic writers, initiated by India-born Scottish author Leela Soma and supported by the University of Glasgow. There are new initiatives but we can never sit back."
And her personal hopes and dreams?
"Not to drop dead," she laughs. "To keep on writing and working with emerging writers who may be at any point in their life. It is never too late and never too early. I would love to write another opera with Stuart and to write a horror movie but I don't know if I would be any good at it. It would be more thriller than shock and gore because I don't have a stomach for blood."
For the moment though, she's content with a beach walk and the beckoning sunset.
The Second Cut by Louise Welsh is published by Canongate. Welsh will be at Aye Write, Mitchell Library, Glasgow, on May 14
---
A who's who of authors
Louise Welsh joins a glittering line-up for this year's Aye Write festival which runs across three weekends from May 6-22.
Heralding its return to live events in venues across the Glasgow, the programme includes Olivier Award-winning actress and bestselling author Celia Imrie on her most recent novel Orphans of the Storm; veteran BBC journalist Justin Webb with his memoir The Gift Of A Radio; and former Radio 1 DJ Annie Macmanus with her bestselling novel Mother Mother.
Succession and The Thick of It writer Georgia Pritchett: "We all benefit from hearing from more diverse voices and people's authentic stories."
Crime-writing royalty Ian Rankin, Val McDermid, Ambrose Parry (aka husband and wife writing duo Chris Brookmyre and Marisa Haetzman), Stuart MacBride, Brian McGilloway, Alex Gray and Douglas Skelton will also make appearances.
Award-winning writer of Succession, Georgia Pritchett, will give insights on anxiety from her bestselling memoir My Mess Is A Bit Of A Life.
Some digital events will continue to feature in this year's programme, headlined by Damon Galgut, winner of last year's Booker Prize for The Promise.
Wee Write – the children's festival – kicks off tomorrow (April 25-30) with a host of delights from Harry Potter and Horrid Henry to Dennis the Menace and The Gruffalo.
For more information visit glasgowlife.org.uk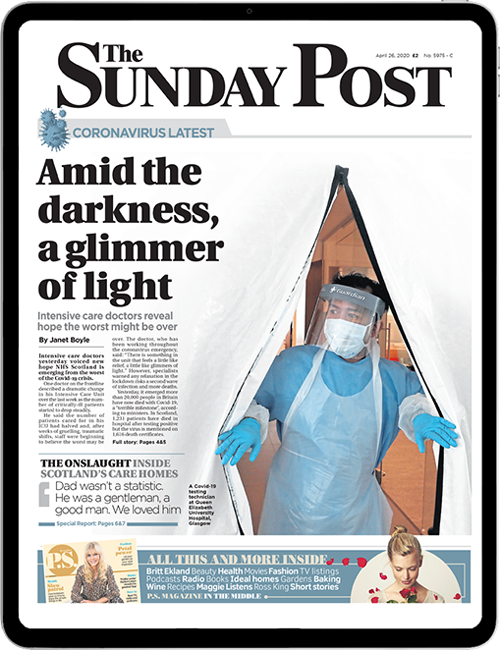 Enjoy the convenience of having The Sunday Post delivered as a digital ePaper straight to your smartphone, tablet or computer.
Subscribe for only £5.49 a month and enjoy all the benefits of the printed paper as a digital replica.
Subscribe