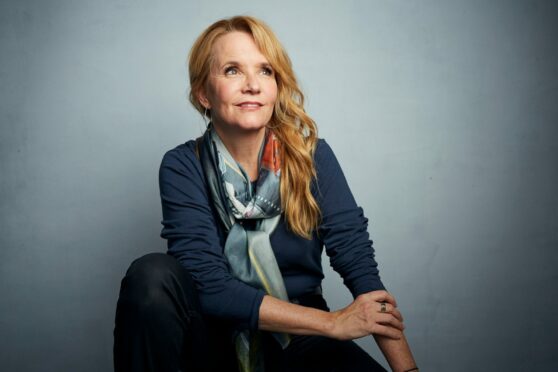 You don't survive 40 years in Hollywood without learning how to adapt and thrive, and for Back To The Future star Lea Thompson, she has found a new calling behind the camera.
The actor, who played time-travelling teen Marty McFly's mum Lorraine in the hit '80s trilogy, has directed a film and 30 episodes of hit shows such as Star Trek: Picard, Resident Alien and The Goldbergs recently, and believes she can pass on everything she learned the hard way to the new generation of actors.
"I've learned a lot and I know a lot from working for so long and so hard," explained Thompson, who turns 61 on Tuesday. "And I love directing because I can use all of the things I've learned and can teach young actors little tricks and things I know. With young actresses, I know what it's like being an ingenue.
"When I started acting, there were no directors who looked like me or reminded me of me, and now there are lots and it's really nice. I don't have to act like a guy, now I can be more like a mom."
Working with Sir Patrick Stewart on Picard this year was, she smiles, "joyful".
"He's such a lovely man and such a star," she continued. "He's always at the top of his game and there are just some people who, when you put the camera on them, make you realise why they're such a star – it's the whole package: voice, intelligence, training, commitment.
"It was really fun but I don't think he knew what I looked like because I was always wearing a mask. One time, I was eating lunch outside, and I shouted over to him, 'Patrick, it's Lea, I'm the director, this is what I look like!' I was a giant Star Trek fan when I was a wee girl, so it means so much to me to be directing."
Born in Minnesota, Thompson was the youngest of five children and an accomplished ballet dancer as a youth. She only turned to acting when she was told she was too stocky to be a dancer.
She made her movie debut in 1983's Jaws 3 and in the same year she starred opposite Tom Cruise in All The Right Moves. It was a high-profile start to her career and the big roles kept coming.
She co-starred with Joaquin Phoenix and Kelly Preston in SpaceCamp, and with Patrick Swayze and Charlie Sheen in Red Dawn.
And then there was the Oscar-nominated Back To The Future, which told the story of a teenage misfit who accidentally travels back in time 30 years to his parents' high school days. There, Lorraine, played by Thompson, falls for her future son, putting his family's future existence at stake.
Spawning two equally huge sequels later in the decade, it remains one of the best-loved and most successful movie trilogies of all time. Not a day goes by when Thompson isn't asked about the movies, but she says that is a blessing rather than a curse.
She smiled: "It was a great part, I loved it. Lorraine was an insane character and I'm really happy to be known for a great film and an insane part. It's a total blessing. I could be known for a horrible slasher movie, so to be known for this, which is inexplicably going from generation to generation to generation, and people still love it so much, I don't have any problem with it."
If Back To The Future made her career, Howard The Duck almost broke it.
While the Marvel Cinematic Universe is a licence to print money these days, with blockbusters like Guardians Of The Galaxy and Avengers, it was a different outcome for Howard The Duck, the first Marvel movie adaptation in 1986.
Executive producer George Lucas, who'd enjoyed success with Star Wars and Indiana Jones, suffered a massive failure when the story of a wise-cracking extraterrestrial duck's attempts to save Earth from creatures from another dimension bombed at the box office. Thompson played wannabe rock star Beverley Switzler, who befriends Howard as he tries to find a way home.
The film has gone on to achieve a cult following in the years since, and she retains a fondness for it to this day.
"They keep releasing the film in different forms and they don't do that for fun, they do that to make money," Thompson laughed.
"One thing I love about it are the fans, who are unapologetic about loving it and don't care what anyone else says. Those are my favourite kind of fans, the iconoclasts.
"Maybe it's why my movie career basically ended not that long afterwards, but I don't care, I'm happy. I feel you have to accept your life the way it comes out, for whatever reason."
Self-effacing Thompson's movie career was far from over and up next was the acclaimed 1987 John Hughes film, Some Kind Of Wonderful, which is also notable for Thompson meeting her husband, the director Howard Deutch, on set. Thirty years on from that movie, Thompson directed her first film, which starred Madelyn and Zoey Deutch, the two daughters she had with Deutch.
"Madelyn wrote The Year Of Spectacular Men at 23 and it's about how hard it is for millennials to work it out right now and we all know that's true – it's a difficult time to be coming of age – so she wrote this really funny, really honest movie, which was really written by a young woman. I never had that experience – I always had to play young women written by 50-year-old men.
"This movie, for the right group of people, really resonates because it's so funny and honest. There was a lot of family involved in making it and not a big budget, so we were all in the trenches and rolled up our sleeves. It was one of the joys of my life and I hope to do it again one day."
Thompson admits she's happy to see her daughters follow in her footsteps.
"I waited for a long time with Zoey, who was the first who wanted to do it," Thompson explained. "I tried to keep her away until she was 16 but I didn't quite make it – she was 15 on her first job. That was mostly because I didn't feel she was ready for it.
"I think a lot of people end up in the same business as their parents. People talk of nepotism, but I think people like to hire people who grew up in the business because they know about it and they know it's hard work. They know you don't just get a big break and then everything's great for the rest of your life. It's one foot in front of the other, really hard physical work, 13 or 14 hours a day, and the mental ability to take the rejection just seems more normal – it doesn't drive them crazy. It's a really hard business; there's so much rejection, and now with the internet, it's even more brutal.
"Taking any deep dive is terrifying, but I was happy they were going into a business I could help them with."
The '90s saw Thompson appear in the big screen adaptations of Dennis and The Beverly Hillbillies, before she landed her own sitcom, Caroline In The City, which was shown on Channel 4 for four years. The new century brought the Jane Doe TV series and the long-running drama Switched At Birth, and the opportunity to be directed by Clint Eastwood in J Edgar.
Despite the changes that have been sweeping through Hollywood due to campaigns such as MeToo, Thompson says there are still not enough roles for older women.
"There are very few parts for women my age and if the roles are any good they go to someone with an Academy Award or a bunch of Emmys, which I don't have," explained Thompson. "I don't want to sit around thinking I'm old and can't get a part. I'd much rather be creative and be a director, rather than sit around being bitter."
Interesting acting roles do still come along occasionally, and that is the case with her new movie, Unplugging, which also stars Eva Longoria and Veep's Matt Walsh as a stressed-out couple who go on a digital detox break in a remote mountain town. But their weekend without mobile phones or the internet soon proves to be even more stressful. Thompson plays Perkins, a local conspiracy theorist who takes the couple under her wing.
"It was a really fun character to play and it was the first thing I did after lockdown," Thompson smiled. "It was a fun shoot and I loved the people – Eva Longoria is such a great woman and business person, and funny.
"My first scene was in a truck with two people and a raccoon, and I had a monologue. The raccoon was trained but the truck was owned by a smoker, so being a half-wild animal the raccoon didn't like the smell of smoke and was a bit upset. At first, it was supposed to be a dog in the scene and then they told me it was going to be a raccoon, and I said, 'That's not going to happen', but it did and it was funny."
Unlike her character in Unplugging, Thompson is a user of social media.
"Social media is a work thing for me and it's good for issues I care about, too," she added.
"I find it useful. Also, when I was a movie star in the '80s, the publicists said I had to have a mystery about me and stay away from fans, and that always felt uncomfortable to me. I'm not that person, I like to work people – that's where I came from and relate to – and I never liked being snobby, so I kind of enjoy the interaction and letting people into my life."
Unplugging is available on digital platforms from June 13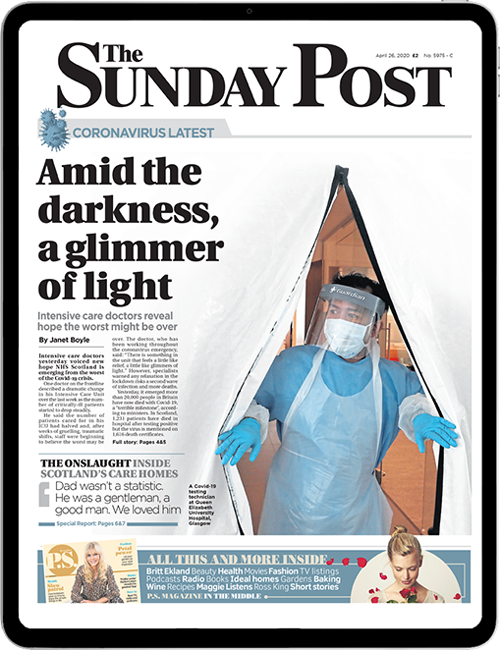 Enjoy the convenience of having The Sunday Post delivered as a digital ePaper straight to your smartphone, tablet or computer.
Subscribe for only £5.49 a month and enjoy all the benefits of the printed paper as a digital replica.
Subscribe