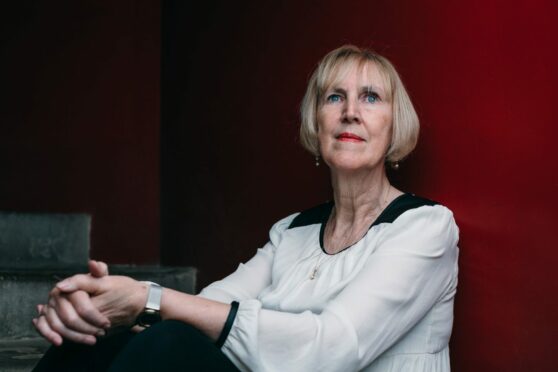 Lin Anderson pads around the Edinburgh apartment she shares with her husband John, looking for "a quiet corner" to put her feet up and chat.
"The tea is in the oven, I'm organised," she announces, which is surprising considering the award-winning screenwriter and best-selling author is hot off a book tour that took her all over Scotland, winding up just moments ago "around the corner" at The Edinburgh Book Shop in Bruntsfield.
The tour, the first in two years since the easing of Covid-19 restrictions, marked the launch of The Killing Tide, the 16th book in her long-running Rhona MacLeod forensic scientist series (which has been optioned for screen with ITV).
To describe Anderson, who is also the co-founder of the hugely successful Tartan Noir book festival, Bloody Scotland, as prolific would be an understatement. She has another standalone novel, The Party House – set in the Highlands and dedicated to her late dad, retired Greenock police detective inspector Bill Mitchell – out in August, she is in the thick of bringing to stage a musical she has written with John Sinclair, best known as keyboardist with Uriah Heep and Ozzy Osbourne's band and, she reveals, "first thing tomorrow" she is off to Cannes to research the third in her new French detective mystery series.
Hopefully she'll slow down long enough to celebrate two landmarks in her literary career this year – Bloody Scotland, which she started with dear friend and fellow crime writer Alex Gray, is gearing up for its 10th anniversary run this September just as the MacLeod series nears 20.
Now in her 60s, she can look back on a career hard won. Early attempts to pitch a script for her debut Driftnet to a TV talent scout didn't go down well. It partly explores MacLeod's guilt after she is called to the scene of the mutilation and murder of a teenage boy who so resembles her, she fears he could be the son she gave up for adoption 17 years before.
"This guy from the BBC looked at me and said, 'I am sorry but who would like a woman who gave up her child for adoption?' And here she is 20 years on. It shows the change in the world and how you should never give up."
Anderson taught in secondary schools all over Scotland before deciding, aged 50, to write full-time. "It was a huge gamble," she remembers. "I had always wanted to write but like many women, there were a lot of demands on my time and I had a career I liked as head of maths at George Watson's College in Edinburgh that earned me money. Our youngest child was still at university and I wouldn't have a salary. But I knew if I didn't start writing properly I wasn't going to get another chance.
"I don't think I could have become a novelist before then as I hadn't lived long enough to assimilate enough stories from people. That's one of the things I missed most during lockdown. The most wonderful part of this past week on tour was being with and observing people."
She also missed the wedding of her youngest child, Duncan, at the height of the restrictions but was able to attend that of her oldest, daughter Laura, who married last September in Carrbridge, the village the family calls home.
Of Duncan's big day with fiancee Alexis at Edinburgh's Canongate Kirk, she says: "It was just him, his wife, his best man, best lady and the minister. We have a black-and-white photo of the two of them laughing on the Royal Mile. It is deserted apart from Duncan in his kilt and his bride in her white dress. It is one of those iconic images. I love it because it says that love will survive.
"Our middle child Ross is married to a French girl, Carole-Ann, and they gave us our granddaughter Kathleen who is 14. She is a great tennis player and represented Scotland in the county championships down at Wimbledon last summer. We are very proud of her. Carole-Ann translates my French mystery series Patrick de Courvoisier."
Anderson's literary journey began after a five-year stint in northern Nigeria with John, who is a civil engineer, when her oldest children were four and two. It resulted in the short story Saving Mr Ugwu, a cultural kaleidoscope featuring an ambitious irrigation project, the baking heat of the Sahara, tribal tensions, and occasional murder. Aired on radio by the BBC, other plays and dramas were to follow.
"We went out to a very remote part of the country in the Bauchi area," she recalls. "I didn't start writing until we came back to Scotland. When we got here, our children became quite ill. They were both taken to hospital in Inverness with the tropical illness bilharzia. It was the only tropical disease Raigmore Hospital had at that time."
The children rallied after treatment with medication flown from the tropical diseases hospital in London, she says. Her latest MacLeod novel is set in Orkney, their first "posting". It opens with a corpse-carrying ghost ship adrift off the towering cliffs of Yesnaby that has macabre links to a suspicious fire death in Glasgow. And it is dedicated to Vina and Geordie Pirie who gave the young couple their first home on the island, where Anderson taught at Kirkwall Academy.
"We were in the caravan on the Piries' farm right down on the shores of Scapa Flow," the writer remembers fondly.
"There was a wall around it and big concrete blocks weighing it down. But when the wind started to get up, the record player began to jump, and things would come off the shelves. Then there would be a knock at the door and Geordie inviting us to their house for home brew and his storytelling. They are a wonderful couple. We still visit."
As the daughter of a DI in the police service, it's little surprise Greenock-born Anderson turned to crime-writing. She says: "Most of the early books are dedicated to my dad. I was one of three girls. Back in the day, you weren't really told what was happening in the police world. It wasn't always on the news but obviously my dad knew. When I think back, three girls and he knows what is going on in Greenock…" She trails off.
Anderson, who later taught at Grantown Grammar School, also found inspiration in her teaching, basing her forensic science heroine on one of her star pupils, Emma Hart. She explains: "When Emma went off to Strathclyde University her mum and I both thought she would do maths because she was so good at it, but she chose this strange subject called forensic science. We thought, 'What is that? It doesn't sound like a real subject.' She was already working in London when I wrote Driftnet and she is the inspiration for Rhona MacLeod."
Despite the gruesome horrors she pens – along with glimmers of humour – Anderson admits to being a scaredy-cat. "I am frightened by crime. I often explore the things I am really afraid of in my books, because I have some control. You just have to read every opening chapter to know what scares me most."
There was little fear when she and crime-writing pal Alex Gray took a stab at the launch of Bloody Scotland. "The wonderful thing was when we spoke to the big names like Val McDermid and Ian Rankin they immediately said they would help. We were away then and fortunately we were not too frightened.
"If you have a good idea you have to go with it, the danger is that if you don't, nothing happens. This will be our 10th anniversary, it's a huge year for Bloody Scotland. We knew the talent was here. Ian Rankin rightly said Scandinavia doesn't have better writers than Scotland, it has better PR. And that is what Bloody Scotland was created to do.
"We were at a Crime Writers Association conference in Lincoln and probably on the second bottle of Prosecco when we came up with the idea. It was one of these moments when you suddenly think, why aren't we doing a festival in Scotland where we can invite people up to us? The whole point was to promote Scottish crime writing and give William McIlvanney (the father of Tartan Noir) his place. He had begun it all, and he had never been recognised for that."
The title for the festival was the brainchild of Gray. Anderson chuckles: "At our first London launch we turned up at Waterstone's Piccadilly and I went up to the desk and said, 'I'm here for Bloody Scotland'. This nice young woman said, 'Oh, are we actually allowed to say that?'"
Scotland's crime writers are, says Anderson, hugely supportive of one another. "You can have as many crime writers as you have shelf space, and if you get there you pull the next person up. It's a lift. We welcome everybody."
And it's a similar story with other genres. "Our Booker Prize winner Douglas Stuart is a wonderful man and an incredible writer," she says. "The world is looking and recognising the quality of the writing in Scotland."
---
Rock star musical on the way
Music is in Lin's blood. Her late dad Bill was integral to the launch of Carrbridge Ceilidh Week and Lin sang for years in a traditional folk band.
So when rocker Ozzy Osbourne's former keyboard player John Sinclair turned to the Society of Authors in Scotland for someone who could write the story for a musical he was planning, Lin was the perfect candidate.
Their musical, Voice Of A Generation, is set in New York in 1975, when a young woman enlists the help of an up and coming rock star to give voice to the abandoned, scorned and damaged young men returning from the Vietnam war.
Five years in the making, with input from young people at the University of the West of Scotland, Sinclair and Anderson plan to stage the show to mark the 50th anniversary of the end of the conflict.
Anderson explains: "The musical is finished. We are workshopping it and it will happen. John is a musical genius. What's interesting is that John was in New York working while I was there as a student staying with an aunt for the summer."
Though they didn't meet she said they had a similar knowledge of the place at the time of the Vietnam war.
"People I knew were being drafted. I couldn't believe it was happening to them. I was a student at Glasgow University and I didn't have to worry about that, they were young too but did. It really impacted me."
---
The Killing Tied: Dark Water Darker Deeds by Lin Anderson, out now in paperback published by Pan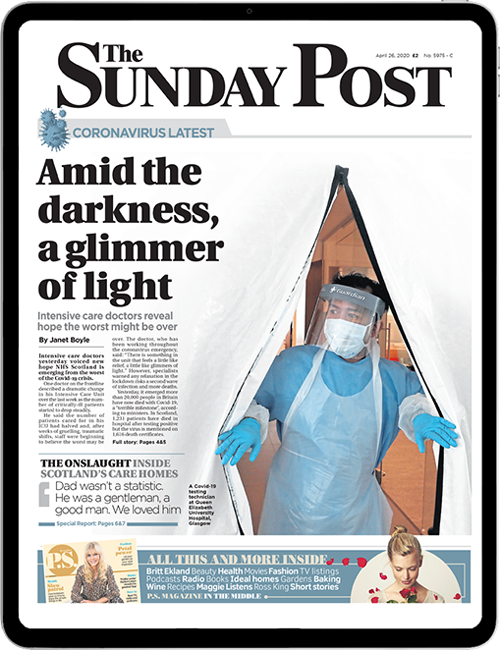 Enjoy the convenience of having The Sunday Post delivered as a digital ePaper straight to your smartphone, tablet or computer.
Subscribe for only £5.49 a month and enjoy all the benefits of the printed paper as a digital replica.
Subscribe