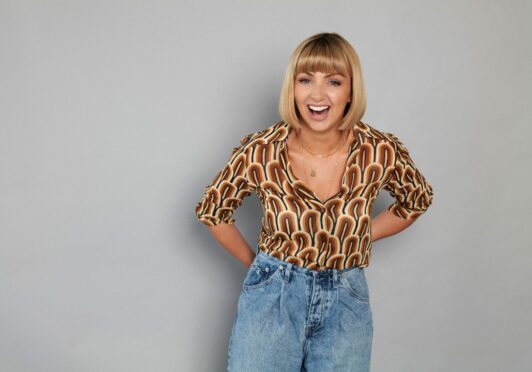 Bathed in the early morning LA sunshine, Lisa McGrillis is finally able to have a moment to relax after a non-stop 18 months.
Since giving birth to her daughter at the end of 2020, the Mum and Avoidance actor has earned one high profile television role after another. It's been exhausting, but you'll never hear her complain because, having worked more bad jobs than she cares to remember, the long journey to become an in-demand star is one she will never stop appreciating – or fearing could be ripped away at any moment.
It's that attitude of seizing the day that sees her scheduled summer-long break in Los Angeles cut short. She was in Hollywood with her Scottish actor husband, Stuart Martin, who is filming a movie, and their two children – their five-year-old son and baby daughter – but she'll soon be in Liverpool for the remainder of the summer, taking on the lead role in a new, as yet untitled, six-part drama.
"I can never quite get used to the feeling of working because I feel so lucky to be doing the job I want to do, and so every job feels like the last. I don't know if I'll ever be able to shake that feeling," she admitted. "I always tell myself not to mess it up so I can get another job afterwards.
"I'm going to be 40 this year and after lots of ensemble roles I'll be playing my first lead in a six-part drama. I've been doing this for 18 years now and I've worked really hard at it and stuck at it."
From her eye-catching role as Kelly in BBC sitcom Mum and her turn as Sergeant Rachel Coles in three seasons of Inspector George Gently, to scene-stealing parts in King Gary and new Romesh Ranganathan comedy Avoidance, McGrillis has carved out an enviable career. But all of that seemed like an unachievable dream in the first decade of the century, when humiliation came along more often than a decent day's pay.
"I wasn't very good at school but I enjoyed the arts and went to a drama club when I was eight, but I never thought I'd be an actor," admitted McGrillis, who's from Carlisle. "I considered getting into drama therapy, but then I moved into theatre in education after studying in Newcastle. We'd pack a van with a tatty old set and go around schools with shows about aiming higher or sex education. I'd be singing Charlotte Church songs and giving myself nodules on my throat from screaming over year seven pupils who were booing me. I did that for a long time.
"I did really terrible local TV adverts in Newcastle for about £50, and I did murder mystery parties. I remember my agent at the time taking 12% commission from the £80 I was paid for a murder mystery night.
"But every job has been a little break, a little step up the ladder."
A small part in Billy Elliot writer Lee Hall's play, The Pitmen Painters, led to her taking the production from Newcastle to London, then Broadway, which secured her a London agent, and then she got a summer season at The Globe, followed by a part in TV sitcom, Hebburn. But it was the role of Kelly in acclaimed sitcom, Mum, also starring Lesley Manville and Peter Mullan, that presented a window of opportunity for her.
"It was an amazing platform because people in the industry really liked it and it opened a load of doors – doors that had been firmly shut for me. As soon as I did Mum, casting directors who'd never considered seeing me before suddenly started to do so, because they loved the show.
"And I learned so much just from watching Lesley Manville – her professionalism on set, how grounded and normal she is and how she hasn't let any of it go to her head. She's a very private person and so well respected."
McGrillis met husband Stuart Martin, best known for Jonestown and Army Of Thieves, at the National Theatre's bar more than 10 years ago and they married in 2015.
"I remember going to Butlin's in Ayr when I was about 13, so I was thrilled when I met someone who was from the town," she laughed. "I've worked a few times in Scotland – on Deadwater Fell and on a film. We go up a couple of times a year – Stuart's parents have had a timeshare at an amazing place near Oban for years, and we try to go up there and spend a week with them."
When the couple had their son, McGrillis found herself immediately thrust back into work, filming Inspector George Gently and Mum. She vowed if she ever had more children, she wouldn't go back to work so quickly, but it didn't quite work out that way.
"I was so busy for the first seven or eight months of my son's life and by the end I was a nervous wreck, so jittery and tired. The two things don't align – family life and filming. I look in the mirror and I've gone from looking like a spring chicken five years ago to a shrivelled old shoe," she smiled. "It's the nature of the job – you can't pick and choose when things are filmed and being self-employed you have to take the work when it's there.
"When we had our daughter, I went straight into King Gary, and then on to a series that hasn't aired yet, for Channel 4, called The Birth Of Daniel F Harris, which I'm really excited about. I went to Cardiff for four months to film that, then I had a couple of months off before I did Avoidance and then the day after that finished I started on Best Interests, an upcoming drama with Martin Sheen and Sharon Horgan. At the same time, Stuart was filming his series, Miss Scarlet And The Duke, in Serbia and he couldn't really get home due to Covid difficulties. If he did manage to get back, it would only be for about 12 hours."
Like many working parents, the couple do their best to make it work – and are indebted to their loved ones and friends for helping them out.
"I've had a lovely stream of work but it comes at a time when I could do with being at home and looking after my baby. My little boy has started school now and fortunately I have amazing friends who remind me when it's non-uniform day or World Book Day. They'll text to make sure I've remembered, and generally I've forgotten. Last month, my mate texted me at 10.30pm to check I realised it was polling day the following morning and that school was shut. I did not know that and I had a job in town, and I had no childcare!
"But we make it work. We were supposed to be spending the summer in California while Stuart films a big Zack Snyder movie, but then the opportunity came up for the lead role in the drama. I was assured the filming was taking place in London, where we live, so I thought I could make it work, and then I was later told it was in Liverpool. I didn't think I could do it, but my parents – who came with me to Wales for four months last year – will go to London and take care of our son while he's at school, and I have an amazing childminder/life-coach/backbone who will come with me to Liverpool.
"I always look at other people who are doing the same work and have kids, and wonder how they manage it. But then my peers ring me and say I seem to be managing the work-mother balance and I tell them I wish they could see inside my head, it's like scrambled egg!"
While McGrillis hopes the big job offers continue to come in, she has no interest in being recognised everywhere she goes, and is happy to only occasionally be noticed as "her off the telly".
"Fame isn't something I'm interested in at all. I feel like I've got away with it to a certain extent – when I'm on a TV show people will say, 'Are you that actress?' But the funniest thing is Stuart – he looks really like Hugh Jackman, especially just now as he has quite a big beard, and people stop him every day, saying, 'Oh my God, it's Wolverine!'
"He's never recognised for anything he's ever been in, only as Hugh Jackman, which I find really funny."
No filter, but lots of fun
Playing someone who doesn't hesitate in saying what she feels was great fun for Lisa McGrillis.
She is the free-speaking sister-in-law of Romesh Ranganathan's character Jonathan in new sitcom, Avoidance.
The series is co-created by Ranganathan and is the first production from his company, Ranga Bee. He plays a man with severe issues of avoiding confrontation, who runs away with his son when his wife says she's leaving him. He ends up at the home of his sister, who is married to McGrillis' character, Courtney.
"She has no filter – she says whatever she has an opinion on, and she has an opinion on Jonathan," she said. "She thinks he's pathetic and doesn't hold back in telling him that. They end up developing a relationship where she becomes his teacher in helping him grow a backbone.
"Sometimes I wish I had the confidence to say what I thought. I'll smile sweetly and nod, whereas Courtney doesn't hold back."
Avoidance is Ranganathan's first starring role in a sitcom, as well as being the co-creator and producer.
"You'd think that would bring a level of anxiety that would be passed on to the set, but it was one of the most relaxed jobs I've done," McGrillis added. "It was a lovely job and a fun character to play. The show is really warm and sweet and I hope the audience likes it, too."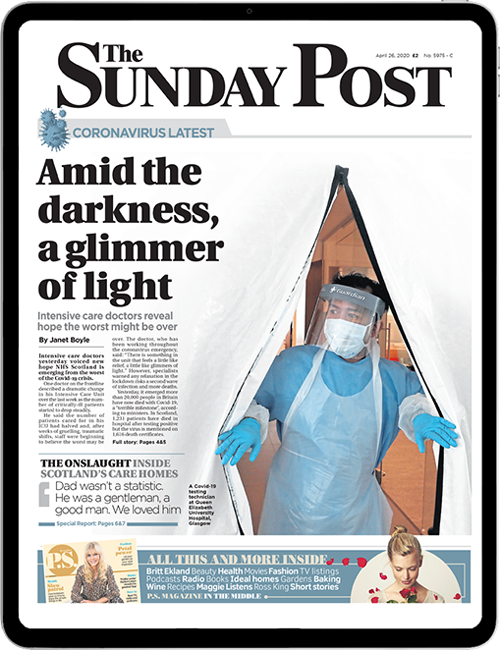 Enjoy the convenience of having The Sunday Post delivered as a digital ePaper straight to your smartphone, tablet or computer.
Subscribe for only £5.49 a month and enjoy all the benefits of the printed paper as a digital replica.
Subscribe