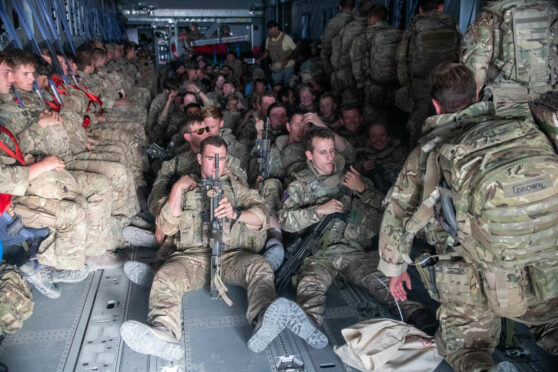 Hundreds of Afghans who worked for the UK during the 20-year conflict were left in peril last night after the last British evacuation flight left Kabul.
Britain has flown 15,000 people from the airport in recent days but left around 1,000 Afghans who worked for the UK and now fear the vengeance of the Taliban. The militants swept to power as the withdrawal of US troops forced Nato allies to race to evacuate nationals and staff.
The final British flight for civilians took off yesterday as Boris Johnson's failure to prepare for the looming deadline came under renewed scrutiny and fresh criticism.
Lord Kerr of Kinlochard, a former head of the Foreign Office, said the Prime Minister left planning for withdrawal far too late, in contrast to countries like France. It left no one behind after beginning withdrawal soon after Donald Trump signed a deal with the Taliban to pull out two years ago.
Lord Kerr said: "The last-minute operation in Kabul has been professionally done, and our soldiers deserve our thanks, but why was it left so late?"
Former head of Nato Lord Robertson, writing for The Sunday Post today, describes the evacuation amid desperate scenes at Kabul airport as a "botched" end to the 20-year Afghan mission: "Any evacuation should be based on civilians first and military last. Doing it the opposite way this time almost guaranteed chaos."
The rushed evacuation came after US President Joe Biden refused to extend the deadline of American troops leaving by Tuesday, ahead of the 20th anniversary of the 9/11 ­terrorist attacks.
The last British civilian flights out of Kabul yesterday followed the killing of 13 US military personnel, two Britons and up to 170 Afghans in a suicide bombing by Islamic State offshoot IS-K on Thursday. Taxi driver Mohammed Niazi, 29, from Hampshire, who died along with his wife and two of their children after he went to Afghanistan to rescue them, was one of the British victims. The other was named as Musa Popal, 60, from London.
Any further British flights from Kabul will now be for diplomatic and military staff.
The UK ambassador in Kabul, Sir Laurie Bristow, said: "It's time to close this phase of the operation." Sir Laurie, who has remained in Afghanistan processing those who needed to leave the country, said: "The team here have been working until the very last moment to evacuate British nationals, Afghans and others at risk.
"Since the 13th of August, we've brought nearly 15,000 people to safety, and about 1,000 military, diplomatic, civilian personnel have worked on Operation Pitting in Kabul, many, many more elsewhere.
"Thursday's terrorist attack was a reminder of the difficult and dangerous conditions in which Operation Pitting has been done. And, sadly, I attended here yesterday the ceremony to pay our respects to the 13 US soldiers who died.
"It's time to close this phase of the operation now, but we haven't forgotten the people who still need to leave. We'll continue to do everything we can to help them. Nor have we forgotten the brave, decent people of Afghanistan. They deserve to live in peace and security."
Operation Pitting
General Sir Nick Carter, the Chief of the Defence Staff, said Operation Pitting – the effort to evacuate UK nationals and eligible Afghans from Kabul airport – had "gone as well as it could do in the circumstances".
He said: "We haven't been able to bring everybody out and that has been heartbreaking, and there have been some very challenging judgments that have had to be made on the ground.
"And I think that people like me, who have had a very, very long association with this country, we are forever receiving messages and texts from our Afghan friends that are very distressing, so we're all living this in the most painful way."
Operation PITTING is a mission unlike anything we have seen in our lifetime, helping 15,000 people to safety in just under two weeks.

I want to thank everyone involved and the thousands of those who served over the last two decades. You can be proud of what you have achieved. https://t.co/2RTrsuDOb7

— Boris Johnson (@BorisJohnson) August 28, 2021
Lord Kerr of Kinlochard, who served as permanent under-­secretary at the Foreign Office between 1997 and 2002, said the prime minister seemed badly informed, and questioned the intelligence used to justify Britain's slow start to evacuation. He said: "How could the prime minister be so out of touch, telling Parliament on July 8 that there was no military path to victory for the Taliban?
"Trump's withdrawal deal with the Taliban was struck 18 months ago. It was always clear that Biden wouldn't cancel it, and that it made regime change inevitable. If we'd started evacuation sooner, as the French did, maybe we'd have managed to leave no one behind.
"What matters now is that we leave the door open for those Afghans who can escape over the mountains."
Refugee resettlement
Britain is to accept 20,000 Afghan refugees but Home Secretary Priti Patel has said just 5,000 can be accepted each year.
Lord Kerr said: "The Government must get their resettlement scheme started, and front-end-load it. They've promised to let in 20,000, but only 5,000 in year one. Where do they expect the other 15,000 to hide? And they must drop Priti Patel's Borders Bill, which would criminalise those that can make their own way here. What she proposes would break the international Refugee Convention, trash our reputation, and let down the very people our soldiers have bravely sought to save."
UK Defence Secretary Ben Wallace previously admitted there were between 800 and 1,100 Afghans ­eligible under the Afghan Relocation and Assistance Policy scheme who would be left behind, while about 100 and 150 UK nationals would remain in Afghanistan, although he said some of those were staying willingly.
Labour's Shadow Defence ­Secretary John Healey said many Afghans who helped Britain had been betrayed by being left behind. "This is the brutal truth," he said. "Despite getting more than 14,000 people out, there are probably 1,000 Afghans who have worked with us over two decades in Afghanistan, helped our troops, our aid workers, our diplomats, that we promised to protect, but we're leaving behind.
"And I know those troops in ­particular will feel our failure on this as a country is a betrayal of many of those who risked their own lives to work alongside us."
Disappointment as efforts end
Tom Tugendhat, a Tory MP who fought in Afghanistan, said he was disappointed the evacuation effort was coming to an end. "I'm extremely sad about this and I very much hope that it might go beyond the August ­ deadline but we found out a few days ago that it wasn't, so I was expecting it," he said. "It still leaves me extremely sad that so many of my friends have been left behind."
Asked whether the UK could have done better when withdrawing personnel from Afghanistan, Tugendhat said: "In the last week, probably not, but this has been a sprint finish after a not exactly sprint start.
"There are going to be questions to be asked to the foreign secretary about the processing in the UK in recent weeks that we're going to have to see what the answers are."
Boris Johnson and German Chancellor Angela Merkel yesterday discussed by phone call how to deal with a Taliban-led Afghanistan.
The UK Government said it "resolved to work, alongside the rest of the G7, to put in place the roadmap on dealing with any new Afghan government", adding: "The prime minister stressed that any recognition and engagement with the Taliban must be conditional on them allowing safe passage for those who want to leave the country and respecting human rights."
Meanwhile, a Taliban official said borders would remain open to Afghans who wanted to leave following the withdrawal of foreign troops.
Sher Mohammad Stanikzai said in a televised address: "There would be no restriction in this regard. Holding the correct and legal documents, these people can at any time travel out of the country or come inside."
The US is due to leave Afghanistan on Tuesday but Amnesty International called for an extension of the evacuation deadline to ensure people wanting to leave Afghanistan can leave.
Naomi McAuliffe, Scotland programme director at Amnesty International, said: "Amnesty has documented attacks by the Taliban and other armed groups which deliberately targeted civilians in violation of international humanitarian law; sites that were attacked included a maternity hospital and educational institutions. Most recently, our­ ­researchers reported Taliban fighters massacred nine ethnic Hazara men after taking control of Afghanistan's Ghazni province in July.
"We have called upon the ­international community to extend the deadline for evacuations and ensure those wishing to leave Afghanistan can do so safely.
"We also need a robust, ­independent UN mechanism to be established with a mandate to document, collect and preserve evidence of ongoing crimes under international law and other serious human rights violations and abuses across Afghanistan."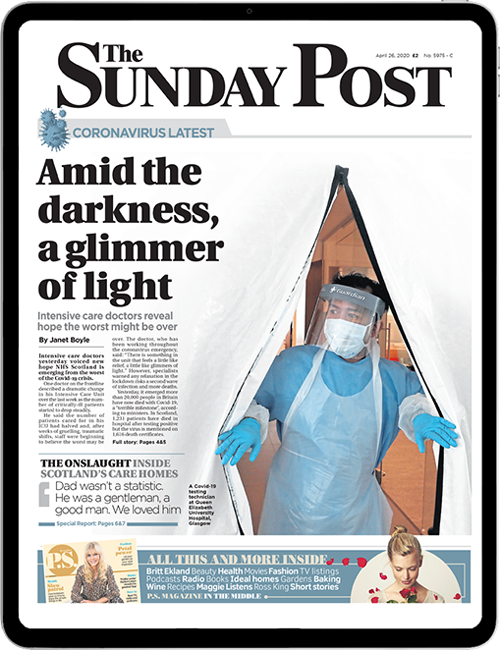 Enjoy the convenience of having The Sunday Post delivered as a digital ePaper straight to your smartphone, tablet or computer.
Subscribe for only £5.49 a month and enjoy all the benefits of the printed paper as a digital replica.
Subscribe