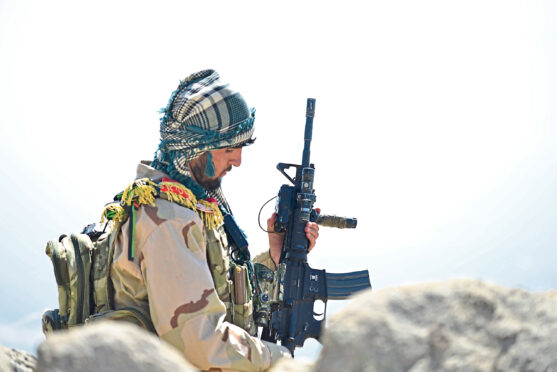 Fierce fighting continued in Afghanistan yesterday as the Taliban moved to defeat the last resistance to its takeover.
The militants stepped up the battle to crush all opposition as international talks were held to try to come up with an evacuation plan for British nationals and their allies still stranded in the country.
While resistance fighters held out against the Taliban in a valley north of the capital Kabul, the city's airport remains shut, preventing means of escape for those desperate to flee.
They include thousands of Afghans who helped British and Nato efforts in the nation, their relatives and others at risk. It is thought that number includes at least half a dozen Scots Afghans.
Fighting was reported yesterday in Panjshir Valley, the final piece of territory which remains out of the hands of the Taliban. It is home to between 150,000 and 200,000 people.
The resistance includes former Afghan security force members and local militias and is led by local tribal leader Ahmad Massoud whose father successfully fought the Soviets who invaded in the 1980s and the Taliban in the 1990s.
Another of the resistance leaders, Amrullah Saleh, a former vice-president of Afghanistan, dismissed reports the Taliban had captured it. He said his forces would not surrender, but added: "There is no doubt we are in a difficult situation. We are under invasion by the Taliban."
Crucial weeks
Experts say the next few weeks will be crucial to both sides in the conflict, with the Taliban wishing to crush resistance before announcing a new government. Failure to do so by next month would likely mean the harsh winter would then prevent further large-scale offensives.
Sources believe that if Saleh's National Resistance Front can retain some ground for another few weeks, it would then give them five months to remobilise and try to persuade foreign powers to aid their cause. Former major general Colin Boag, who served as Chief of Staff to the International Security Assistance Force (ISAF) joint command in Afghanistan in 2010, said he believed the Afghan forces should have been capable of holding out for much longer against the Taliban's swift surge to Kabul.
The retired senior officer from Glasgow said: "I am not surprised the Taliban has come back because we always knew that one day that might happen. But when I was there the Afghan forces fought hard and were doing well. They were well-trained and well-equipped. They had their own air support and artillery capabilities, which the Taliban doesn't have, so I was very surprised at the lack of resistance.
"Even the Taliban was shocked by the speed at which they got to Kabul. I don't think they were prepared for such a success."
The former commander said he was saddened by recent events and that he believed it was an avoidable situation. He said: "We were totally committed to creating a safe space for the government there in which they could rebuild a better country. Unfortunately, the international community, politicians and other organisations just didn't have that same commitment."
Boag, who retired from the Army in 2013 after 33 years, said he believed Britain had made a difficult but right decision to pull out.
a
Escape efforts
Meanwhile, thousands of people were still trying to get out of Afghanistan yesterday as one Scot told us of his desperate efforts to escape, including unsuccessful attempts to exit via Uzbekistan. He said he is desperate to return to his wife and children in Scotland.
The man, who we are naming as Amir, said he tried to exit via the former Soviet republic but was turned away at the border despite other nationals, including Germans, being allowed to move between the countries. Amir, 42, who came to Scotland in 2007, said he fears for his safety and longs to return to his family in Glasgow.
He said: "I came back to Afghanistan in August to visit family as my father had died and I was only planning to stay for a few days. The Taliban took control and I could not get a flight out."
He added: "I am now very worried and afraid of what might happen here. My wife and family back in Scotland are also very afraid."
It was also reported yesterday that just one of the team of 125 British embassy guards who were promised help to leave Afghanistan by the Foreign Office has made it to the UK.
The House of Commons will return from summer recess tomorrow, with Foreign Secretary Dominic Raab and Prime Minister Boris Johnson expected to come under renewed pressure to explain UK strategy and how they plan to help more people leave the country.
One Scot working on the evacuation said it's been the most fraught crisis he has handled at the Foreign Office. Gerry McGurk, from Stirling, a silver consular lead at the Afghanistan crisis centre in London, has been helping coordinate efforts to extract people from the country.
A Foreign Office spokeswoman said: "The UK is committed to ensuring that our citizens, nationals and residents, employees, Afghans who have worked with us, and those who are at risk, can continue to travel freely to destinations outside Afghanistan."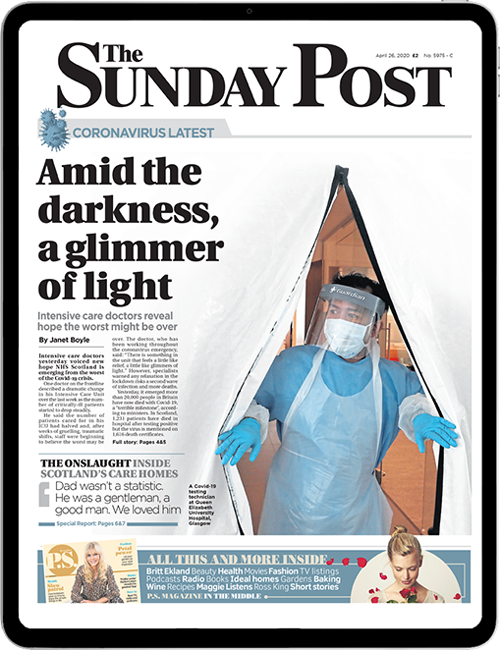 Enjoy the convenience of having The Sunday Post delivered as a digital ePaper straight to your smartphone, tablet or computer.
Subscribe for only £5.49 a month and enjoy all the benefits of the printed paper as a digital replica.
Subscribe