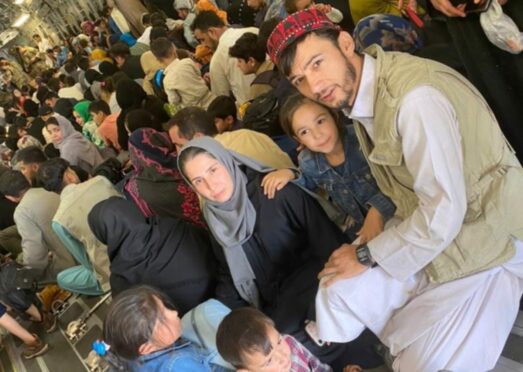 It was not quite the last flight out of Kabul but it was the most important for Abdul Sedeqey and his family in their desperate bid to find a way home to Scotland.
After six days waiting in chaos, confusion and deepening despair at the airport, the family secured places on a flight on Friday afternoon and escaped to safety with only hours to spare.
Yesterday, Sedeqey told of the horror as a suicide bomber detonated his explosives close to where he, wife Khalida and their three young children were waiting in hope of a flight.
And he described terrifying scenes at the airport, where panic-stricken crowds caused people to be trampled and crushed to death.
The 32-year-old pizza chef said: "We heard a big explosion and women and children started to scream and cry. We heard gunfire and more explosions. Thankfully, a brave soldier took us to a safe location. It was just so scary and horrible."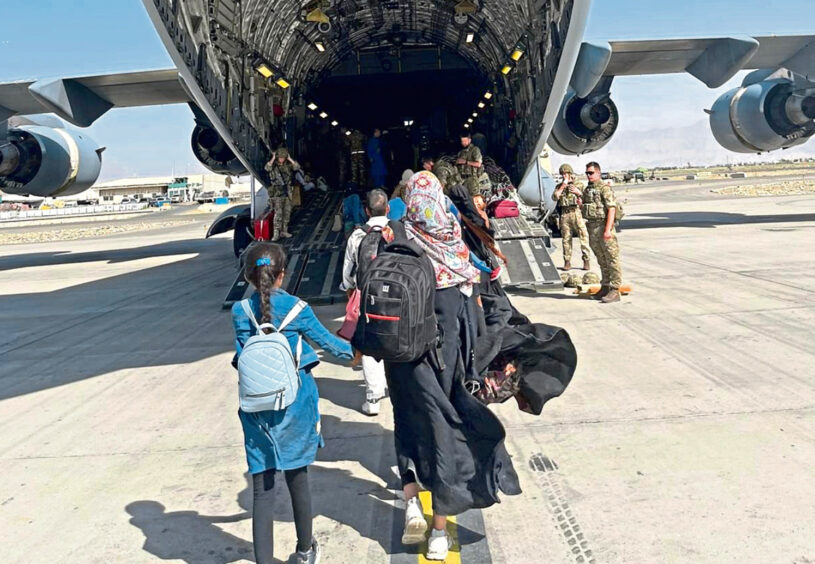 Sedeqey was eight when he and his parents found sanctuary in Scotland after escaping the Taliban more than 20 years ago. But after the defeat of the Taliban following the 2001 Nato-led invasion, Sedeqey returned regularly to Afghanistan.
Sedeqey, his wife Khalida and their three Scottish-born children, Sowayba, eight, Rabia, six, and Abdul, three, travelled to Afghanistan three months ago on a family visit. Last night, they were safe but in transit on their way back to their home in Glasgow.
He said: "We had return tickets for August 4. But after Taliban took the power, flights started being cancelled. Our flight was cancelled three times.
"I tried calling the British Embassy so many times but I was never successful in getting through to someone."
The family spent six days queuing at the Baron Hotel compound on the edge of Kabul airport, where British officials processed thousands of UK nationals and Afghans eligible for evacuation. Abdul and Khalida's three children were born in Scotland and have British passports.
Sedeqey said: "There was a huge queue of people waiting to get through, so we had to sleep outside until they told us to come in."
Stampedes outside Baron Hotel have seen people killed in the crush.
Sedeqey said: "I was really careful about my kids not getting trampled, but I saw lots of kids and women getting hurt."
The family was finally told by UK officials on Thursday that they had places on a flight out of Afghanistan and that they would be leaving within hours.
But soon afterwards there was a devastating suicide bomb attack at Kabul airport's Abbey Gate that killed up to 170 people. So desperate were people to leave, they continued to wait nearby.
Sedeqey said: "Even despite what happened, people were still sleeping on the pavement that night in the hope of getting a flight.
"We felt really unsafe and uncomfortable. We were told to keep calm and that everything was under control but to be honest I was fearful because my family were with me."
The family were finally flown out on Friday morning, boarding a giant RAF transport plane packed with evacuees desperate to flee the Taliban.
The Globemaster aircraft is normally used to carry military vehicles and equipment and the evacuees spent the nine-hour flight to Dubai sitting on the floor.
Sedeqey said: "We couldn't believe it when we got on the plane. My children were screaming with happiness because they knew they were going back home to Scotland.
"Other people were crying, some people were sleepy but most of them looked unhappy and worried about the families they had left behind."
The family will have to go into a 10-day Covid quarantine once they reach Britain, before returning to Scotland.
Sedeqey said: "We feel much better and much safer now. I feel like crying being here."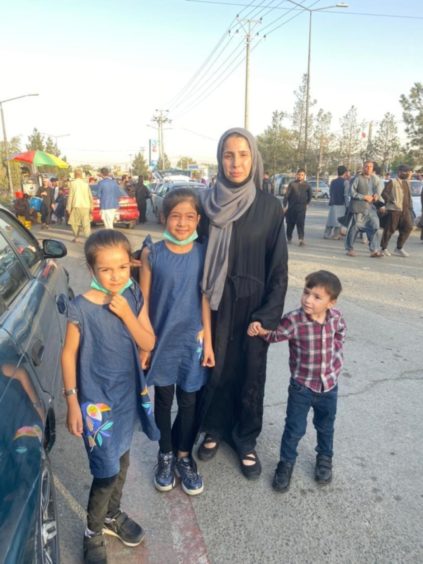 Another evacuee from Afghanistan told of her escape yesterday.
Mursal Rasa Jamili, a 23-year-old university student and English teacher, was evacuated to the UK with her two sisters. They decided to leave everything and make the journey after realising the life they lived as young women in Afghanistan would be impossible under Taliban rule.
Jamili told The Guardian: "We no longer had the right to choose what to wear, where to go, what job to do and even who to talk to unless the Taliban decreed it."
She and her sisters decided to try to reach the airport but found scenes of chaos with thousands of people trying to get close to the gates and convince soldiers to let them in and onto a flight out.
"The army had no choice but to fire in order to control the huge crowd of people at the airport," added Jamili. "There were babies among the families and there was a high possibility that they got harmed."
Last night, it emerged an Afghan refugee fleeing to the UK gave birth to a baby girl at 30,000 feet.
Soman Noori, 26, was travelling on an evacuation flight from Dubai to Birmingham, having previously left Kabul, when she went into labour in airspace over Kuwait. Turkish Airlines said.
There was no doctor on board the flight, forcing the cabin crew to deliver the baby girl, inset, who has been named Havva by her mother and father Taj Moh Hamma, 30.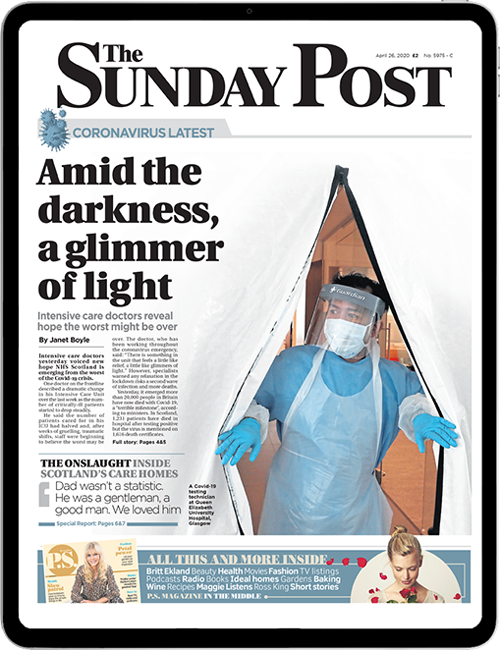 Enjoy the convenience of having The Sunday Post delivered as a digital ePaper straight to your smartphone, tablet or computer.
Subscribe for only £5.49 a month and enjoy all the benefits of the printed paper as a digital replica.
Subscribe