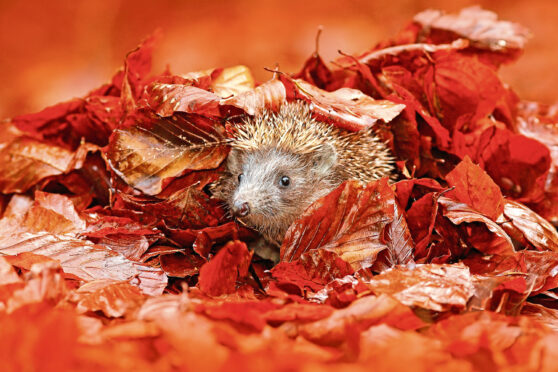 Green-fingered Scots are being forced to adapt and improvise as increasingly erratic weather throws gardening calendars into chaos.
A milder October has been the latest in a line of challenges for growers trying to figure out when and what to plant to make their gardens bloom and give a helping hand to wildlife.
Warmer autumn temperatures are becoming more frequent due to the climate crisis, seeing plants flowering later and a lesser threat from frost. The impact on wildlife is also prompting concern among amateur and professional gardeners across the country.
Scotland, like most of western Europe, experienced unseasonably high temperatures last month and National Trust for Scotland properties, which include a number of walled gardens and reserves, have been rethinking as conditions become milder.
Chris Wardle, gardens and designed landscapes manager for Scotland's north east area, said: "At Leith Hall, a peacock butterfly landed right in front of me in the sunshine. This is the first week in November. A butterfly should go into hibernation way before now.
"We've maybe got to think about the gardens as providing food sources for these insects that are going to be flying and pollinating later into the year. Where we would have been keen to cut down borders and tidy up, we may be having to think slightly differently about it. Is that plant in flower? Is it a nectar source? What's feeding on it?
"At Castle Fraser, the honey bees are really actively flying now. They should be going into a state of hibernation. But it means that they're weakening themselves, they don't have enough food sources there. Bumblebees are up to it as well, so we have to maybe think differently about the plants that we're growing to provide food sources for flying insects earlier and later in the year."
Wardle said that it was unusual not to have had a frost at this point in the year, and that warm temperatures are seeing plants trying to flower longer into the year. They're also having to contend with increasingly windy conditions.
"Gardeners are having to think on their feet and become more adaptable to what's going on around them," he said. "It's about being flexible."
Guy Barter, chief horticulturalist at the Royal Horticultural Society, said that, for the most part, gardeners should be able to reap the benefits of the milder weather.
"Many plants continue much longer in flower, fruit and vegetables have had more time to bulk up yields and ripen for best flavour and autumn sown seeds will be well-established," he said.
"The onset of rains and mild weather has allowed lawns and other plants to recover markedly from a very sorry state in August."
Barter said that toadstools and other fungi, important autumn food sources for wildlife, have also done better than expected. But weeds, slugs and snails too have relished the mild, wet conditions, and there could be issues for gardeners come spring if cold spells aren't forthcoming or are too sudden.
"If the winter remains mild there could be problems through lack of cold. Many hardy plants, blackcurrants for example, need a certain period of cold, 2-12C, to allow them to open leaves and flower at the right time in spring.
"In the absence of cold their flowering and bud break becomes rather random leading to poor fruit crops and also lack of food for caterpillars that are of course food for birds."
As a result of the milder weather, garden centres have also adapted what they're stocking.
Dobbies' horticultural director, Marcus Eyles, said: "The season is running much later this year due to the higher temperatures. Bedding plants, roses and herbaceous plants are still flowering.
"We always advise that November is the best time to plant tulips anyway, but due to the recent temperatures we've been experiencing, we've got some extra time to plant all bulb varieties for a spring display. In terms of what we're stocking, drought tolerant plants are an important range for us. Grow your own is also now a focus year-round rather than just in the spring as people want to continue growing edible produce throughout the year. This can be easily done by utilising indoor spaces to grow salads, herbs, and microgreens."
Looking ahead, forecasters are predicting a more unsettled first half to November before potentially drier and brighter spells at the end of the month.
The Met Office's Oliver Claydon said: "Temperatures will return to average for the time of year, perhaps with colder conditions."
Met Office: Impact of climate change on Scotland is clear as temperatures keep climbing
Meteorologists say that the increased temperatures around Europe are down to a combination of the position of the jet stream, lower pressure systems in the Atlantic and the effects of the climate crisis.
Mike Kendon, from the Met Office National Climate Information Centre, said: "For Scotland, five of the 10 warmest Octobers on record, back to 1884, have occurred this century. Although climate change is no guarantee of a warm October on a given year, what we can see in observed data is the increased likelihood of mild conditions in long-term trends."
He said human-induced climate change was already having an observable impact on the UK and Scottish climate. He added: "Using meteorological averaging periods, 30-year periods since 1961, you can see gradual increases in mean temperatures across the UK, as well as Scotland itself.
"For Scotland, the 1961 to 1990 average mean temperature for autumn was 7.6°C. The latest averaging period, 1991-2020, is 8.2°C.
"While some may view an average mean temperature increase of 0.6°C as a modest increase, it can have many knock-on effects, not least for wildlife and the environment."
From the expert: We only saw next door's bees all summer. Our garden seemed devoid of all insects
By Agnes Stevenson, Sunday Post gardening columnist
Over the last few days, I've been rounding up all the tender plants in the garden and moving them to the greenhouse. It is heavy work and as I dragged yet another pot of salvias up the two flights of steps that separate the lower and upper terraces, I did start to wonder if the effort was worth it.
We live in the south west of Scotland, just a mile from the coast, so winters here are seldom fierce, but over the last few years they've seemed to melt into an extended period of prolonged autumnal weather, with nothing in the way of a cold snap. Our climate is changing, but the problem for gardeners is that it isn't moving from one stable state to another, but instead it is in constant flux, a swirling mix of high winds in summer, dry spells and soaring temperatures when we least expect them.
I was alerted to this several years ago when I talked to a graduate student who was working on the problem of drought in Scotland.
It seemed an unlikely proposition, but then she showed me evidence of successive arid springs that were causing peat bogs to dry out and I realised that climate disruption was no longer the distant threat that I had hoped it was. Change was already upon us.
Now that there are no more certainties, knowing what to plant is proving problematic. In the most recent copy of the Royal Horticultural Society's magazine, The Garden, scorched hydrangeas are the biggest concern for readers whose gardens were affected by this summer's hot weather. I've lost count of how many conversations I've had about cosmos still flowering in November and increasingly I'm hearing about gardeners who are tempted to leave their dahlias in the ground over winter. They feel the threat of frost is so slight, that lifting and storing the tubers now doesn't seem worth the effort.
The advice we are getting from the experts is to seek out plants that are adaptable, that can cope with heat and drought and which will continue to thrive if conditions are wet and miserable. And by adaptable I don't mean that they should flower regardless, but that they can survive and recover from adverse conditions.
This summer in my garden, clematis and bistorts gave up early because of the hot weather but they suffered no lasting damage, while many of the shrubs, including the magnolia, produced an unexpected second flush of flowers at the end of the long, hot summer. Meanwhile I've come to the conclusion that the secret of survival lies less in the choice of plants, but in the condition of the soil, which, at its best, should be free-draining yet still hold moisture. The addition of large quantities of organic material is the key to making this possible, improving the structure so that it provides support to the widest possible range of plants, regardless of the weather.
But gardens also need pollinators and climate change is having a devastating effect on these. I've been worrying all year about the lack of butterflies and I knew that we were in trouble back in February, when a succession of large wasps flew in through the bathroom window. These were queens, tricked out of hibernation too early by a spell of unseasonably warm weather, and doomed to die when the temperature dipped again. As a result we saw hardly a single wasp in the garden all summer and if it wasn't for the bees from our neighbour's hives, then our garden this year would have been almost devoid of insects.
Getting rid of pesticides and plastics, limiting the use of peat and doing all we can to improve our soil and support bird life, insects and invertebrates are the least we can do as gardeners and we also need to relearn much of what we thought we knew about what makes our gardens thrive.
---
Read more from Agnes every week in P.S. Magazine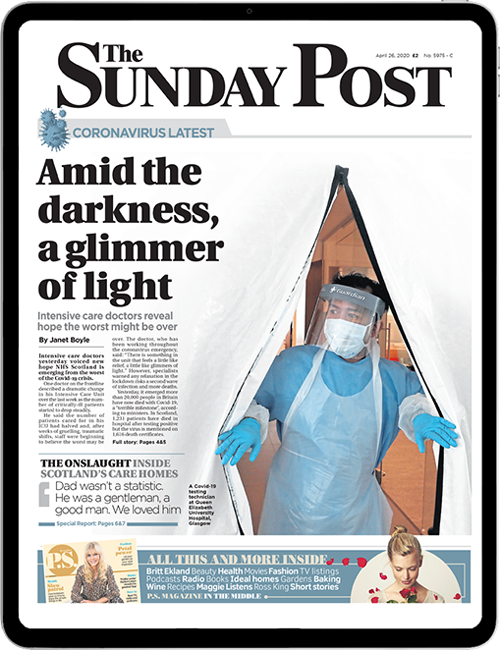 Enjoy the convenience of having The Sunday Post delivered as a digital ePaper straight to your smartphone, tablet or computer.
Subscribe for only £5.49 a month and enjoy all the benefits of the printed paper as a digital replica.
Subscribe