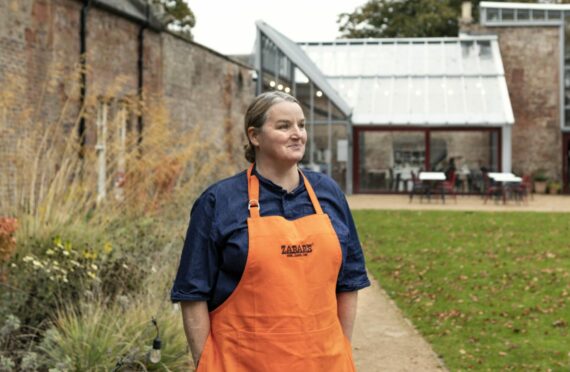 Having spent decades in London where she was part of a community of influential creatives, acclaimed chef Elaine Chalmers has returned home for a new way of life.
She is the recently-appointed head chef at Hospitalfield in Arbroath, the 19th Century arts and crafts house and former art school, where she will be cooking unique dishes at its garden cafe, beginning with a special Christmas menu. While it is an exciting and busy time for the Dundonian, it is a world away from the hustle and bustle of London, where her cooking attracted big names like Yoko Ono and Stella McCartney.
"I moved to London when I was 18 or 19 and spent 38 years there," Chalmers explained. "I always wanted to return to Scotland. The fast and furious life in London had taken its toll and I felt I wanted some work-life balance, which I'd never had before. When I saw the job at Hospitalfield on Facebook, I thought I'd give it a go.
"I did my training in Scotland before moving to London, where I did agency work for quite a while. For years I felt like I never really fitted in anywhere and that I hadn't met 'my people', then a friend opened a restaurant and I went there, and that's where it started for me."
That was at Shoreditch Electricity Showrooms where, in 1998, the area was transformed when a group of Young British Artists (YBAs) established themselves, attracted by cheap rent for the warehouse spaces and sense of artistic freedom.
"It was a good space and there were lots of like-minded people," she continued. "A lot was starting to happen, like the beginning of the YBAs. It was the start of my journey. I also did lots of outside work with galleries, musicians and artists. It was an amazing time and I feel blessed. I forget how much I did until I take time to look back on it. There was a lot happening in the East End at that point with music and fashion, and I got caught up in the swirl of it."
Chalmers catered for private parties for the likes of filmmaker Wim Wenders, Stella McCartney, Burberry and the Royal Academy. She later opened her own restaurant, A Little Of What You Fancy, in the Dalston area of the East End. With an innovative and daily changing menu, it became a destination restaurant and attracted stars such as the Pet Shop Boys, Yoko Ono, Bjork, Janet Street-Porter and Pam Hogg.
"It was quite the hub of a community and that's what I wanted to create. We had everyone in there – fashion designers, musicians, writers. If you came in on your own, you would know someone at another table," she continued. "Everyone used to call it Elaine's even thought that wasn't its name. People would call up and, if it was busy, they'd say they were a friend of Elaine. It got to the point where I hadn't heard of some of the people saying they were my friend!
"It was all good fun but as time went on the area became trendier, the rents got hoisted up and we were put out. I think going out on a high was good. A lot of people asked me to open another place, but not right now."
Instead, Chalmers is using all of her experience and nous to make her mark at Hospitalfield. She is looking at building relationships with local suppliers and utilising the seasonal ingredients grown on site. For the festive season, special Christmas dining options will be available in both the garden cafe and in the building's historic rooms, which boast examples of stunning craftsmanship and art.
"The cafe is only around 18 months old and they've never done a Christmas before," she said. "I hope to build a community here, too. It just takes time and we can't rush anything. Personally, it's about adjusting to the pace of life and how it all works here. I've been doing lots of research and it's exciting times.
"I'm starting over again, but I'm looking forward to it. I enjoy the drive to work every day and Hospitalfield is really stunning. I was blown away the first time I saw the place. The more we do to open it up, the more accessible it will become, and I think that is really important."
Shortbeef ribs, pickled walnut
Serves: 4
You'll need:
4 short beef ribs
Splash of olive oil
2 onions, diced
2 sticks celery, diced
2 bay leaves
½ head garlic
1 jar pickled walnuts
1 bottle red wine
1 litre beef stock
Sprig of thyme
1 tbsp tomato purée
2 tsp Worcestershire sauce
150g diced pancetta
Salt and pepper
Method:
Set oven to 170C, gas mark 3.
Heat roasting dish on top of cooker with some olive oil, add onions, celery, garlic, pancetta, fry until soft, remove from pan, then add ribs, season, and brown for 10-15 mins then add vegetables and pancetta back into pan.
Add purée, cook out couple of mins, add wine, and boil 10 mins, then add stock to cover ribs, season, add the Worcestershire sauce, pickled walnuts, boil for approx 10 mins, adjust seasoning if needed.
Cover with foil and put into preheated oven, cook for approx 45 mins, basting during cooking.
Remove from oven, skim any fat off, and reduce if sauce is too thin.
Put into serving dish, and serve with buttered mash.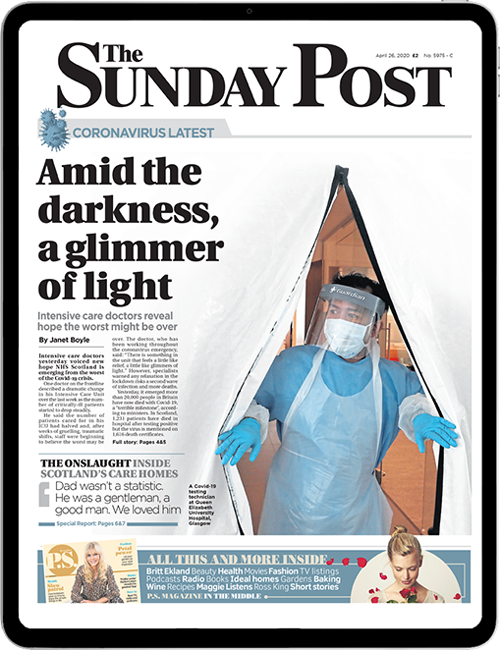 Enjoy the convenience of having The Sunday Post delivered as a digital ePaper straight to your smartphone, tablet or computer.
Subscribe for only £5.49 a month and enjoy all the benefits of the printed paper as a digital replica.
Subscribe