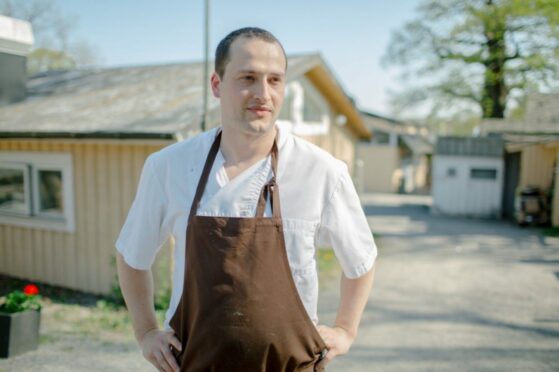 Unlike most chefs who specialise in French cuisine, Alex Jackson's food education didn't take place in a storied institution like Le Cordon Bleu.
Instead, while living in Paris as a student, he armed himself with fresh produce from the local market, a few good cookery books and lots of enthusiasm.
"When I went to university, I started teaching myself how to cook, building on what my mum taught me," he explained on a call from his home in London, where he is head chef at Soho's Noble Rot restaurant. "I did a French degree and as a part of that, I went to Paris for a year. When I was there, I lived close to this big market. The Eiffel Tower was at the end of the street, it was a very picturesque spot, quite romantic.
"We would buy cheap stuff in the market to cook, eat all the cheese and drink all the wine. I was spending time finding out about what I liked. I read Jamie Oliver and Nigel Slater, of course, and they taught me how to cook. Then I started working it out for myself."
After graduation, Jackson landed a job with Stevie Parle at the Dock Kitchen, where the internationally acclaimed chef "took a punt on someone with bags of enthusiasm but absolutely no experience". After learning the ropes, Jackson was given the opportunity to write one of the restaurant's weekly changing set menus and, naturally, turned to the cuisine he knew and loved best.
His first menu featured artichoke salad with walnuts and cream, a chickpea and sausage soup with aioli, roast quails with spinach and anchovy butter and, to finish, a sweetened fougasse.
He said: "I didn't know what to do, but I had been reading lots of books; Lulu's Provencal Table by Richard Olney, one of my favourite books, and A Table In Provence by Leslie Forbes. I felt like the food had this romance attached to it, quite familiar but also exotic at the same time. I think that's what attracted me to Provence – it's a different approach to cooking that's less regimented. It's about the home, being comforting and not too fancy."
Jackson's passion for the simple, authentic, rustic style of cooking – quite at odds with haute cuisine, which he, not unaffectionately, describes as all about "tall hats and sauces and reductions" – continued to thrive, and led to the opening of his own restaurant, Sardine, which sadly closed during the pandemic. However, perhaps appropriately, he wrote a cookbook of his own, Sardine, which received rave review.
His first collection of recipes brought together Jackson's favourite flavours, recipes and dishes in a beautifully presented hardback, and it has now set to be reissued under the new title, Provençal. Described by Nigella Lawson as "seductively reminding us of the comforting allure of French food", the recipes – some short and simple, others slightly more complex – focus on enjoyment rather than technical precision.
"I'm not a very flashy chef," Jackson said with a smile. "I don't do fine dining, I've never been interested in that. I quite like when food looks imprecise – the imprecision is sometimes what makes it taste good. It's a more honest way to cook.
"Don't mess about with food, trying to make it look perfect because it's not always going to be. I'm a really experienced chef and mine doesn't. You just want to make it taste really good. I want to encourage people to invest in the spirit of the food."
Divided into seasons, and featuring everything from bouillabaisse and socca with artichokes, Niçoise-style porchetta and classic cassoulet, Jackson wants readers to fall in love with the simple, vibrant and colourful classics of the region, while throwing the rulebook out of the window, something he always focusses on.
He said: "It's a book for people who already love cooking. The book isn't about being taught how to cook from scratch but finding interesting, delicious recipes, some of which take a lot of time, some of which don't.
"It just starts to scratch the surface, so I hope it's a nice introduction."
Recipe: Clafoutis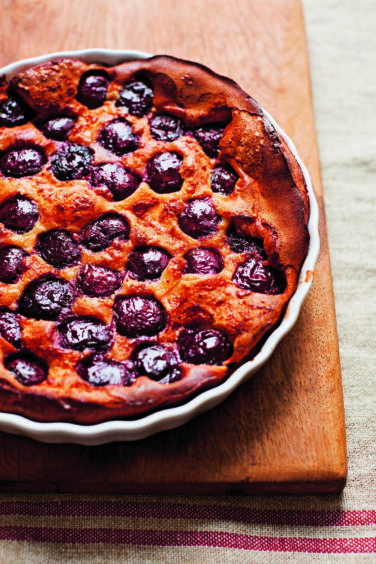 Clafoutis is a baked eggy batter into which can be suspended many different fruits, from cherries (unpitted of course), to apricots, plums and brandy-soaked prunes.
Serves: 4 to 6
You'll need:
3 tbsp cold unsalted butter
70g/2½oz/½ cup plain flour, sifted
100g/3½oz/½ cup caster sugar, plus 2 tbsp extra for sprinkling
A pinch of salt
3 medium eggs
280ml/9½fl oz/1 cup plus 2 tbsp whole milk
400g/14oz fruit (plums or apricots should be stoned, but cherries and prunes can be left with their pits inside – just warn your guests!)
Icing sugar, to taste
1tbsp kirsch (if using cherries) or brandy (for any other stone fruit)
Method:
Melt 1tbsp of the butter and set aside to cool.
Whisk together the sifted flour, caster sugar, salt, eggs, melted butter and milk to make a smooth batter. Set aside while you prepare the fruit.
Stone the fruit, if necessary. If you feel the fruit is too acidic, macerate in icing sugar to taste for 15 minutes. At this point you can add a splash of kirsch or brandy, if you feel so inclined.
Preheat the oven to 180C fan/200C/400F/gas mark 6.Grease a ceramic baking dish with butter. Add the fruit to the dish, then pour over the batter. Top the batter with fine slivers of cold butter, and sprinkle with the extra caster sugar.
Bake in the oven for around 35–40 minutes, or until the clafoutis has risen, the fruit has gone jammy and the top is an attractive golden brown.
Remove from the oven, allow to cool slightly and serve warm.
---
Provencal: Simple Seasonal Southern French Cooking, Pavilion Books, £26, is published Nov 24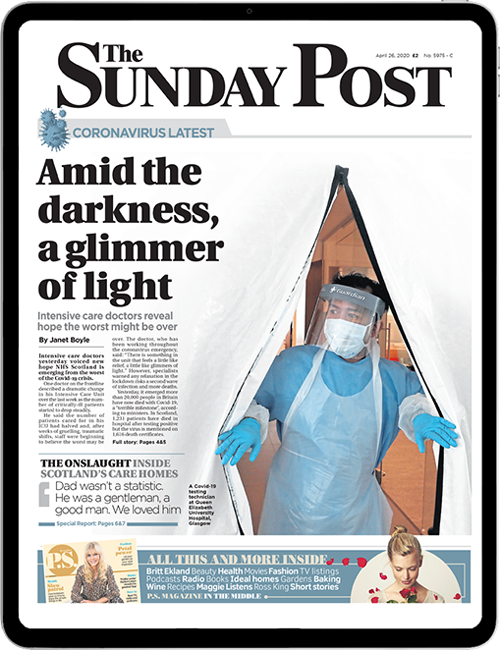 Enjoy the convenience of having The Sunday Post delivered as a digital ePaper straight to your smartphone, tablet or computer.
Subscribe for only £5.49 a month and enjoy all the benefits of the printed paper as a digital replica.
Subscribe