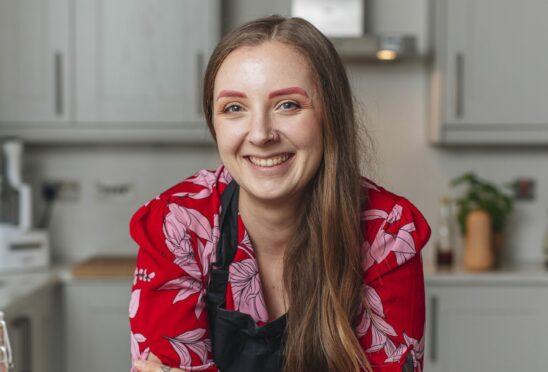 Tofu is often dismissed as boring, but Romy London is determined to make 2023 the year more people learn how to cook and enjoy it.
One of the most complete and versatile protein foods, with all nine essential amino acids, bean curd, as it's also known, has been a staple in Asian countries for thousands of years, celebrated for its low calories, high iron content and delicate taste. Yet, the vegan cookery writer says, most people here in the UK still don't know how to make the most of one of the healthiest protein alternatives.
"When I see people prepare tofu, it's often uncooked and unflavoured, so of course they're not enjoying it," she said with a laugh. "Tofu is extremely versatile. You can do so much with it, but I think that's also part of the reason why people struggle cooking it – you get this block, which is quite plain, and you don't know which direction to go from there."
Made by pressing curdled soybean milk into blocks, similar to the cheese-making process, tofu can be used in sweet and savoury dishes, and is sold as silken, firm and fermented. Whether added to noodles or stir-fried with veggies, London says preparation and seasoning are key to making tofu taste terrific.
She said: "First press the block if you have a tofu presser (or freeze it and then thaw if you don't) to drain the water, making the texture a bit denser. I then break and rip it into chunks with my fingers to make uneven shapes. I don't cut it with a knife because it gives really straight edges, and texture-wise it's not very interesting. Next, lightly coat the chunks in a bit of cornflower then fry until it's crispy.
"There's so many different types of sauces you can then add to the pan, including teriyaki or barbecue. I love it when it gets really nice and sticky and a little bit caramelised on the edges – maple syrup, agave and soy sauce are good choices for getting this finish."
When London first became vegan in 2014 – going from meat-eater to plant-based overnight – the Veganuary movement was still in its infancy and plant-based options were incredibly limited in supermarkets, restaurants and takeaways. So, if she wanted to eat her favourite dishes, she had to get a little more creative.
"It was very different back then, you couldn't get any vegan ready meals for example, so it forced me to learn more about what I was eating," said London, who is originally from Germany. "I always thought it would be way too difficult or way too restrictive to eat vegan, but I watched a documentary called Vegucated and it really struck a nerve. It was the first time I saw a practical approach about anything to do with veganism and it really inspired me."
Now, centred around the first meal she attempted to "veganise", London's debut cookbook, The Ultimate Guide To Vegan Roasts, aims to show home cooks that eating plant-based doesn't have to mean missing out.
"One of the things I first tried to cook when I went vegan was a Sunday roast, which I had learned to love after I moved to the UK," said the London, who appeared on Netflix cooking show Crazy Delicious, where she made vegan food for Michelin-star chefs. "It's one of the meals most people still struggle with because they always have the same dish – things like nut roast or a ready-made vegan 'turkey' joint from the supermarket – and they aren't always the tastiest or the most fun thing to make."
With recipes for everything from nut-crusted zesty tofu to jackfruit seitan brisket, as well as plenty more vegan-friendly dishes like aubergine steak and mushroom and lentil wellington, the cookbook serves as catch-all guide for long-term vegans, plant-based curious, and those who want to try something new.
"The book is particularly good for people who go into panic mode when their vegan cousin or daughter or brother comes to visit," said London. "I made such a big variety of different recipes so there's something for everyone, including chapters on alternatives like seitan, tofu, jackfruit and tempeh, as well as putting vegetables at the forefront.
"It's so easy to make little swaps. Sides like roast potatoes, for example, are so easy to make vegan, and I've included lots of hints and tips to help make them crispy and flavoursome rather than just, well, a potato!"
She added: "It's important for me to show people that vegan food can be delicious. It's not bland or boring, or full of broccoli or whatever. There's stereotypes people have about vegan food and I'm just trying to debunk that."
Cauliflower bake with caramelised onions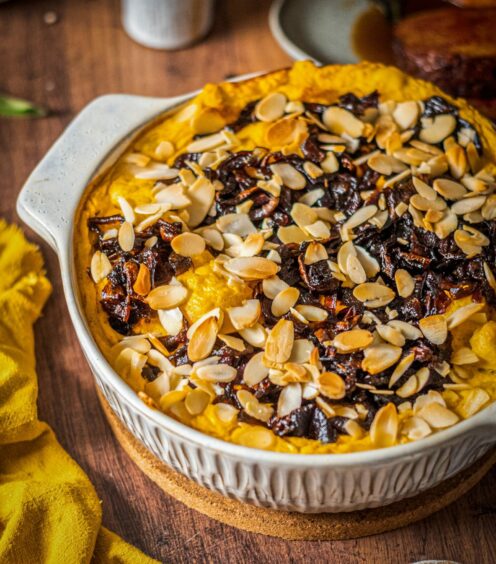 Forget cauliflower cheese – this creamy cauliflower bake is where it's at! The buttery sauce is full of nutritional yeast, miso paste and lemon juice to give it a hearty flavour. Cashews, potato, carrot and oats create a thick and creamy texture. Top with caramelised onions and almond flakes for a perfect crunch! If you're gluten-free, make sure to use gluten-free oats in this recipe.
Serves 4-6 (side) or 2-3 (main)
You'll need:
¼ cup (30g) cashews
1 head cauliflower, cut into florets
⅓ cup (40g) roughly chopped white potato
½ cup (60g) roughly chopped carrot
1 tbsp (8g) white miso paste
2 cups (473ml) plant milk
2 tbsp (12g) rolled oats
½ tsp sea salt
¼ tsp ground black pepper
¼ tsp sweet paprika
3 tbsp (15g) nutritional yeast
1 tbsp (15ml) fresh lemon juice
2 tbsp (30ml) melted virgin coconut oil
2 tbsp (30ml) olive oil
2 finely sliced red onions
1 tbsp (14g) light brown sugar, packed
¼ cup (27g) almond flakes
Method:
Place your cashews in a small heat-proof bowl and cover them with boiling water. Set them aside to soak for 20 minutes, then drain.
In the meantime, steam your cauliflower, potato and carrot separately over a saucepan filled with steaming water, until softened. Set the cauliflower florets aside.
Place the potato and carrot in a blender or food processor. Add the white miso paste, plant milk, oats, salt, black pepper, paprika, nutritional yeast, lemon juice, coconut oil and the drained cashews. Blend on high for 3 to 4 minutes, until you get a smooth sauce.
Combine the cauliflower and sauce in a bowl. Transfer the mixture to a greased, ovenproof dish, then preheat your oven to 390°F (200°C).
Heat the olive oil in a large, nonstick skillet over medium heat. Fry the red onions for 3 to 5 minutes, until translucent. Add the brown sugar and cook for 8 to 10 minutes, stirring frequently, until the onions caramelize.
Top the cauliflower bake with the caramelised onions and almond flakes. Place the ovenproof dish into the oven and bake for 8 to 10 minutes, or until the top turns golden. Serve hot alongside roast potatoes and your favourite roast.
---
The Ultimate Guide To Vegan Roasts, Page Street Publishing, £16.99, is available now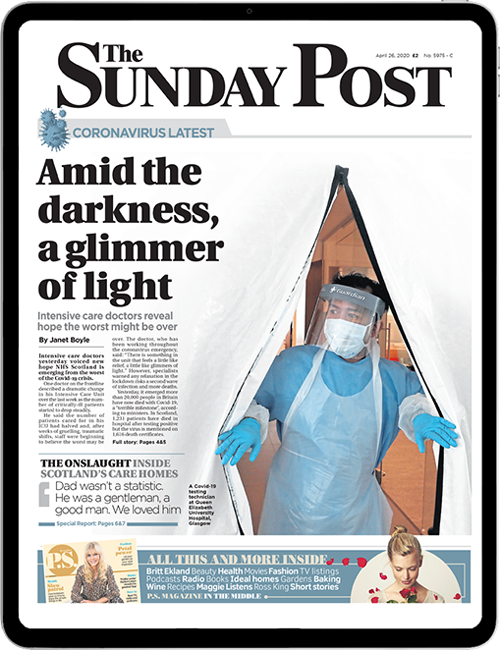 Enjoy the convenience of having The Sunday Post delivered as a digital ePaper straight to your smartphone, tablet or computer.
Subscribe for only £5.49 a month and enjoy all the benefits of the printed paper as a digital replica.
Subscribe