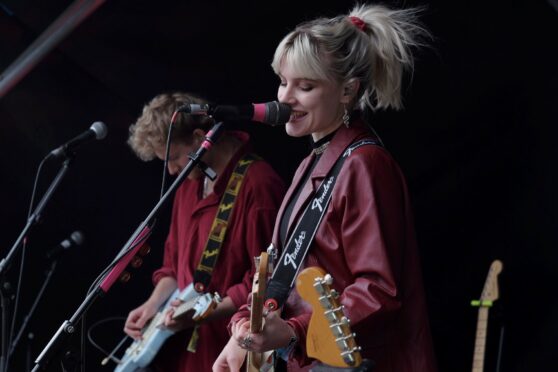 As political leaders announced the country was going into lockdown last March, Edinburgh band swim school saw the momentum they'd been working hard to build ground to a halt.
With live performances put on hold and the gig diary emptied, the group's four members couldn't even meet up to channel their frustrations into something productive.
But, as they saw bands around them give up on their dreams, they vowed to fight on through the buffering on Zoom and ended up revamping their sound for a big relaunch post-lockdown.
Part of their return to some sort of normality was a storming set at last weekend's TRNSMT festival in Glasgow, where they hope to have picked up a few new members for their fan club.
Vocalist and guitarist Alice Johnson said: "The first lockdown was so gutting because we had so much booked and that disappeared.
"We know so many bands who called it a day and it was really sad. For us, we wanted to push through and use that time that we'll probably never have again to write and write and write.
"Instead of being upset about it, we put energy into it and that positive attitude led to getting to play this summer at All Points East, King Tut's and TRNSMT. It all paid off in the end and we'll forever be grateful that it benefitted us."
Johnson is joined in the band by Lewis Bunting on guitar, Matt Mitchell on bass and recent addition on drums Billy McMahon.
Bunting said: "We completely changed our sound over lockdown and I feel like we wouldn't've done that otherwise.
"Obviously lockdown wasn't great but we wouldn't be who we are now if it wasn't for it."
Johnson added: "We were all in separate households and we didn't really see each other, especially in the first lockdown when it was so tight.
"We did a lot of writing over Zoom, we did our first writing sessions with other people on there. It was a good experience but I think we thrived the most when we were able to get back into a room and jam together.
"Even though gigs weren't happening, the fact we got to focus on our writing was a massive benefit for us and we've thrived so much on it."
Last month, the band released their debut EP, titled making sense of it all. Across the five tracks, Johnson reflects on the difficulties of the past year, exploring the difficulties and sacrifices that come with mental health struggles.
The release has received a number of favourable comparisons to the likes of Wolf Alice and Foals.
"Not one review has been the same in terms of what people think of the sound," McMahon said. "We've got Slow Dive, Smashing Pumpkins, Wolf Alice, Foals, and these are all bands that we listen to.
"Especially now, after lockdown working on this new swim school, it's a lot darker, it's a lot more energetic and the live show is very grungey.
"I don't want to sound clichéd, but it's one of those things where you have to come see us to understand how it works live."
Johnson said of their sound: "We used to call ourselves indie pop but we had to take that out the bio because we're definitely not pop anymore! What we really wanted to do as a band was not release the same song in a different key over and over again.
"We always wanted our next release to be something that people are anticipating, what are they going to do next. You see that with bands like Wolf Alice and Foals, their genre is so big because there are so many different sounds.
"You want to leave your fans trying to guess what happens next. No-one anticipated a song like Last Man On Earth from Wolf Alice as their first single from the album, but they did it and it paid off.
"We've always aspired to that, we don't want to be a band that has the exact same releases over and over again. I think we've done that in the EP, each tune is completely different from the other."
As well as playing TRNSMT's River Stage, the band have also recently had a sold-out show at the iconic city venue King Tut's.
"It was such a good night, the perfect headline gig, we were all very sweaty," Bunting laughed as he recalled it.
"You never think you're going to headline it and sell it out but we did both, it was insane."
McMahon added: "When you walk up the steps at King Tut's you see the names that have played, it's inspiring.
"We were lucky enough to play with Declan McKenna in Edinburgh at the O2 Academy, and at TRNSMT we've landed the same day  as him. He can't get rid of us!
"For us to play that show and see him on the main stage after sharing the same stage a couple of weeks ago is great. King Tut's have been so supportive, so if we keep going there's a good backing to get us to the next level."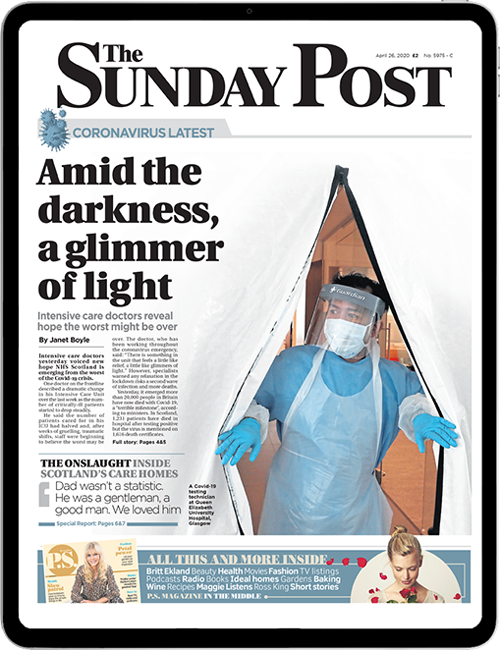 Enjoy the convenience of having The Sunday Post delivered as a digital ePaper straight to your smartphone, tablet or computer.
Subscribe for only £5.49 a month and enjoy all the benefits of the printed paper as a digital replica.
Subscribe