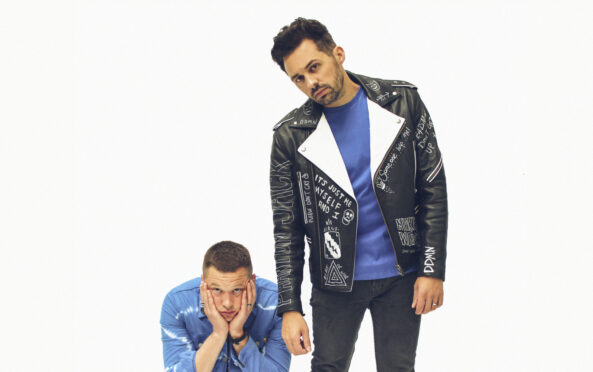 As Glasgow duo SAINT PHNX prepared to launch into new song Happy Place, vocalist Stevie Jukes told the audience gathered around TRNSMT's River Stage that he might need a little help finishing this one.
The emotional track was penned as a tribute to the Jukes brothers' father, who passed away earlier this year from a terminal lung condition.
It was an ode to the rolling hills of the countryside that Bertie Jukes looked out to as a way of escaping his troubles.
Stevie and brother Al had the chorus written, but the verses proved too raw to put pen to paper on until their dad was hospitalised on Christmas Day 2020.
They got to work in the recording studio next to the house their father was building as a final project, and got the song finished in time to play to their biggest fan as they said their last goodbyes.
It meant that performing the song in front of the festival crowd, all with phone lights in the air, was almost overwhelming.
Stevie said: "We're feeling it more now as the grief process hits. That song helped us through it. It was all about getting it out, putting all our effort into it. Every day was a focus on it.
"It was like a weight off our shoulders, it was all very draining. We've just been on tour with You Me At Six, and every night we had thousands of people putting up their lights.
"It's an emotional thing but I guess that's what you try to do as an artist, try to channel what you're feeling for other people to engage with and relate to. The response has been pretty amazing."
Proud Rangers fans, the brothers have fond memories of going to Ibrox with their dad to see their team play.
If dreams of taking to the pitch in the famous blue kit can't be achieved, then the duo have probably managed something just as good.
Their version of club anthem Blue Sea of Ibrox has proved a hit, and their music has been played over the tannoy at Ibrox.
"When you hear your song play out in front of 50,000 people, it's pretty special," Stevie said.
"It's quite funny, sometimes you're scared to admit what team you support in Glasgow. If you look at Liam Gallagher or Blossoms with Man City, or you look at Soccer AM every Saturday, there's a band on talking about what team they support.
"Scotland's a bit different sometimes. We have no problem with it, it doesn't affect us. It's all about music. If you support a different team then who cares.
"Our band's all about family, we used to go to the games with our dad. Rangers is a big part of our life."
Al added: "We've got some good support from the club. We were kind of apprehensive filming it, you don't know what it'll be like, but the feedback's been immense.
"Emma Dodds gave us a shout out on Rangers TV when Partick played Happy Place when Rangers were there for a pre-season friendly.
"Football and music go hand in hand, they bring people together, whether it's at a game or a festival. Especially after Covid, and Rangers certainly kept us going through the last year anyway!"
@saintphnx were a personal highlight tonight 🔥 pic.twitter.com/ijYBgCZrIn

— The Music Files Blog UK (@Themusicfiles) September 12, 2021
Touring with You Me At Six around the UK was a good introduction back to performing for the duo.
Al said: "It was an amazing feeling but also very strange, surreal. We stay out in the countryside and all of a sudden we're in a room with 3,000 people, it was absolutely bonkers. The shows were phenomenal."
Next to tick of the list was a festival slot, and the duo closed TRNSMT's River Stage for the weekend with a set that had the crowd in buoyant mood.
Stevie said: "You've got a city festival and the landscape behind it is cool, a bit different. Coming up through the Glasgow scene it's the festival you want to play. We've been waiting a year for it.
"This is what it's all about. When you're in a band you can do what you can to promote your music and put on your own shows but the next step after that is jumping on a support tour or doing festivals, getting fresh people to check you out and hopefully they become a fan. These festivals and events are very important."
There's plenty in the pipeline for the rest of the year and 2022, with live shows and new music on the menu.
Al said: "We've got our own headline show in Glasgow which is sold out at St Luke's, we've got new music coming, and an EP in the next month or so.
"This has been a bit of a rollercoaster ride, certainly with the live aspect. Fingers crossed everything will be alright next year and we can kick on again."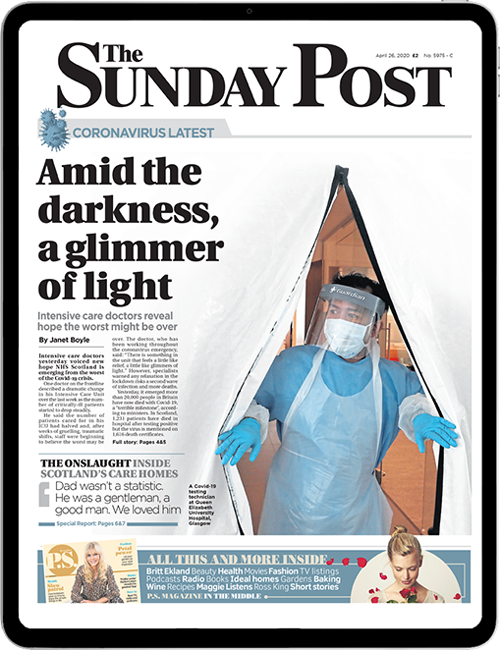 Enjoy the convenience of having The Sunday Post delivered as a digital ePaper straight to your smartphone, tablet or computer.
Subscribe for only £5.49 a month and enjoy all the benefits of the printed paper as a digital replica.
Subscribe