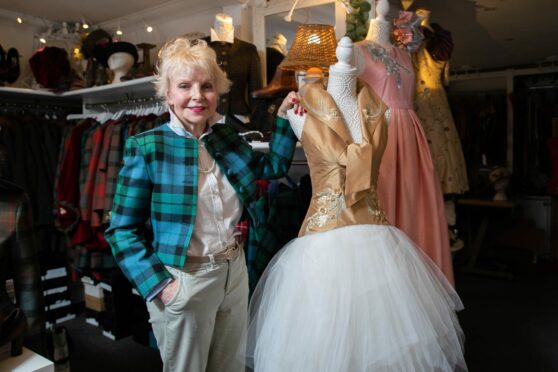 Kairen Ruse wants a word with Liz Truss about her outfits but first she wants to know how the would-be Prime Minister will help keep the lights on in her tailoring workshop.
The owner of Blues and Browns in Perth is looking forward to the Tory leadership circus coming to town and will be in the audience when the rivals for No 10 arrive for the only hustings in Scotland.
She will be at Perth Concert Hall a week on Tuesday to hear Truss and Rishi Sunak make their pitch for the votes of Tory members but the tailoring workshop owner believes they should be taking a walk round the town centre first to see what the economic downturn means in practice not theory.
"They would see that we are all hitting our heads against a brick wall," said the owner of the tailoring workshop on South Street for 20 years. "I'm the last one standing out of my group of friends. One had a beautiful shoe shop. It's gone. Another had a bedding shop and it's gone. Jewellery workshop. Gone. A restaurant across the road. Gone."
She is no fan of Sunak after his resignation as chancellor dealt a fatal blow to Boris Johnson's premiership. She said: "I couldn't vote for someone like Rishi Sunak who stabbed his boss in the back. I think what he did was immoral.
"Liz Truss wasn't terribly confident when she began her campaign, but she has developed and grown in confidence, and I like some of the things she has said. I liked her comment that Nicola Sturgeon is an attention-seeker and should be ignored. I also agree with her about sorting out Whitehall.
"I just wish I could have a wee word with her with about some of the clothes that she wears, and that's an open invitation. She needs to be slightly more adventurous."
A £26 million national museum will open in the city in two years' time, which, it is hoped, will boost the economy but Perth is still struggling with the effects of the pandemic, with around a 10th of city centre shops sitting empty and footfall 10% below the national level.
Audrey Maestri, owner of the Rose House cafe and florist, said three coffee shops in the city centre had closed in the past week. She said: "People are still coming out but they are spending less."
She said she would welcome tax cuts for businesses, though questioned whether the winner would stick to their promises. She said: "My husband and I don't get any government help so tax cuts for us as a business would be ideal. Last year I was diagnosed with cancer and I couldn't afford to take sick leave. I would get treatment in the morning and work in the afternoon. That's the reality of being small business owners."
She feels Truss would be a more inspirational leader. She said: "She went to a normal school and she worked hard. She could be anyone's daughter. With Rishi Sunak, there is a huge divide."
While other businesses are closing their doors, premium whisky seller Steve McGilvray opened Malts And Spirits last September. He said: "I think Rishi Sunak is the stronger of the two candidates. He understands businesses. He's been chancellor and he helped businesses during lockdown.
"I'm not sure if the 20% income tax cut he has promised within seven years will come through as much as he said, but it will certainly help. Liz Truss said that Brexit didn't cause any disruption to businesses.
"That's nonsense. We have an online business and we have stopped exporting overseas now because of Brexit. Everything gets locked up in customs and it takes about six weeks to deliver something that used to take a week."
Meanwhile, antiques dealer Chris McGee said his preferred candidate had been Penny Mordaunt, who was knocked out of the race in the final round of MPs' voting.
He said: "She is a highly competent person and has been a safe pair of hands in anything she has been involved in. Liz Truss performed quite well in all these debates. The only thing I worry about her is that when she visited Moscow earlier this year as foreign secretary the Russians seemed to see her as weak.
"Rishi Sunak had to be dragged into helping the poorest people in society with the £650 cost-of-living payments. He should have done that more willingly. I think he is too well off to really understand how hard a lot of people are having it."
John Duff, Conservative group leader at Perth and Kinross Council, said he had backed Mordaunt as leader and had yet to choose between Truss and Sunak.
He said: "There seems to be a perception that Scotland only has one government. The Scottish Government is very adept at making money, coming from the UK Government money, and I want to see the UK Government having a stronger presence here.
"The UK Shared Prosperity Fund and the Levelling Up Fund is a start, but I would like to see the UK Government being more visible in Scotland and speaking about the benefits of the Union more."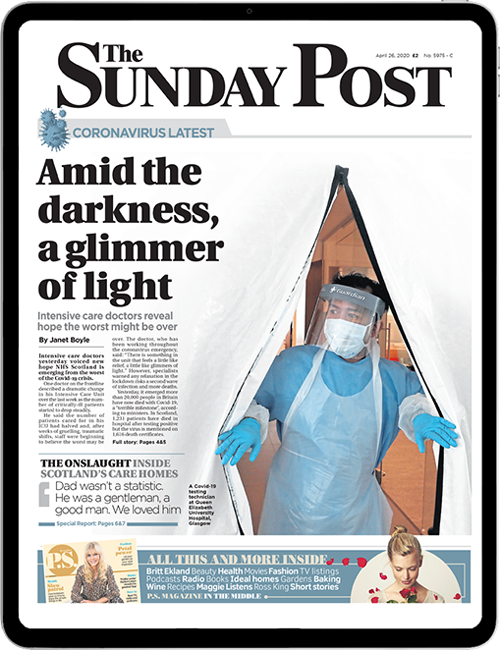 Enjoy the convenience of having The Sunday Post delivered as a digital ePaper straight to your smartphone, tablet or computer.
Subscribe for only £5.49 a month and enjoy all the benefits of the printed paper as a digital replica.
Subscribe