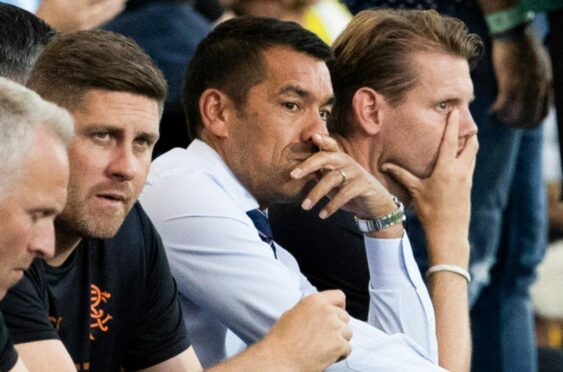 Arthur Numan believes there has been an overreaction to Rangers' defeat to Union Saint-Gilloise, and has appealed for calm and focus.
The Ibrox legend knows from experience that it takes time for new players to settle in at Ibrox and a new team to gel, particularly at a club where the demands are so high.
When he was signed from PSV Eindhoven for £5-million after appearing for the Netherlands at the 1998 World Cup, he was one of a number of additions that summer, including Gabby Amato, Rod Wallace, Andrei Kanchelskis – and Giovanni van Bronckhorst.
They had a sticky start, and lost their opening league game 2-1 at Tynecastle. Indeed, 10 days earlier, they had to come back from 3-0 down against League of Ireland side, Shelbourne, to eventually win the UEFA Cup qualifier 7-3 on aggregate.
Dick Advocaat's men recovered to lift the Treble that season.
Numan would love to see that replicated in the next 10 months, but is aware the main focus is on beating the Belgians on Tuesday night to get into the final Champions League play-off.
They will play either Monaco or PSV for the right to the £35m jackpot, and Numan said: "I totally understand the disappointment felt by all the Rangers supporters. But this is only half-time.
"The last thing Giovanni and the players need is panic. They need support and to feel a calmness around them.
"Giovanni is putting a few new faces into the team, and he is doing so having lost Calvin Bassey and Joe Aribo who were major players in last season's Europa League run.
"He is now looking to find the best guys he has to take their places, and finding partnerships and new on-field relationships is not easy. It all takes time to gel.
"It's highly unusual for it all to click after one or two games.
"Sure, I get that time is not on the horizon. It needs to be about the here and now. But let's just be calm.
"Rangers can still win this tie. They can, for sure, come back from this two-goal deficit.
"They have some very good players, and they have the quality to win through.
"It may well take to extra-time to get the job done. If that is the case then, that's fine. No problem. As long as we make it to the play-off.
"If the right victory is achieved on Tuesday, then it would have to be one of the most amazing comebacks, given what is at stake financially and the prestige of this competition.
"I was lucky enough to play in the Champions League many times for Rangers, and it was just unbelievable.
"I loved it, and those games remain some of the highlights of my career.
"I want the current squad to sample that, and taste it. They will want more and more, trust me.
"If it doesn't go to plan in midweek against Union, then we can all sit back, reflect and assess.
"That would only be fair. But not now. It's far too soon."
Numan watched the game last midweek, and wasn't surprised with the quality on show from the Belgians.
But he was taken aback by how straightforward the Light Blues made it for their opponents.
He stressed: "To be honest, the scoreline could have been worse. Let's all put that out there. No one would disagree.
"I think we should have been more aggressive in the way we defended. We didn't close down quickly enough. We could have been stronger in the tackle.
"We also have Jon McLaughlin to thank for making two excellent saves, but he may feel he should have stopped the opening goal.
"But the first leg has gone. Disappeared. Nothing can be done about what happened over there.
"That will be Giovanni's attitude. But he does know he can do something for Tuesday, and I expect him to make two or three changes. He will have a plan, for sure.
"The main consolation I take from it is that there is no way the team can play any worse next midweek than what we witnessed the other night.
"It just wasn't a performance any of us would associate with one of Giovanni's teams, especially in Europe.
"The standards have always been very high, and they fell well below them against the Belgians. The players didn't move the ball quickly enough, and get into the opposition's half often enough.
"The players can tap into the experience of last season on the run they had to the Europa League Final in Seville.
"A lot of them can also remember the hurt they felt when they were knocked out by Malmo in the Champions League qualifier this time last year.
"Remember, this is a chance to get back into the Champions League group stages for the first time in more than a decade. There is £35-40 million up for grabs.
"But it can be done. I'm optimistic."
More than anything, Numan wants to see the Rangers supporters back in the Champions League, and his pal, van Bronckhorst.
He said: "The Rangers fans deserve to be there. They make the nights at Ibrox so very special.
"We'll need the 50,000 Rangers fans all behind the team on Tuesday night. They can inspire the players to another memorable European victory.
"Giovanni also wants to be in the Champions League. He is a top- quality coach and the Rangers fans, and everyone else, could see that last season in the wins against Borussia Dortmund, Red Star Belgrade, Sporting Braga and RB Leipzig.
"You don't just lose that ability overnight.
"Giovanni is now trying to bed in new signings, such as Antonio Colak, John Souttar, Malik Tillman, Rabbi Matondo and Tom Lawrence.
"I like the look of them, and I'm sure all will emerge as important assets in the weeks and months ahead.
"It gives the squad a new depth, and the manager has some really good options.
"It's up to the players to go out and produce the goods. They need to show they can do it, and handle playing for Rangers.
"They need to show they can cope with the pressure on and off the park, and Tuesday night would be the perfect time for the new team to step up and produce something extraordinary.
"It may sound easy, but I know it's not. It takes a special kind of mentality to cope and deliver.
"I know Giovanni has what it takes, and now the players need to do the same.
"I think they will, and are on the verge of a memorable victory."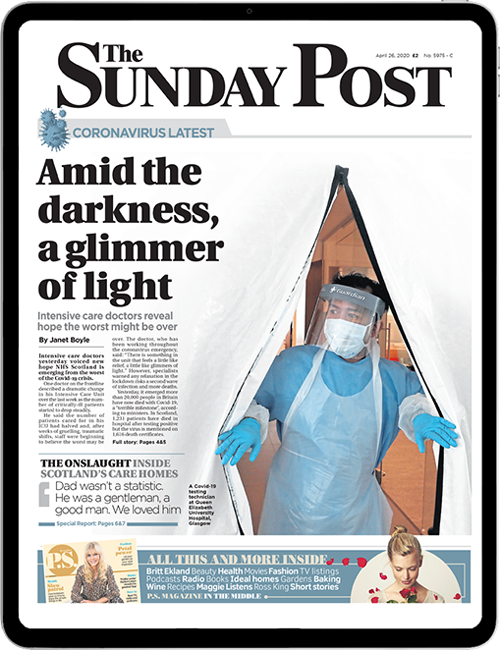 Enjoy the convenience of having The Sunday Post delivered as a digital ePaper straight to your smartphone, tablet or computer.
Subscribe for only £5.49 a month and enjoy all the benefits of the printed paper as a digital replica.
Subscribe