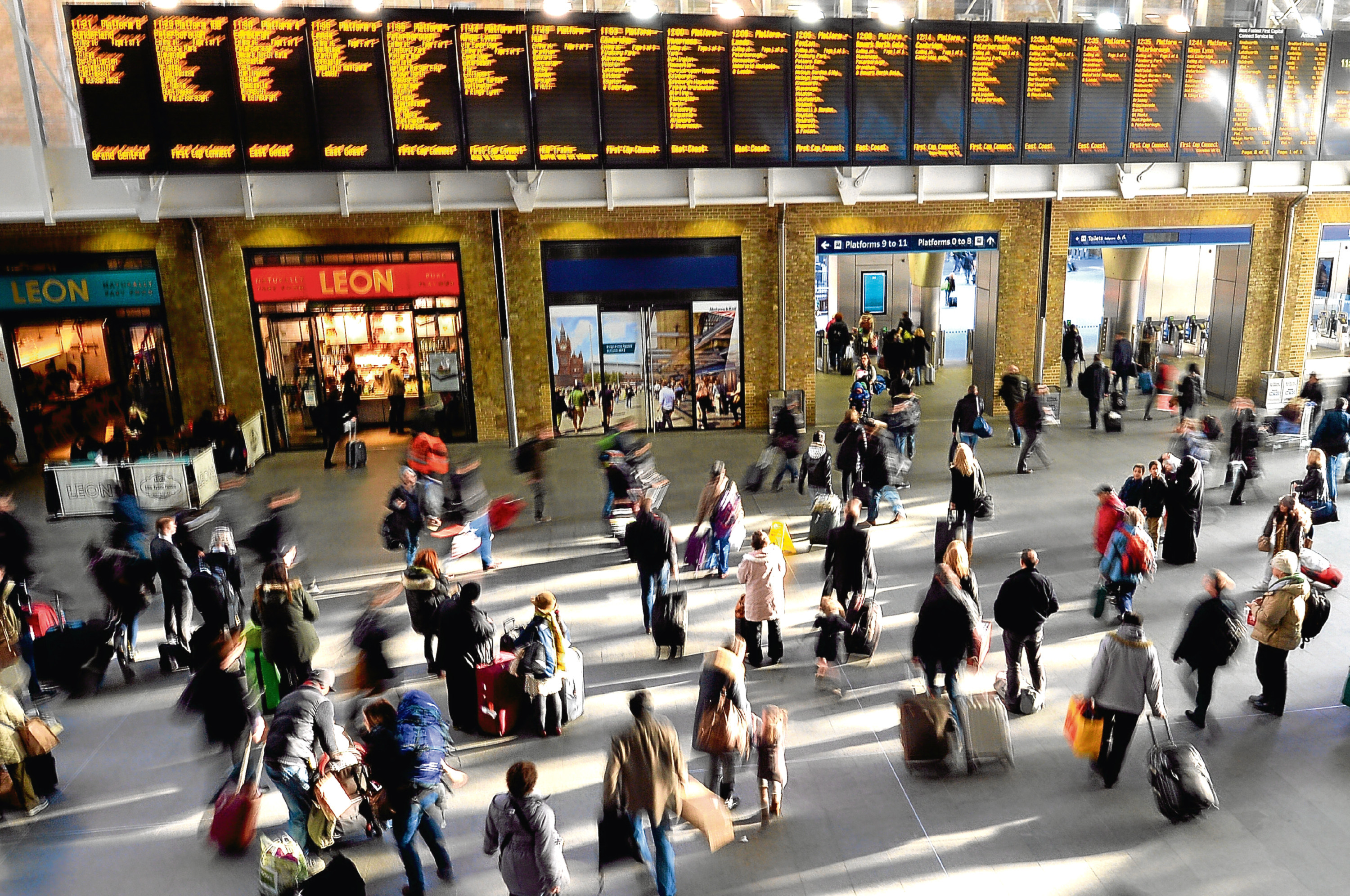 AS we all get older, travel can become quite a challenge.
The world moves at a faster pace these days and there seems to be an awful lot more people in places like train stations.
If you're not used to the hustle and bustle, it can be quite daunting.
Mrs Sheila Baker, of Consett, County Durham, hasn't undertaken a long train journey since 1974, and she knew that a trip from Durham to Brighton, changing trains – and stations – in London wouldn't be easy. So she made plans.
Sheila is 77 and she and her husband Mark have mobility problems. Sheila travels in a wheelchair.
To manage this she phoned ahead to obtain help to be escorted from St Pancras to King's Cross and booked assistance for when she'd be boarding and disembarking.
Those two stations are among the busiest train terminals in Europe. Anyone confronted with navigating a way through them, who isn't used to it, would find it a formidable task.
Sheila also paid for first class tickets for the trip.
The journey to St Pancras on a Virgin train was fine. Virgin staff duly met her and escorted the party to King's Cross to carry on to Brighton.
But her experience there, with Thameslink, left a lot to be desired. There was no one to greet her. When the Virgin staff eventually engaged the attention of Thameslink staff, she was taken to the platform.
But the young man escorting her said he didn't know where the first class carriage would be.
He attached the ramp to the first carriage he saw, with the result that a crowd of travellers on a busy day (this is the line for Gatwick Airport) streamed on to the train as soon as it appeared.
When she got on, Sheila immediately realised it wasn't a first class carriage.
The Thameslink employee said she'd just have to walk through the train to find her seat, but this was impossible for wheel-chair-bound Sheila on a train with people packed in the gangways.
Sheila was very upset by this point – crying and anxious.
The arrival at Brighton was no better. There was, again, no one to help despite this being agreed beforehand. She had to stay on the train while her profoundly deaf husband Mark, who is 78, went to look for assistance. This proved very difficult.
Mark couldn't get anyone to pay attention to his and Sheila's plight.
Sheila remained trapped on the train all this time. But the last passenger getting off, seeing her obvious distress, stopped to help.
He found other passengers on the platform who helped carry Sheila's wheelchair off the train.
The kindly gent stayed with her until she found Mark, but Sheila was very upset by this point.
It had been a frightening experience.
When she returned home a week later, as soon as possible Sheila contacted Thameslink to complain about all this.
Thameslink were apologetic. They offered vouchers for further travel on their service.
But Sheila lives hundreds of miles from London. Thameslink don't operate in her area and Shiela isn't going to want to return to the crowded trains of the capital anytime soon – so how on earth might she use these vouchers?
Sheila insisted she should be given a refund and/or compensation in cash.
Thameslink wasn't keen on this so Sheila contacted Raw Deal.
We outlined the facts to Thameslink who, once it had agreed that vouchers would be of little use, strangely sent the compensation in two lots.
It told us: "We are very sorry to hear about Mrs Baker's experience on our service. We investigated this and sent her £69.40 compensation.
"However, Mrs Baker understandably wanted this as a cheque not rail travel vouchers because she neither travels frequently nor could exchange them for cash at one of our stations.
"One of our agents then made an error by sending her a cheque for only £39.40, which is why Mrs Baker had inquired after the difference of £30.
"We have sent her a cheque for a further £50 to cover the missing amount and to offer an expression of goodwill."
Raw Deal takes its hat off to Sheila.
This was a drawn-out saga. The journeys were booked in November 2015 and the journey itself was in April 2016. Sheila spent all that time fighting before getting in touch with us.
She knew she had been wronged and stuck to her guns and won in the end.
Well done Sheila.