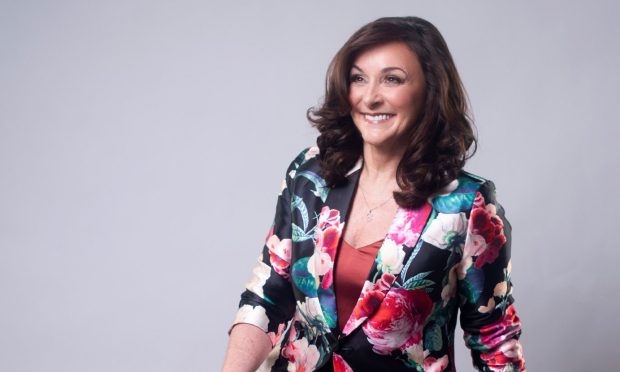 Strictly Come Dancing's head judge, Shirley Ballas, tears herself away from her carrots, celery, ginger and lemons to chat with P.S.
"I have all sorts going in the juice today for Harry and me. I do like a piece of cake, but I try to be vigilant about what I put in my mouth," the 63-year-old dance and fitness diva confesses as we Zoom in to talk about her debut novel, Murder On The Dance Floor.
Harry is the personal assistant she drafted in to handle her social media after death threats from online trolls left her scared to leave her luxurious London home little more than a fortnight after her return to Strictly for its 21st series. They have, she says, left her fearing that people "are lurking in dark corners or hiding behind walls". She is hyper vigilant – especially now.
Shirley was laughing with Holly Willoughby about the saucy content of her novel on ITV's This Morning on October 4, just hours before the presenter disappeared from TV screens amid shock revelations that she was under police protection after becoming the target of a kidnap and murder plot.
Security guard Gavin Plumb, 36, from Harlow, was subsequently charged with soliciting to commit murder and incitement to kidnap, and was remanded in custody to appear for a plea hearing at Chelmsford Crown Court on November 3. It was revealed a US hitman had been on his way to the UK. Holly later announced on social media her decision to quit the show she had presented for 14 years.
Shirley, whose son, Mark, 37, a professional dancer with the US ABC programme Dancing With The Stars, was the target of death threats in 2010, reveals: "I sent a message of support to Holly, but I don't want to invade her privacy. I love Holly, she is a very strong woman. My heart goes out to her and her family."
'I've had people draw coffins with me in them'
The chief judge on the BBC dance show, who is looking forward to becoming a "Glam-ma" for the first time following the agonising miscarriage her son and American singer-songwriter daughter-in-law BC Jean, 36, endured last year, says her own experiences and those of the presenter leave her worried about the kind of world her precious grandchild, due at the end of the month, will inherit.
Reliving her own nightmare, she says: "I am happy to engage with someone who is sensible. But when that trolling goes the other way and there are threats to your life, that's a different matter.
"I've had people draw coffins with me in them, or skeletons with my head on."
Even more chilling, are the hand-delivered, life-threatening letters that mean the culprit is close. "You get hand-delivered letters with your name on, which is what happened to me in 2018 in pantomime in Darlington," she reveals.
"I had to go out to lunch, and I wouldn't go. It was scary. People write sexual messages.
"They are always wanting you to look over your shoulder because they are going to do this, that and the other to you."
She says the emergence of mobile phones and the plethora of social media platforms is a factor giving abusers access to messaging 24/7. "I wonder where we are going to go when my grandchild is older," she reflects. "Where will we be with artificial intelligence and all this stuff that appears to be going on? Are we in a safe world or not?"
But she says the resilience she learned from her mum, Audrey, now 86, who single-handedly raised Shirley and her older brother, David, on a council estate in Wallasey, Merseyside, after their father, George, left when she was two, helps her to keep going.
Shirley, whose mum lives with her, smiles: "I try to just keep driving forward because every day is a blessing."
None more than the day when her grandchild will be born. Reliving her earlier heartbreak, the star – whose world fell apart when her brother took his own life – says: "Last year during the run of Strictly and Dancing With The Stars my son and his wife lost a baby. Mark was on the show and then BC had to go into hospital, and I couldn't be there because I was on Strictly. I got the news at four o'clock in the morning. I will never forget it.
"I got up with my mum. We don't drink, but we had a brandy because we were sobbing. We were just devastated for them. I couldn't say anything at the time but now they have written and performed the most beautiful song called Rainbow. It's about a young woman who has waited so long to have a baby only to lose it. The video is on YouTube and we want to share it with everybody.
"The song is not just for my daughter-in-law and my son, it is for anyone who has had loss. I am coming up to the anniversary of my brother's death – I lost him on December 5, 2002 – and I found the song especially poignant.
"But now BC is pregnant again, and we are expecting this baby shortly. It will be our Rainbow Baby, due around the end of October. I was quite strict with Mark growing up but this baby I will spoil rotten.
"I am sure it has been listening to mum and dad's new album because when she sings those little arms are going. This baby will be coming out with a high octave."
Starting to write
Shirley, who started dancing aged two, says her stellar career was possible because her mum moved in with her to help raise Mark while she travelled for work. Audrey had a hand in the novel, too.
The dance star is in a relationship with actor, producer and director Danny Taylor and has been twice married in the past – first to Sammy Stopford from 1980-84 and then to champion American ballroom dancer Corky Ballas from 1985-2007.
She adds: "During lockdown I wrote my autobiography. When it was checked there were stories that couldn't go in, which was a shame really because I wanted to give a true insight into what happened to me throughout my life. Then my mum – who is an avid reader of Mills & Boon – said 'why don't you write fiction, a novel?'.
"My industry is glitz and glamour, baubles, sparkles and beads, but actually it is a lot more sinister behind the scenes. So I thought 'let's write a crime novel, let's see what goes on behind the scenes at the Blackpool Tower'. I wanted to pick famous spots. The next book is at the Royal Albert Hall."
Murder On The Dance Floor features fictional dance legend, teacher and one-time world champion Lily Richmond, who Shirley admits is herself. When a promising young dancer collapses during the opening tango of a major contest, Lily suspects murder and involves her former student-turned-detective, Susie Cooper, to solve the crime. But as the competition becomes fierce, the bodies pile up.
"I have 55 years of experience in this industry of sex, lies, intrigue, of backstabbing, bed-hopping, manipulation, bullying and ballroom dancing," says Shirley.
"I want readers to wonder, 'did she take part in that, did she really do that, did she witness it, is it fiction, or is it real?'"
She chuckles: "My mother read the book into the night, and I could hear her at 3am from her room saying, 'oh no, you can't say that! Shirley, did you take part in this?'"
Shirley is now focusing on the next book and forthcoming Strictly tour that will take her to Scotland in the new year, when she will appear at Glasgow's OVO Hydro.
She says: "I love Scotland and we will be in Scotland for the tour."
Hopefully the only bodies will be on the dance floor… and moving.
---
Murder On The Dance Floor by Shirley Ballas and Sheila McClure (HQ, £18.99) is out now.
---
Just keep CALM and carry on
Dancing queen Shirley Ballas is a long-time supporter of CALM – the Campaign Against Living Miserably – a charity focused on suicide prevention.
She has raised tens of thousands of pounds for the organisation after losing her older brother, David, to suicide in the run up to Christmas 2002.
Shirley said: "He was a big brother. He was a father figure. He was everything to me." At that time she says there was little help or guidance. She previously told journalists that 18 people in the UK take their life every day – 75% of them men.
The dancer is encouraging others to donate to the charity to help turn that figure around. She tells P.S.: "I am donating some of my fees too, so I am putting my money where my mouth is. And it will help people, particularly now as we are going into the Christmas period, when they can feel most alone and low. I have lost my brother and some friends. I want people to listen to those they think may be struggling.
"I am 100% behind CALM and I am here for people if they want to send me a little message. CALM can and does help people. If you need help, do not suffer alone, call them."
The CALM helpline is open from 5pm to midnight, 365 days a year on 0800 585858 or visit thecalmzone.net for a webchat.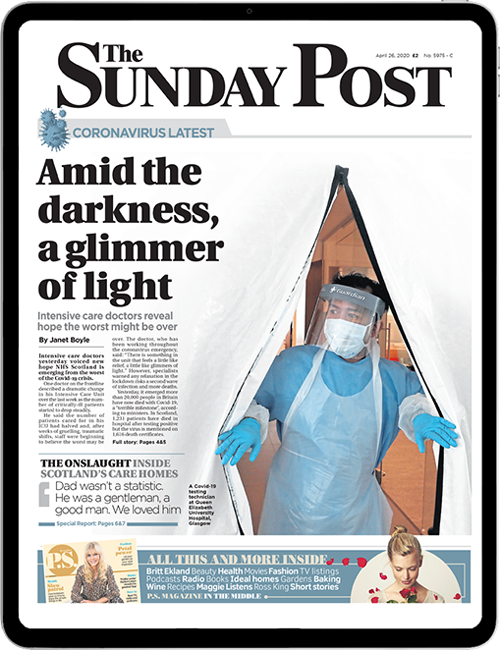 Enjoy the convenience of having The Sunday Post delivered as a digital ePaper straight to your smartphone, tablet or computer.
Subscribe for only £5.49 a month and enjoy all the benefits of the printed paper as a digital replica.
Subscribe