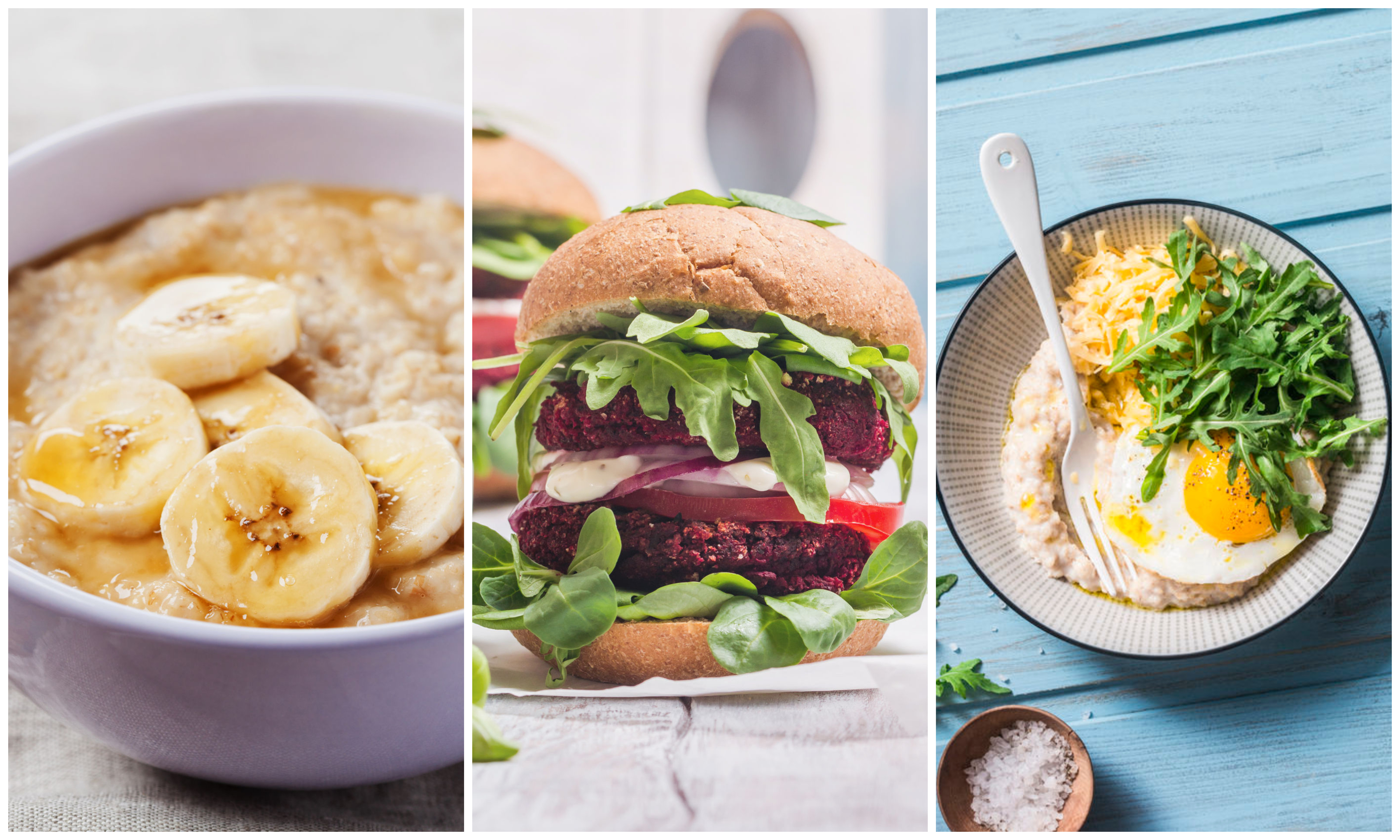 PREPARING for a marathon is tough work.
And just as important as building up the miles is keeping your diet on track.
Ahead of the Edinburgh Marathon on May 27, UK running specialist Sportsshoes.com has teamed up with nutritionist Laura Tilt to create a recipe plan for pre- and post-race meals.
They should help power you through training for and eventually running the gruelling city circuit.
Training
Cheese Oatmeal with Egg and Rocket: Porridge isn't just for breakfast! This savoury porridge is a deliciously different way to enjoy oats; ready in 15 minutes it's ideal to recover your energy levels quickly after a long training run.
Easy Peasy Kedgeree: Another traditional breakfast food that works any time of day as a post-run recovery meal. The eggs and fish help repair muscles, and if you serve with a glass of OJ, the vit. C will help you absorb even more iron form the protein.
Race Day
Fast-er Pasta: Carbs are a runner's best friend the night before the marathon. This super simple spaghetti dish contains plenty of carbs to top up energy stores, as well as anti-inflammatory olive oil to help soothe aching muscles.
Power-up Porridge: There's no need to overthink your pre-race breakfast; the professionals swear by it and for good reason, good old porridge is packed with carbohydrates that are slow releasing, perfect for long distance run.
Spiced Lamb & Beet Burger: Raise a bap to your successful marathon efforts post-race with a lean lamb burger and sweet potato wedges. As well as providing muscle-repairing protein, the antioxidants from the beetroot and spices will help tired bodies recuperate.
Here's how to make them…
---
Easy Peasy Kedgeree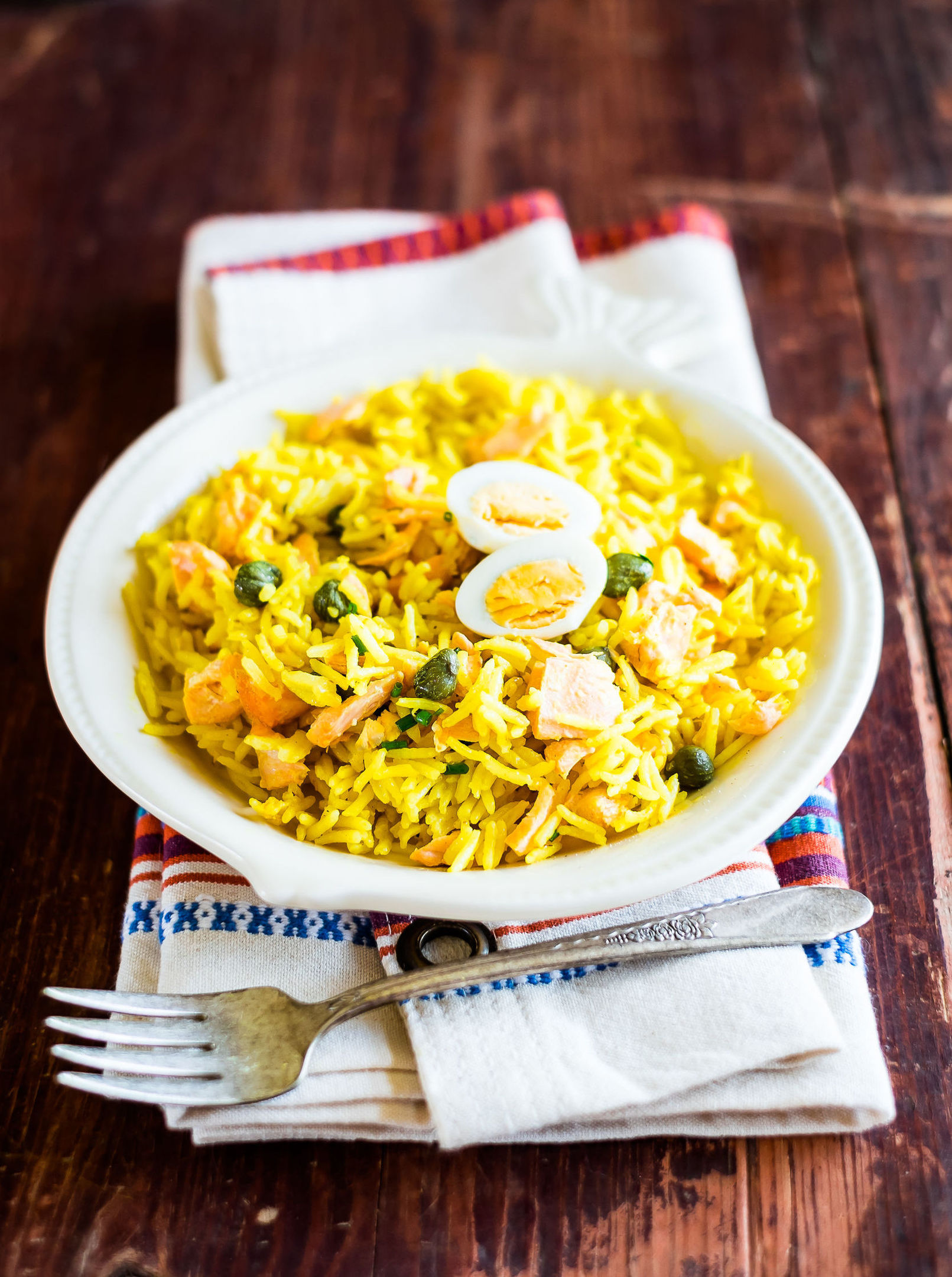 Training recipe
Traditionally eaten as a breakfast dish, kedgeree is a fantastic post-training meal – the protein in the eggs and fish help muscles to recover, while the rice will replenish the body's carbohydrate reserves, helping to ensure your next run is sufficiently fuelled. Serve with an OJ for an extra hit of carbs if it's been a long run – the vitamin C will help to offset muscle damage and can help you absorb iron from the fish and eggs.
Ingredients – serves 4 
300g smoked haddock
1 tbsp. coconut or olive oil
1 medium onion
1 green chilli, thinly sliced, seeds removed
1 tsp. turmeric
1 tbsp. medium curry paste
250g basmati rice, dry weight
Extra water for cooking
4 medium eggs
100g frozen peas (run under a hot tap to defrost)
Pinch of salt
Juice of half a lemon
Handful fresh coriander, chopped (optional)
How to
Place the haddock fillets in a large frying pan and add enough boiling water (from a kettle) to cover the fish. Turn on the heat and simmer for 8 minutes until cooked through. Remove from the heat, drain the cooking liquor into a measuring jug (don't discard) and lift the fish fillets onto a plate to cool. Add enough water to the cooking liquor to make 700ml – you'll use this to cook the rice.
Heat the oil in the same pan, and fry off the onion and chilli for a few minutes. Add the turmeric and curry paste and cook for a minute or two until fragrant. Add the rice and stir until it is coated with the spices. Add the cooking liquor from the fish to the rice, bring to a simmer, cover, and cook for 12-15 minutes – the rice should have absorbed all the water and be cooked through by this time.
Whilst the rice is cooking, bring a small pan of water to the boil. Add a pinch of salt and the eggs. Boil for 7 minutes, and then plunge the eggs into cold water for a minute.
Peel the skin from the haddock and fork the flesh into flakes. Stir into the cooked rice with the peas and lemon juice and continue to cook for a further 1-2 minutes to ensure everything is warmed through. Peel the eggs and cut into halves, then nestle into the rice, and scatter the dish with chopped coriander before serving.
Nutritional information
Kcal 460
Protein 34.5g
Carbohydrate 57g
Fat 10g
---
Savoury Cheese Oatmeal with Rocket and a Fried Egg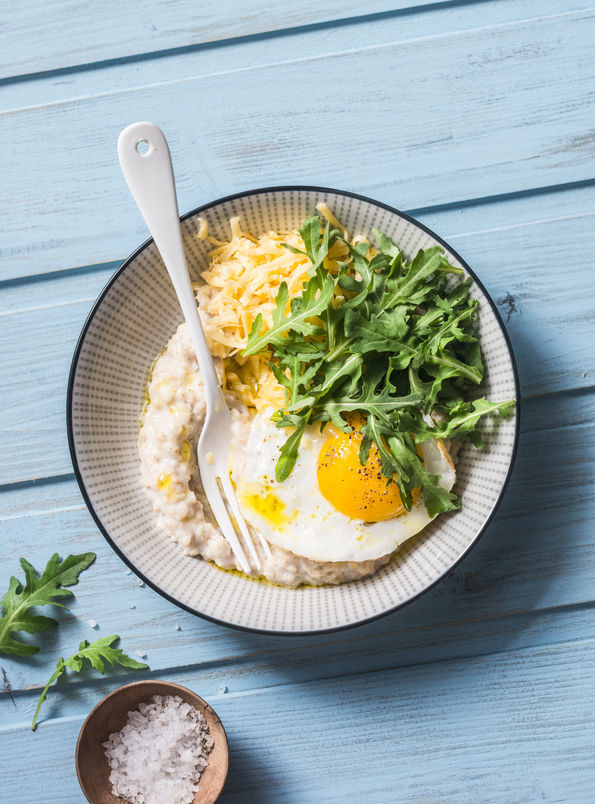 Training recipes
Trust me – oatmeal isn't just for breakfast! This savoury porridge is a deliciously different way to enjoy oats. From pan to plate in under 15 minutes, it's also ideal when you arrive home from a run starving and need something fast and nutritious to help you recover your energy levels.
Add a grated courgette or fresh spinach to the mix to boost your veggie intake.
Ingredients – serves 1 
1 tsp. olive oil
2 spring onions, finely chopped
75g steel cut oats
350ml vegetable stock (use half a stock cube)
Black pepper
30g parmesan or cheddar cheese, grated
Handful rocket
One egg 
How to
Heat the oil in a medium pan and cook the spring onions for 2-3 minutes until soft.
Add the oats to the pan with the stock and black pepper and bring to a simmer. Cook for 5-6 minutes until thickened and soft
Stir in the cheese and stir until melted, keep on a low heat
Heat a small non-stick frying and wipe with a little oil. Fry your egg until the white is set (you can cover the pan to help set the yolk)
Pour your oatmeal into a bowl, top with a handful of rocket and your poached egg. Add a little extra grated cheese if wished.
Nutritional information
Kcal 510
Protein 23g
Carbohydrate 48g
Fat 23g
---
Fast-er Pasta Tricolore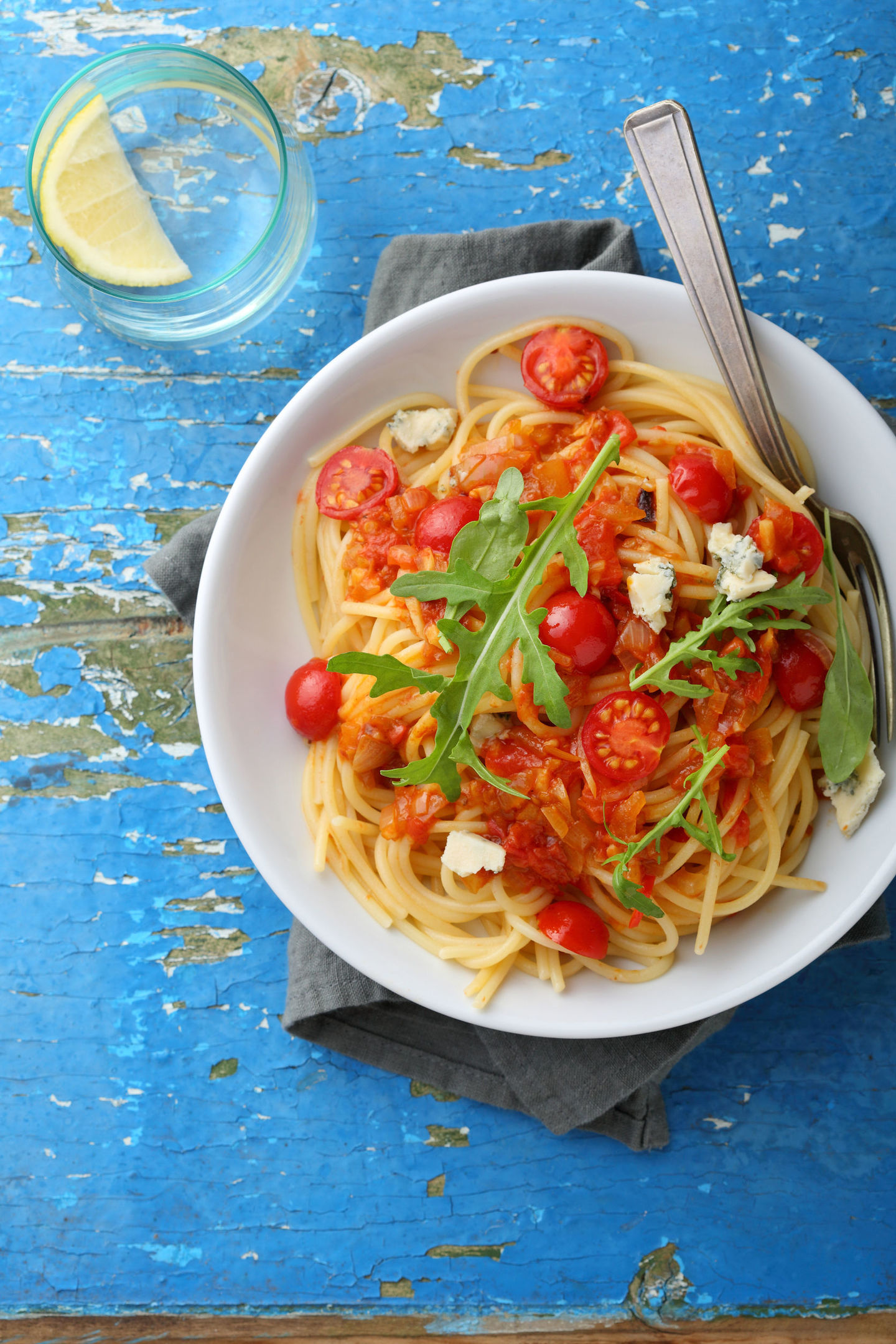 The night before the marathon
Carb rich meals eaten in the days before the marathon are a runner's friend – they work by topping up energy stores, helping to delay fatigue and jelly legs on the big day.   This simple pasta dish contains is easy to prepare, and contains plenty of carbs, plus anti-inflammatory olive oil to help soothe sore muscles.
Ingredients – serves 2
200g dried spaghetti (or 250g fresh)
100g cherry tomatoes
2 tsp. olive oil, plus extra drizzle for garnish
100g sun blushed tomatoes, chopped
75g goats cheese, diced
50g rocket
Salt and pepper, to season
Handful basil fresh leaves, washed
How to
Bring a pan of salted water to the boil, add the spaghetti and cook according to the instructions on the packet (usually 8-10 minutes). Once ready drain and keep in the hot pan until you are ready.
While the pasta is cooking, heat the oil in a large frying pan and then add the tomatoes. Allow them to cook for a couple of minutes until they start to blister, and then shake the pan, and let them cook for another minute or two, until soft, and then turn off the heat.
Chop up the sun-dried tomatoes and dice the goat's cheese.
Add the rocket, both types of tomatoes and goat's cheese to the pasta.
Season with salt and pepper as needed and drizzle with a small amount of olive oil.  Toss together until the pasta is coated with the olive oil and cheese.
Heap onto plates and scatter over basil leaves to serve.
Nutritional information per serving (extra olive oil for drizzle not included)
Kcal 630
Protein 23g
Carbohydrate 84g
Fat 18.5g
---
Power-up Porridge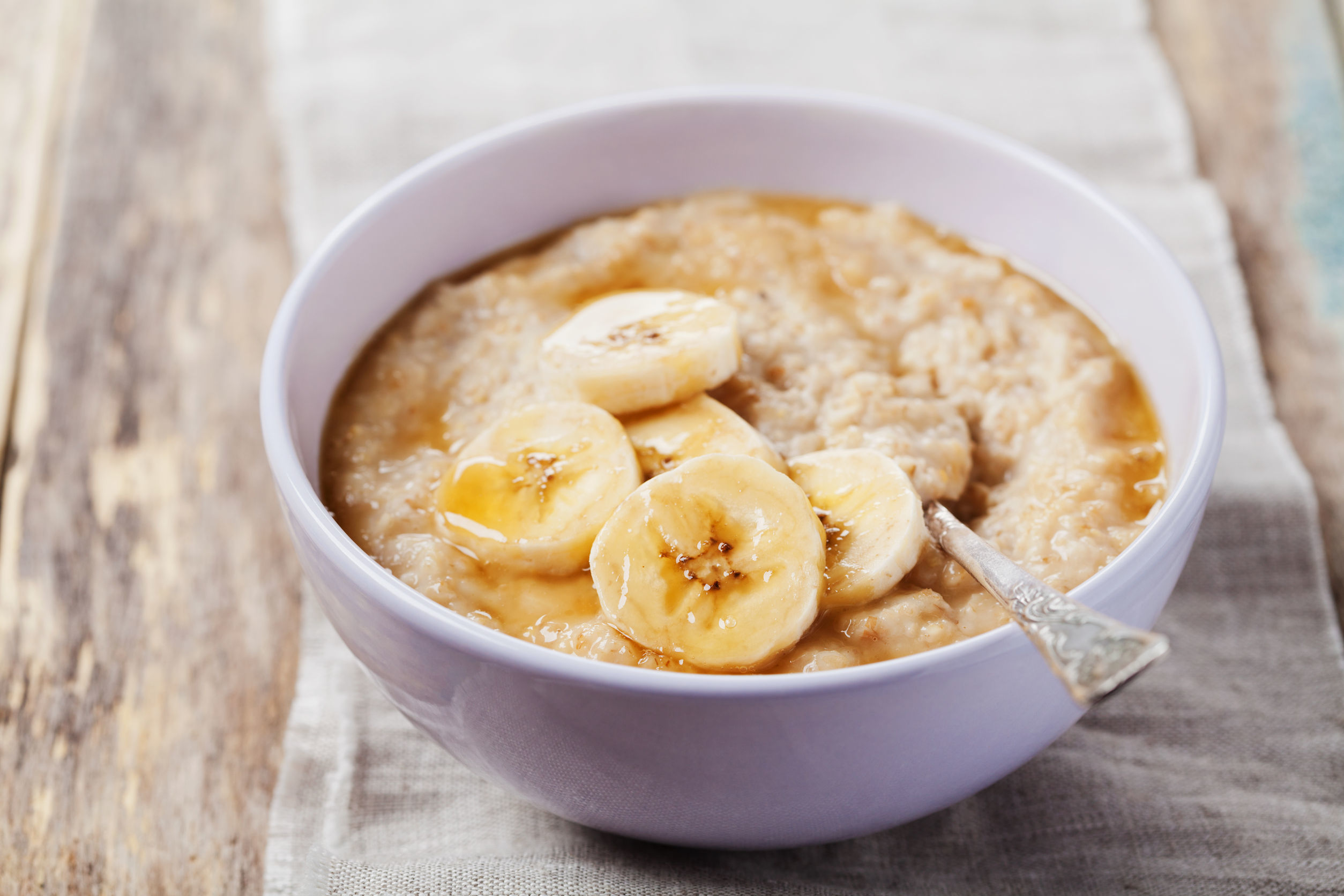 The morning of the marathon
It's no coincidence that the UK's most successful distance runner – Sir Mo Farah, eats porridge for breakfast. And he's onto a good thing. Oats are packed with carbohydrate, a key energy source for long distance runs. Better still, they are slow releasing, providing a steady stream of fuel.   
This "Power-up Porridge" teams oats with a carb rich banana and a slick of honey to keep your legs moving for longer. 
As with any marathon brekkie, make sure you practice eating it before a long run, to work out the ideal time for you to digest and feel comfortable – a couple of hours before the race is usually ideal.
Ingredients – serves 1
50g steel cut/old fashioned oats
Tiny pinch of salt
1 ripe banana
100ml milk
150ml water
2 tsp. honey or maple syrup
10g flaked almonds
How to
If you can, soak the oats overnight in the water as this will speed up cooking time. If not, cook for a little longer and add both the water and milk at the start.
Pop the soaked oats and liquid in a saucepan with the milk and bring to a simmer stirring frequently with a wooden spoon. Cook for 3-5 minutes until you have a creamy consistency and the oats are cooked, adding a tiny pinch of salt half way through
Whilst the oats are cooking, peel the banana, slice half and mash the other half, then toast the almonds in a small pan and set to one side.
Once the porridge is cooked, stir through the mashed banana and pile into a bowl. Scatter over the sliced banana and toasted almonds and drizzle over the honey or maple syrup.
Nutritional Information
Kcal 440
Protein 14g
Carbohydrate 70g
Fat 12g
---
Medal Winning Lamb Beet Burgers with Tzatiki and Sweet Potato Wedges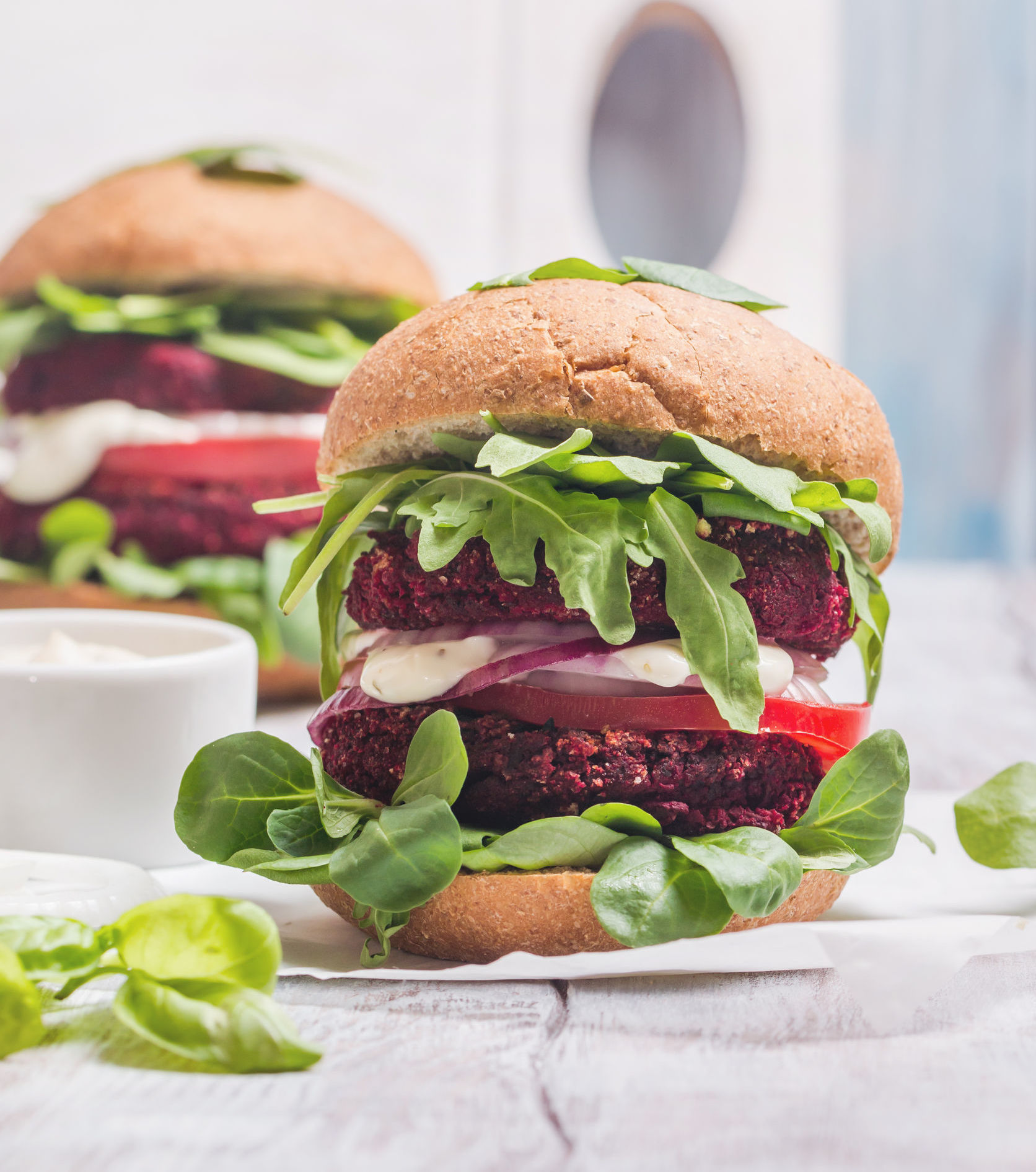 Post Marathon
Marathon done, it's time for the post-run reward. Rumour has it that Sir Mo's has a penchant for burgers, and we don't blame him.
Raise a bap to your marathon efforts with our lean lamb burgers and wedges – they contain the ideal recovery combination of carbs and protein to replenish depleted energy stores and soothe sore muscles – with antioxidants from beetroot and spices to help tired bodies recuperate. 
Nominate a generous friend or family member to make these on your behalf – you've earned a rest.   
Ingredients – Serves 4 
For the burgers
500g lean lamb mince (10% fat)
150g sweet cooked beetroot, grated or finely chopped
1 tsp. ground cumin
1 tsp. ground coriander
1 garlic clove, grated
1 egg
Oil, for brushing
4 x wholemeal buns to serve
Slices of red onion, tomato and rocket, to serve
For the Tzatiki
200g strained Greek yoghurt
½ cucumber
1 clove garlic, grated or crushed and finely chopped
Pinch of salt
Squeeze of lemon juice
Handful of mint leaves
For the wedges
2 large sweet potatoes
1 tbsp. olive oil
5 tsp. smoked paprika
Salt and pepper
How to
Grate or finely chop the beetroot using a food processor (or use gloves or a thin coat of olive oil on fingers to avoid staining your hands).
Place the beetroot a bowl and add the rest of the burger ingredients. Mix together and then divide into 4 portions and shape into burgers. Transfer to a non-stick baking sheet and place in the fridge for 30 minutes or until ready to cook (can be prepared the night before to ease up on prep).
Pre-heat your oven to 200C/400F/Gas 6. Wash the potatoes, dry and then slice into wedges. Place in a bowl and drizzle with olive oil, then add the paprika and season with salt and pepper. Toss with your hands until they are coated and then transfer to a baking tray and roast for 20-30 minutes or until cooked through and crispy on the outside.
Whilst the wedges are cooking, prepare the Tzatiki. Slice the end off the cucumber. Slice lengthways and use a spoon to remove the seeds by running it from top to bottom. Discard the seeds and grate the cucumber into the centre of a clean tea towel. Gather up the tea towel edges and squeeze to remove excess water. Stir the cucumber, chopped mint, garlic, lemon and salt into the yoghurt and transfer to a serving dish.
When the wedges are almost ready, pre-heat the grill. Remove the burgers from the fridge and brush with a little oil. Grill on each side for around 5-7 minutes until cooked through. Alternatively, you can use a griddle pan.
When everything is ready, divide the spiced wedges evenly between four plates. Place a bun on each plate. Top with a burger, layer with Tzatiki, tomato, onion and rocket and serve.
Nutritional information per serving       
Kcal 630
Protein 38g
Carbohydrate 60g
Fat 22g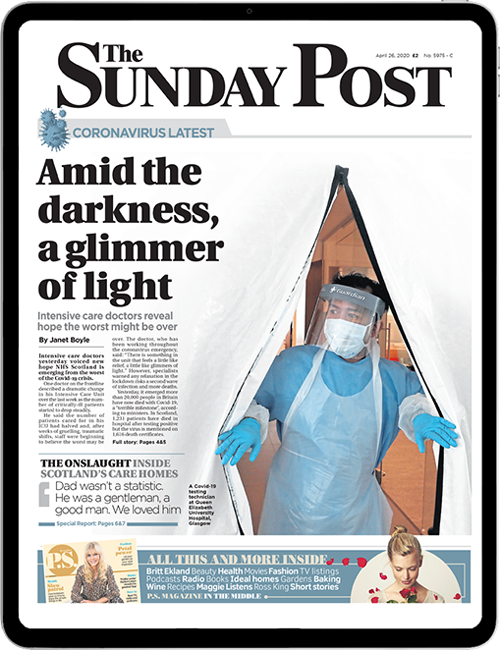 Enjoy the convenience of having The Sunday Post delivered as a digital ePaper straight to your smartphone, tablet or computer.
Subscribe for only £5.49 a month and enjoy all the benefits of the printed paper as a digital replica.
Subscribe