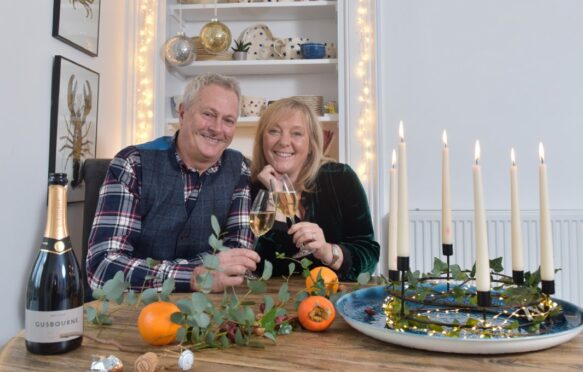 After a year of lockdowns and cancelled plans, for many Christmas is a shining beacon, a time to celebrate.
Celebrity chef Nick Nairn and his family are no different, particularly given the stress and strain that has been put on his business over the past 18 months.
Not only did the celebrity chef have to contend with lockdown measures that closed his Cook School at Lake of Menteith, but there was also a flood in the kitchen in early February, and a devastating fire at his Bridge of Allan restaurant in August.
So, as Nick and wife Julia look ahead to the festive period and a brighter 2022, they are determined to make the most of time with family and friends.
"After the last few years, what we're praying is that we don't have a lockdown," explained the 62-year-old, who opened his first restaurant in 1986, and became Scotland's youngest Michelin-starred chef just five years later.
"Last year, the government said we were going to be able to have Christmas. Usually, we take a huge chunk of our annual income in that short period, and then we let our staff have a couple of weeks off work. But just days before Christmas they changed the rules, and by that time all our guys had changed their plans, so they got stuck and couldn't go home and see their families.
"We couldn't see our kids, either, so it was probably one of the most miserable Christmases."
With Nick's at Port of Menteith, their current passion project, closed on Christmas Eve, Christmas Day and Boxing Day, this year's celebrations will soon begin at home.
Julia Nairn, who has worked alongside her husband for years, explained: "We're starting with a drinks' party at the house on Christmas Eve. We never do things like that – we've lived in this house for three years and I don't think our neighbours have ever been in!
"So we're having a nice open house, and I think three out of the four kids are actually managing to be with us, too, which is great. It's a big deal because last year was just so miserable."
Nick added: "We didn't even have a Christmas tree last year because we had a new puppy, Blue. This year, we've got a real one that's already just sitting in a carpet of needles. We had a debate on whether to have a real tree and Julia won."
"Nick was going to be all practical," Julia added.
With the Bridge of Allan restaurant, Nick's on Henderson Street, closed for rebuilding after the blaze, their efforts have turned to Nick's at Port of Menteith, usually the site of the Cook School, nestled in the heart of the Loch Lomond & Trossachs National Park. Unable to host his award-winning classes under tight coronavirus restrictions, the former Ready Steady Cook chef now has a 40-cover dining room in its place, serving up fresh dishes from a daily changing menu.
So, with Nick spending the majority of his time in the kitchen, does Christmas feel like a busman's holiday?
"I just love cooking, so it's quite the opposite," he explained. "Christmas gives me the chance to take over the kitchen, make a lot of mess, and get away with it. Normally, I'd have a beady eye on me for using too many pans."
Julia interjected: "I am a dishwashing extraordinaire. That's my role in the kitchen, I never try to do anything else!"
Nick continued: "We have an unwritten rule that I don't make a horrendous mess, clearing up as I go along so the kitchen doesn't end up like a bomb site. We're lucky, we've got a new-ish kitchen, with two ovens. It's absolutely brilliant."
As well as relaunching Nick's on Henderson Street, the couple say the big goal for 2022 is reopening the Cook School after almost two years without students. It's an "extremely expensive" process to ensure there is a Covid-safe environment, but the success of the restaurant at Port of Menteith has made the Nairns even more determined.
Julia said: "It feels like we took a proper kicking this year. The fire was just the icing on the cake.
"But we are ending the year with our community just wrapping their arms around us. So, despite everything that has happened, we're ending the year on a bit of a high."
Plan, prepare, roasties the size of lemons, stir-fry sprouts and make sure your turkey fits in oven
Over his career, Nick Nairn has become synonymous with dishes created from the freshest produce, bought from the best suppliers.
At home, as in his restaurants, the meals are no different but Christmas Day will be absolutely indulgent.
Nick said: "We kick off with a breakfast of scrambled eggs on sourdough with our own smoked salmon. Then we'll have a glass of Gusbourne Rosé, which is our favourite English sparkling wine. It's better than most champagnes, and always feels very celebratory. It's a bit of a tradition in our family.
"Over the years we've tried different things for Christmas Day, but this year we've settled on roast beef. There was some suggestion that turkey was going to be in short supply, so we decided we could get a really nice joint, and I asked our butchers, Campbells, to put aside a very nice piece of sirloin. They even have an ageing room, so you can walk around and check the beef to see how it's doing."
Nestled on the dinner table alongside their finely aged beef, Nick is also serving up all the trimmings.
He continued: "We'll have roast potatoes, Jerusalem artichoke – one of my favourite roast vegs – parsnips, celeriac and carrots, which roast brilliantly. Then I'll make a red wine gravy and Yorkshire puddings. We'll have sprouts but they'll be shredded and stir fried with pancetta and roughly chopped chestnuts. Boiled sprouts just taste like over-cooked cabbage – they never seem to be the right texture."
And if you want to make your own Michelin-star worthy roasties, Nick has a few tricks up his sleeves.
He added: "For really good roast potatoes, don't make them too small. I reckon my potatoes are about the size of a lemon. Boil them in heavily salted water for eight minutes exactly – but don't put them into boiling water, put them in cold water and bring the pan up to boil.
"Drain them into a colander and then give them a shake so the outside is really rough. Turn them into a roasting tin with hot oil or fat. There's nothing better than duck fat at Christmas time – you can buy it in a jar at the supermarket, and it really does make everything taste great."
Having run his hugely popular Cook School since 2000 – set to reopen next year after an extensive refurbishment, including a new Covid-safe layout – it's not surprising that Nick quickly switches from talking about his dishes to explaining exactly how they are made.
With turkey the ubiquitous choice for most families on Christmas, his advice for success is to plan and prepare ahead of time – and double check the bird actually fits in the oven. "Make sure you've got a tin big enough to get in and that tin fits in the oven – you'd be surprised," he said.
"I take my turkey out the night before, so it cooks from room temperature, which means it cooks faster. And remember, if you are buying a frozen turkey, it will take about three days to defrost in the fridge, maybe even longer if it's a big one.
"If you can get a thermometer, or even just one of the little things that stick in the breast and pop out at the right temperature, it takes away the guesswork.
"Say you have a six kilo turkey, you're going to have to cook that for a couple of hours, and then rest it at room temperature uncovered for about another 40 minutes to finish off the cooking process. People often forget about that stage, but whilst the turkey is resting, that's the perfect time to make your roasties."
He added: "You do not want to feel like you're stuck in the kitchen all day, hair plastered across your forehead, listening to everyone else having a jolly good time.
"Take a leaf out of a professional chef's book. It's all about preparation, the mise en place. That means thinking, where's the chopping board?
"Where are the knives? Where's the salt and pepper and where's the oil? You don't want to start looking for stuff once you've started cooking."
---
The starter: Smoked salmon
It's so simple, the only dish to kick off Christmas is the great Scottish salmon.
My grandfather smoked salmon over whisky barrel shavings. I still use his method. Serve simply to savour the flavour.
Serves 6
Ingredients
75g smoked salmon per person, trimmed
1 slice rye bread
30g cream cheese
Lemon, to garnish
---
The main event: Mallard Duck Breast with Potato Rosti, Roots, Cabbage & Game Gravy
I prefer duck to turkey. The secret is to crisp the skin on a hot pan. Serves 6.
Ingredients
3 rooster potato
3 parsnip
3 carrot
1/2 celeriac
1 roasted beetroot
300g red cabbage – core removed and finely shredded
3 tablespoon red currant jelly
6 tbsp duck fat for the rosti
6 x plump mallard breasts, skin on
90ml red wine
180ml fruit/raspberry vinegar
45ml cab sauv vinegar (mix the above vinegars and wine together)
180ml ruby port
300ml game stock made from carcasses
120g butter
Method
Peel the potato and grate coarsely onto a double j-cloth. Twist the cloth to remove as much potato water as possible. Heat a blini pan over a medium heat, then add the duck fat. Once hot add 65g of grated potato and press down well with a spoon, making sure you tuck in the edges.
Gently fry for eight minutes till the edges turn golden brown, use a cranked turner to turn the rosti. Cook for a further 4-5 minutes until golden brown. Remove and drain on a paper towel.
Now peel the carrot, parsnip, celeriac and beetroot, and dice to the size of your thumb nail. Place on a baking tray, pour over the leftover duck fat from the blini pan and season. Place in the preheated oven at 180C for 20 mins.
While the veg is roasting, heat a pan, add 20g butter, and then the shredded cabbage.
Add a tablespoon of red currant jelly, two tablespoons of fruit vinegar and the ruby port. Season with salt and pepper and stir. Turn the heat to low and put on the lid. Leave to cook for 45 minutes.
The cabbage should be sweet, sticky and tender.
Turn the roots giving the tray a good shake. Return to the oven.
Heat a small frying pan till hot and season the duck breasts, fry in a little oil until the skin is crispy, add the butter and continue to baste and cook until you reach a core temperature of 38C.
Once achieved remove from the pan and place on a cold tray to rest. Tip out the excess fat then place the pan back onto the heat.
Once hot add the wine and vinegars and scrape all the goodness from the base of the pan. Now add the stock and reduce to coating consistency.
Once the meat is rested and with the oven as high as it will go pop in the duck breasts and rosti to warm for 30 seconds.
Place some red cabbage in the centre of each warm plate, top with the rosti, arrange the roast roots around then carve the duck breasts over the rosti, pour round the sauce and serve.
---
The dessert: Christmas Pudding Soufflés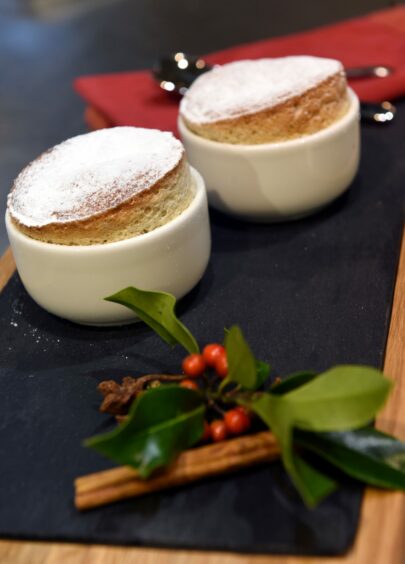 Traditional Christmas pudding can be very heavy, especially after a full main course with all the trimmings. This recipe gives you the same festive flavour but it is much lighter. Serves 6.
Ingredients
3 level tbsp tinned custard
3 heaped tbsp of good quality mincemeat
3 heaped tbsp good quality marmalade
3 egg yolks
6 egg whites
A pinch of cream of tartar
Soft butter and castor sugar, to line moulds
Icing sugar, to dust
Vanilla ice cream, to serve
Method
Preheat it to 200°c/400°f/ Gas Mark 6.
Lightly butter two 7.5 cm ramekins and dust them out with a little extra castor sugar.
Place the custard, marmalade, mincemeat and egg yolks into a bowl and mix well.
In a clean bowl whisk the egg whites and cream of tartar to soft peaks.
Lightly whisk one-quarter of the whites into the custard to loosen it slightly, and then carefully fold in the remainder. Make sure that you do not overwork the mixture – this is to ensure you do not knock out all the air previously whisked in.
Slide a baking sheet onto the middle shelf of the oven.
Spoon the mixture into the prepared ramekins, level the tops and then run the tip of a knife around the inside edge of each dish to release the mixture.
Slide the ramekins onto the preheated baking sheet and bake for 10-12 minutes until the soufflés are well-risen, browned and doubled in height but still slightly wobbly.
Serve warm with a dusting of icing sugar and some good quality vanilla ice cream.
---
The leftovers: Christmas Cobbler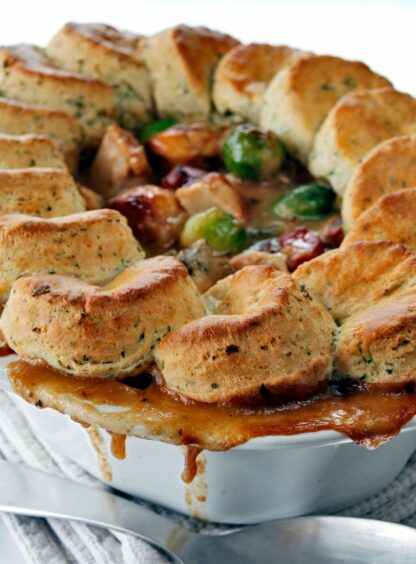 This recipe is a winner in our house. It's so easy to do and makes a lovely hearty meal to share with family and friends visiting between Christmas and New Year. Serves 6.
Ingredients
500g mixture of leftover cooked turkey and stuffing, ham, sausages wrapped in bacon
300g cold roast potatoes, cooked sprouts, chestnuts, cooked carrots
3 tbsps sunflower oil
2 large onions, chopped or sliced
2-3 tbsps plain flour (or use bread sauce as a thickener!)
a blob or two of cranberry sauce
about 500 ml turkey or chicken stock or gravy mixed with water and a stock cube
4 tablespoons milk
for the cobbler dough:
75g butter
350g self-raising flour
3 tbsps chopped fresh herbs (parsley, sage, thyme)
225ml milk plus extra for brushing
sea salt and freshly ground black pepper
Method
Preheat the oven to 220C/Fan 200C/425F/Gas 7.
Chop up all the leftover meat, stuffing and veggies into good chunky pieces. If they are a good bite-size, then don't cut them – you want this to be nice and chunky, not bitty and mushy.
Heat a medium saucepan and add the oil. Chuck in the onions and cook over a medium heat until soft and translucent. Stir in flour, mixing through the onions, then whisk in the stock and milk. Bring to the boil then simmer over medium-low heat for about five minutes until thickened. Season well, stir in a good tablespoon of cranberry sauce, then remove from heat and set aside.
Carefully mix the meat and veggies into the sauce, then tip the whole lot into a large pie dish or steak pie ashet that will take the filling almost up to the top.
Now make the cobbler dough, rub the butter into the flour until it resembles rough breadcrumbs and add a pinch of salt. Stir in the herbs then pour in the milk and stir it together with a blunt table knife until it forms a sticky lump. Tip out onto a floured work surface and knead very lightly until smooth.
Working quickly, roll out to a thickness of about 1.25cm and using a 6.5cm biscuit or scone cutter, stamp into 15 rounds. Arrange these around the outer edge of the dish, half on the edge and half on the filling, overlapping them as you go. Brush with milk then set on an oven tray and slide into the oven to bake for 30-35 minutes until the cobblers are risen and golden brown and the filling bubbling hot (if they begin to brown too much, cover loosely with kitchen foil).
Allow to cool for 10 minutes before serving with some purple sprouting broccoli or buttered kale – no need for potatoes!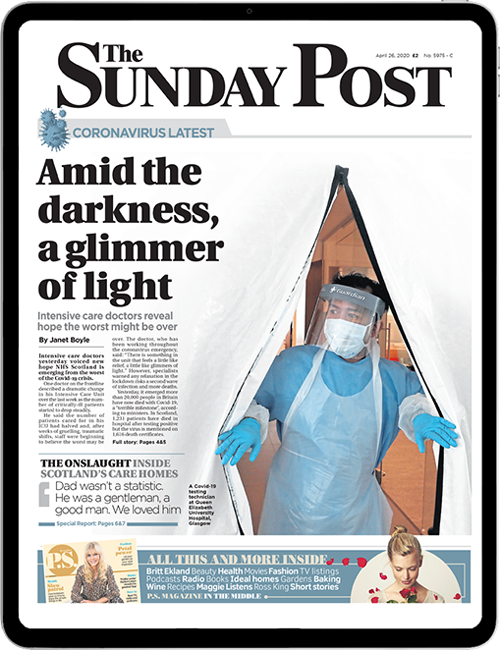 Enjoy the convenience of having The Sunday Post delivered as a digital ePaper straight to your smartphone, tablet or computer.
Subscribe for only £5.49 a month and enjoy all the benefits of the printed paper as a digital replica.
Subscribe