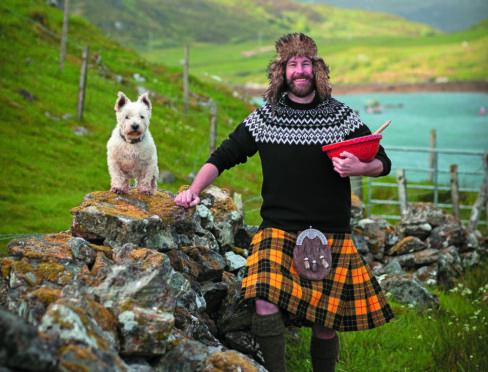 When Coinneach MacLeod posted his first video of baking clootie dumplings with his 93-year-old aunt online just over two years ago, the home baker from the Western Isles had no idea it would lead to him cooking with Hollywood actors and teaching thousands of Americans how to make scones. And that's just in the past month.
MacLeod, who hails from the fishing village of Cromore on Lewis, became a social media sensation when millions of fans around the world fell in love with his posts on the video sharing platform, TikTok.
A multi-book deal swiftly followed, including a US tour and an invitation to headline the world's biggest baking trade show, IBIE 2022 Baking Expo, in Las Vegas last week.
Back on Scottish soil, MacLeod says his one regret is that Line Of Duty star, Martin Compston, wasn't at home in his Las Vegas mansion for a visit. He recently found himself showing the actor how to make turmeric oat risotto outside a run-down croft on the Isle of Lewis for Martin Compston's Scottish Fling travel show.
"Martin was genuinely interested in Gaelic, our heritage and identity," said MacLeod, 48, better known on his cookbook covers and TikTok videos as The Hebridean Baker.
"We made a savoury risotto with oats and Stornoway black pudding outside over an open fire in the pouring rain because it was summertime on Lewis. He loved it and it was the first time he had ever tried black pudding. He told me his father used to get a black pudding supper from the chip shop every Friday night and couldn't believe he had never tried one himself."
Sadly, Compton's cooking ability left a little to be desired. "I gave him a spurtle to stir the ingredients in the pan and he had it the wrong way around. I didn't think that was a good start," MacLeod laughed.
"He did admit that he never cracked an egg before his 30s. He might not be a good cook but he was definitely a good eater!"
During lockdown, MacLeod was making clootie dumplings with his 93-year-old aunt, Bellag, when he decided to film their baking session to share on social media as a way to preserve old island traditions for future generations on Lewis.
"I was sitting by the stove with my aunt Bellag, who was making clootie dumplings, on her 70th wedding anniversary talking about wedding day traditions on the island," said MacLeod.
"I started making videos because I didn't want people on Lewis to forget these stories, never thinking they would resonate outside the Hebrides. Now I've had just over 21 million views, so it's gone a wee bit further than Lewis! It's amazing that it's resonated across the world. Every day since has been a crazy adventure."
MacLeod's short videos about making comforting recipes and island life, filmed in front of a wood-burning stove or across the rugged, sweeping landscapes of Lewis quickly earned him a global fanbase and led to a book deal with his first, The Hebridean Baker, becoming a bestseller last year.
Now, MacLeod has released his second cookbook, My Scottish Island Kitchen, which celebrates traditional Scottish and Western Isles recipes with a side of island folklore, traditions and personal stories, such as his grandmother Anna's life as a Herring Girl.
"It's basically lots of wholesome things you want to eat in front of the fire to get you through a Hebridean winter," explained MacLeod in an accent as comforting as his recipes that include slow cook beef cheek casserole, Cullen skink pie, whisky marmalade and baked oat Alaska.
"I've loved finding old Scottish recipes in cookbooks like The Scots Kitchen by F Marian MacNeill from 1929 and The Practice Of Cookery by Mrs Dalgairns from 1840 and giving them a modern twist.
"I've also included traditional Lewis recipes like clootie dumplings, of duffs as we call them on the island, but with a chocolate twist inspired by a BBC Alba cooking segment I did for Hogmanay. There's a local saying that the way to a Hebridean man or woman's heart is to make them a duff and you'll be married within a week."
He added: "When I started creating content online, I realised people were interested in stories that went alongside the recipes. Writing these stories is probably one of my favourite things about the book, that I can talk about the traditions and history of the islands or the language of Gaelic and the people on the island."
The book is peppered with another passion of MacLeod's, also inspired by his island heritage, Gaelic. "People have messaged me to say they've started learning Gaelic because they've heard it on my videos or in the book," he said. "It's a big part of our identity and I love that it's coming back into fashion with people learning it on Duolingo and wanting to know more about it."
MacLeod speaks and sings in Gaelic with his partner Peter, a former presenter on De A Nis who is a producer on BBC Alba. The couple met four years ago at The Royal National Mod, where MacLeod was singing in the Silver Pendant competition and Peter was behind the camera. They regularly compete in the Mod's duet category and won gold in 2018.
The son of a fisherman and a weaver, MacLeod splits his time between Lewis and Oban with Peter and his West Highland terrier, Seoras. The latter is a regular feature on MacLeod's cookbooks and videos, as is MacLeod's now trademark furry trapper hat.
"It was all about functionality in the beginning because my kitchen where I did my first videos was freezing. When people started sending me hats I realised that it was my brand, the furry hat. Luckily I like wearing furry hats, although wearing it in Las Vegas was a challenge!"
He added, "I film a lot of my TikTok videos in a small croft owned by Peter's parents overlooking the isle of Seil. It's completely off-grid and people love that concept that we live there with no electricity and just the fire keeping us warm."
Despite his success as The Hebridean Baker and beyond, there is still one accolade MacLeod is desperate to achieve. Last year, he was devastated to finish joint runner-up in the World Porridge Making Championships behind Golden Spurtle winner Miriam Groot, a vegan food blogger from the Netherlands.
"I love porridge and a spurtle is the one thing I could never be without in my kitchen," he admitted. "I was heartbroken to come second in the World Porridge Making Championships. Sadly I can't enter this year but I will be back to win that Golden Spurtle in the future, for sure."
The Hebridean Baker, My Scottish Island Kitchen by Coinneach MacLeod, Black & White Publishing
---
The Recipe
Stornoway Scotch Eggs
Coinneach MacLeod says: "Adding the rich, well-seasoned flavours of Stornoway black pudding to your sausage meat makes these the tastiest Scotch eggs you'll ever have.
"Many folk think these will be challenging to make, but with minimal preparation and making sure you are safely deep frying, you will be rewarded with a hearty snack. Perfect warm or cold."
You'll need
Six eggs (four for soft boiling, two beaten)
Six quality pork sausages (about 300g/10½oz)
275g (10oz) Stornoway black pudding
Plain flour, enough to fill a bowl
Bowl of panko breadcrumbs
Vegetable oil, for deep frying
Salt and pepper
Method
Lower four eggs into a pan of boiling water for seven minutes. Have a bowl of ice-cold water ready and drop them in immediately to halt the cooking process. You can peel them once they have cooled.
Remove the sausage meat from the skins and add along with the black pudding to a bowl. Season well with salt and black pepper, mix together and then split into four equally-sized portions.
Take one of your portions, flatten it out in your hand and wrap evenly around an egg. Have three bowls ready – one with plain flour, one with two beaten eggs and one with breadcrumbs. Dip the Scotch eggs into the flour, then the egg mixture, then the breadcrumbs.
Half-fill a saucepan with vegetable oil and heat until it reaches 180C (350F) on a thermometer. Frying two Scotch eggs at a time, cook for eight minutes until golden and crisp, turning occasionally, and rest on kitchen paper.
Make sure the thermometer still reads 180C (350F) before adding the next two eggs.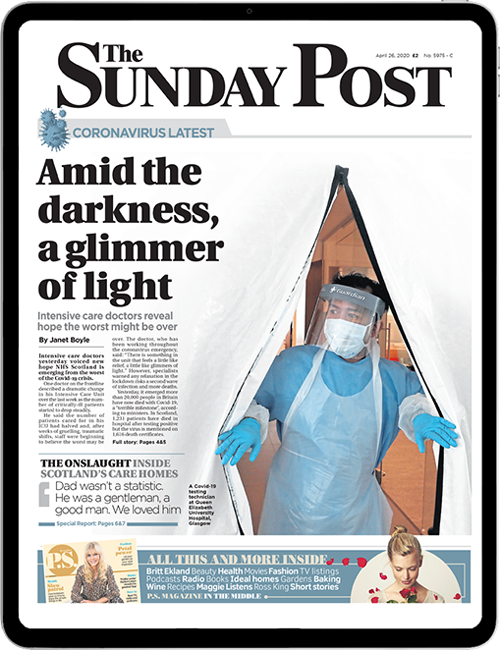 Enjoy the convenience of having The Sunday Post delivered as a digital ePaper straight to your smartphone, tablet or computer.
Subscribe for only £5.49 a month and enjoy all the benefits of the printed paper as a digital replica.
Subscribe