Up to one million incidents of domestic violence may go unreported in Scotland every year, according to experts, who warn the sheer scale of the crisis threatens to overwhelm police, prosecution and support services.
Police last year reported 33,425 alleged assaults to the Crown Office but campaigners say the true number of incidents of violence, verbal abuse and coercive control is far higher.
SafeLives, the UK-wide charity dedicated to ending domestic abuse, believe that before seeking help women endure an average of 50 incidents, and wait, on average, up to three years, ­suggesting Scots victims are ­enduring around 600,000 incidents a year without reporting them. Experts, however, fear that number may be even higher.
Dr Allan Moore, author of this year's Survivors Voices report, which was prepared as part of the development of a new restorative justice programme for the Scottish Government, said the real number of incidents could be as high as one million a year.
He said: "My belief is that all of us, including the government and agencies who work in this sector, are loathe to admit or acknowledge the true scale of it because it is not only overwhelming, there is a fear of being accused of a failure to tackle the problem, when, in fact, they are doing good work.
"But, if we fail to confront the scale of it, the cycle will never stop."
Moore, a criminology and ­criminal justice lecturer at West of Scotland University and one of the country's foremost experts on victims of crime, said that, as a result, the very complex nature of domestic abuse, gender violence and intimate partner violence was hidden away.
"Evidence shows that those who suffer abuse tend to suffer multiple instances," he said. "These can include anything from women feeling threatened by being whistled at or subjected to inappropriate comment, to being intimidated, coercive or financial control to physical or sexual violence.
No more: Women demand action as 7,000 domestic violence cases languish in court limbo
"The most recent Scottish crime figures showed 16.5% of adults had experienced it, and that equates to around 700,000. When you consider most will have suffered multiple incidents, it's easy to see the figure rise to over a million instances a year.
"There is no black and white proof of that figure. But all the ­circumstantial threads of evidence point to it being the truth. When you join together all those threads you get a very strong rope.
"We must recognise that we are now at a particular moment in time where all attention is centred on domestic and misogynistic abuse. We should seize that moment to bring in the changes that will give women a voice and allow them to be heard."
Professor Jane Monckton Smith, a forensic criminologist ­specialising in homicide, stalking and coercive control, said: "I have no doubt the real figure of abusive behaviour towards women and girls will be around a million instances a year in Scotland. But the attrition of crime means there will be no official figure supporting that. People are afraid of the enormity of the abuse that goes on daily.
The Sunday Post View: How to protect women? Enlist women and then promote women
"Crimes against women and ­children are out of control. But ­official figures simply don't reflect how bad it really is. I've studied hundreds of cases of female homicides that have been categorised as sudden deaths or suicide.
"If we can't rely on police ­homicide figures, how can we possibly rely on their figures for domestic abuse and violence against women and children?
"Sexual violence against women and children is now at epidemic levels because of the easily accessed violent porn that is being ­considered to be the norm. It's become so widespread we even find young girls believing it to be the norm."
Monckton Smith welcomed moves to introduce a standalone offence of misogyny to Scottish law.
She said: "Just the other day Prime Minister Boris Johnson admitted that misogyny was so widespread the police couldn't possibly cope with it and that was why he wasn't going to make it a crime.
"I applaud Scotland for having the bravery to be considering taking that step because it sends out a very powerful message that this type of behaviour has to stop or there will be punitive consequences."
Scottish Women Aid said ­official figures were "the tip of the iceberg".
They added: "We know that not every survivor will report, and there's no good way to measure this fully with the existing collection measures we have.
Police criticised for 'laughable' safety advice in wake of Sarah Everard murder
"Also, we don't use the word 'incidents' so much when talking about domestic abuse, and this is often how they are recorded. Because we see abuse as a pattern of behaviours, rather than a single act, it's important to look at the larger context of this.
"Still only one in 10 will report the most recent partner abuse ­ incident to the police. What this tells us is that survivors still face barriers in reporting and going through the criminal justice system."
Last week we reported how ­thousands of domestic violence cases are trapped in a courts logjam, exacerbating victims' trauma and leading to accusations that the country's justice system is again failing to protect women from male violence.
Leading lawyers, politicians and campaigners warned systemic failings in investigations and prosecutions leave women feeling unsupported, unheard and vulnerable.
They called for sweeping reforms to ensure that violence against women and girls is more effectively investigated and prosecuted.
And they called for more women to be promoted to senior positions in the criminal justice system to better protect women.
The Scottish Government says it has committed £50 million to drive reform of the system and increase throughput of cases, and £100m over the next three years to support frontline services.
---
Campaigners: A lot can be done right now but long-term change will only come when little boys are taught about respect, power and fairness
Young boys must be taught to respect girls to halt the cycle of male violence against women while young women need to be told violent online porn is not "normal", experts say.
Rachel Adamson, co-director of charity Zero Tolerance which campaigns against violence inflicted on women, said: "We need to stop behaviour and beliefs which reinforce gender inequality. Behaviours like wolf whistling in the street, or rolling our eyes and saying 'boys will be boys' when they ping a girl's bra strap.
"We can end this violence by stopping our gender stereotyping of newborns and teaching girls to be nice and caring and boys to be brave and adventurous. And we can prevent violence against women and girls by teaching young people about healthy relationships."
But Zero Tolerance say there is currently no compulsory training for teachers and others working with young people Adamson said: "Professionals working with young people need training on how to discuss these subjects and how to respond to sexual harassment and the violence that they see, and hear about, in their work with young people.
"There is currently no compulsory training for teachers or others working with young people. We developed our Under Pressure training to support professionals working with young people to talk to them about some of the challenges and pressures young people face. We need a consistent approach across the country of how schools promote equality and prevent misogyny and violence against women and girls.
"Education is only part of the picture. We need many changes in our society, including improvements to our justice system and reporting on violence against women and girls. But through education we can change attitudes and make great strides towards gender equality and ending violence against women and girls."
Scotland's biggest local authority Glasgow City Council takes a proactive approach, and equalities convener Jennifer Layden said: "We are determined to end violence towards women and children and have been working in close partnership with a number of organisations to develop programmes which support families.
"The big focus is on education, something we have adopted and promoted for several years now through various drama workshops and schemes which allow us to get the message over that certain behaviours are just not acceptable.
"We've known for some time that education plays a huge role in change and that is why we do a lot of work around teaching young people about healthy relationships. Having those conversations as early as possible with children is a positive thing, teaching them about safe boundaries."
Rape Crisis Scotland's innovative Equally At Safe School programme, developed with Glasgow University, is supported by a number of local authorities to educate against genderbased violence in our secondary schools.
Pilot schemes showed peer led initiatives led to a marked improvement in behaviour.
Layden said: "The growing availability of violent online porn is something we are concerned about because it normalises violence. Education is the answer to ensuring both boys and girls understand that this behaviour is not normal.
"Equally, we do want parents to take responsibility too for pointing out behaviours that are unacceptable."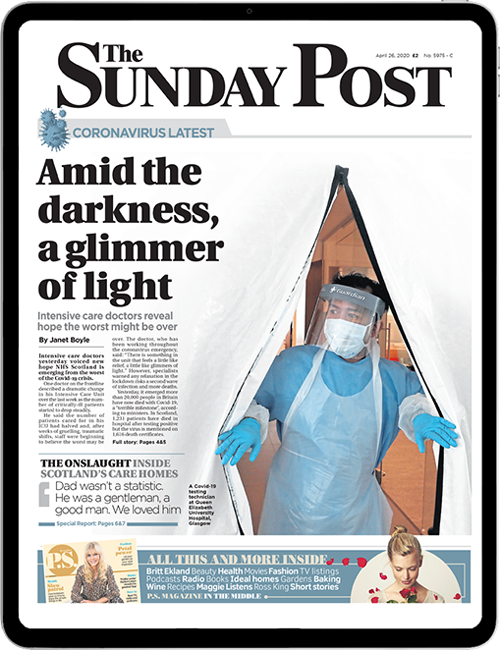 Enjoy the convenience of having The Sunday Post delivered as a digital ePaper straight to your smartphone, tablet or computer.
Subscribe for only £5.49 a month and enjoy all the benefits of the printed paper as a digital replica.
Subscribe