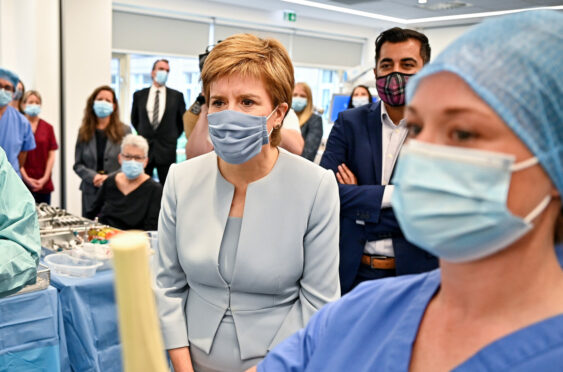 Bold leadership is urgently needed to save the health service, experts warn today, as an opinion poll reveals more than one in three Scots are unhappy with NHS Scotland.
The findings come as medical staff say the onset of winter has triggered a crisis in NHS Scotland as A&E departments are driven to the brink of collapse across the country.
The survey found 34% of Scots are dissatisfied with the health service, with 88% citing waiting times for treatments and appointments as their biggest concern while half raised the quality of treatment and the level of investment.
According to the survey, commissioned by The Sunday Post, of 1,025 Scots interviewed over the festive season, 45% are satisfied with the health service while 21% are neither satisfied or dissatisfied.
Damian Lyons Lowe, chief executive of Survation, which conducted the polling, said: "The strongest statistic is about unacceptable waiting times. It's at the forefront of people's minds. It is a shared worry."
Doctors' leaders last week said the number of patients dying needlessly as a result of lengthy A&E waiting times has risen to 60 a week as the first minister admitted hospitals are almost full, leaving nowhere to care for patients arriving as emergencies.
Soaring flu and Covid rates, staff sickness and shortages, and GPs surgeries closing over Christmas has been blamed for the unprecedented pressure on the NHS.
Yesterday, private health firms revealed "unprecedented demand" for their hospital services. Justin Ash, chief executive of private healthcare group Spire, said 60% of potential customers are now more likely to consider going private, adding: "Obviously, the waiting lists are part of the backdrop."
Health minister Humza Yousaf admitted last week there were more than 1,700 people in hospital who do not need to be there as he announced £8m in a bid to free up beds by moving patients to care homes.
However, opposition politicians have accused SNP ministers of failing to heed years of repeated warnings that the NHS in Scotland was struggling to cope and teetering on the edge of crisis.
Mark Dayan, an analyst at Nuffield Trust, an independent health thinktank, said bold action and leadership is needed now.
He said: "The NHS in Scotland is not delivering on some of the basics. Fixing that, fundamentally, is a question of increasing the throughput of patients, which may sound straightforward but is actually quite difficult because the NHS in Scotland has seen a slowdown in the amount of treatment its providing to patients even though it's spending more money.
"So an immediate priority is to get the rate of treatment up by discharging more patients, dealing with them in shorter lengths of stay and increasing the unit costs efficiency of the health service.
"That is a big ask and probably involves building new infrastructure such a community rehabilitation health services. It's not necessarily building with bricks and mortar but developing services that do that. Social care will also remain something that needs to be stronger to deal with this."
Dayan also said fewer people should be sent to hospital and more must be done to prevent poor health outcomes. "In the longer term the NHS needs to, essentially, treat more people outside of hospitals, improve prevention and the health of the public, and use data and analytics to stream patients more successfully to different types of services," he said.
"That is all complex and there has been little headway across the UK but it is a way to improve patient care without simply spending more money on inpatient and outpatient care.
"Long-term, boldness and strong leadership is what's called for. That doesn't necessarily mean doing a lot of excitable and immediate things. It's about building capacity outside hospitals, rebuilding relationships with staff, getting them to stay in the service. That's not just about settling the pay situation. It's about understanding why there is a turnover issue and what you should do about it."
Today's poll also reveals geographical differences in Scots' satisfaction with the NHS. People in west and central Scotland were more likely to be dissatisfied with 41% in the west unhappy, 36% in the central regions and 35% in Glasgow dissatisfied. Just 25% of people were dissatisfied in Fife, 27% in the Highlands & Islands, 31% in Lothian and 35% in the north east.
The over-45s were most likely to be dissatisfied with the NHS, with 39% of people aged 45-54 unhappy, 44% of those aged 55-64 and 37% of over-65s.
The satisfaction levels of Scots with the health service also appeared to be coloured by political affiliation with SNP voters far more likely to be satisfied and far less likely to be dissatisfied compared to supporters of other parties.
However, only a small proportion of those dissatisfied with NHS Scotland blamed staff. That was welcomed by Colin Poolman, Scotland Director of the Royal College of Nursing, who called on ministers to improve recruitment and retention rates
He said: "The system needs nursed back to health and that's going to involve a lot of rehabilitation and a lot of consideration of what we can do in different ways.
"What we currently have is not just winter pressures, the problem is we don't have enough of the right people to look after patients in the right places."
Doctors' leaked letters accuse NHS managers of ignoring repeated warnings over A&E crisis at Glasgow hospital
Politicians also need to have an honest conversation with the public, according to Poolman: "People are living longer, which is great, but we've not had that conversation about a sustained workforce. So, we need workforce planning and we need to be honest about what we can deliver for the public in the short term.
"The cure would be instantaneous access to more staff. The difficulty is we're not training enough people now to keep up with the people who are leaving. And it's not a quick fix because a registered nurse takes three years to train."
Dr John Paul Loughrey, vice president of the Royal College of Emergency Medicine Scotland, said he is not surprised a third of Scots are unhappy with the heath service.
"The current crisis is the worst it has ever been and staff are incredibly distressed, worried and anxious at the current conditions in which they have to work," he said.
"It is notable that only a minority of Scots feel dissatisfied with NHS staff, a testament their skills, passion, empathy, and hard work. They are doing their very best in extremely tough conditions."
Loughrey welcomed the first minister's acknowledgement of the severity of the crisis – she held another resilience committee meeting on Friday – but insists her government should have been better prepared.
Loughrey said: "The college has long warned of this – reiterating time and again the significant shortfall in staffing levels and beds, and major issues around social care – so we are pleased to see this recognition, and early signs of action being taken.
"We need to see continued and sustained political will, honesty, and investment in the NHS from the Scottish Government to mitigate the harm to patients and our staff, improve care back to the high standards previously achieved, and ensure all Scots are satisfied with the care that the NHS in Scotland can provide."
Scottish Conservative shadow health secretary Sandesh Gulhane MSP said: "The poll shows people recognise frontline staff are doing everything they can to care for them but that they have been let down by the SNP's dire workforce planning."
Health Secretary Humza Yousaf said NHS Scotland is facing the same pressures that other health services are struggling with around Britain and the world.
"This poll shows how much people recognise the exceptional work and commitment of staff in the NHS. We are deeply grateful for the continued hard work of staff and are doing all we can to reduce the challenges they face.
"Waiting times are not acceptable and to support the necessary improvement we are working to reduce the numbers of delayed discharges – with £8m just announced to increase capacity of more interim care places – and making sure people go to the most appropriate part of the NHS for their care, whether that is in the community, their GP, A&E or NHS24."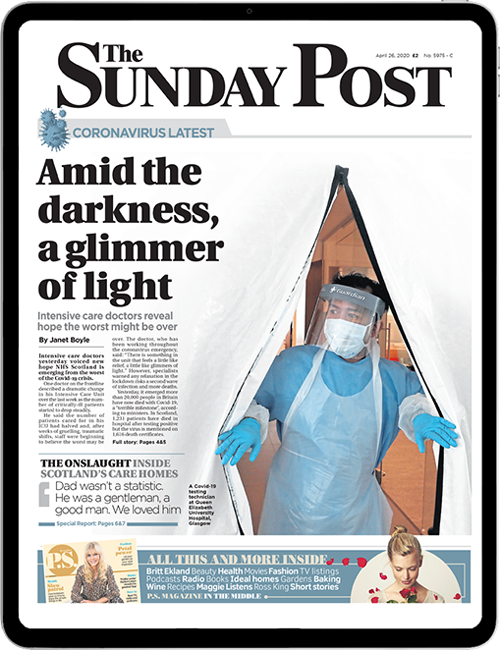 Enjoy the convenience of having The Sunday Post delivered as a digital ePaper straight to your smartphone, tablet or computer.
Subscribe for only £5.49 a month and enjoy all the benefits of the printed paper as a digital replica.
Subscribe