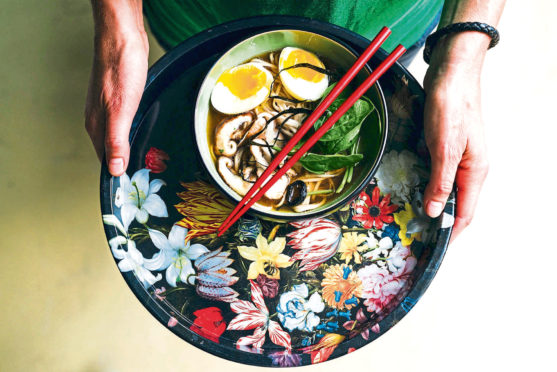 A quick and delicious soup with a taste of the Orient.
Cooking time: 15 mins, serves: one.
You'll need
100g Japanese ramen (or other noodles)
1 egg
300ml vegetable stock
100g shiitake mushrooms, sliced
1tbsp red miso paste
Soy sauce, to taste
A small handful of spinach leaves
½ sheet of nori, cut into ribbons
Method
Prepare ramen according to packet instructions.
Soft-boil egg in boiling water for four or five mins. Plunge egg straight into a bowl of cold water to stop it cooking and leave until cool, then peel and cut in half.
Bring stock to boil in small saucepan, add shiitakes and boil for one min. Put miso in a bowl, stir in small splash of hot stock, then add to pan. Turn off heat and stir in soy sauce to taste.
Place noodles, spinach and egg halves in a bowl, pour over stock and mushrooms. Garnish with nori ribbons to serve.
Recipe from Solo Food by Janneke Vreugdenhil, published by HQ, available now.